Alisha Wainwright's Rep Says There's "No Validity" to Justin Timberlake Cheating Speculation
So, erm, how was your weekend? Cool-cool-cool, because Justin Timberlake's wasn't great. On Saturday, The Sun published photos of Justin (who's married to Jessica Biel) holding hands with actress Alisha Wainwright while they were in New Orleans to shoot a movie. In a video from the hang sesh, Alisha can be seen resting her hands on Justin's knee, and photos show them holding hands on a balcony. Oh, and an eyewitness said, "At one stage he grabbed her hand and rested it on his knee. She then gently started stroking his leg. Then he clutched her hand with both of his and was playing with her hands."
Basically, lots of hand-related drama. And yes, Twitter was….alarmed:
Britney Spears reading about Justin Timberlake getting caught on video cheating on his wife pic.twitter.com/nCTZKmMlgn
Just saw the photos of Justin Timberlake not wearing his wedding ring and holding hands with another girl… pic.twitter.com/kWj8rqDxWU
If Justin Timberlake cheated on Jessica Biel imma be big mad, she survived The Texas Chainsaw Massacre to deal with your unfaithful ass? pic.twitter.com/Ybt7pnkXi4
Despite the fully !!!!! pictures (and the fact that Justin was reportedly not wearing his wedding ring), multiple sources have told multiple outlets that these two are just friends and nothing is going on between them. And Alisha's rep just weighed in with a statement to Us Weekly, saying "There is no validity to this speculation. They are working on a project together."
On top of that, a source told E! "There is nothing going on between them," while another source told People "The video may look a way, but literally it was nothing. It was some friends, members of the team, crew and people like that. They all know each other and were hanging. Like come on, they're on an open balcony in New Orleans and he's famous. It was nothing."
Got it.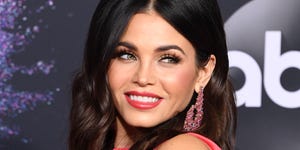 Source: Read Full Article