Angelina Jolie & Zahara spent two days in DC, advocating for women & children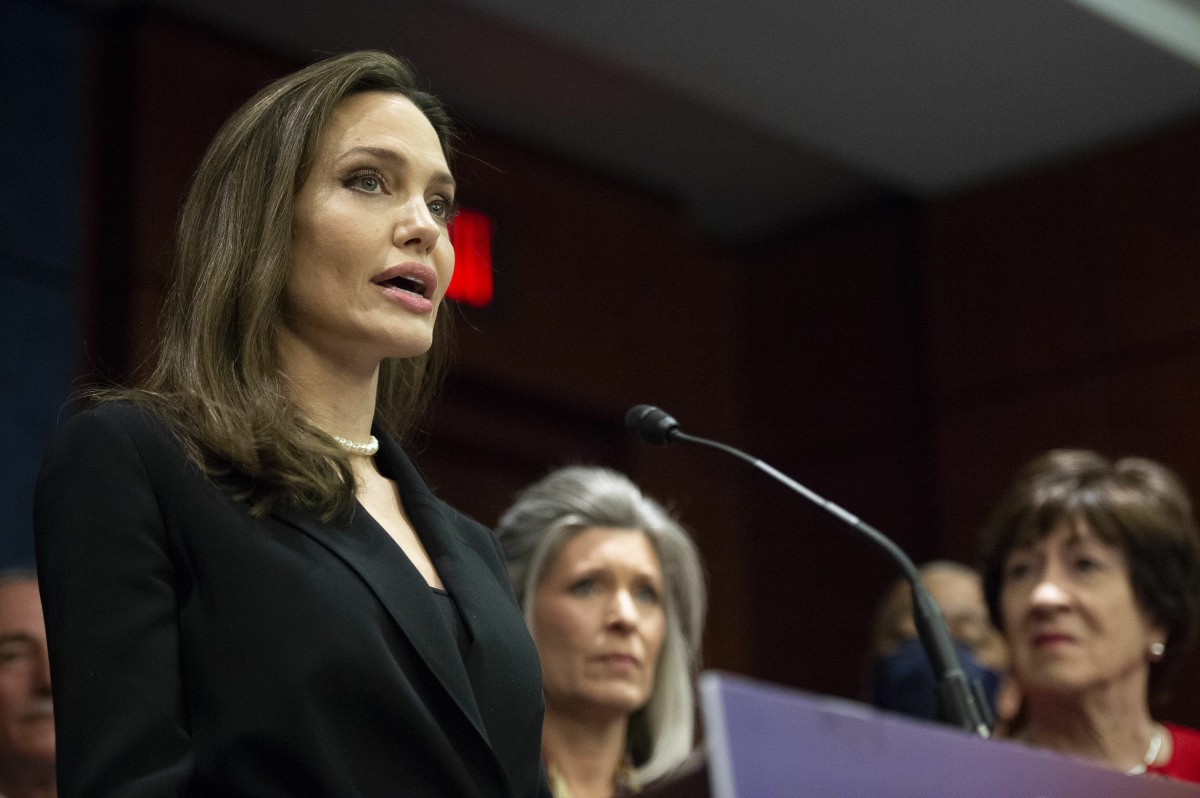 Zahara Jolie Pitt is done with her first semester at Spelman. She was back home in LA over the weekend, and photographers got some exclusive pics of Angelina Jolie and Zahara out shopping. It wasn't all fun and games though – Zahara and Angelina got on a plane to Washington on Tuesday and they spent two days visiting senators, congressmen and President Biden. Their trip was to advocate for the passage of the Justice for All Reauthorization Act. Zahara and Angelina were in Washington back in March working on the same issues, and they met a lot of the same people on this trip.
Angelina Jolie and daughter Zahara Jolie-Pitt concluded a two-day visit to Washington, D.C. on Wednesday after meeting with lawmakers to advocate for the passage of the Justice for All Reauthorization Act of 2022, which aims to protect crime victims. In addition to creating a new crime victims' right to evidence and agency reports, the measure aims to improve forensic science, end the rape kit backlog, and address racial disparities in wrongful convictions that persist in America's criminal legal system.

A source close to the actress and humanitarian told PEOPLE that Jolie and her daughter spent the trip meeting with members of Congress and the White House to discuss a new provision in the legislation, which would give crime victims access to crime reports and evidence of their abuse.

"Currently, there's no method within the federal government that provides crime victims with a right of access to their own records of crimes they experienced and reported," Jolie, a longtime advocate for refugees through her work with the United Nations, told lawmakers. She continued: "This is an issue across the country. Survivors need their records of reporting crimes they or their children experienced to advocate for health and trauma care and for safety protections in family court." Jolie added that "access to these records should be a right for all families."

In photos from the visit, the Academy Award winner and her daughter can be seen meeting with Patrick Leahy, one of the bill's sponsors, and Senate Majority Leader Chuck Schumer.

The source told PEOPLE the actress also met with members of the White House Gender Policy Council about legislative priorities ahead of this week's launch of the U.S. Strategy to Prevent and Respond to Gender-Based Violence and also attended Tuesday's signing of the Respect for Marriage Act.

"I was honored to attend this historic and joyous bill signing for a law that ensures dignity and safety for LGBTQ and interracial couples and families," Jolie told PEOPLE in a statement. "While in DC advocating on issues concerning abuse with those who've been affected, Zahara and I were glad to also celebrate love and the security the Respect for Marriage Act provides."
[From People]
I have this fantasy that Angelina and Zahara went to the White House to meet some of the policymakers and those White House senior staffers were like "hey, you two should stay for the Respect for Marriage Act signing party." And they did. This is like the third or fourth time (that we know of) where Angelina has gotten facetime with Biden White House staffers, if not President Biden himself. Dark Brandon likes Angie and Miss Z. As for her meetings on the Hill, she's been quite the regular, and she schedules meetings with Republicans and Democrats. She believes that advocating for women and children should be across party lines. You would be surprised by how few Republicans feel that way.
— Rep. Nadler (@RepJerryNadler) December 14, 2022
— Ted Johnson (@tedstew) December 14, 2022
Embed from Getty Images
Embed from Getty Images
Photos courtesy of Getty, Instar.
Source: Read Full Article