Ariana Grandes R.E.M. Beauty Wins Allures 2022 Best of Beauty Award One Year After Its Release
The Grammy-winning singer first introduced her beauty brand that's inspired by '50s, '60s, and '70s glamor in September last year, two years after keeping it a secret.
AceShowbiz –Ariana Grande and her beauty brand R.E.M. Beauty scored a new record. One year after being released, the Grammy-winning pop star's beauty line won Allure's 2022 Best of Beauty Award.
On Tuesday, September 13, the official Instagram account of R.E.M. Beauty shared the happy news via Instagram Story. "We won an Allure Best of Beauty Award," it read. "Thank you @allure."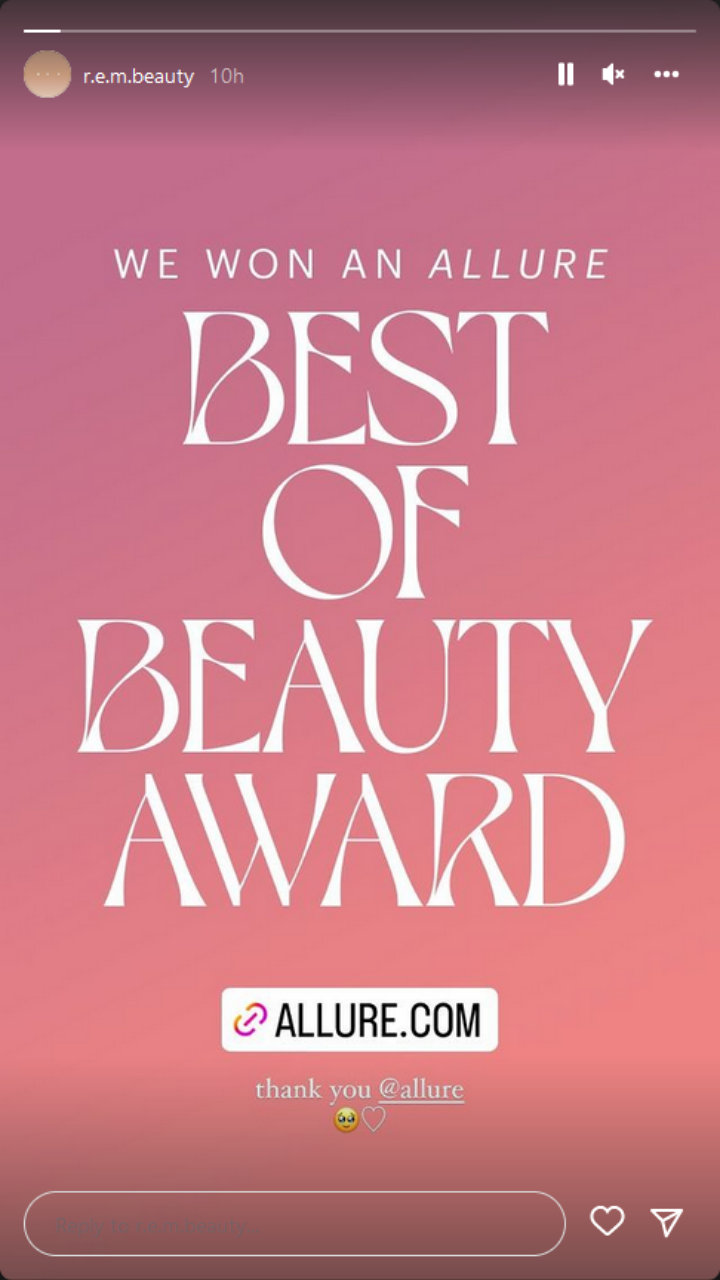 R.E.M. Beauty shared the happy news via Instagram Story.
Earlier that day, Allure announced via its website that R.E.M. Beauty's lengthening mascara won Best Mascara (Length) category. Explaining why the award went to the $15 mascara, Allure stated, "We clicked out of a long-standing Google search for 'lash extensions near me' seconds after applying r.e.m beauty Flourishing Lengthening Mascara. The tapered brush separates as it elongates for naturally fluttery results."
R.E.M. Beauty was released on September 9 last year. In an interview with Allure last year, Ariana shared that she had to keep her beauty brand a secret for 2 years. "Coveting the secret for the past two years and having testers and samplers in my purse, and people asking me, 'Oh, I love your highlight, what are you wearing?' And me being like, 'I don't know,' sweating," the 29-year-old singer/songstress told the magazine. "It was so hard to keep a secret for this long."
Ariana further explained why her brand is inspired by '50s, '60s and '70s glamor. "I've always pictured myself in a different time period," the "Thank U, Next" hitmaker said. "I've always wanted to wear that makeup, wear that hair, wear those outfits, be those performers."
As for joining the ranks of successful celebrity beauty brand owners like Rihanna, Kylie Jenner and Jennifer Lopez, Ariana isn't worried about the space becoming oversaturated because "you can never have enough makeup, just like you can never have enough music."
"I wear my peers' makeup as well, just like I listen to their music," Ariana said. "I'm not going to say, 'Oh, there's too many female artists.' I love and I'm [a] huge fan of my peers that do both, and I think that it's just another way to tell stories."
"R.E.M." is the title of one of the singles featured on Ariana's 2018 album "Sweetener". It's also the name of one of her wildly successful fragrances. Both her beauty and fragrance lines are currently available at Ulta and Target.
Source: Read Full Article