Broadway Legend Stephen Sondheim Passes Away Suddenly at 91 After Celebrating Thanksgiving
According to his attorney and friend, F. Richard Pappas, the famed composer and lyricist died at his home in Roxbury, Connecticut after celebrating Turkey Day with his friends.
AceShowbiz –Stephen Sondheim has died aged 91. Announcing his death was his lawyer and friend F. Richard Pappas. According to his attorney, the Broadway legend passed away "suddenly" after celebrating Thanksgiving with his friends.
The famed composer and lyricist passed away on early Friday, November 26 at his home in Roxbury, Connecticut. Pappas told The New York Times that he did not know the Broadway history's songwriting titan's cause of death, adding that the artist had not been known to be ill and that the death was sudden. Pappas also said that the day before, the star had celebrated Thanksgiving with a dinner with friends.
Sondheim wrote the words for "West Side Story" and "Gypsy" and the music and lyrics for a celebrated list of shows that include "A Funny Thing Happened On The Way To The Forum", "Follies", "A Little Night Music" and "Sunday In The Park With George". His career spanned more than 60 years, and he was known for co-creating Broadway theatre classics including "Sweeney Todd" and "Into the Woods", which both went on to become hit movies.
In the wake of Sondheim's death, producer Cameron Mackintosh issued a statement that read, "The theatre has lost one of its greatest geniuses and the world has lost one of its greatest and most original writers." Mackintosh added, "Sadly, there is now a giant in the sky. But the brilliance of Stephen Sondheim will still be here as his legendary songs and shows will be performed for evermore. Goodbye old friend and thank you from all of us."
Celebrities also paid homage to the legendary composer, including Anna Kendrick. Taking to her Twitter account, the "Pitch Perfect" actress wrote, "I was just talking to someone a few nights ago about how much fun (and f**king difficult) it is to sing Stephen Sondheim. Performing his work has been among the greatest privileges of my career. A devastating loss."
Barbra Streisand tweeted, "Thank the Lord that Sondheim lived to be 91 years old so he had the time to write such wonderful music and GREAT lyrics!" Meanwhile, Hugh Jackman added, "Every so often someone comes along that fundamentally shifts an entire art form. Stephen Sondheim was one of those."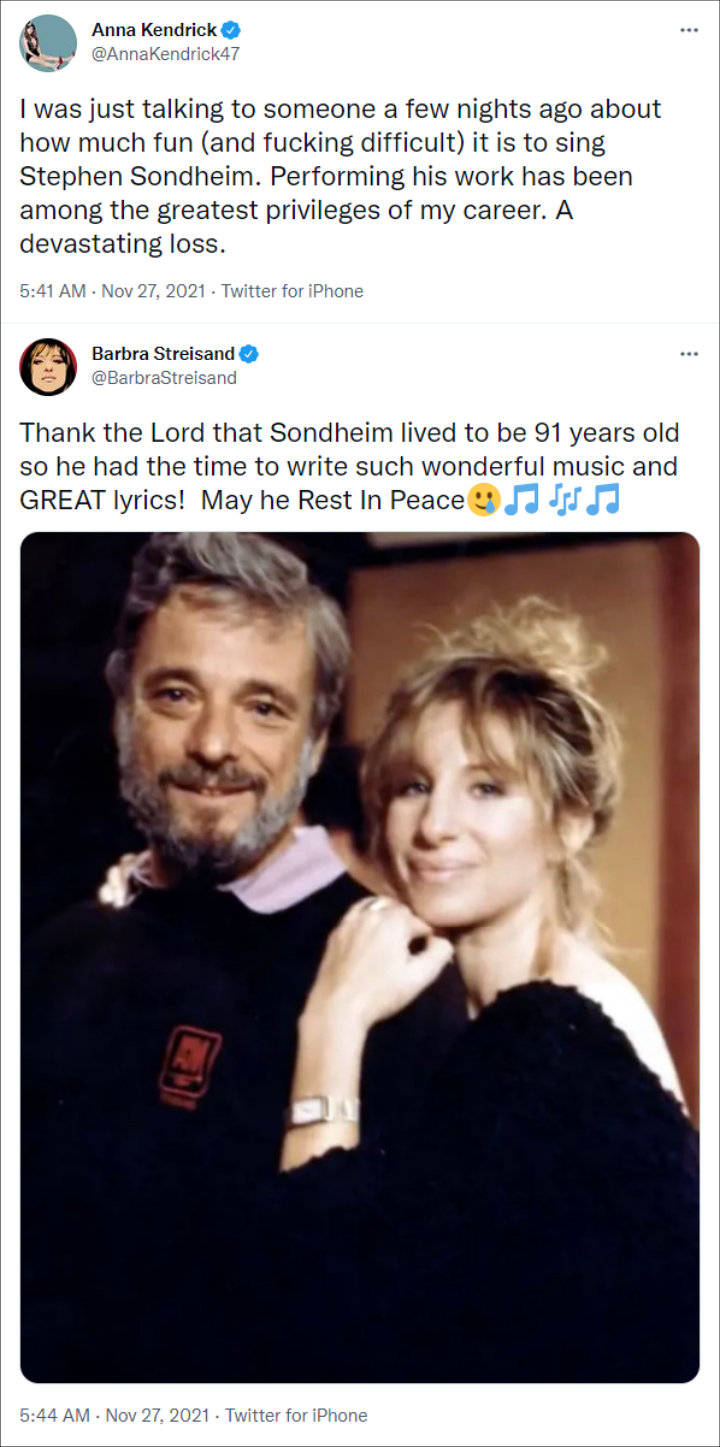 Anna Kendrick and Barbra Streisand mourned the death of Stephen Sondheim.
"The Wolverine" actor continued, "As millions mourn his passing I also want to express my gratitude for all he has given to me and so many more." He concluded his post as saying, "Sending my love to his nearest and dearest."

Hugh Jackman and Josh Gad also expressed their condolences via Twitter.
Josh Gad also shared a tribute to Sondheim. The "Beauty and the Beast" actor tweeted, "Perhaps not since April 23rd of 1616 has theater lost such a revolutionary voice. Thank you Mr. Sondheim for your Demon Barber, some Night Music, a Sunday in the Park, Company, fun at a Forum, a trip Into the Woods and telling us a West Side Story. RIP."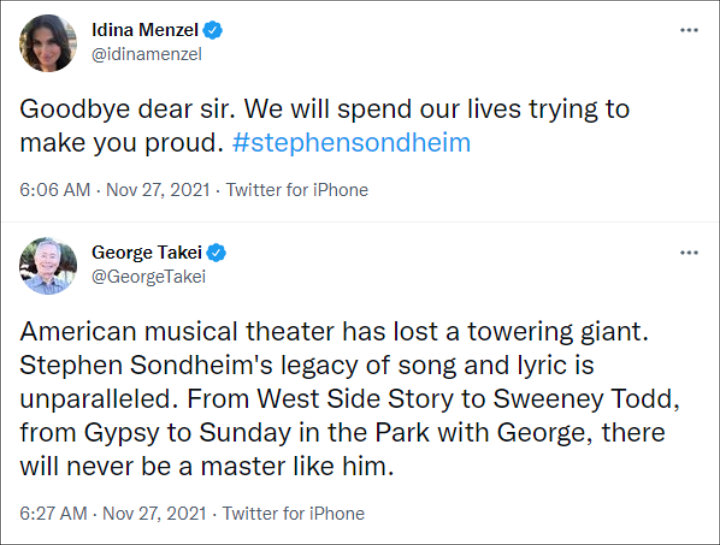 Idina Menzel and George Takei took to their Twitter accounts to share tribute following Stephen's 'sudden' death.
Additionally, Idina Menzel took to Twitter to mourn Sondheim, by writing, "Goodbye dear sir. We will spend our lives trying to make you proud." Also expressing his condolences was George Takei. "American musical theater has lost a towering giant. Stephen Sondheim's legacy of song and lyric in [sic] unparalleled. From West Side Story to Sweeney Todd, from Gypsy to Sunday in the Park with George, there will never be a master like him," he tweeted.
Source: Read Full Article