Exclusive: Get a First Look at 'Beetlejuice' on Broadway's New Lydia, Elizabeth Teeter
The world didn't know it yet, but Elizabeth Teeter was already gearing up to come to the Broadway stage as Lydia in Beetlejuice back in March 2020. The beloved musical already had a strong fandom behind it as they continued to play shows at the Winter Garden Theatre, but there were a slew of troubles backstage. The COVID pandemic added a level of uncertainty as Broadway prepared for the worst. Meanwhile, the owners of the theater used an old contractual clause to kick the show out in favor of The Music Man. But when the pandemic fully hit New York City, the show had to shut down entirely, and Elizabeth never got to take her first bow as Lydia.
But now, two years later, everything has changed for the Broadway actress as she prepares to take part in Beetlejuice for the first time.
"I hadn't even been announced. I was in rehearsals for three days and I met the cast very briefly. But then we shut down and I went home," Elizabeth revealed to Cosmopolitan the day before the show's first preview. "I was super, super grateful they brought me back and offered me the role again. We just had our invited dress, and I got a little emotional at the end because we made it here. It's very exciting!"
For some lucky fans, they'll finally get to experience Elizabeth's Lydia for the first time when the show officially reopens on April 8 (today!) in its new home, the Marquis Theater. And those who can't make it out yet can still get a glimpse of the fun in these exclusive photos for Cosmopolitan: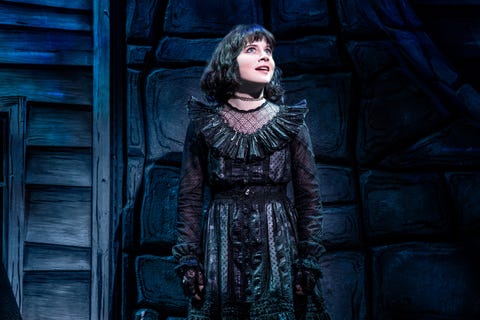 Luckily for Elizabeth, a lot of the show's original cast members, including Tony-nominated actors Alex Brightman and Kerry Butler, are returning again. But since it's a whole new theater and some time has passed, they're all on the same playing field.
"We kind of felt like we were starting from square one. We all did table work, talked about characters, worked on the script, and brought new ideas. A lot of it is the same, but it all sort of felt new again," Elizabeth told Cosmo.
As the show prepares to come back to the Great White Way a second time, Elizabeth has already had her big moment in front of a small group of lucky friends, family, and close acquaintances of the production. But even though it wasn't a full house, the moment was still huge.
"Today, on the downbeat of the orchestra, people started clapping and it was pretty surreal. After my first little song, Beetlejuice had his entrance, everyone started screaming and we were all just in tears. It doesn't feel real," Elizabeth noted. "It's hitting now that we had an audience, and that's going to be four times as big tomorrow in the first preview. I don't know what to expect, but hopefully all the good things."
https://www.instagram.com/p/CbxnlZXO2Y1/?utm_source=ig_embed&utm_campaign=loading
A post shared by Elizabeth Teeter (@elizabethteeterofficial)
It's not just her fellow actors who have helped her out as she finally makes her Beetlejuice debut. She also has the entire fandom—which is not only represented in the audience but through a special mural featuring fan art in the theater—behind her as well.
"We love you. I know that you don't know me yet, but I've just been blown away already by all of the artwork that I'm seeing on the wall, all of your support," she said. "It makes it so exciting to come into something that is so loved. We wouldn't be back if wasn't for the fans who wanted us back. We are endlessly grateful to all of you and I hope you come to your show."
Source: Read Full Article