Get Acquainted With Will Smith's Full Oscars History
The Oscars are going down tonight, and it should be a satisfying mix of:
And speaking of faves winning their debut Oscar, Will Smith is favored to win Best Actor award for his role in King Richard, which would be his very first Academy Award. But this is far from Will's first time getting nominated. Before King Richard (which could also land him an Oscar for Best Picture), Will was nominated for Best Actor in Ali back in 2002 and Best Actor for The Pursuit of Happiness back in 2007. So yep, a win would be a long time coming for one of the greatest actors in the industry!
And while Will could lose the Best Actor award to one of the other nominees (aka Javier Bardem for Being the Ricardos, Benedict Cumberbatch for The Power of the Dog, Andrew Garfield for tick, tick…BOOM!, and Denzel Washington for The Tragedy of Macbeth), it would definitely be an upset—especially since Will won the Golden Globe, which is usually a pretty good indicator of who is going to then win the Oscar.
Either way, Will is thrilled to be nominated, telling Deadline, "It's six nominations total, and this is rarefied air for me. I've been nominated two other times, but it's never been this kind of blanket love, you know?" He continued, "The story, the Williams family, working with Aunjanue Ellis and the time we spent together, learning her story and her struggles. The fact that it's Richard, and Venus and Serena, and the timing of it. It was one of those things where everything went perfectly together. So, to be a part of this story and to feel the way the world is responding, it is artistic nirvana."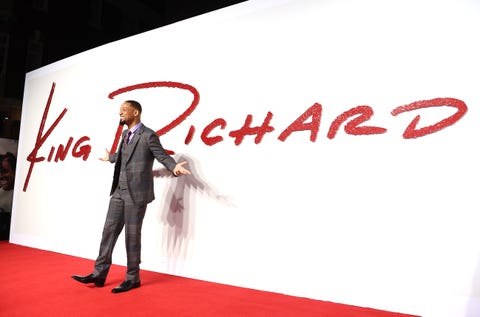 Obviously, King Richard follows the life of Venus and Serena Williams' father Richard Williams as he coached his daughters to become two of the world's best tennis players. "There are so many intricacies to this story, " Will told Deadline, adding that one of the story aspects he found most compelling was Richard's narrative was the "opposite of what I thought," and the "idea of Richard Williams as a brash, overbearing father who pushed his children to success" isn't actually true. "One of the first things we realized was what Venus called his 'Jedi mind trick,'" Will explained. "He tricked them into pushing him to have them play tennis. At every turn, he would say, 'No, you can't play tennis if you don't go to Kingdom Hall,' or, 'Nope, you can't play tennis if you don't do your schoolwork.' He was pushing against it as much as he was pushing for it."
P.S. If you've yet to see King Richard, it's currently available to stream on HBO Max and lord knows you still haven't "found the time" to log-out of your ex's account, so go ahead and stream it below:
Watch Now!
Source: Read Full Article