Hailey Baldwin Was So Close to Having a Double Nip Slip During Her Wedding Reception
It's been nearly two weeks since Hailey Baldwin and Justin Bieber reaffirmed their love for each other in front of all their family and friends and the Lord. While their wedding seemed to be a nightmare for many of the guests at the South Carolina hotel they held it at, the bride and groom seemed to have an amazing time and haven't stopped posting about it ever since. And honestly, why should they? If people don't like it, there's a nifty thing called an unfollow button! Anyway, days after Hailey revealed her lace Off-White wedding gown, her stylist Maeve Reilly shared a photo of Hailey's reception dress and while it was stunning, we gotta take a second to give her props for avoiding a double nip slip on the dance floor.
This afternoon, Maeve took to Instagram to celebrate "the happiest bride I ever did see" and give a shoutout to Vera Wang for designing Hailey's reception gown and pointing out how she wore sneakers to stay comfy. The picture Maeve used was the epitome of pure joy, even amid a near wardrobe malfunction. Luckily, though, while Hailey was dancing, she was also able to lift her hand to keep the front of her dress from falling down and causing a nip slip.
https://www.instagram.com/p/B3fNg_bBatI/
A couple days earlier, Justin shared a pic of him removing her garter with his teeth and sharing a hug while everyone around them was dancing.
https://www.instagram.com/p/B3YDJ1-n2al/
S'cute! Cheers to these crazy kids and fingers crossed for a vow renewal ceremony next year so we can get even more pics!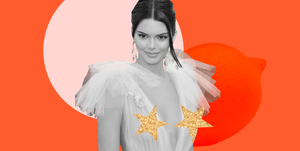 Source: Read Full Article