Is Patrick Mahomes Engaged?
Patrick Mahomes is a quarterback for the Kansas City Chiefs, which would make him quite the sought after bachelor … if he were single. Not only does Mahomes have a steady position among a great NFL team, but he is also one of the youngest starters in the entire league!
That means he has the potential to have quite a long and lucrative career ahead of him! There's only one starter younger than this 23-year-old Tyler, Texas native and that's fellow QB, Sam Darnold. He's 22.
As a woman fishing in the pond, landing any young NFL superstar could be the start to a wonderful life, considering just how much they make! So, has Mahomes already made some young woman very happy?
Is Patrick Mahomes dating anyone?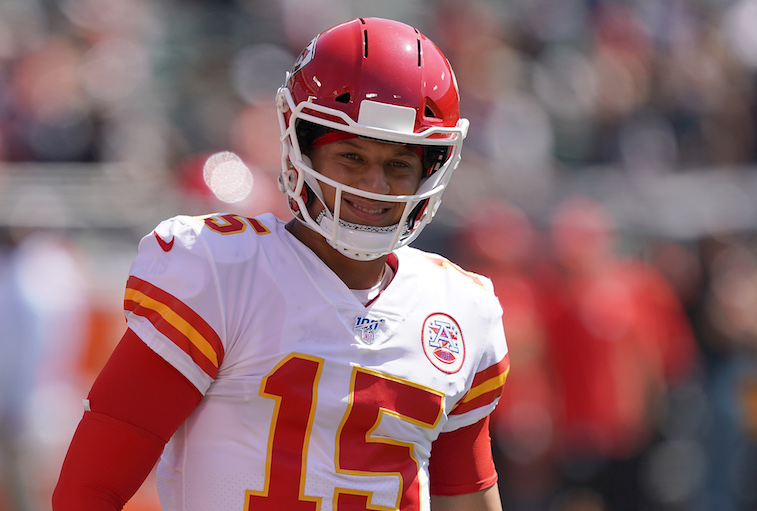 As a matter of fact, the NFL superstar does have a lady on his arm. She goes by the name Brittany Matthews. Mahomes and Matthews go back way back, well not that far back. The two are high school sweethearts and have been attached at the hip ever since their days as Whitehouse High School in East Texas.
After graduating they attended rival schools, but their relationship continued to blossom. Mahomes went with Texas Tech University in Lubbock while Matthews decided to enroll in the University of Texas in Tyler. Despite being "rivals," Matthews makes it a point to cheer on her beau at as many games as possible.
Sadly, the supportive girlfriend lost her stepdad, Paul Massey, at one of Mahome's games in 2018. On November 11th at Arrowhead Stadium Massey collapsed outside of the stadium during the pregame. He was rushed to the hospital where he later passed away. Mahomes found out after the game and rushed to his girlfriend's side.
"I didn't know about it until after the game. Coach [Andy] Reid actually told me in the tunnel after the game and it was shocking … He was a great man and he was a great stepdad for Brittany. She's back home now with her mom and her family. I'm still sending my prayers to them." – Patrick Mahomes
Brittany Matthews is also an athlete
Mahomes isn't the only one with an athletic background. Matthews sport of choice is soccer. In fact, she's so good that she ended up playing professionally for an Icelandic soccer team after college. The young athlete didn't think she would end up engrossed in the sport, but once she got to college, she ultimately ended up loving every single moment.
"I didn't even see myself playing college soccer when I graduated high school. However, I ended up coming to UT Tyler to play soccer because it was close to home and I knew a few girls that played here that loved it and told me I need to join the family. So I did, and these last four years have made me fall in love with soccer all over again and want to go on and play professional soccer." – Brittany Matthews
Matthews went on to say that the coaches she had throughout her college career had a positive impact on her love for the sport. Once an opportunity arose for her in Iceland, she went for it without a second thought.
Nowadays, Matthews has put the professional soccer world behind her. Instead, she's started her own personal training business — Brittany Lynne Fitness.
Are Patrick Mahomes and Brittany Matthews engaged?
Mahomes and Matthews may have been together for a while (seven years to be exact), but they haven't crossed the line from dating to engaged yet! They have made some other significant moves though. The high school sweethearts recently bought a home together — one they sunk major money into for renovations.
While the question may have not been popped yet, it's clear these two are in it for the long haul. But, how does Matthews feel about not graduating from girlfriend to wife yet?
 
On their seven-year anniversary, Matthews shared a sweet Instagram post shouting out her beau. The caption reads, "7 years, the greatest 7 years with you! Lots of life changes, lots of growing, lots of surprises, lots of memories! Cheers to a lifetime with you❤️ P.s- to everyone that's gonna ask when we are getting married, the answer is whenever we want😊." 
 
As you can see, Matthews and Mahomes are in no rush to tie the knot, and with a relationship as strong as theirs, there's really no need to push the boundary just yet.
Source: Read Full Article