Is This Why Matthew Perry's Speech Was Slurred During The Friends Reunion?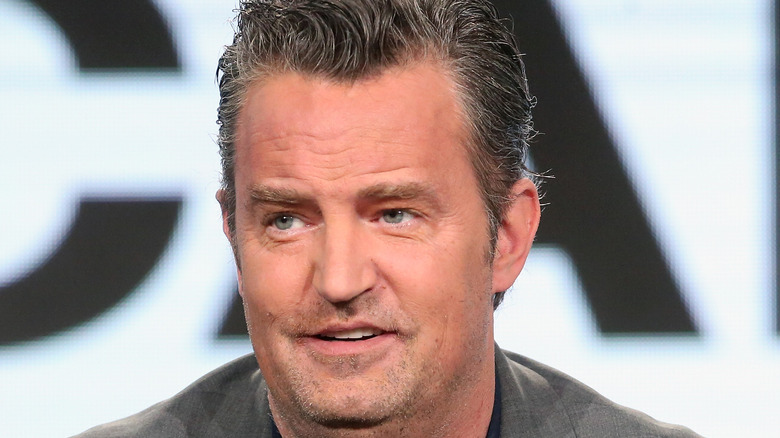 Matthew Perry's name has been making headlines over the past month for multiple reasons. Of course, the big "Friends" reunion, which begins streaming on HBO Max this week is a big reason why people are talking about the actor. Perry, who previously played the fan-favorite character Chandler Bing on the hit NBC series created a bit of controversy this week when he promoted his brand new line of merchandise, which was inspired by his iconic character (via New York Post). Some of the items Perry is selling include shirts that boast phrases such as "Could I Have Had A Longer Day?" He's even selling bandanas for dogs that read "Could I Be More Of A Dog?"
Recently, Perry modeled one of his shirts via his Instagram account. The piece of clothing was a black short-sleeved t-shirt that stated "Could I Be Any More Vaccinated?" While many fans loved the topical garment, others called out the actor for using the global COVID-19 pandemic for profit. "Making money from a t-shirt relating to vaccines is in bad taste. Could I BE any more annoyed," one social media user commented on the post. "I love you but this tshirt is not it haha," another person stated. Meanwhile, his merchandise line isn't the only controversy Perry has been dealing with as of late. Fans also recently called him out after he appeared to exhibit slurred speech in the "Friends" reunion promos.
Was dental work to blame for Perry's slurred speech?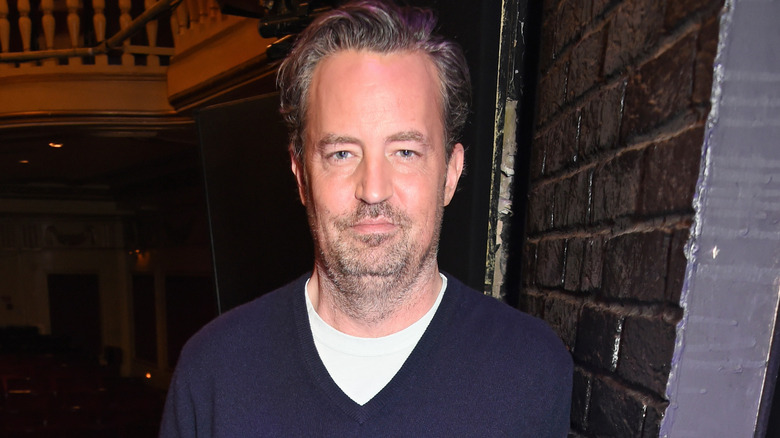 According to The Sun, fans couldn't help but notice that Matthew Perry's speech was impaired during the "Friends" reunion. This immediately sparked concerns for Perry's health and sobriety. The actor has been open in the past about struggling with substance abuse. He previously admitted that he barely remembers filming three years of the show due to his dependency on drugs and alcohol. In 1997, he checked himself into rehab for the first time. However, he has served several stints in treatment since that time. His alcohol abuse has also caused serious health problems for the actor, including pancreatitis and gastrointestinal perforation.
However, sources tell the outlet that substance abuse is not the case this time around. Instead, some emergency dental work is to blame for the situation. "Matthew turned up to the reunion and members of his team said that he had an emergency tooth procedure that day. That was said to impact his wellbeing and also how he was feeling. He had been in pain from what we understand, which caused the slurred speech. Obviously, no one wants to film after a procedure, but it happened. The feeling was one of huge sympathy for Matthew especially in recent days given how people have reacted online. Matthew has told those around him that he is sober, and there is no need to worry." Fans can see Perry reunite with his former co-stars Jennifer Aniston, Courteney Cox, Lisa Kudrow, Matt LeBlanc, and David Schwimmer when the "Friends" reunion begins streaming on HBO Max on May 27.
Source: Read Full Article