Jennifer Grey Said Her 'Darling Neighbor' Winona Ryder Started 'Banging Her Ex' Johnny Depp
When Johnny Depp and Winona Ryder hit the scene as one of the most adored teen idol couples of the early nineties, he was hot off his engagement with Dirty Dancing star Jennifer Grey. In fact, she said his motorcycle jacket was probably still warm from the nine months she'd spent wearing it when she found out her "darling neighbor," Ryder, was "banging [her] ex."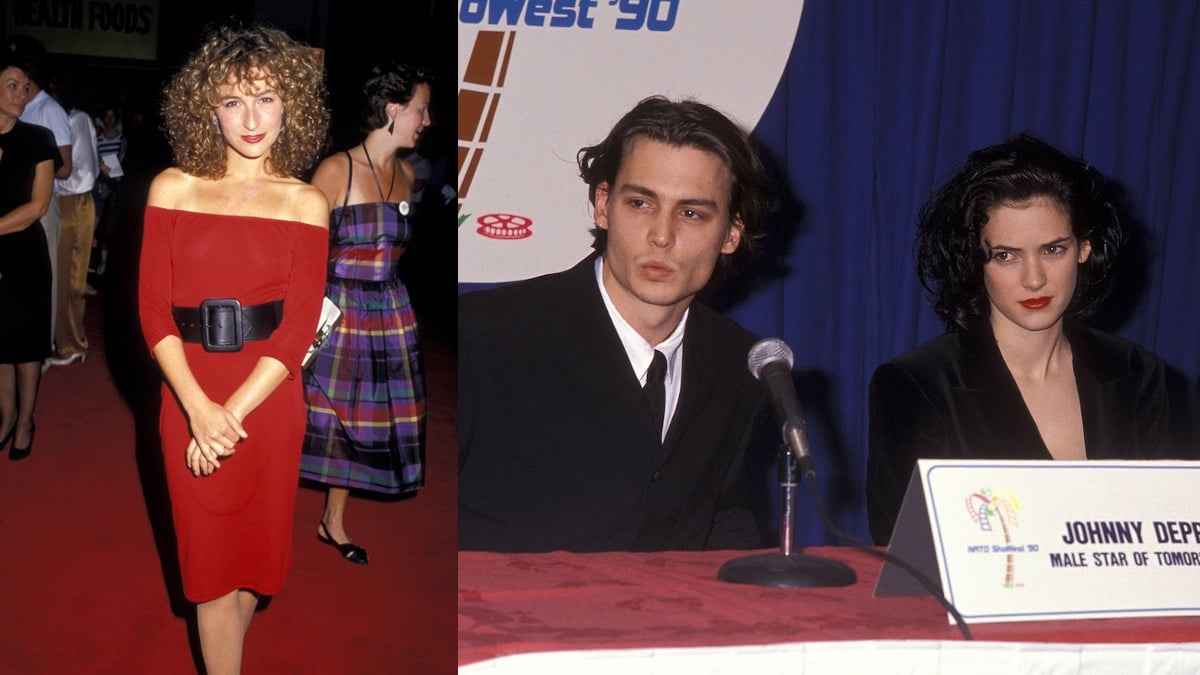 Jennifer Grey moved on from Matthew Broderick with Johnny Depp
In Grey's memoir, Out of the Corner, she shared that her relationship with Depp started after her engagement to her Ferris Bueller's Day Off co-star, Matthew Broderick, ended.
Grey was dealing with a lot of stress from a tragic car accident she was in with Broderick at the wheel. Two people died and she put herself on "automatic pilot" to get through the trauma. She tried to get by until things felt good again. But she eventually realized it was no way to live.
After their first breakup, Broderick proposed. They reunited, and she eventually accepted his ring, but that didn't fix the problems in their compatibility. Grey said Madonna wrote her hit song "Express Yourself" about that fizzling relationship.
Soon after Grey and Broderick split, she and Depp started a heated romance during which he proposed to her within two weeks, she wrote. But, as his fame grew and he became frustrated by certain aspects of it, their relationship changed. She ended the engagement after nine months.
Johnny Depp moved on from Jennifer Grey with Winona Ryder
According to Grey, life after Depp was going pretty great for a moment. "That is until I learned that my darling neighbor was banging my ex," she noted, "the classic nightmare of feeling replaced …"
She called watching Depp move on with Rydera "bizarre, virtually seamless changing of the guards." And she had "the added fun of the blow-by-blow press coverage of what would become one of the most beloved celebrity couplings of the nineties."
Her breakup with Depp came in a line of "impulsive, destructive" decisions that "knocked the wind" out of her. The timing of his new relationship "dovetailed" with the end of theirs. And to her, the very public displays of affection with Ryder "nullified" her own nine months with Depp.
Grey said her heartache was overwhelming, but she noted a lot of it didn't have anything to do with her heartthrob of an ex. "He was just the face of grief at the time," she noted.
Winona Ryder and Johnny Depp's love was immortalized in 'Edward Scissorhands'
Depp proposed to Ryder five months into their relationship. Notably, they were engaged when they made Edward Scissorhands but they never made it to the altar. And the Stranger Things star said she was the one who eventually broke off the engagement.
She told Cinema.com, "I had my first real relationship with Johnny (Depp), a fiercely deep love …"
"The first love is like that isn't it?" she added. "… It was a real wild time back then."
As to why things didn't work out, Ryder seemed to blame their careers. "When you've been an actor your whole life, your emotion and the acting get confused," she explained. "When you fight with your boyfriend, you start acting — it's like work."
Depp, who had already married once by then, eventually moved on again with Kate Moss. Then, he was in a relationship with Vanessa Paradis for more than a decade before marrying Amber Heard.
Source: Read Full Article