Jennifer Lopez and Ben Affleck Went Insta Official…on Leah Remini's Account
Jennifer Lopez and Ben Affleck are Insta official! Kinda! The new couple made a unexpected appearance on Leah Remini's account in a casual photo booth pic that they took together at her 51st birthday party.
Leah shared a video from her party, writing in part "I wanted to share a little video from my birthday with you all because I got so much love from you on my birthday but also everyday." The photo of Bennifer is about 30 seconds in, and shows Jen with her arm resting on Ben's chest while Leah hugs him from the side.
A post shared by Leah Remini (@leahremini)
Here ya go if you don't feel like watching the entire video: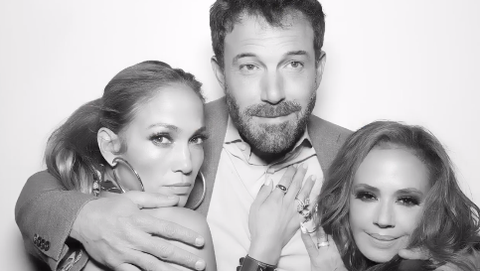 While Ben and Jen have been spotted by paparazzi a million times (including while kissing) and are apparently looking at homes in Los Angeles together, they still haven't 100 percent confirmed their relationship to the world. In fact, Jennifer just hilariously dodged Hoda Kotb asking her about Ben during an interview. Basically, Hoda mused "Look, I just have to tell you, every time I see a picture of you and Ben, I'm like, 'She looks happier, she looks happier.' Are we happier?"
And J.Lo fully changed the subject, saying "The song is out, five years since we've done it. And I believe that that message of loving one another and coming together and love, is never more relevant than it is right now."
Hoda responded, "Wait, it's me you're talking to, you know that?" and J.Lo simply said "I know. You can call me, you have my number."
Watch below, lol:
Source: Read Full Article