Kim Kardashian West Shows Off An Odd Necklace From Kanye That Features a Text Message
Kanye West has always gone above and beyond to show his love for Kim Kardashian West. From gushing about her in songs to showering her with lavish gifts, he likes to let Kim know how special she is to him and how proud he is to be her husband.
Kim recently acknowledged how "thoughtful" Kanye is while showing off a vintage Cartier necklace he gave her. But it's not just any old chain. Kanye had it engraved with words from one of their texts conversations.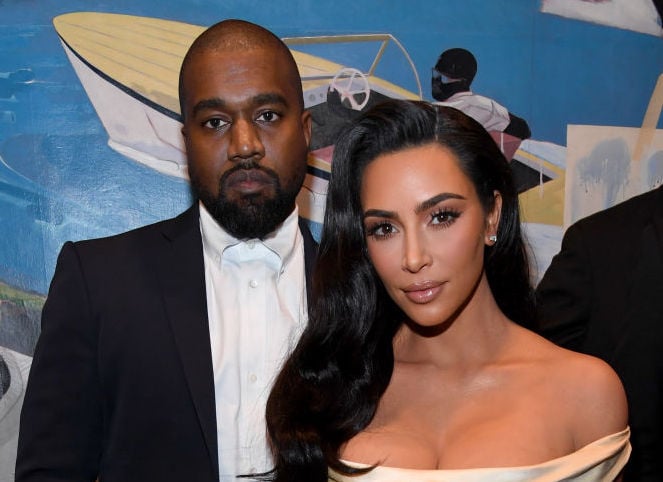 The necklace Kanye West gave Kim Kardashian West
On Jan. 12, Kim posted a selfie which shows her wearing the necklace.
"If you look closely at my necklace, you can see it's from a text Kanye sent me," she captioned the image. "He took an amazing vintage a Cartier gold plaque necklace and had it sketched out. He's always the most thoughtful when it comes to gifts."
She then shared a photo of the text conversation between her and Kanye.
"This is your life," began the text, which is just below a photo of their home and yard. "Married with four kids," Kanye added, referencing their brood: North, Saint, Chicago, and Psalm.
"Get people out of jail," he continued, referring to Kim's blossoming law career. The reality star has helped free more than a dozen inmates, including Alice Marie Johnson, a woman who'd been serving a life sentence for a nonviolent drug offense. In 2018, Kim famously traveled to the White House and successfully convinced President Donald Trump to pardon Johnson, who had spent more than two decades behind bars.
"Cover of Vogue," Kanye went on. Kim first graced the cover of Vogue in 2014 — something that triggered widespread criticism from readers. She's landed at least six Vogue covers since then.
"Go to church every week with your family," the Jesus Is King creator continued. "Dreams do come true."
Fans react to Kim Kardashian West's necklace from Kanye
Fans quickly hit the comment section to share their opinions, with many gushing over the necklace.
"That's one hell of a gift," one person wrote.
"Can we talk about how perfect Kanye is?" said one comment.
"I WANT A KANYE," another person said, tacking on a series of crying emojis.
Another mused, "I can't even get a text back."
But others think it's a strange gesture and are even kind of freaked out by it.
"This is psycho," one person wrote.
"Weird flex but okay," someone else said.
Another added, "I can't get past the bad grammar."
Other unconventional gifts from Kanye West
This is the latest offering in a long string of unconventional gifts from the "I Thought About Killing You" rapper. He once surprised Kim with a wall of flowers, stocks in big-name companies such as Apple and Disney, and gave her a check for $1 million so that she would not work with a fashion company that allegedly rips off his Yeezy brand.
While some have given him the side-eye for his ideas, it seems like Kim really appreciates them. And that's all that really matters.
Source: Read Full Article