Latto Finally Breaks Silence on Pedo Claims Against Her Father
Prior to this, Nicki Minaj implied that Latto's father is a pedophile after a social media user claimed Shayne Pitts had the 'Big Energy' hitmaker when he's 30 and his wife Misti was 16.
AceShowbiz -Latto (Mulatto) has finally addressed rumors that her father Shayne Pitts is a pedophile. After many suggesting that her dad had her when he was 30s and her mom Misti was 16, the "Big Energy" raptress set the record straight.
Letting the world know that her father is not that old, the "B***h From Da Souf" raptress penned, "My daddy is 42." The 23-year-old femcee also added a bunch of laughing with tears emojis.
As if it's not enough, a different Twitter user replied to her clarification post, writing, "your 20 yr old daddy impregnating your 16/17 year old mama rlly isn't the flex u think it is girl. u just wanna drag the s**t on cus outta all the tweets u could've responded to, your light bright a** responded to this one."
Slamming the claims, Latto quote-retweeted the post, "Loud & wrong again." The Ohio-born hip-hop artist went on revealing, "They was both teenagers in high school bookie they still married lmao [three tomato emojis]."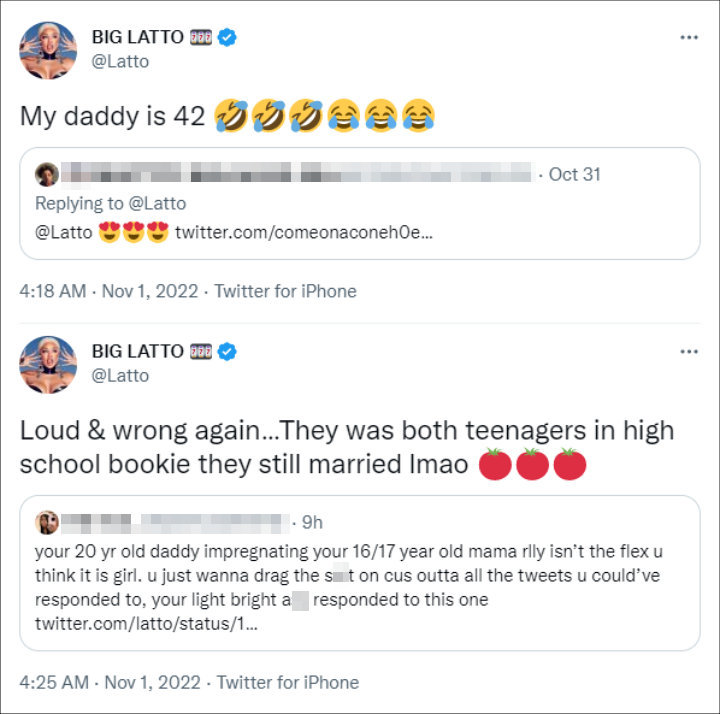 Latto set record straight on wild claims that her father is a pedophile.
The claim was first posted by a Twitter user that goes by the username @lovecraftcuntry on October 14 amid Latto's heated social media exchanges with Nicki Minaj over 2023 Grammys nomination. At the time, the user shared a pair of screenshots that showed Latto's dad and mom's names and ages. It's written that Shayne "is in his 60s" while Misti, who was born on December 29, 1982, is 39 years old.
Captioning the screengrabs, the user wrote, "Your father is in his 60s. Your mother is 39. Meaning when your father had you he was roughly in his 30's." The said person added, "Your mother was 16 or 17. You know what that means, right? @latto."
Reacting to the claim, Nicki called out Latto. "Scratch off getcho dumb a** to the mic RIGHT NOW!!!!! Explain this s**t!!!!!" The Trinidadian raptress continued, "Since you just became a rape activist in the last 5 minutes hoe you BETTA HAVE A GOOD EXPLANATION FOR THIS S**T!!!!! RIGHT TF NOW!!!!! [laughing emoji] this BETTA be a typo."
As for now, many Latto's fans urged her to sue Nicki "for emotional stress and damages." One person said, "Nicki called your dad a ped and said for you to explain your fathers actions. SUE." Another echoed, "Sue the barb and Nicki for calling ur dad a ped." Someone else wrote, "Nicki owes u apology."
Source: Read Full Article