OMG, Nicki Minaj Just Reignited Her Feud with Miley Cyrus
Yesterday, Nicki Minaj dropped a new Queen Radio show, and it gave us a LOT to think about. First, Nicki let it slip that she and BF Kenneth Petty went out and got their marriage license (side note: are they engaged? did we all just miss that?), and then she also took some digs at someone who she didn't name, but who we can only assume to be Miley Cyrus.
ICYMI, this Nicki/Miley tension goes back to 2015, when Miley made some remarks about Nicki to the New York Times, saying that she was "not very polite" (among other things), and then Nicki called out Miley at the VMAs, calling her "this bitch who had a lot to say about me the other day in the press. Miley, what's good?" It was…intense.
Anyways, while Miley seems to be totally over it and even pokes fun at the Nicki/Cardi B feud in her new song "Cattitude," Nicki is…maybe not so over it.
On Queen Radio Nicki says, "Perdue chickens can never talk shit about queens. She disrespected me in a magazine article for no reason. I had just seen her after she sucked Mike WiLL's dick in the studio." Mike WiLL Made-It is a producer who worked with Miley on Bangerz, and Miley certainly fits the role of someone who talked about Nicki to the press. Nicki also says, "Now you coming out with pink wigs, all you bitches wanna be Nicki." This could also be a reference to Miley, who has been going HAM on her Instagram promoting her Black Mirror character Ashley O, who wears a purple wig:
https://www.instagram.com/p/ByUJFh6pCug/
Ashley O. Your new favorite pop star / best friend . 💜 #BlackMirror 6/5 @netflix
A post shared by Miley Cyrus (@mileycyrus) on
https://www.instagram.com/p/ByqMG1npFLP/
Ashley O behind the scenes of her new music video " On A Roll " link in bio !
A post shared by Miley Cyrus (@mileycyrus) on
https://www.instagram.com/p/BydFpz4JEtZ/
Ashley O uses protection . Miley does not. Be like Ashley.
A post shared by Miley Cyrus (@mileycyrus) on
So, uh, I guess that Nicki wasn't a fan of that "Cattitude" lyric!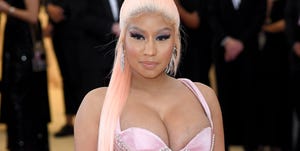 Source: Read Full Article