Sadie Robertson Admits Postpartum 'Can't Just Be Ignored' After Giving Birth to Daughter
Offering an update on her experience as a first-time mom, the 'Duck Dynasty' star says that her journey after the arrival of her baby girl 'has been so special in a million ways.'
AceShowbiz –Sadie Robertson gets honest about dealing with postpartum. Offering an update about her condition after giving birth to her first daughter, the "Duck Dynasty" star talked about her healing process and admitted that postpartum "can't just be ignored."
The new mom took to her Instagram Story on Friday, May 21, to share a photo of herself with her little girl Honey. Over the snap, she wrote a caption that read, "I will say postpartum has been so special in a million ways (truly), but the pain is real and can't just be ignored."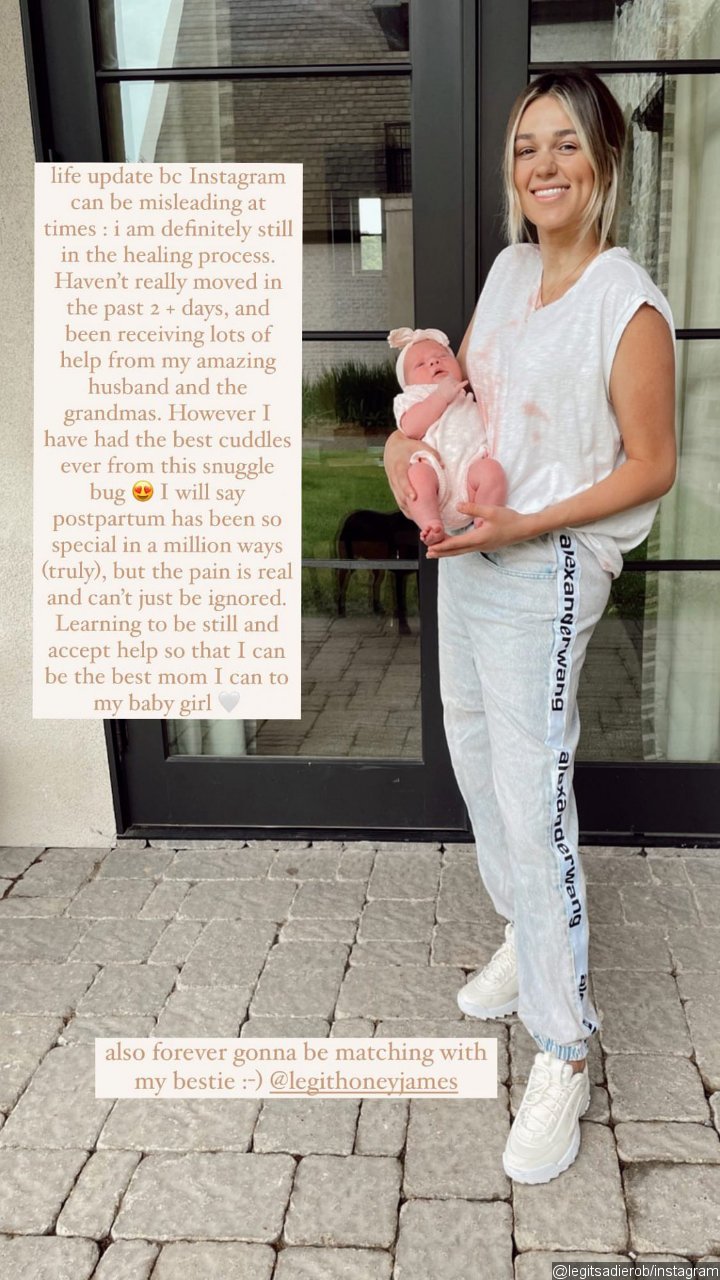 Sadie Robertson shared an update about her condition after giving birth to daughter Honey.
In the note, Sadie also pointed out that she is currently in the healing process. "Life update bc Instagram can be misleading at times: I am definitely still in the healing process," she detailed. "Haven't really moved in the past 2+ days, and [have] been receiving lots of help from my amazing husband and the grandmas."
Though she struggled with postpartum after the arrival of Honey, the "I'm Not Ashamed" actress admitted she has "the best cuddles ever" from her daughter whom she dubbed "the snuggle bug." Near the end, she wrote, "Learning to be still and accept help so that I can be the best mom I can to my baby girl," adding that she is "forever gonna be matching with my bestie" as referring to her girl.
Sadie and her husband Christian Huff welcomed their first child on May 11. One day after giving birth, she announced the exciting news on Instagram. Alongside a sweet photo of her cuddling the newborn with her husband, she penned, "We saw a million little miracles yesterday – the best one being this girl right here… Honey, the pure goodness of God. story to come, but I'm way too occupied right now by cuteness. 5.11.21."
One week afterward, Sadie shared another update post for her fans and followers. The "Dancing with the Stars" alum wrote, "1 week and you've officially changed me for the better. I've learned that before I ever get to really teach you a thing you will teach me a million."
Sadie went on to list some life lessons her daughter has taught her. "The way you came into the world was absolutely everything we prayed for and absolutely nothing we had planned for and that's the best way it could have been," she noted.
"To see a miracle you have to go through a moment of desperation, fear and even pain, but none of those feelings compare to the gratitude of receiving the miracle," Sadie continued. She also addressed her post-baby body as saying, "My body is much more than an image. It's a powerful creation that can host and grow a powerful creation."
Near the end, Sadie declared, "Everyday single day I have a purpose. the greatest job in the world – being your mama." She then gushed over her baby by saying, "Thank you Honey for changing my perspective of things already. You are one of a kind… an original. My heart swells when I even think of you and I have thought of you for the past 24/7 [love]."
Source: Read Full Article