Scarlett Johansson's Massive Brown $400,000 Engagement Ring Is the Most Unique I've Ever Seen
In the world of Hollywood couples, Scarlett Johansson and Colin Jost tend to keep things lower-key, but it's a little hard to do that when you debut an engagement ring and it's worth more than a literal house. Scarlett made an appearance at Comic-Con over the weekend for a Marvel panel announcing a Black Widow movie (about time), and her engagement ring caught her fans' attention, mostly because it is the Halle Berry back tattoo of engagement rings. And by that, I mean it's completely massive.
The ring is a light brown, 11-carat diamond that is reportedly priced at about $400,000, according to an expert who spoke to Page Six. To put that whole "11 carats" thing in perspective, Who What Wear says the average person considers a "big" engagement ring to be 2.4 carats, so to hit 11 is basically a blingy, diamond-y flex.
Scarlett and Colin started dating back in 2017, though they might have met a decade earlier when the actress first hosted Saturday Night Live the same year Jost began writing for it. They finally confirmed their relationship at the 2017 Emmys, and now they're planning a wedding, which is all very cute.
But without further ado, check out these close-up pictures of ScarJo's ring here and try not to balk: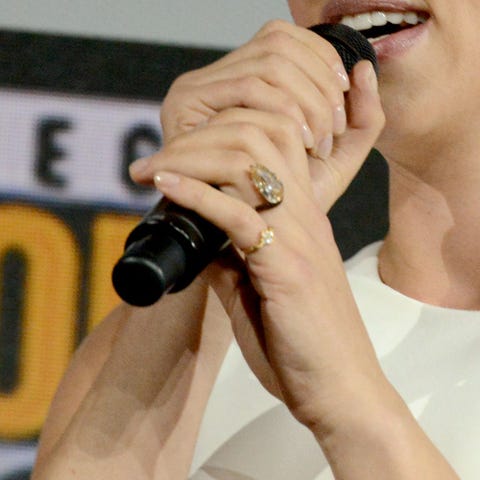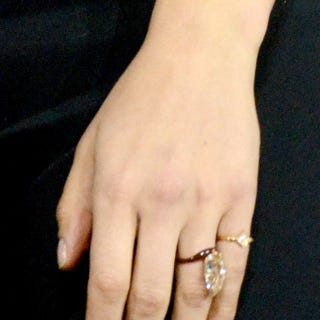 That is some fancy bling. Page Six reports that the ring is thought to be made by Taffin's James de Givenchy, who is the nephew of Givenchy's founder, Hubert de Givenchy.
https://www.instagram.com/p/BzSQS2xgmD_/
11 cts light brown diamond, type 2A.
A post shared by TAFFIN (@taffinjewelry) on
Elle also spoke to two diamond experts, who estimate that the ring could be worth anywhere from $200,000 to $450,000, though it's a bit difficult to tell because of how unique the design is.
Source: Read Full Article