The Untold Truth Of Lindsey Graham
Lindsey Graham has been a national figure in politics for decades, emerging as a Republican senator and holding the same South Carolina seat since 2003 (per AP News). But the politician had humble beginnings, as he shared in his autobiography "My Story."
His parents owned a South Carolina bar, and restaurant called the Sanitary Cafe, per Politico, where Graham started working when he was a child. The family used the same bathroom as their customers and lived in the back room, but the senator still looks back on those early days with fondness. "My home was a bar," he recalled, adding that he "was loved inside those walls, as much as any child could be loved, by two devoted parents," as well as his sister and the rest of his family. "I was privileged. I knew it then, and I know it even better now."
His family's bar wasn't desegregated until the early '70s, as Graham admits in his book. "My folks sold beer to anyone of legal age, but, I'm sorry to say, for many of the years my parents operated the bar, black people were expected to drink the beer they purchased from us off the premises," he recalled, adding that his dad told him: "It's just the way it is." The young man left this environment and became the first person from his family to go to college before tragedy struck. Keep reading to find out more about the Republican senator and how he rose to power.
He raised his little sister after their parents' death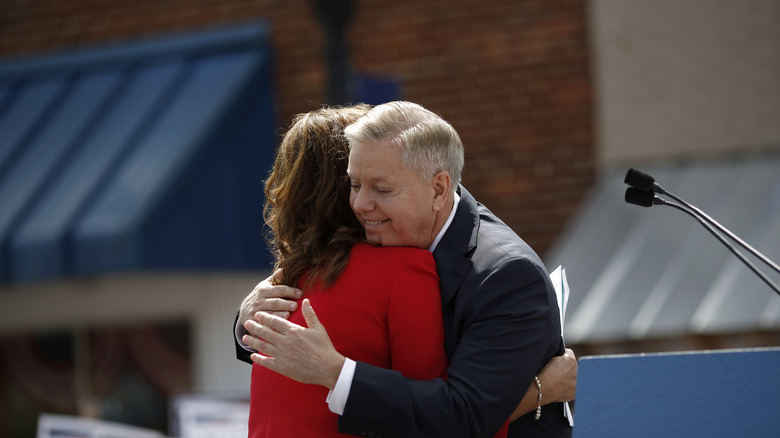 Lindsey Graham encountered grief at a young age when he became an orphan. As he wrote in his autobiography "My Story," Graham was at college when his 13-year-old sister Darline discovered their father dead from a fatal heart attack. Their mother had previously died of Hodgkin's lymphoma before being able to see him graduate, as had been her dying wish.
"We had been close before our parents died. Their loss brought us even closer," the senator recalled, adding that it "was clear to everyone" that he should take over as Darline's guardian. "Like our mother and father, I expected her to live a purposeful and happy life. We were orphans. But our parents had given us all the love we needed before they died, and the right example to emulate to make successes of our lives." He came home at weekends and helped run the store alongside his uncle until they eventually ran out of money.
"Lindsey was always my parent," his sister Darline told The New York Times in 2015 while helping her brother to run for president. "There was no doubt in my mind or anyone else's mind that Lindsey was my guardian."
His military career has sparked controversy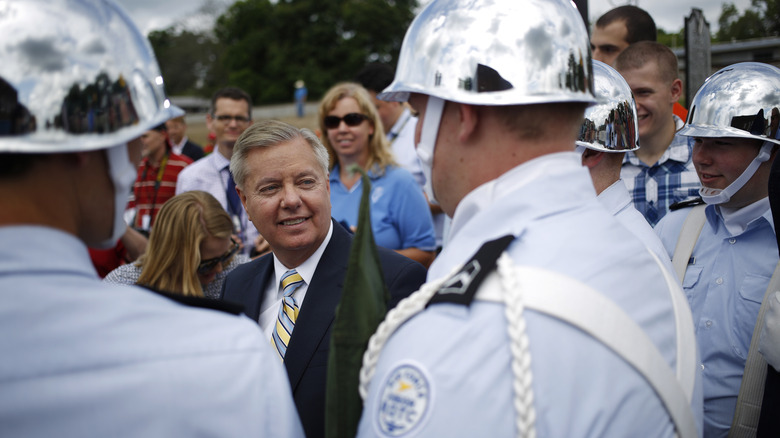 While Lindsey Graham was struggling to keep his family together, he had held onto his dream of working for the United States Air Force. As he wrote in "My Story," they had accommodated his difficult circumstances and once he had his law school degree, Graham joined the Judge Advocate General Corps. His military career has caused confusion over the years, however, as the politician has been accused of lying about being a veteran who served in active duty, rather than the Air Force lawyer he actually was. 
According to Media Matters, Graham described himself as an "Operation Desert Shield and Desert Storm veteran" on his official website in 1998, leading to an article by The Hill which debunked this claim and proved that he had never been near the Gulf War conflict. "I have not told anybody I'm a combatant," Graham claimed at the time. "I'm not a war hero, and never said I was. I never intended to lie. If I have lied about my military record, I'm not fit to serve in Congress." 
And while his official biography claimed that he was the senior instructor at an Alabama Air Force base, The Washington Post reported in 2015 that Graham never actually held that title. The newspaper also raised questions over how many hours he actually served.
He made his name during the Clinton impeachment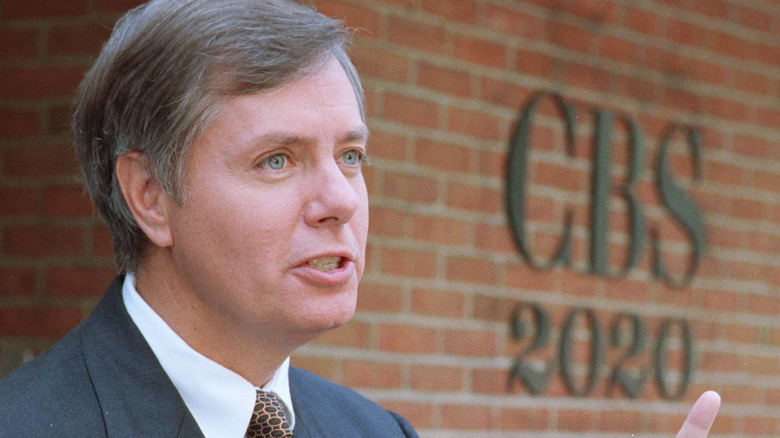 Although Lindsey Graham had reached the House of Representatives, he first emerged into the limelight when Bill Clinton's presidency began to implode.
According to CBS, he was heavily involved in the trial process as one of the House impeachment managers, a role which required him to present the legal case against Clinton. Graham did show his moderate side by voting against one of the perjury articles, as The Washington Post noted, and questioning how the scandal was treated. "Is this Watergate or Peyton Place?" he rhetorically asked a room full of politicians.
A video of him discussing the impeachment resurfaced in 2020, per CNN, which showed Graham arguing that Clinton should be removed. "What's a high crime? How about an important person hurt somebody of low means. That's not very scholarly, but I think it's the truth," the Republican insisted, suggesting that abuse of power could be a reason for impeachment. "I think that's what they meant by 'high crimes.' Doesn't even have to be a crime. It's just when you start using your office and you're acting in a way that hurts people, you have committed a high crime."
He was close friends with John McCain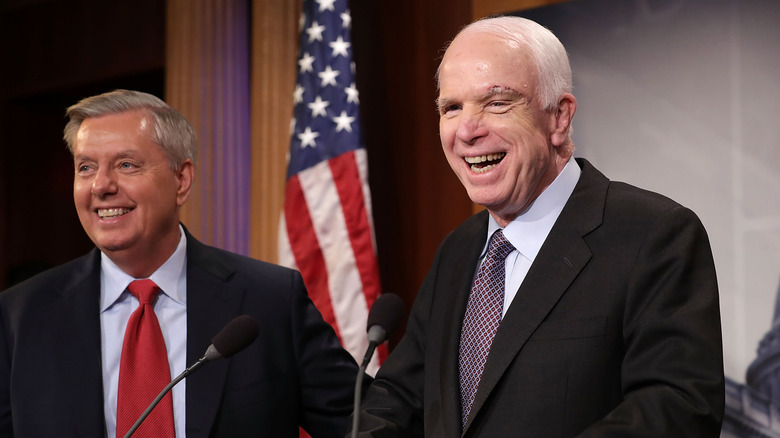 Throughout his career, Lindsey Graham was a loyal ally to John McCain. When Donald Trump came into power, however, that relationship changed. As the New York Magazine reported, their friendship began after Bill Clinton's impeachment trial, when McCain invited the South Carolina politician to his family ranch in Sedona. "Lindsey for some reason had sort of a man-crush on John McCain," fellow Republican senator Steve Largent revealed, sharing how Graham was dazzled by McCain's influence and honored to be a guest at their Fourth of July celebrations. They worked together on policies like immigration reform and became close friends.
Graham has been criticized, however, for ignoring Trump's comments about McCain. The two politicians became rivals in 2015, per Politico, when Trump insulted the former Navy pilot's experience as a prisoner of war. "He's not a war hero," the reality TV star argued. "He was a war hero because he was captured. I like people who weren't captured." Although McCain never forgave those comments, Graham was willing to befriend the president. He even sided with Trump against his old ally during a 2018 vote over Obamacare, as AP News reported.
And although Graham gave an emotional eulogy when McCain died from brain cancer in 2018, as shown on CNN, he still raised a few eyebrows by arranging for Jared Kushner and Ivanka Trump to attend the funeral, according to The New York Times.
He's known for his aggressive foreign policy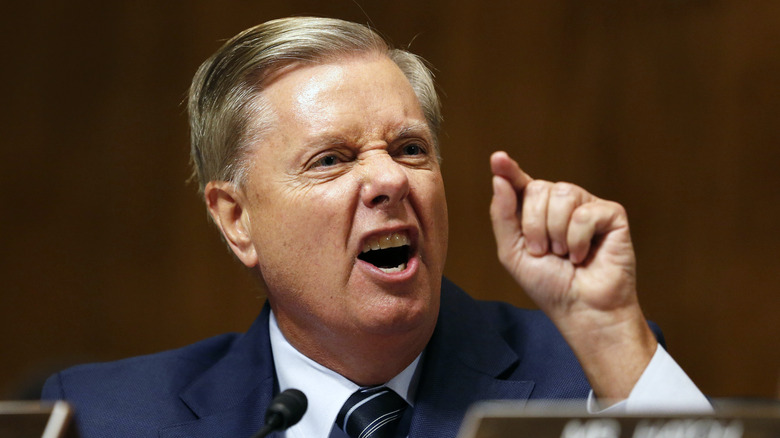 If there's one area of politics that Lindsey Graham is infamous for, it's foreign policy. The Republican has urged presidents to keep troops in the Middle East and condemned attempts to shut down Guantanamo Bay, per Bustle, recommending aggressive approaches almost every time.
As Graham told The Atlantic, his advice to Donald Trump was that the American military should stay in Afghanistan. "Now, if you're willing to leave them in there, I'll stand behind you. If you're willing to stay the course in Afghanistan, I'll give you all the protection I can," he reportedly told the president, arguing that if 13,000 troops were pulled out, then ISIS would return at the border. "See what happens when everything we worked for collapses because you wanted to leave," Graham warned, insisting that he shouldn't take similar actions to Obama.
He was also responsible for the Taylor Force Act, as Intelligencer reported, which significantly altered the U.S. government's relationship to the Palestinian Authority by putting a stop to any American aid in that area. "You can go across the board on the foreign-policy front, and Graham has his fingerprints on everything," an unnamed friend told the magazine.
He succeeded Strom Thurmond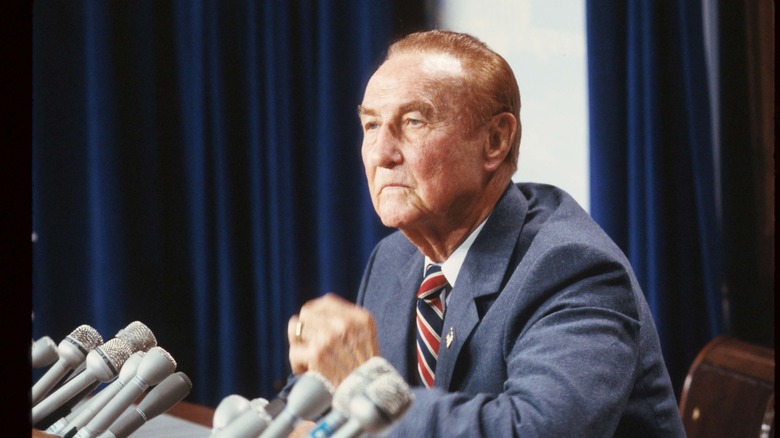 Over the course of his career, Lindsey Graham went from the House of Representatives to the Senate, and he was supported by his fellow South Carolina politician Strom Thurmond.
As the Los Angeles Times reported, the notorious pro-segregation senator gave Graham his endorsement in the 2002 race for Thurmond's former seat. Graham won, officially succeeding him. When the Republican died, Graham wrote that "South Carolina has lost its favorite son, Strom Thurmond; a great American patriot, statesman and close friend to many." He also claimed that Thurmond "served his country in every conceivable way," as a World War II soldier and as the "longest-serving Senator in the history of the United States." In his own words, Graham was "honored to have his support, guidance, and friendship."
He's kept the South Carolina seat ever since, although he faced tough opposition from Jamie Harrison in 2021. The Democrat broke records by raising $109 million for his campaign, per Reuters. "The seat that I'm vying for also is a seat that has its own history," Harrison told The Guardian at the time, reflecting on his identity as a Black politician in the South. "This is the seat of John C Calhoun, of Strom Thurmond, of a man called Ben Tillman who talked about lynching black folks on the US Senate."
He faced off against the Tea Party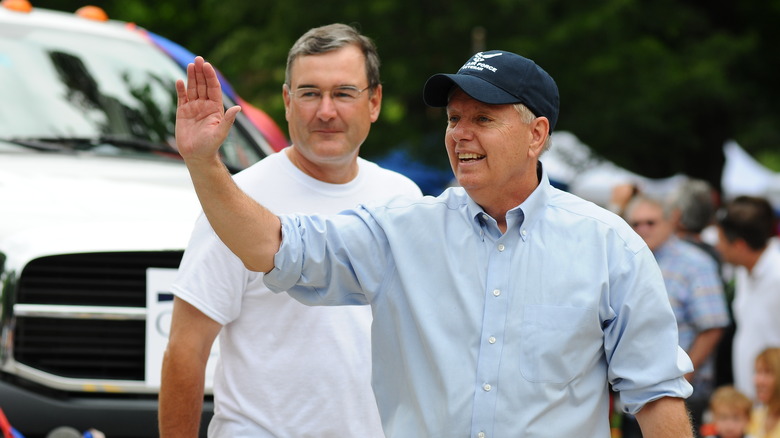 Although Lindsey Graham has secured plenty of allies over the years, he's also made some enemies in his own parties.
Graham upset the far-right conservatives in South Carolina when he started arguing that the GOP needed to be more "inclusive" and work together with Democrats. According to Politico, he was criticized for compromising on climate change and helping to open the debate about gun restrictions in the run-up to the mid-elections of 2014. "What I want is a party that can grow," the senator argued. "If we're going to build the party around universal agreement, we become a club."
He won against more extreme candidates, calling it "more fun than any time I've been in politics," in an interview with The Atlantic. "I'm trying to tell the Tea Party, I understand your frustration, but being frustrated is not enough," Graham continued. "I know Washington is broken, but what's broken about it is everybody yelling and nobody trying to fix it. I'm trying."
He went from a Trump critic to one of his most vocal allies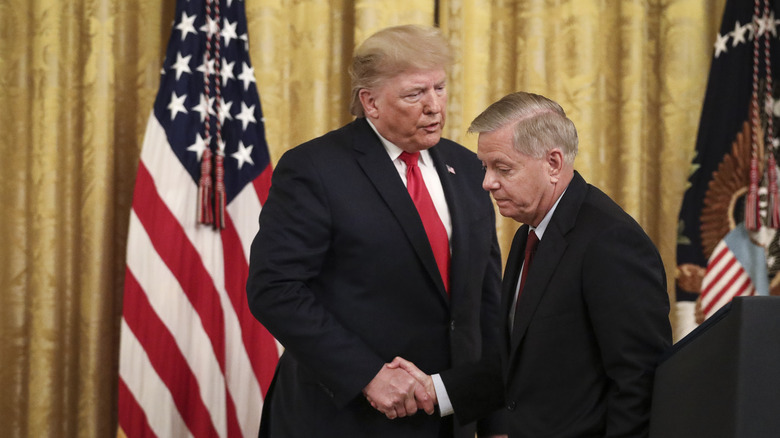 Lindsey Graham and Donald Trump's relationship has gone through quite a transformation over the years, sparking accusations of hypocrisy.
The South Carolina senator had loudly criticized Trump during the run-up to his election in 2016, making sure that there was no love lost between the two. Trump once called Graham "one of the dumbest human beings [he's] ever seen," per The Hill, claiming that the politician was a "nut job." In reply, Graham criticized the reality star for being "a race-baiting, xenophobic, religious bigot" in an appearance on CNN, questioning his proposed "Muslim ban."
Once Trump had won the presidency, however, their animosity seemed to come to an end. "Where it all changed is when we went for golf," Graham told The New York Times, recalling how he began to befriend the entrepreneur after meeting him to discuss foreign policy. His newfound loyalty got him in trouble in 2020 when it was revealed that he had rung election officials in Georgia, allegedly asking them how they could affect the ballot-counting process. The call was investigated as part of a probe into the presidential election and how Trump spread misinformation, per Reuters.
He has never married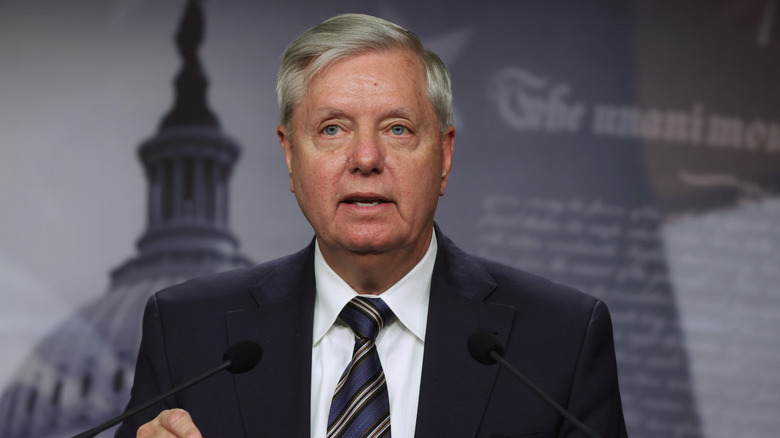 Lindsey Graham's love life has raised eyebrows since he emerged in the public eye. If he had won the presidential election in 2016, as NPR reported, the senator would have only been the third bachelor to ever reach the White Office.
In a phone call with The Herald, Graham claimed that his only brush with marriage happened in his late twenties when he considered proposing to a flight attendant who he met and dated in Germany. It didn't work out, but as he told Politico, Graham's young life was mostly spent taking care of his sister anyway. "She's played a big role in my life," the senator observed, discussing whether Darline would fulfill the role of First Lady. "She's my No. 1 fan. Of all the things I'm proud of, how she turned out I'm proud of the most."
He also argued that he still had family in his life, despite being single. "I very much have family — my aunt and uncle, I try to take care of because they took care of me," Graham commented, defending his status as a bachelor. "At the end of the day, there's nothing wrong about not being married. Having a marriage and a good family and children is a blessing. But I don't think I'm a defective person by any means."
He claims that he has never sent an email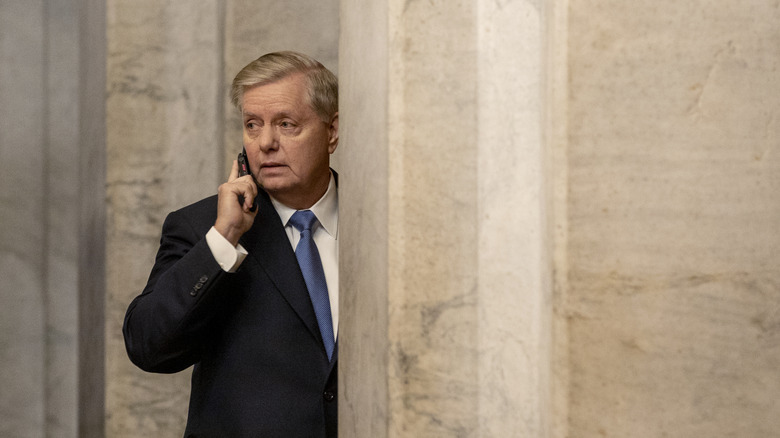 Lindsey Graham shocked the world in 2015 by revealing how much of a technophobe he was. While discussing Hillary Clinton's leaked emails, which were threatening her presidential campaign, Graham denied ever sending an email himself. "I don't email. No, you can have every email I've ever sent. I've never sent one," he insisted to NBC's "Meet The Press," ruling out the possibility of him ever having a similar scandal.
"I don't know what that makes me," the politician added, acknowledging that his lack of technical knowledge was unusual. Graham also notoriously only used flip phones for years, until Donald Trump gave out his number to his supporters during a tirade about the South Carolina senator in 2015. "When it comes to the Donald, nothing surprises me anymore. It's just too bad, really," he told Politico at the time, admitting that he would probably have to change phones due to an onslaught of calls.
In a video by IJ Review, Graham made fun of the feud between himself and Trump by smashing a series of flip phones, similar to the phone that got doxxed.
He said that he would work with Caitlyn Jenner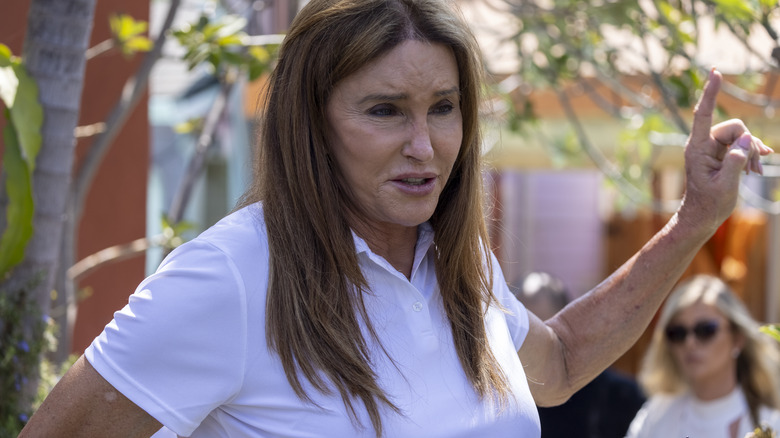 In 2015, Lindsey Graham proved that his views on Caitlyn Jenner differed from some other members of the Republican party, clarifying that he was "into addition."
"I'm a pro-life, traditional marriage kind of guy, but I'm running to be president of the United States," he explained on CNN's "State of the Union," declaring that he would gladly welcome the Kardashian-Jenner family member as an ally. "If Caitlyn Jenner wants to be a Republican, she is welcome in my party." Graham continued by expressing his sympathy towards Jenner's experiences as a transgender woman.
"I haven't walked in her shoes. I don't have all the answers to the mysteries of life," the senator admitted, insisting that the GOP needed to be more inclusive if they wanted to succeed. "I can only imagine the torment that Bruce Jenner went through. I hope he's — I hope she has found peace." In 2021, the reality star announced that she was running for governor of California, per The New York Times, and she has been open about her Republican politics over the years. "I have gotten more flak for being a conservative Republican than I have for being trans," Jenner claimed in 2016, according to Billy Penn.
Lindsey Graham is a millionaire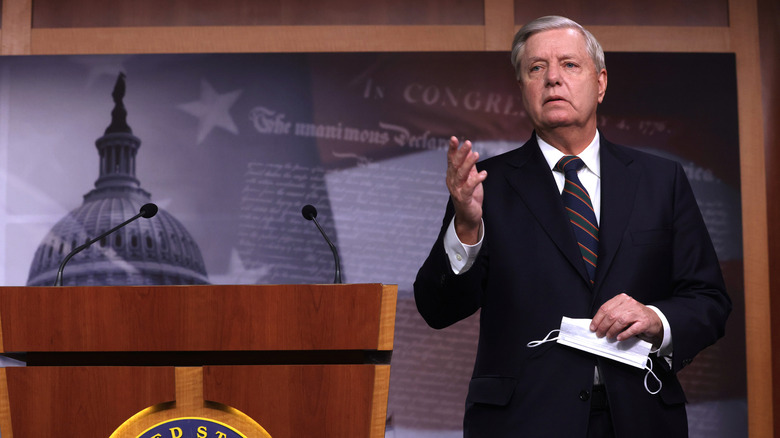 People started asking questions about Lindsey Graham's personal wealth after he appeared on Fox & Friends begging for money in the run-up to his election race against Jaime Harrison.
"I'm being killed financially," he claimed, as shown in a clip posted by CNN. "This money is because they hate my guts." Graham also urged viewers to "help" because he was "overwhelmed" by the tidal wave of donations that his opponent was receiving. The Republican then received a boost from billionaires outside of South Carolina like sandwich magnate Jimmy John Liautaud, per Forbes, who donated hundreds of thousands. As AP News reported, he didn't measure up to Harrison's record-breaking fundraising total but ended up beating him in the actual vote.
Graham himself is worth $3 million, according to Celebrity Net Worth. The politician released his own tax returns, showing that he had taken in over $2.1 million between 2008 and 2019. His income mostly came from his annual salary as a member of Congress, as The State observed, as well as a military pension for his years in the Air Force.
He was the first vaccinated senator to contract COVID-19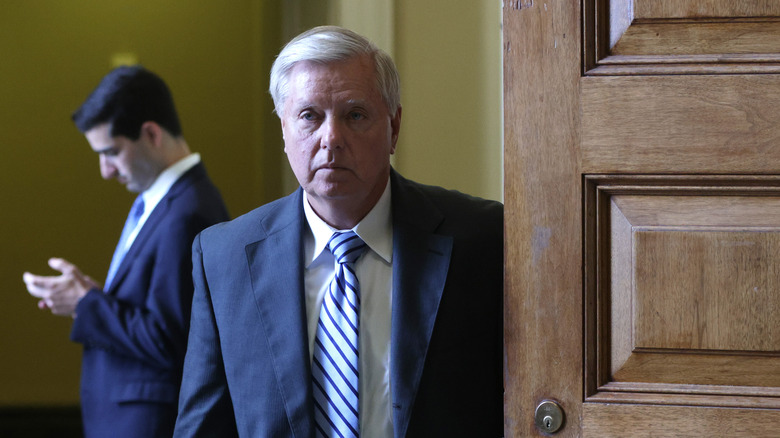 Lindsey Graham may be double vaccinated, but that hasn't stopped him from catching COVID-19. "I was just informed by the House physician I have tested positive for #COVID19 even after being vaccinated," he revealed on Twitter, adding that he had begun to experience "flu-like symptoms" at the weekend. After going to the doctor, it was confirmed that he had a breakthrough case of the virus, making him the first senator and the second member of Congress to test positive against the odds (as Politico noted, fellow politician Vern Buchanan also fell ill after being vaccinated).
Graham still advocated for vaccines, explaining that his symptoms would be "worse" if he hadn't received his jabs. In an interview with AP News, Graham claimed that he had recently urged Donald Trump to "be aggressive" and encourage his supporters to get the jab. "No one's being asked to go off to fight radical Islam or fight a foreign enemy. We're being asked to make responsible medical decisions," he argued. "Take the vaccine."
Source: Read Full Article