This Video Of Stormi Repeating After Travis Scott Will Make You "Awwww" Out Loud
Looks like Travis Scott and Kylie Jenner have a chatterbox on their hands. The 28-year-old rapper and his adorable 17-month-old took to the 'Gram to showcase a very cute father-daughter moment. In this selfie-style video of Stormi repeating after Travis Scott, the tiny tot definitely steals the show.
The heartwarming clip is just about 10 seconds, but it is all you need to truly make your day. While sitting on her smiling father's lap, Stormi repeats everything Scott says without missing a beat. "All done," the "Goosebumps" rapper says, followed by "All done" from his sweet baby girl. "Say hi" he then says, followed by a "Hi" from a smiling Stormi. She even looks directly at the camera. At this rate, she could be a promising rapper. Like father, like daughter.
Stormi has been on vacay with her mom who is celebrating the launch of her Kylie Skin Summer Body Collection, set to drop on July 22. The new line includes Kylie Coconut Body Lotion, Coconut Body Scrub, and Broad Spectrum SPF 30 Sunscreen Oil.
As you could imagine, the getaway is nothing short of lavish, with Jenner flying Stormi and her closest influencer friends like Anastasia Karanikolaou, Sofia Richie, Victoria Villarroel, Yris Palmer, Tiffany Sorya, Ariel Tejada, and Amber Asaly to Turks and Caicos on a Kylie Skin private jet. Nice.
https://www.instagram.com/p/Bz-5h8iHNvW/
Before take-off, the makeup mogul posed for a family photo holding baby Stormi while kissing Scott. Awww… There's nothing like family and, well, your party crew. A few candid photos showcased the BFFs in matching pink sweats hugging each other and playing with Stormi before boarding the plane which was decked out with matching pink Kylie pillows, sleeping eye-masks, blankets, and hair scrunchies.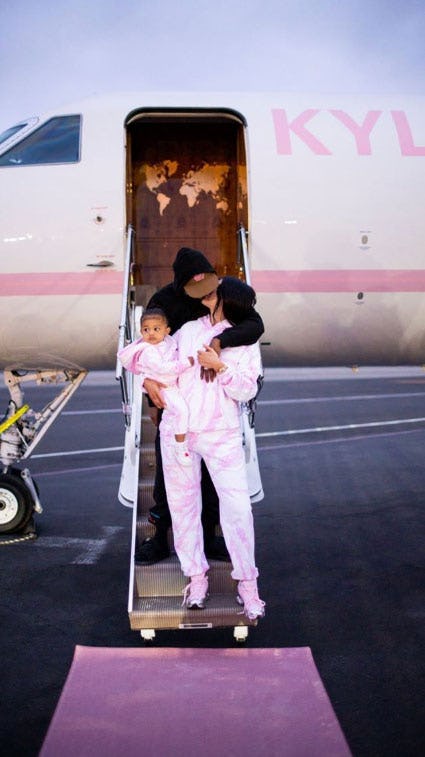 Since departing, Jenner's Insta has been non-stop vacay pics with snaps by the pool, snaps by the beach, and snaps on a boat. Ugh, jealous yet? Then I hope you didn't see the Kylie Skin embossed coconuts. Yep, those exist.
The tropical adventure looks truly amazing, but the best photo of all have to be baby Stormi and Jenner by the pool. The 21-year-old and Stormi are wearing matching swimsuits and embracing in the tightest hug.
https://www.instagram.com/p/Bz_E9A6nGQu/
According to a source at People, the billionaire is "very happy with her life" with Scott and Stormi. The source also revealed that Jenner reportedly wants to have another baby "soon."
"Kylie loves being a mom and can't wait to give Stormi a sibling," the source said. "Everyone thinks Kylie will be pregnant with her second baby soon. They are trying." OMG, can you imagine another Stormi around to cutely copy every word her father says? Cuteness overload.
In 2018, People's source also said "she and Travis are talking marriage." And, it's hopefully happening soon, since Scott has talked about marrying Jenner before. In a December 2018 interview with Rolling Stone, Scott said, "We'll get married soon. I just gotta sturdy up — I gotta propose in a fire way."
With the elaborate weddings the Kardashian-Jenner clan have had in the past, there is no doubt in my mind that the Scott-Jenner nuptials will be a sight to see. But, until then, more videos of Stormi, please.
Source: Read Full Article