Tim McGraw and Faith Hills Daughter Gracie Defends Ozempic Use After Showing Off Weight Loss
The 26-year-old singer admits she began using the controversial type 2 diabetes medication after she was diagnosed with polycystic ovary syndrome (PCOS) in 2022.
AceShowbiz –Gracie McGraw has come clean about her health issue after being accused of taking the easy way to gain her slimmer figure. The daughter of Tim McGraw and Faith Hill has admitted that she used Ozempic to help with her symptoms of PCOS or polycystic ovary syndrome, a hormone imbalance that affects 1 in 10 women of childbearing age, after showing off her weight loss.
In one of her recent Instagram posts, Gracie shared two black-and-white pictures of her rocking a bikini. "It's a gorgeous day for narcissism!" she wrote in the caption. In the comments, someone retorted, "And Ozempic!"
After reading the snarky comment, Gracie took the time to explain that she was prescribed Ozempic after she was diagnosed with PCOS last year before switching to Mounjaro. "I did use ozempic last year, yes. I am now on a low dose of mounjaro for my PCOS as well as working out. No need to accuse when I have been open about it," she clapped back.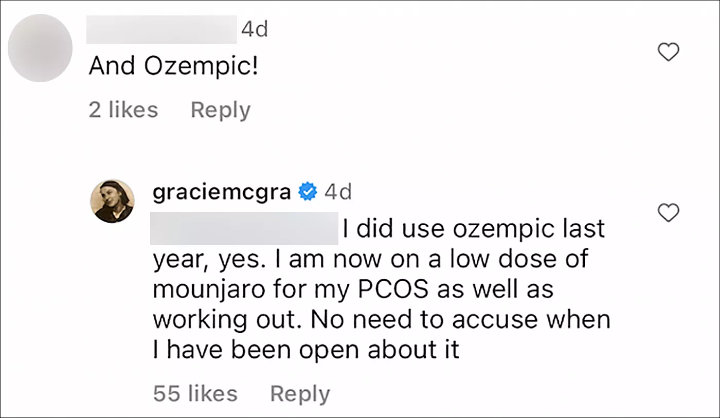 Gracie McGraw defended her use of Ozempic.
Gracie first shared her PCOS diagnosis in 2022, which came after years of struggling with her weight. "To get the correct diagnosis you would need 2 out of the 5 characteristics of PCOS and I had 4," she wrote on Instagram in March of last year. "During my appointment with my endocrinologist I realized that may have been a factor in my issues with weight, so we decided to try a medicine to regulate my body more normally and create the tools to continue to keep my body and myself healthy as I get older."
"I'm learning to navigate the new blemishes," she continued, "as much as physical health is important, mental goes hand and hand. Sending love to those who are struggling with something similar or literally anything at all."
While taking Ozempic or similar type 2 diabetes medications like Mounjaro and Wegovy has been a hot debate in Hollywood, Charles Barkley recently admitted that he did use Mounjaro to help him lose weight. Talking to Pat McAfee on his YouTube show in late May, the 60-year-old explained he began taking Mounjaro "about six months ago" after seeing his doctor.
"I'm working out, I'm taking my shot once a week," he said in the May 26 episode of "The Pat McAfee Show". The former NBA star said that he has regained more confidence after he lost over 60 pounds since taking the drug. "I started at 352 [pounds] and I'm down to 290," he opened up. "I'm starting to feel like a human being, not a fat ass anymore."
"My doctor told me, she says, there's a lot of fat young people. Ain't a lot of fat old people, they're all dead," the Basketball Hall of Famer shared. He, however, had no idea how the controversial drug works.
When Pat asked, "Do you know what it's doing to you exactly?" the sports analyst said with a laugh, "I have zero idea what it does! I'm not going to lie."
You can share this post!
Source: Read Full Article