Tyler Cameron and Stassie Karanikolaou Are "Definitely Hooking Up" Rn
If you clicked on this article, chances are you did so with a little bit of sadness, amirite? I'm really sorry to break it all of you Tyler Cameron–loving ladies, but it looks like he may be off the market fairly soon. Why? Oh, because he currently has a little something going on with Kylie Jenner's BFF, Stassie Karanikolaou. I'll give you a moment to weep.
Despite the fact that they were spotted being super flirty at a Clippers game literally two whole days ago, Tyler and Stassie went to another sporting event with Kylie and Kendall Jenner (plus a group of Tyler's Bachelor Nation friends) and caught the Los Angeles Rams play a game of football against the Baltimore Ravens.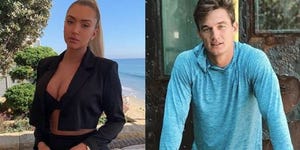 "Tyler seemed excited to hang out with [Stassie] and had a huge smile on his face," a source told E! News. But because Hollywood people love to make a night of it, the group decided to hit up a night club, where things between Tyler and Stassie got ~hot and heavy~.
"Stassie and Tyler were definitely showing PDA. They stuck by each other's sides the entire night," the source added. "Tyler was holding Stassie at one point and they were dancing. They were chatting the entire night, whispering in each other's ears and Tyler grabbed Stassie's face at one point for a kiss."
So yeah…something is totally up between Tyler and Stassie. But if these quotes weren't clear enough for you, a source close to Tyler made sure to add that they're "definitely hooking up" for good measure.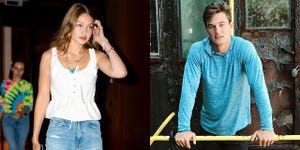 "They have been texting for days and Tyler is super into Stassie," the Tyler source added. "He is only in L.A. for the next two months and wants to party and hang out with her while he is here. He doesn't want anything serious but is having fun with her."
Well then! I don't think there's really anything left to be said, but I'll be sure to keep my eyes peeled like a HAWK for any updates. Let's see if Tyler ends up having a two-month relationship, á la Gigi Hadid!
Source: Read Full Article