Who Is American Pickers Star Danielle Colbys Fiancee?
Danielle Colby is used to digging up rare artifacts and national treasures on the long-running television series "American Pickers," but the TV personality found a pot of gold in real life when she met her fiance, Jeremy Scheuch. Danielle and the artist have been a couple for roughly six years. In the past, the self-proclaimed "Queen Of Rust" has commemorated their anniversary on March 14, but the lovebirds are about to have a new date to celebrate considering they're gearing up to tie the knot.
Danielle revealed she reversed the roles and asked for Scheuch's hand in marriage in December 2020. Announcing the news of their engagement on Instagram, the future wife shared a collage of pics while showing off her beau's ring. "I did a thing! After almost six long years, I finally made an honest man out of my king @jscheuch," she captioned her post. "I actually proposed to him on my birthday while we were filming my birthday burlesque show."
Scheuch also marveled over the milestone on social media, calling Danielle his "best friend" and a real life partner" while sharing the same cute snapshots. "I said yes, so I will officially be her legal property soon," he gushed, adding later in his caption, "I can't wait to spend the rest of my life with her." While "American Pickers" fans are looking forward to the day the lovebirds say "I do," keep scrolling to learn more about Scheuch. 
American Pickers star Danielle Colby's fiance Jeremy Scheuch is a professional artist and dog dad of two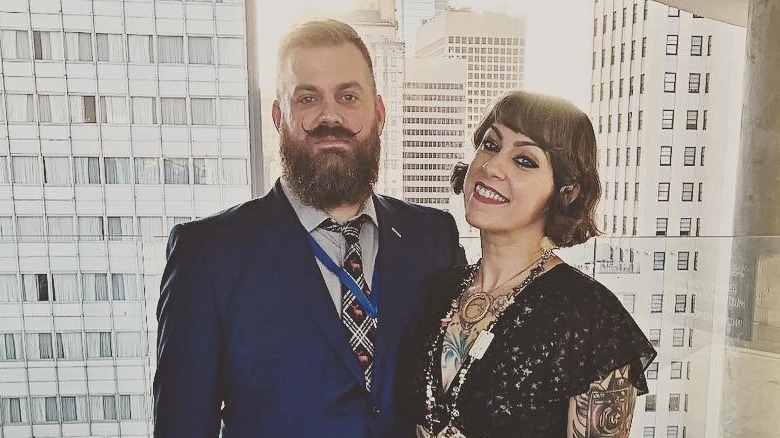 We know Danielle Colby for her starring role on "American Pickers," which first premiered more than a decade ago in January 2010. When the reality star isn't finding rare treasures on the A&E Network series, she's spending time with her fiance, Jeremy Scheuch. Unlike his bride-to-be, though, Scheuch isn't a regular on our television screens; instead, he's a talented artist.
As he revealed in a 2008 interview with Chicagoist, Scheuch is a graduate of the Kansas City Art Institute, where he "created a lot of Jesus art." As the years have passed, the painter said his "Christianity vs. Ronald McDonald pieces have slowly changed" into "unicorns, rainbows, dolphins, America, and Jesus." In simpler terms, Scheuch describes his art form as "underwater photography and pseudo-religious, pop-political crap," according to his website.
Scheuch often shows off his art on Instagram, but his page is also filled with cute photos of Danielle, their beloved rescue pets, Muriel and Azrael, and the couple's adventures living in Rincón, Puerto Rico. As Scheuch has detailed on Instagram, the couple has been helping rebuild the island in the aftermath of Hurricane Maria in 2017. Per History Channel (via Outsider), they have also been working with orphanages and animal shelters. No wonder Scheuch calls Danielle his "best friend!" 
Danielle Colby's marriage to Jeremy Scheuch will mark her third time exchanging vows
It seems "American Pickers" star Danielle Colby couldn't have found a better partner than Jeremy Scheuch to be her future husband. Though Danielle is confident she found true love with the artist, this won't be her first time walking down the aisle. Prior to dating Scheuch, the reality TV star was married twice to ex-husbands Robert Strong and Alexandre De Meyer.
Danielle's first marriage was with Robert, to whom she said "I do" in 2004. According to TV Over Mind, the former couple reportedly ended their marriage in part because Danielle's "fame and notoriety were things that Robert had difficulty dealing with." The pair — who share their two sons, Miles and Memphis, per Outsider — eventually divorced, though it's unclear exactly when. However, the brunette beauty eventually moved on with her second spouse, Alexandre De Meyer.
Not much information is known about when the two wed, but the publication reported Danielle met the French graphic designer when he created a logo for her former boutique store 4 Miles 2 Memphis. It didn't last, though, as Outsider stated Illinois court records show Danielle filed for divorce from Alexandre in June 2015, with their split being finalized by the end of the year in December. But now, Danielle has started a new, amazing chapter with Scheuch.
Source: Read Full Article