YouTuber Kristen Hancher Recreated Kylie Jenner's Instagram Pics and They're Truly Identical
You know what the world desperately needs? Even more Kylie Jenner content. Maybe. Or not! Either way, YouTuber Kristen Hancher just delivered thanks to the fact that she decided to recreate some of Kylie's most recent Instagram pics. And guys. It's legit alarming how similar they look. Like, I truly thought Kylie was recreating Kylie.
But before we get to the twinning side-by-sides, you should know that Kristen normally looks like this:
https://www.instagram.com/p/BysilZFB1-A/
Baby shark🎶 top @fashionnova
A post shared by Kris (@kristenhancher) on
And depending on her beauty look and wig situation, she does sometimes have a similar vibe to Kylie. For example, this whole mood:
https://www.instagram.com/p/ByiDnf2hLDR/
Hey there
A post shared by Kris (@kristenhancher) on
Also, reminder that Kylie looks like this (just in case her face isn't permanently etched into your brain):
https://www.instagram.com/p/Bzeu0MRHFjB/
obsessed with my new @jadellebh jewelry 💎
A post shared by Kylie (@kyliejenner) on
Clearly they already look low-key alike, but again: Kristen leaned even harder into her own personal Kylie vibes by copying several of the reality star's Instagram pics. The result? THIS INSANITY:
https://www.instagram.com/p/Bznn4kFhY84/
Lately I've been getting a lot of comments saying I look like Kylie Jenner😂 So, I decided to use that to my advantage and I tried to recreate her insta pics in a YouTube video! Coming out tomorrow 9am pst – make sure to subscribe so you don't miss it YOUTUBE: Kristen Hancher
A post shared by Kris (@kristenhancher) on
Like…okay Kristen!
BTW, if you're unfamiliar with this social media star, she has a pretty huge YouTube, Instagram and TikTok following—and is a dancer and gymnast. She also happens to be dating fellow YouTuber Austin Hare, who she describes as the "love of my life."
https://www.instagram.com/p/BxALt3XBBvC/
@austinxhare you are the love of my life. You're the sweetest, kindest human being I've ever met and I'm so lucky to call you mine. Waking up and falling asleep with you is the best feeling in the world, and I know we haven't known each other for too long but I do know that I wanna spend the rest of my life with you. Every time I've let people in my life they've wronged me or used me so I'm always weary about letting new people in, but I'm so glad I did with you. We just have that special bond that no one else can understand, you're my second half, you're perfect, and I love you endlessly❤️
A post shared by Kris (@kristenhancher) on
Apparently, Kristen is coming out with an entire video of her recreation (which we'll drop here when it blesses us with its presence). But for now….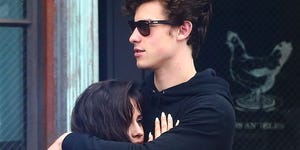 Source: Read Full Article