Call Records Show "Considerable Coordination" Between The White House And Rudy Giuliani, Top Democrat Says
Phone records provide new details about the Ukrainian backchannel campaign at the heart of the presidential impeachment inquiry.
ByEmma Loop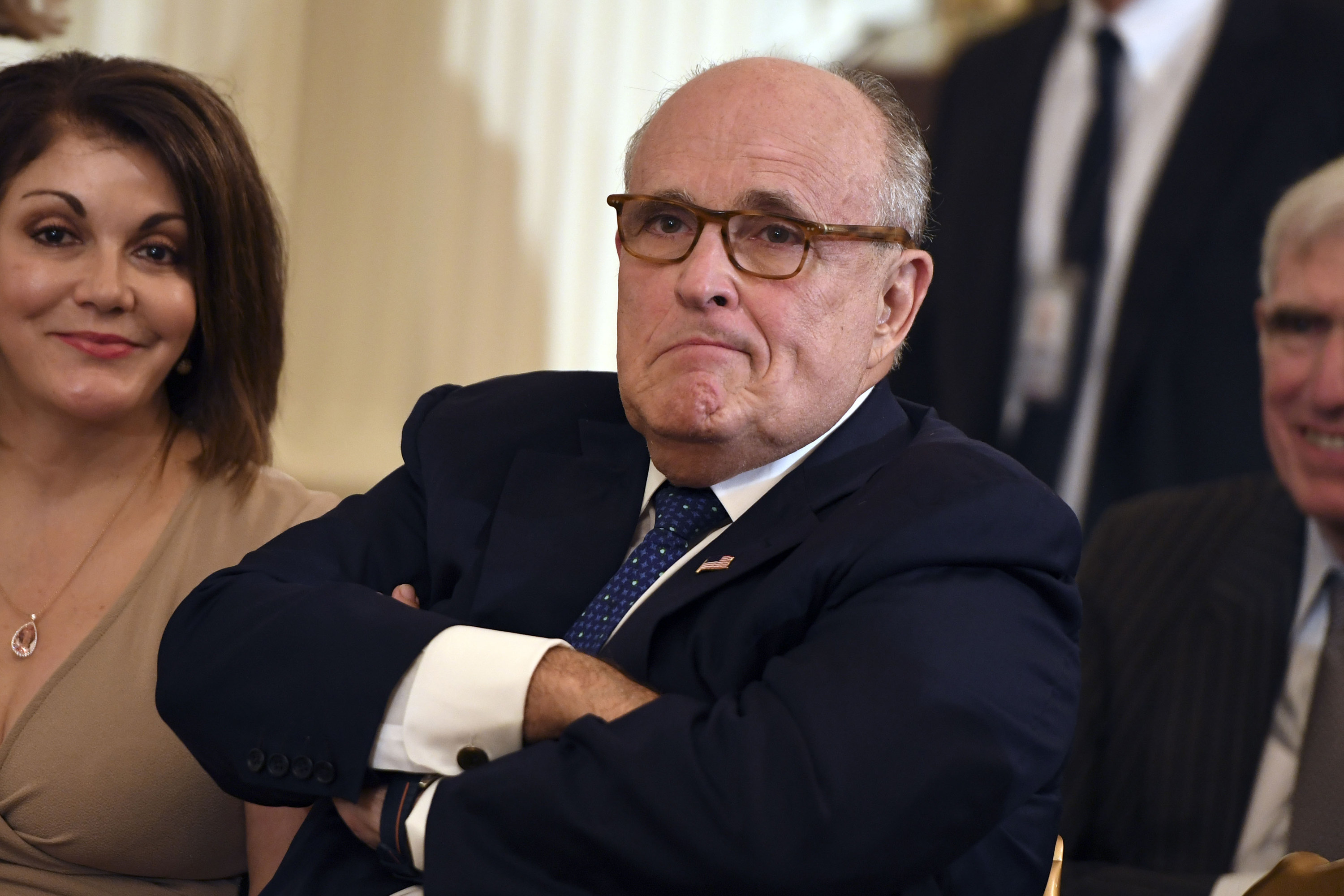 WASHINGTON — Call records released as part of the impeachment inquiry into President Donald Trump raise questions about just how closely the White House coordinated with Trump's personal lawyer and two-now indicted Florida businessmen to get Ukraine to investigate the president's political rivals.
House Democrats released their written impeachment report on Tuesday, showing frequent phone calls between Rudy Giuliani, a lawyer working for the president, and the White House on the night the Trump administration recalled US ambassador to Ukraine Marie Yovanovitch, a longtime public servant and anti-corruption advocate. That night, Giuliani also spoke with Lev Parnas, one of the indicted businessmen who helped lead the campaign against Yovanovitch and later dig up dirt on Joe Biden, a Democratic presidential frontrunner.
"The phone records show that there was considerable coordination among the parties, including the White House," Rep. Adam Schiff, the chair of the House Intelligence Committee, said Tuesday.
Though the phone records don't reveal the content of calls or texts, they do show when people spoke, and for how long. The night of April 24 — when Yovanovitch was summoned back to Washington — Giuliani spoke seven times to the White House, while making one call to Parnas. Giuliani also received a call from a number listed in the records only as "-1." Schiff suggested Tuesday that the call could have come from the president, noting a similar citation in the case of Roger Stone.
Giuliani spoke to the White House and Parnas several times the day before, too. Parnas and his associate Igor Fruman have since been charged with campaign finance violations, including illegally funneling Russian money to American political candidates.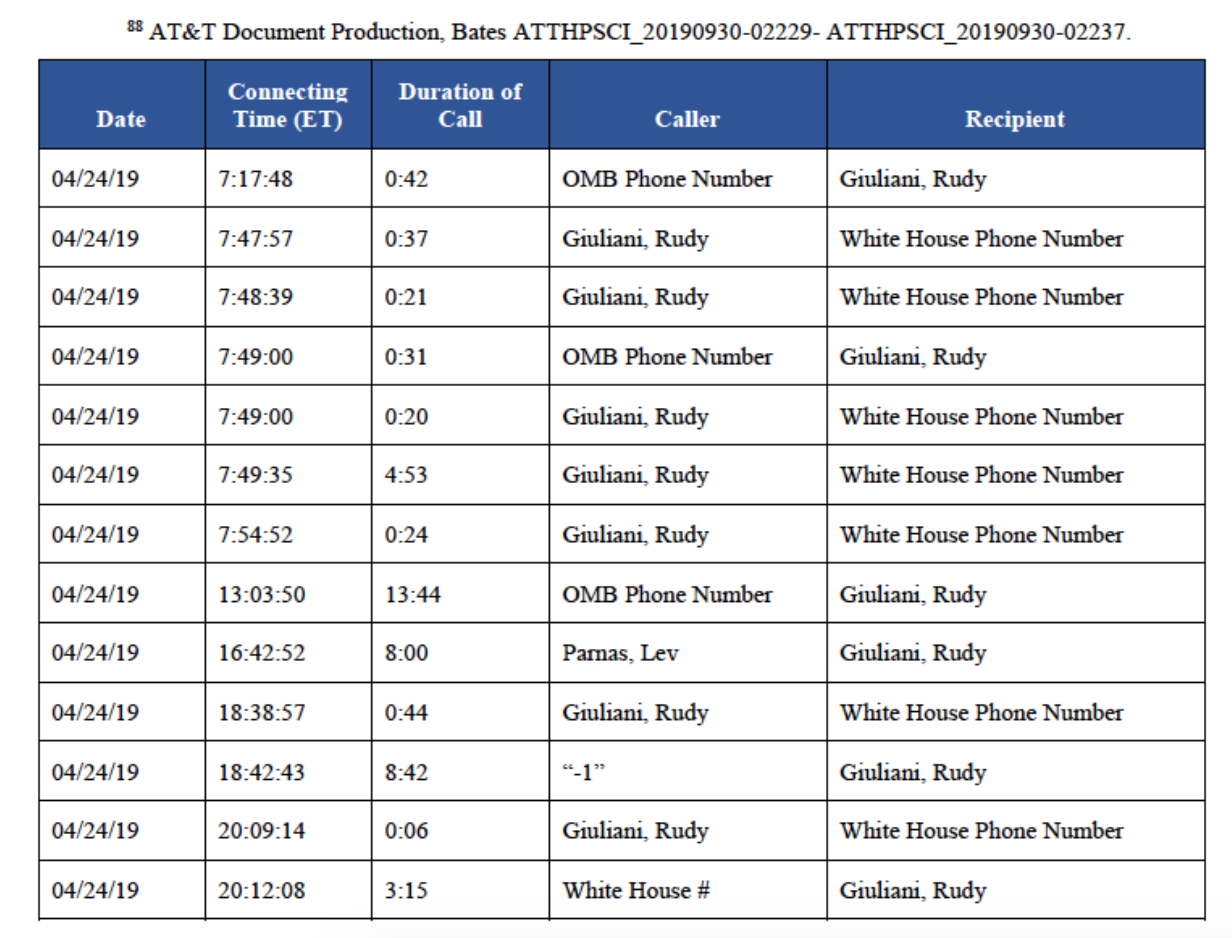 The call records from the night of Yovanovitch's recall, as well as from April 12, show Giuliani also speaking with someone from the Office of Management and Budget, which was responsible for ordering the freeze on US military aid to Ukraine months later. A spokesperson for Giuliani did not immediately respond to questions about why he was speaking to someone from OMB as early as April.
The records further reveal contacts between Parnas and California Rep. Devin Nunes, the top Republican on the committee that has thus far lead the impeachment charge, raising questions about his role in the inquiry.
"Devin Nunes, you should have recused yourself at the outset of the #HIC #ImpeachingHearings," a lawyer for Parnas, who says he is now cooperating with the impeachment inquiry, tweeted Tuesday.
On April 12, Parnas had a more than eight-minute phone call with Nunes after shorter calls earlier in the day.
Parnas had previously been in touch with Derek Harvey, a staff member for Nunes on the House Intelligence Committee, including several calls in February.

Giuliani also "connected with" Harvey in May, the report states. Around that time, a former Nunes staffer — Kash Patel, who went on to work at the National Security Council at the White House — spoke to Giuliani for more than 25 minutes.
"Five minutes after Mr. Patel and Mr. Giuliani disconnected, an unidentified "-1" number connected with Mr. Giuliani for over 17 minutes," the report states. "Shortly thereafter, Mr. Giuliani spoke with Mr. Parnas for approximately 12 minutes."
Nunes' previously reported involvement in the Ukrainian shadow campaign has been the source of criticism from Democrats, who have questioned the impartiality of the California Republican and staunch Trump ally. On Tuesday, Nunes sued CNN for defamation related to a story in which Parnas claimed, through his attorney, that Nunes had travelled to Vienna last year to meet with a former Ukrainian prosecutor.
Lawyers for Parnas did not immediately answer questions about the nature of the calls or relationship between Parnas and Nunes. A spokesperson for Nunes also did not immediately respond to a request for comment.
More on this
Democrats Have Released Their Impeachment Case Against Donald Trump

Paul McLeod · 5 hours ago

The Investigation Into Rudy Giuliani's Associates Has Widened

Michael Sallah · Oct. 22, 2019

Two Unofficial US Operatives Reporting To Trump's Lawyer Privately Lobbied A Foreign Government In A Bid To Help The President Win In 2020

Michael Sallah · July 22, 2019
Emma Loop is a political reporter for BuzzFeed News and is based in Washington, DC. PGP fingerprint: BB2A EF65 4444 A4AC 6F30 760B 9C22 13B3 0938 1A00.

Contact Emma Loop at [email protected]

Got a confidential tip? Submit it here.
Source: Read Full Article