Chinese State Media Spread A False Image Of A Hospital For Coronavirus Patients In Wuhan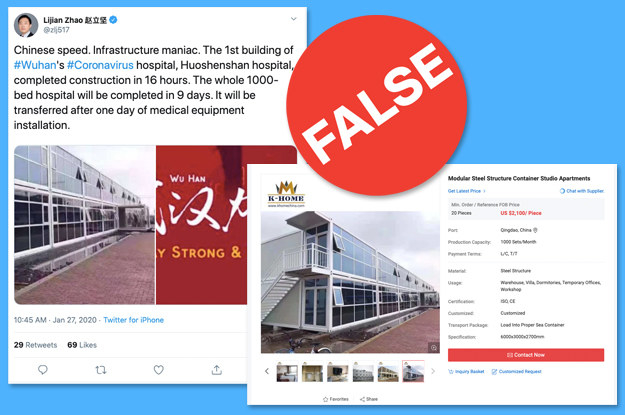 Chinese state media and a government official spread a false image they claimed showed a newly-constructed hospital building in Wuhan, the epicenter of the Coronavirus outbreak. The image actually shows a modular apartment building in China, and was taken from an online listing.
The out-of-context photo was shared in a tweet and article from Global Times, a state media outlet, and was tweeted by Lijian Zhao, deputy director general of the information department in the Chinese Ministry of Foreign Affairs.
The false image was spread after videos showing the rapid construction of a new hospital in Wuhan went viral across social media networks. Bloomberg reported that China was planning to build a hospital in a week in the coronavirus-stricken city. The hospital would reportedly have 1,500 beds.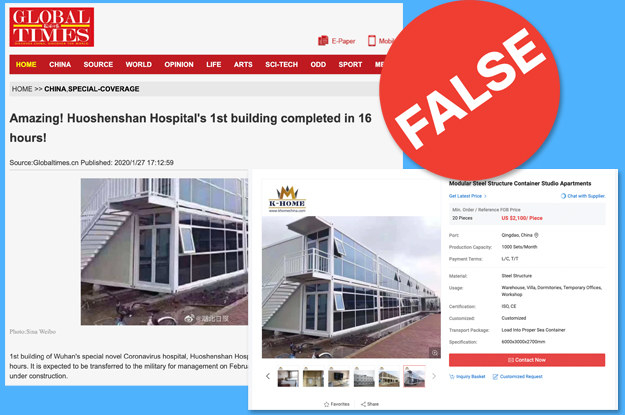 The tweets by Global Times and Zhao claimed to be the first look at the first building of Huoshenshan hospital. The Global Times article featuring the false image attributed the photo to Chinese social media platform Weibo. Zhao has spread disinformation in the past and is known for his anti-US trolling.
Coronavirus disinformation has spread online since news of the virus broke. Much of it includes baseless conspiracy theories, unverified video, and false numbers of confirmed infections.
Health officials have confirmed 5 cases across the US so far, according to the Center for Disease Control and Prevention. China has reported over 80 deaths and nearly 3,000 infections, according to the New York Times. Health officials around the globe are asking any recent travelers from China to self-isolate, the Guardian reports.
More on this
Here's A Running List Of Disinformation Spreading About The Coronavirus

Jane Lytvynenko

·

Jan. 24, 2020
QAnon Supporters And Anti-Vaxxers Are Spreading A Hoax That Bill Gates Created The Coronavirus

Ryan Broderick

·

Jan. 23, 2020
These Pictures Give A Glimpse Of What It's Like Inside The Chinese City On Lockdown That's At The Center Of The Coronavirus Outbreak

Matthew Champion

·

Jan. 23, 2020
China
Facebook
Fake News
Twitter
Jane Lytvynenko is a reporter for BuzzFeed News and is based in Toronto, Canada. PGP fingerprint: A088 89E6 2500 AD3C 8081 BAFB 23BA 21F3 81E0 101C.

Contact Jane Lytvynenko at [email protected].

Got a confidential tip? Submit it here.
Source: Read Full Article