"HELP!!!" Internal #SharpieGate Emails Show Officials Panicked Over Trump's "Doctored" Hurricane Map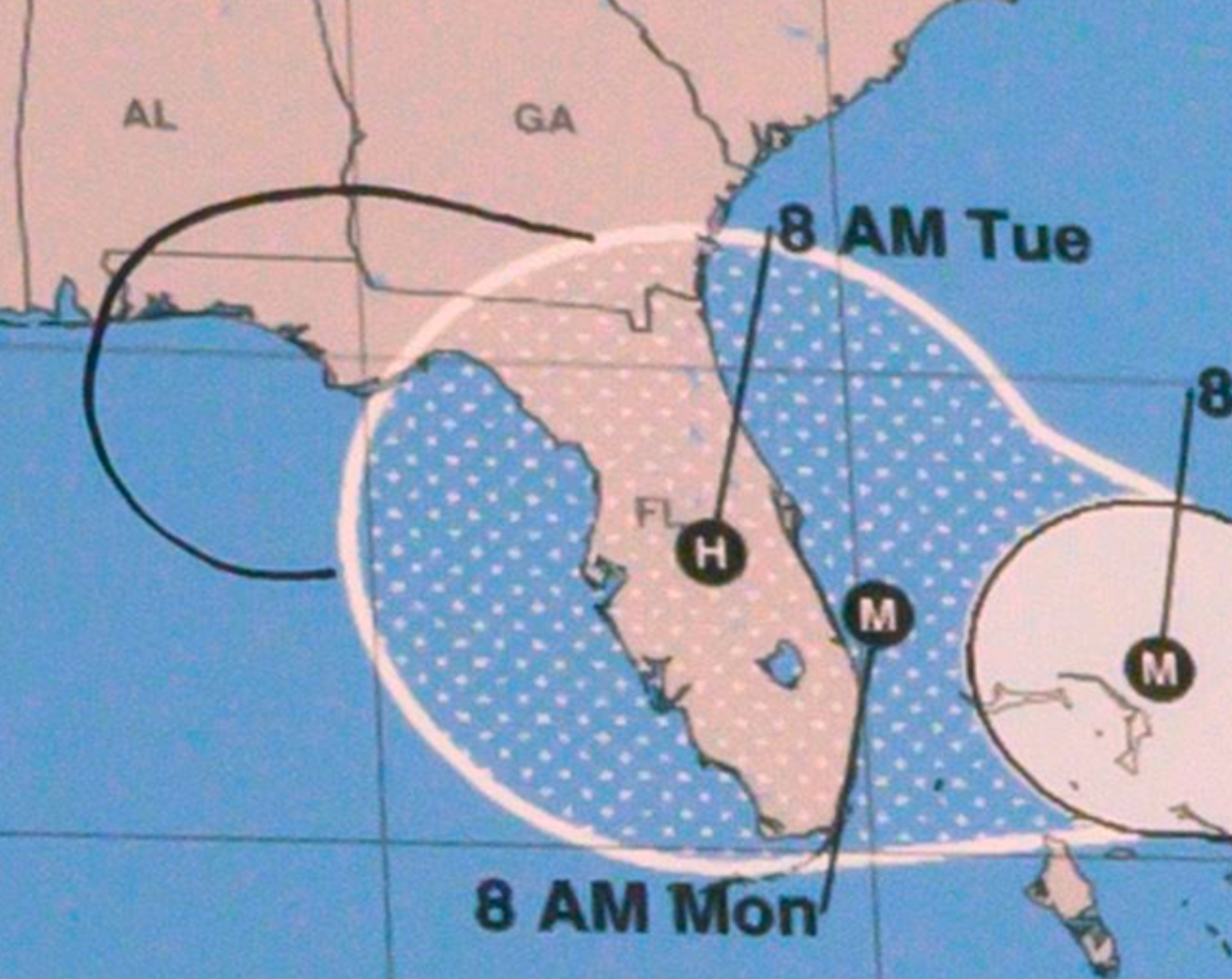 President Trump's fake hurricane map triggered panic, outrage, and an internal revolt among top officials at the National Weather Service and NOAA. That's according to a trove of more than 1,000 emails released Friday night to BuzzFeed News and other publications in response to a Freedom of Information Act request.
Trump (falsely) tweeted on September 1 that several southern states, including Alabama, were "most likely to be hit" by the hurricane after its deadly pass through the Bahamas. Three days later, Trump shared a fake map in which a storm track, seemingly drawn with a black Sharpie, showed Dorian moving toward Alabama. When a National Weather Service forecaster tried to set the record straight, its parent agency, NOAA, released an unsigned statement disavowing the correction — seemingly to appease the White House.
Trump's fake map and the administration's insistence on defending it despite evidence to the contrary — dubbed #SharpieGate on Twitter — shows how the administration has prioritized politics over science, even during a fast-moving, life-threatening situation.
Officials and scientists, both inside and outside the government, were horrified, the newly released emails show.
"For an agency founded upon and recognized for determining scientific truths, trusted by the public, and responsible in law to put forward important science information, I find it unconscionable that an anonymous voice inside of NOAA would be found to castigate a dutiful, correct, and loyal NWS Forecaster who spoke the truth," Craig McLean, then the agency's assistant administrator, wrote in a September 7 email to other top-level government officials.
"What concerns me most is that this Administration is eroding the public trust in NOAA for an apparent political recovery from an ill timed and imprecise comment from the President."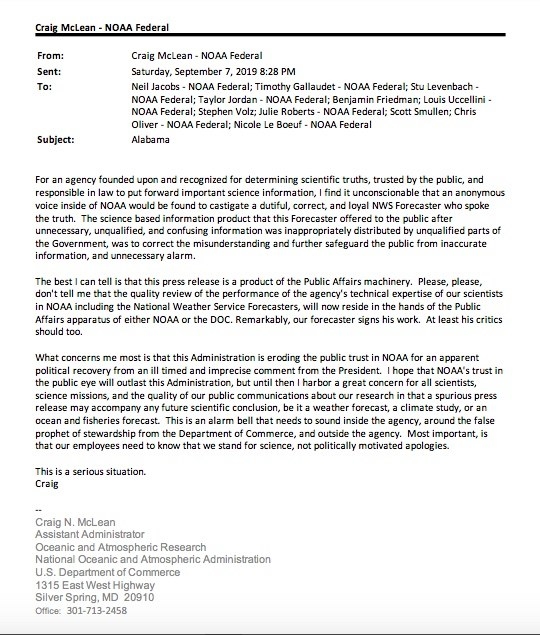 Hurricane Dorian struck the Bahamas on September 1, 2019 as a Category 5 storm that injured and killed dozens of people and razed entire neighborhoods.
As the devastating storm swirled closer to the US, NOAA officials regularly updated their public forecasts about the storm's likely track. While initial predictions suggested the storm could plow through a wide area of the US, including Alabama, updated forecasts later showed Alabama was out of the danger zone.
After Trump tweeted his map contradicting his administration's own experts, NOAA officials emailed each other in a panic.
"HELP!!!" Dennis Feltgen, an agency spokesman, wrote to top officials on September 4, in response to a media request.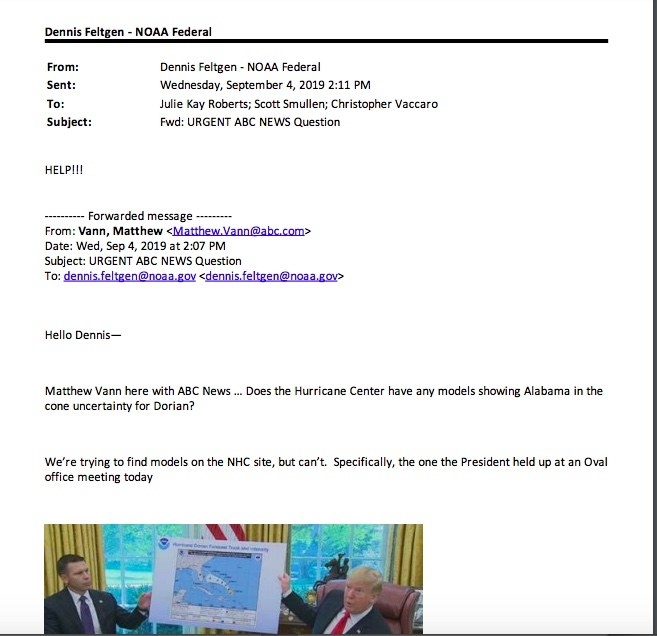 "I pray this thing dies off by morning or we just continue to say 'call the WH,'" Julie Roberts, NOAA's deputy chief of staff, wrote later that day.
The emails also confirm — though there was little doubt — that the map was "doctored" and that officials thought the administration's efforts were "crazy."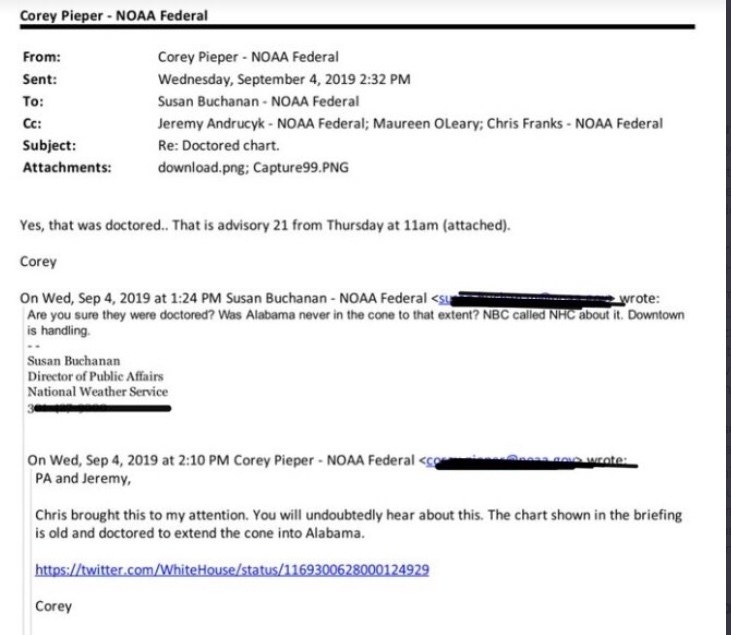 "Apparently the President is convinced that Alabama was in the path of Dorian and someone altered a NOAA map (with a sharpie) to convince folks," Makeda Okolo, a congressional affairs specialist at NOAA, wrote on September 5.
"Yep, crazy," responded Benjamin Friedman, NOAA's deputy under secretary for operations, according to the email cache.
The officials were also worried about employee morale, and possible retaliation against forecasters who released information that might contradict Trump.
"People across agency are hurting…not just those directly involved," John Murphy, chief operating officer at NWS, wrote on September 8. "Some employees have lost their minds I fear. Trying to maintain calm and focus[.]"
Murphy wrote in the email to Mary Erickson, the deputy director of NWS, that forecasters "do fear retribution" for issuing weather "products."
"Plan to look them in eye and tell them they have nothing to fear and we will defend actions," Murphy wrote.
The White House and NOAA did not immediately respond to requests for comment.
Read all of the #SharpieGate emails here.
More on this
Trump's False Claims About Hurricane Dorian Created A Shitstorm For Weather Service Employees

Brianna Sacks

·

Nov. 7, 2019
If Donald Trump Told You To Evacuate Your City, Would You?

Dan Vergano

·

April 29, 2017
Zahra Hirji is a science reporter for BuzzFeed News and is based in Washington, DC

Contact Zahra Hirji at [email protected]

Got a confidential tip? Submit it here.

Jason Leopold is a senior investigative reporter for BuzzFeed News and is based in Los Angeles. He is a 2018 Pulitzer finalist for international reporting, recipient of the IRE 2016 FOI award and a 2016 Newseum Institute National Freedom of Information Hall of Fame inductee.

Contact Jason Leopold at [email protected]
Source: Read Full Article