How Practical Magic Inspired 1 Woman to Murder Her Husband IRL
In 1998, Sandra Bullock and Nicole Kidman starred in the romantic comedy Practical Magic as Sally and Gillian Owens, two sisters who learned to cast spells at an early age while being raised by their crazy aunts, played by Dianne Wiest and Stockard Channing. Sally and Gillian are the bearers of a curse that has been in their family for several generations — the men they fall in love with are doomed to an untimely death, and they must come together and use their powers to fight the curse and find true love.
While tons of people watched movies like Practical Magic — as well as The Craft and Hocus Pocus — the majority of us were only inspired to dress up as witches for Halloween or play "Light as a Feather, Stiff as a Board" at slumber parties. But in 2000, one woman took away much more from the film — Practical Magic inspired her to actually kill her husband.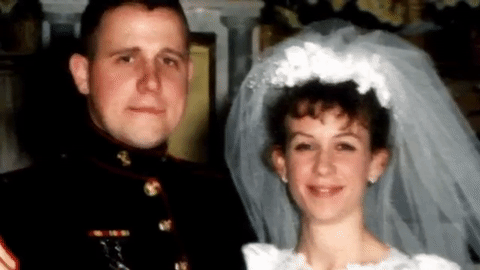 Kevin and Heather Miller on their wedding day in April 1995. Image Source: Oxygen
Heather and Kevin Miller first met in 1993 while working as a server and manager, respectively, at a seafood restaurant in Quakertown, PA. Kevin was an ex-Marine with a degree in accounting from Philadelphia's St. Joseph's University, while Heather was a struggling single mom; she had a daughter from a previous (and abusive) relationship, and she and Kevin struck up a romance. They were married in 1995 in "a typical fairy-tale wedding," welcomed their first child, and bought a townhouse in Richlandtown. But just two weeks after getting their new home, Kevin lost his computer consulting job — and Heather found out she was pregnant again.
"The stress was starting to build enormously," Heather told People in 2000. "The relationship went downhill from there." Kevin eventually found two jobs, but the 80-hour weeks kept him out of the house quite a bit, causing him to neglect housework and spending time with his wife and children. The couple fought so loudly and aggressively that neighbors began to notice something was up. One of them, Sandy Miller (no relation), recalled taking in Heather while she was pregnant after Kevin threw her out after an argument: "You could always hear him screaming, always venting on somebody." Heather tried to get help from a women's shelter but was allegedly turned away because there was no physical abuse. She didn't have the money for an attorney, so divorce also seemed an unlikely option.
Source: Read Full Article