How The Impeachment Process Works, Simplified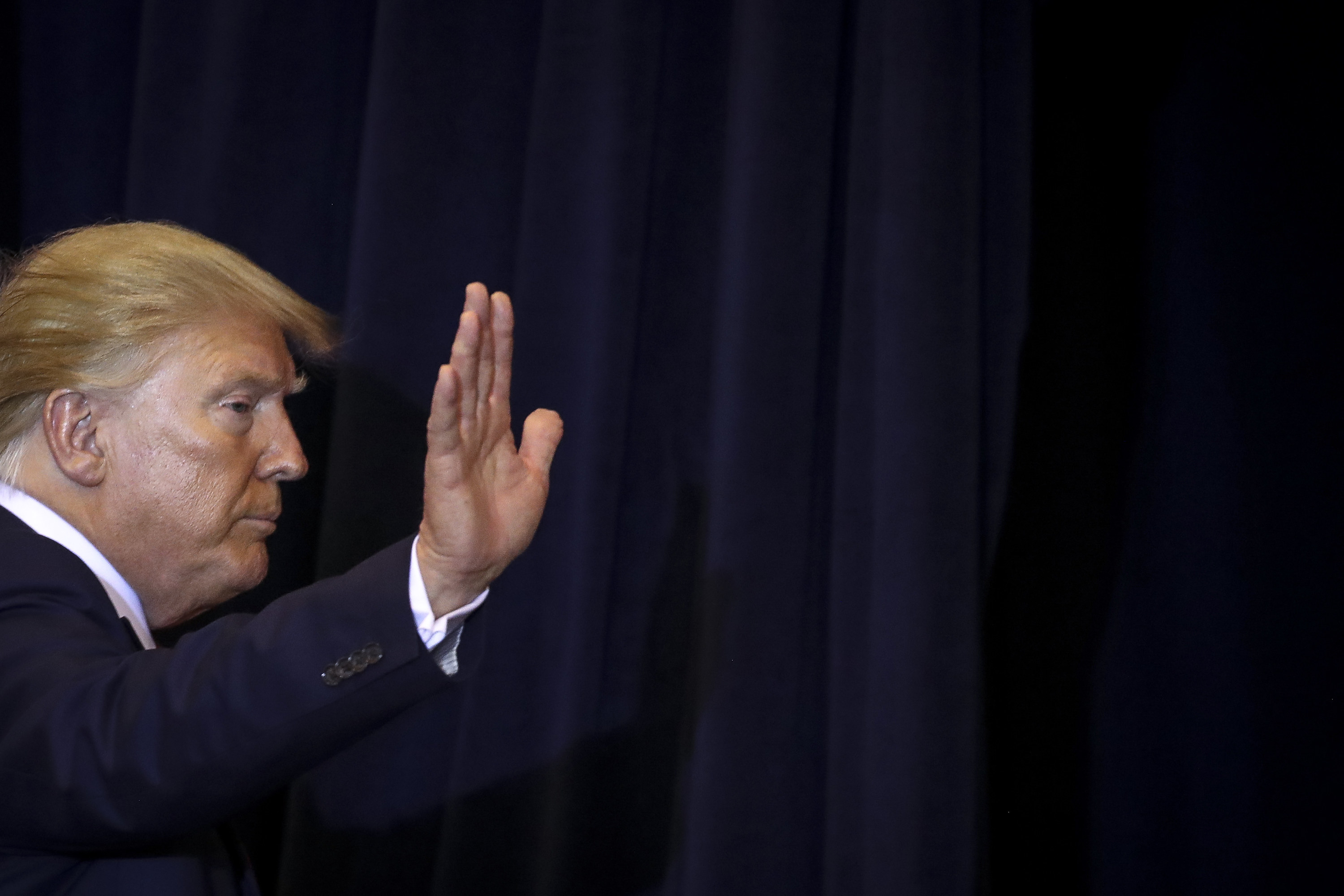 Trump exits a press conference on the sidelines of the United Nations General Assembly on September 25, 2019 in New York City.
Congratulations America, many of you are about to witness your first impeachment proceedings! For those of you just reaching the legal drinking age, you weren't even alive the last time the House of Representatives voted to impeach a sitting president. Others had some formative takeaways. Those of us who were (for example) graduating high school may have a fuzzy memory at best of how the process works.
This diagram will help you better understand where we are in the process, and how it might go down.
Impeachment inquiry is announced.
House committees (Intelligence, Oversight,
Financial Services, Foreign Affairs,
Ways and Means, and Judiciary) submit evidence
of impeachable offenses to Judiciary Committee.
We Are
Here
Not enough evidence.
If there is sufficient evidence
of wrongdoing, Judiciary
sends articles of
impeachment to the
full House.
Nothing changes.
Trump thinks long and
hard about what he did.
House holds a floor vote on
articles of impeachment.
Simple majority does not
vote for impeachment.
Simple majority votes
to impeach.
Trump is impeached
by the House; he tweets.
Nothing changes.
Trump thinks long and
hard about what he did.
"PRESIDENTIAL HARASSMENT!"
Articles of impeachment
move to the
Republican-controlled Senate.
House elects
or appoints
"managers"
to present case
to Senate.
Senate takes up
impeachment proceedings.
McConnell
Happens!
Senate determines rules for
trial proceedings, and holds a trial.
Senate Trial Time!
Senate
"the jury"
Chief Justice of US
"the judge"
Trial Managers
"the prosecution"
Trump's Lawyers
"the defense"
Less than 2/3 of the
Senate votes to convict.
At least 2/3 of the Senate
votes to convict.
Trump remains
in office.
Trump is removed
from office.
Welcome,
President Pence!
Images credits: Melina Mara / The Washington Post via Getty Images (Pelosi); Drew Angerer /Getty Images (Trump); Mandel Ngan / AFP / Getty Images (McConnell); Stephanie Keith / Getty Images (Trump); Caroline Brehman / CQ-Roll Call, Inc via Getty Images (Pence)
More on this
Some Democrats Are Skipping Their Two-Week Vacation To Keep Working On Impeachment

Addy Baird · Sept. 27, 2019

Democrats Want To Impeach Trump Over A Number Of Scandals, But Say They'll Focus Solely On Ukraine

Addy Baird · Sept. 26, 2019

A Whistleblower Has Alleged Trump "Abused His Office For Personal Gain" — And That The White House Tried To Cover It Up

Sarah Mimms · Sept. 26, 2019
Ben King is the Art Director for BuzzFeed News and is based in New York.

Contact Ben King at [email protected]

Got a confidential tip? Submit it here.
Source: Read Full Article