Incoming: Why We Need "Hot Girl Summer"
Trump says Minnesota can't stand Ilhan Omar. His attacks have made her more popular than ever back home.
For days, Rep. Ilhan Omar was targeted by President Donald Trump as the subject of racist tweets — a story that dominated headlines. Chants of "Send her back!" followed at a Trump rally in North Carolina.
Omar, a first-term congresswoman who came to the US as a teenager from a refugee camp in Kenya, has also come under criticism from Democrats. They say she alienated some potential allies early in her congressional term. She was criticized for comments that many considered anti-Semitic. She later apologized.
This is a lot of attention on a freshman Congresswoman. But in Minneapolis, many of her constituents are standing fiercely behind her. Many say they believe she has been unfairly maligned, her words twisted because of her background and religious faith.
The people living in Omar's majority-white district wanted a fight with Trump. Read Molly Hensley-Clancy's look at Omar's popularity back home.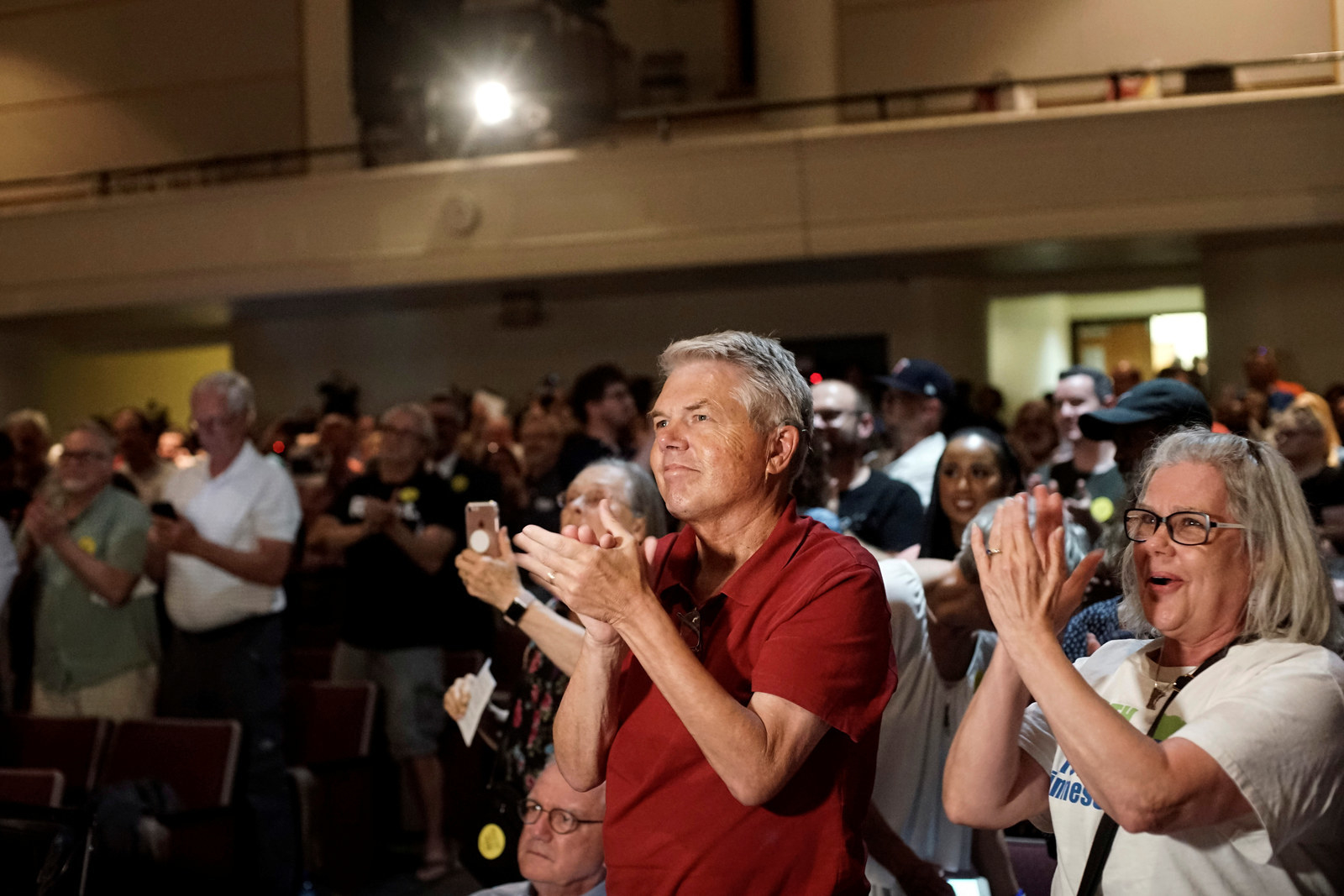 Attendees watch Reps. Ilhan Omar and Pramila Jayapal at a town hall meeting in Minneapolis, July 18.
A Mexican man has died in ICE custody in Georgia
A 44-year-old Mexican man died while in the custody of Immigration and Customs Enforcement (ICE) in Georgia. ICE identified him as Pedro Arriago-Santoya.
A source told us Arriago-Santoya had been in custody since April as he went through deportation proceedings. At a medical center, staff identified his preliminary cause of death as cardio-pulmonary arrest.
On June 6, he had been sent to Stewart Detention Center in Lumpkin, Georgia — a center that federal investigators said has seen incidents of drug smuggling, medical staff shortages, and safety issues.
Arriago-Santoya is the seventh person to die in ICE custody since October.
SNAPSHOTS
The Trump administration is bringing back federal executions — and it will almost immediately end up in court. The government said it will resume federal executions for the first time since 2003. The Justice Department also set execution dates for five men convicted of murder. However, the new protocol will immediately end up in court.
Women fighting sexual harassment in the UK's Labour party say the party's rejection of an independent complaints process is a "slap in the face." Labour's governing body decided to adopt proposals put forward by leader Jeremy Corbyn, which keep disciplinary decisions firmly in the hands of the party's elite.
A$AP Rocky has been charged with assault and could face two years in Swedish jail. The rapper has been held in jail since July 3, despite many celebrities' and President Trump's calls for him to be released. He was charged over a fight before a music festival in Stockholm last month.
Daily Telegraph journalists were welcomed to their office with a giant screen celebrating Boris Johnson. Johnson has been the newspaper's most famous employee for several years, with the right-wing news organization paying £275,000 a year for his weekly column. One Telegraph journalist texted us, "Cringe." The giant screen looked like this:
There's an underground economy selling links from the New York Times, BBC, CNN, and other big news sites
Imagine that a link to a website makes it into an article from the New York Times or Reuters or CNN. Then imagine, several years later, that website domain expires, effectively leaving a dead link.
Shady online marketers are hijacking expired domains that are backlinked in prominent publications, and repurposing them.
An investigation by BuzzFeed News found dozens of examples of the link hijack scheme being used to secure backlinks from at least 10 major news sites, including The New York Times, The Guardian, Forbes, HuffPost, CNN, BBC News, and Bloomberg.
What do the link hijackers get out of this? Search engines like Google can be manipulated by a global industry of shady SEO consultants and marketers who take over expired domains, acquire once-credible websites, place undisclosed sponsored content, and launch extensive manipulation campaigns to make their content appear higher in search results.
Relax a little and sit with these longreads
Let's Stop Pretending Celebrity Dadbods Need Defending. Last week, a shirtless photo of Jason Momoa sparked a debate about body-shaming. This week, the same thing, but with Nick Jonas. Fans have rushed to defend the pair. Pier Dominguez breaks apart the discourse and why it's misguided: "What's elided in the discourse that's supposedly defending Momoa and Jonas as dadbod-hot, or that celebrates Jonas as thicc, is actual body positivity that combats fatphobia."
I Chose Not To Have Kids Because I Am Afraid For The Planet. Deciding between having children and not having kids is not an easy choice. Ash Sanders grew up Mormon, and was taught that having babies is part of God's plan. Now, she argues that humans owe it to each other (and the world) not to: "The decision to reproduce doesn't feel like a personal choice among several equally valid options. It feels like a moral decision."
How "Hot Girl Summer" Became Everyone's Favorite Meme Overnight. This summer hasn't been great. But in the middle of the despair, Megan Thee Stallion arose to save us with her ubiquitous catchphrase "Hot Girl Summer." Why did it Hot Girl Summer spread so quickly? Niela Orr says it's because we needed it: "You don't have to go anywhere, nor put yourself in harm's way, nor ponder extraterrestrial life to have a Hot Girl Summer. You focus on your earthbound self and what it means to live your best life, in your own skin."
Elamin Abdelmahmoud is a curation editor for BuzzFeed News and is based in Toronto

Contact Elamin Abdelmahmoud at [email protected].

Got a confidential tip? Submit it here.
Source: Read Full Article