Paria Farzaneh Explores AI Through Beats Collaboration
Beats has an enviable list of collaborators. Over the last year alone, the label has partnered with l'Art de l'Automobile for a road trip-themed release, A-COLD-WALL* for concrete-inspired headphones, and Stüssy for a new Pill+ speaker. The latest designer to work with Beats is London-based Paria Farzaneh, who has put her own spin on the Powerbeats Pro earphones.
"It's a really easy collaboration, because I use this product every day," Farzaneh tells HYPEBEAST. Her genuine appreciation of the product is central to the collaboration, and something that Farzaneh thinks sets it apart from other projects. "In the market right now – and in music and fashion more generally – collaborations feel oversaturated. When you see a product collaboration, it doesn't necessarily feel special or unexpected. I tried to retain that special feeling by working with the brand of headphones that I literally use every day."
Farzaneh's regular use of Beats headphones – "whether I'm talking to you or walking back home or I want to listen to a track or I'm going for a run, it doesn't matter" – means that they have become "a second skin" to her. This relationship led Farzaneh to think about our relationship to AI, and how the way we use headphones fits into this.
"It wasn't difficult for me to articulate what I wanted to do because it felt like an extension of me."
"It wasn't difficult for me to articulate what I wanted to do because it felt like an extension of me," she explains. "I really hated reading articles about AI and how at some point we all have these extensions of AI as the self. But when I think about when I have my headphones on, it is that. It announces my emails, text conversations. I don't think people really think about that when they put headphones in but that is the reality."
By putting her spin on something so important to people's day-to-day life, Farzaneh is offering them another way to access her world. "They're representatives of the community who are dialing in with one item, it could be a jumper or it could be the headphones," she adds. "If you wear headphones every day then they're integral to you, and whoever chooses to have that is really a true follower."
The collaborative product itself sees the Powerbeats Pro arrive in a design that recalls Farzaneh's mainline collections and wider work. The colorway – a mix of "Yuzu Yellow" and "Deep Plum" – showcases a digitized Ghalamkar print that takes inspiration from both Farzaneh's Iranian heritage and her surroundings in London. "I'm very humbled, and feel really lucky to have this opportunity," Farzaneh says. "I'm the first female Iranian to have got to do something like this. That's a moment for the books."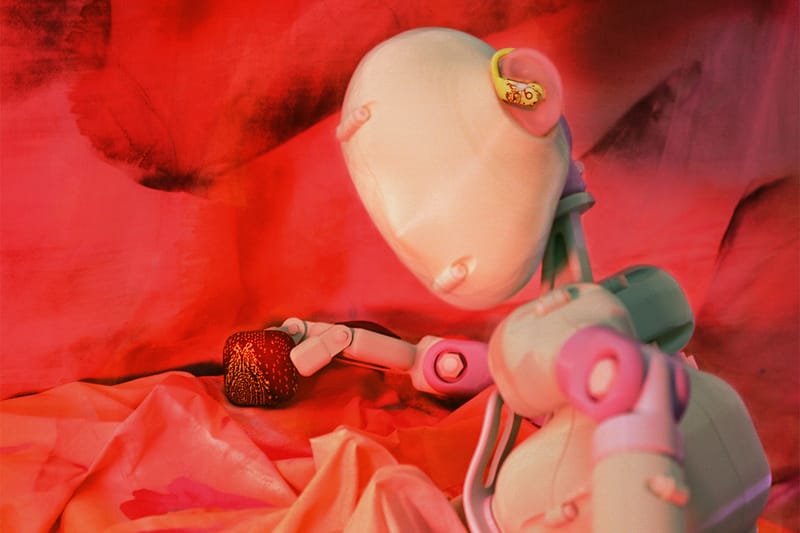 Beats
Working with Beats is the latest collaboration in Farzaneh's nascent career. The designer has long partnered with Converse, most recently with the Pro Leather X2. "I enjoy working with people who don't do my day-to-day," Farzaneh says of the collaborative process. "If I have a particular idea and thought process, I enjoy seeing how they articulate that and where they take it. I know that everyone that works at Beats – or Converse, or wherever – has a very different way of coming up with ideas. I think this is very important, I like to bring a completely different exchange."
While Farzaneh enjoys the collaborative process, working on the Beats Powerbeats Pro also presented another benefit. "I was able to communicate what we are and what we do in one statement," she explains. "With footwear, there are so many different layers – you've got the sole, you've got the midsole, you've got the upper, the laces – the technical aspect is completely different. To be able to communicate yourself with all of these layers takes a little bit more refining. With this product I think I was a lot more successful in showcasing that story because you see it and you know what it is."
"Everybody is such a key player in making this happen. They're all keys on the piano and all of those keys play this melody."
Although it's important to Farzaneh that the finished product articulates what she stands for, the designer also believes it's important to showcase the process and decisions that have gone into the collaboration. Specifically, Farzaneh wants to highlight the people who worked on this project alongside her. "You don't see this gradual build up, this sketchbook of ideas or all these amazing people doing different jobs," she says of other collaborations. "Everybody is such a key player in making this happen. They're all keys on the piano and all of those keys play this melody. I think that's really cool because it's not always talked about, it's not always shown when people buy the product. It's really important to see all of these people, each putting their two pence in the Trevi Fountain."
One collaborator on this project is artist Louis Morlet, who worked with Farzaneh to create Marzeh, the character who stars in the campaign. Described as "a true deception of the present and the future," Marzeh was used as Farzaneh sought to break away from more traditional ideas of what campaigns should be. As well as continuing the AI-influence, the character replaces the usual talent in the imagery.
"The moment of fandom, the way that people would obsess over bands and music, is not the same," Farzaneh explains. "So having to use talent or an artist didn't necessarily relate to what is going on in culture and society right now." By breaking from typical interpretations of campaign imagery, Farzaneh sees herself as looking to the future. "It's really important to look really far ahead and to implement that into imagery that so many people are going to see," she says. "I could articulate something different, and I feel responsible for doing that because that's what you do if you're an artist or a creative. You have to showcase the next step, the future. It's always about looking forward."
Source: Read Full Article