Saucy Santana on the Impact of LGBTQ+ Artists: "Gays Really Run the World"
Image Source: Blair Caldwell
POPSUGAR Presents: Pride Revolution — a series celebrating the beauty, brilliance, and resilience of the queer community. LGBTQIA+ Pride has always been revolutionary in nature, pushing society's boundaries to be more accepting, more affirming, and more inclusive. As pride grows to permeate pop culture, revolution is as necessary as ever to ensure that safety, equality, equity, and inclusivity remain at the center.
You can't tell Saucy Santana he's not a superstar. Born Rashad Spain, the 28-year-old celebrity makeup artist turned rapper stumbled into music in 2019 purely by chance when one of his catchy songs unexpectedly turned into a TikTok hit. But make no mistake: Santana's soaring path to greatness was always meant to be.
The Southern gay hip-hop artist currently breaking glass ceilings for LGBTQ+ musicians is poised to claim the song of the summer with his new Latto-assisted single, "Booty." He also has his "Down Souf Hoes" collaboration with fellow chart-topping game changer Lil Nas X still waiting in the vault. Santana feels blessed with how far he's come in so little time, but he's still dreaming big about his future. The proudly self-proclaimed "future icon" was excited to tell POPSUGAR about his summer plans. "It's about to be a saucy summer," he declares. "It's going to be a lot of gigs this summer. Every day you wake up, it's going to be new covers, features, music videos, music, gigs; it's just going to be really big this summer."
Truthfully, Santana has been doing it big his whole life. Raised with a silver-spoon upbringing, he says he didn't have the typical "ghetto rapper [back]story" most of his peers boast about. Santana usually got his way having a celebrity bodyguard dad and general manager mom, so he didn't feel compelled to chase the street life. However, Santana's hustler mentality eventually kicked in when he was 17. The high school graduate at the time moved out and started paying his own bills, forcing him to figure out life early. "I feel like all of that just made me into the person that I am today and how I had that hunger and drive to be great," he says.
Santana rose to popularity as a makeup artist working with famous acts like the City Girls. His hilarious friendship with the rap duo (they frequently poke fun of each other on Instagram Live) manifested into a more collaborative relationship as he dabbled in rapping. "It was just something that kind of happened," Santana says of his transition from makeup to music. "I was just having fun with freestyles and playing with beats, and then my freestyles started going viral. . . People started wanting me to come perform the songs and play them in the club. I was like, 'Well, let me make a good song and maybe just get paid.' I was just thinking of ways to get money, so I released 'Walk Em Like a Dog' [in 2019], and then everything changed."
Initially, many thought Santana's music was a gimmick. "[There are] so many people now on the internet — you could wake up almost every day and somebody else is rapping or putting out a song," he notes. "So people had to see like, 'Is this really a thing? Did he just make a cute little viral song, people like it, and then we don't care no more?' I had to show people that I was consistent with the bops, and then everybody got on board."
Some of Santana's notable bops include "Material Girl," "Shisha" featuring City Girls, and "Walk" — which inspired its own TikTok challenge replicated by stars like Nicki Minaj, Kelly Rowland, and even Ellen DeGeneres. Many artists may lean on today's viral TikTok formula, but it's not easy to innovate. While record labels work tirelessly to score hits on the ever-growing platform, that kind of popularity comes naturally to artists like Santana. "A lot of people now are trained to make TikTok music, but that's not my way of thinking," he says. "Every song that I have that went viral on TikTok wasn't made for TikTok. Nine times out of 10, I put my songs on TikTok as a way to promote them, but when I'm actually in the studio cooking up, I'm not thinking, 'Oh, I need to do this for TikTok.' I'm just making music that I love and talking about real-life experiences that are relatable to my fans. I let them take it and run with it."
Chasing trends isn't part of Santana's brand — he's the trend. As a trendsetter, it's his job to tell the culture what's cool and what's not. "I ain't nothing to play with," he says matter-of-factly. "I've been the same person since I was a kid, so everyone always loves Santana. Everyone always wanted to be around Santana, walk and talk like Santana; it's easy to wake up and be me. So when I see people trying to do certain things, I don't necessarily have to go that route because this is just my personality, my aura, and God-given talent."
As an openly gay artist (who also wears long acrylic nails, eyelashes, and makeup unapologetically), it took a lot of heart for Santana to walk in his truth. "I started wearing girl's clothes at like 17, getting my nails and makeup done, too. It takes a lot of courage to walk out of the house in today's day and age like me, worrying about if people are going to look at you funny," he shares. "People with their different opinions on how they think someone should look. But I always had that, 'I don't care, I do me' kind of attitude, so it works for me."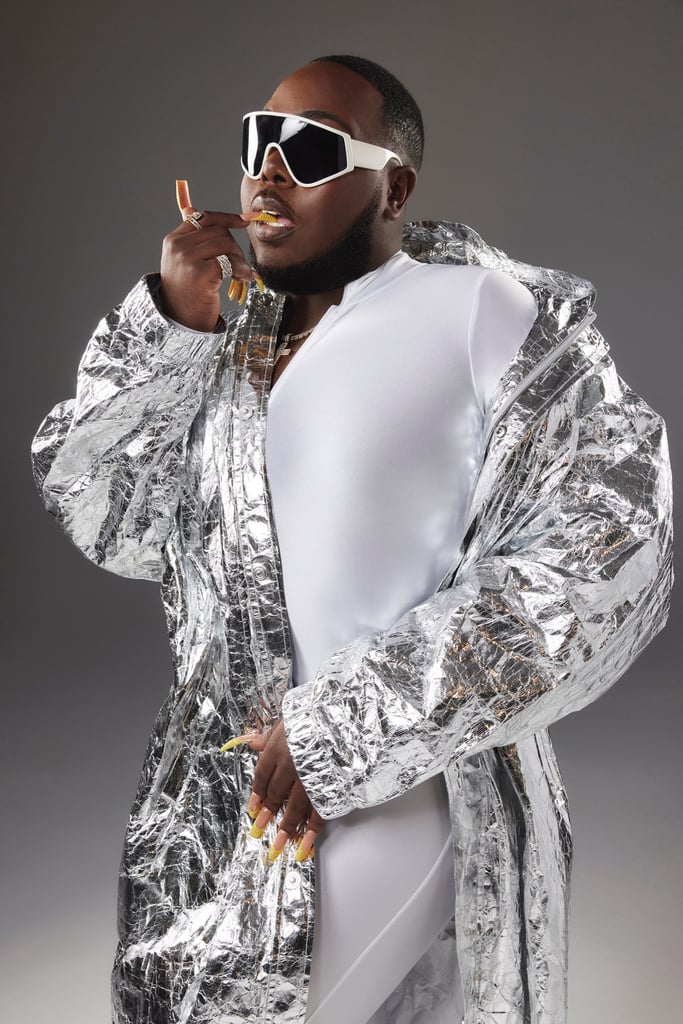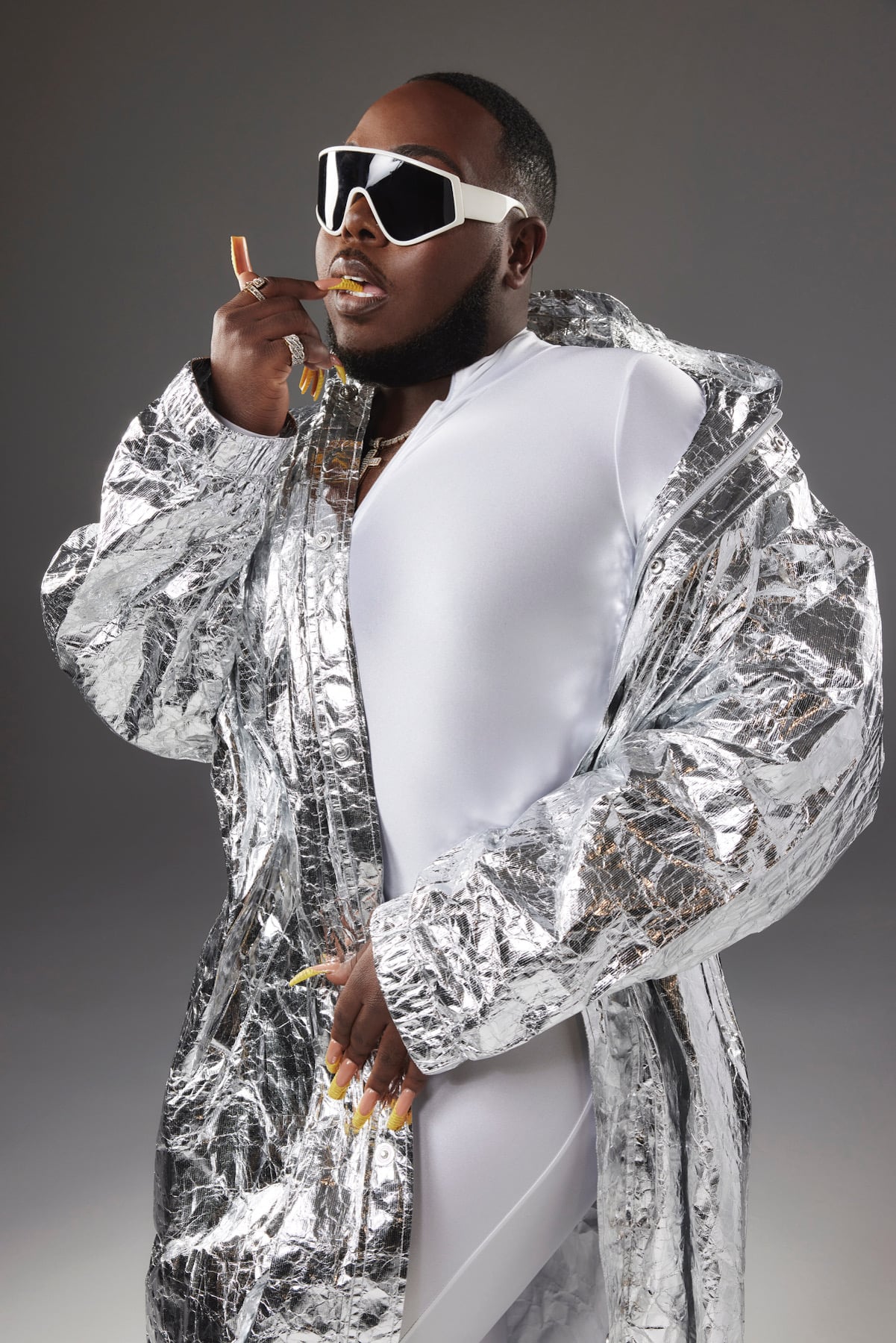 Image Source: Blair Caldwell
Starting out, Santana hated being called the "gay rapper." It irked him to have a label that didn't encompass his whole identity. "I hated it. It was so annoying," he admits. "But now I actually embrace it. Because with the success that I have, for so long, it was, 'Oh he's [just] a gay rapper.' So [yes], I am a gay rapper, and look at the things that I'm doing and accomplishing. You never thought that a gay rapper could make it this far and be on the cover of Teen Vogue, be part of these big brands, and go on tour with Latto. I've accomplished so many big things that people in society didn't think a gay rapper could do."
Now that he's wedged the door open a little further for LGBTQ+ artists, Santana feels the opportunities are endless. "I see us taking over — gays really run the world," he affirms. "I want to be able to break that glass ceiling and create room for all of us. I don't want it to be a thing where you don't see another 'Saucy Santana' for another 10 years. I want all of us to prosper in our music and careers, whether we're acting, rapping, or whatever it is. I just want to be able to create an open space and normalize gay influence, gay rappers, gay anything. I want to make it to where you see people, respect them, take people's talent, work with them and give them good quality things just like we do for everybody else."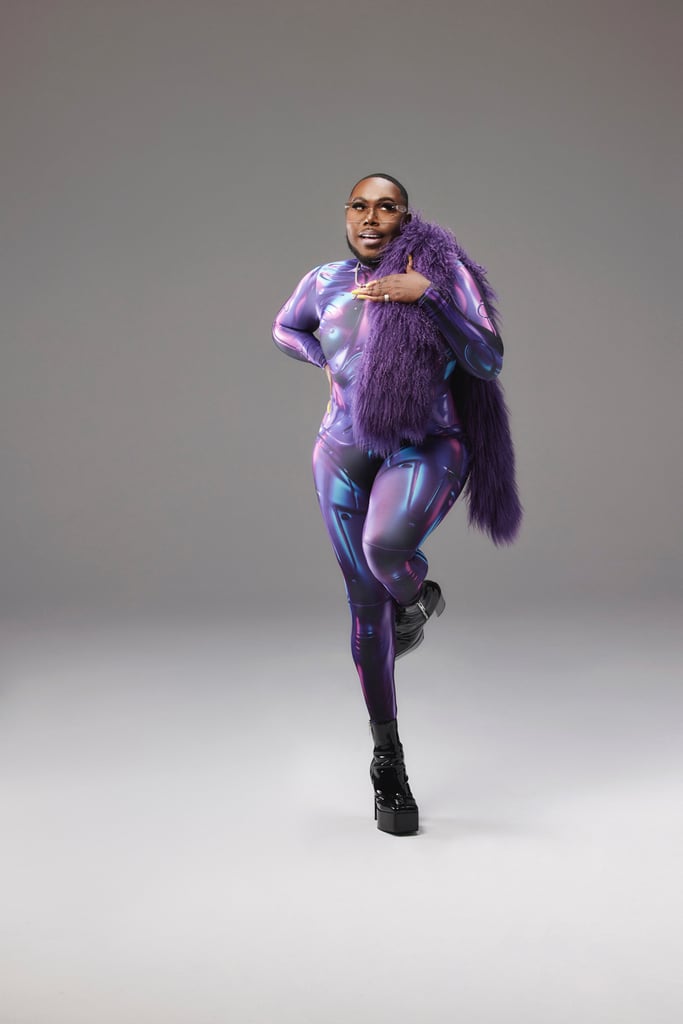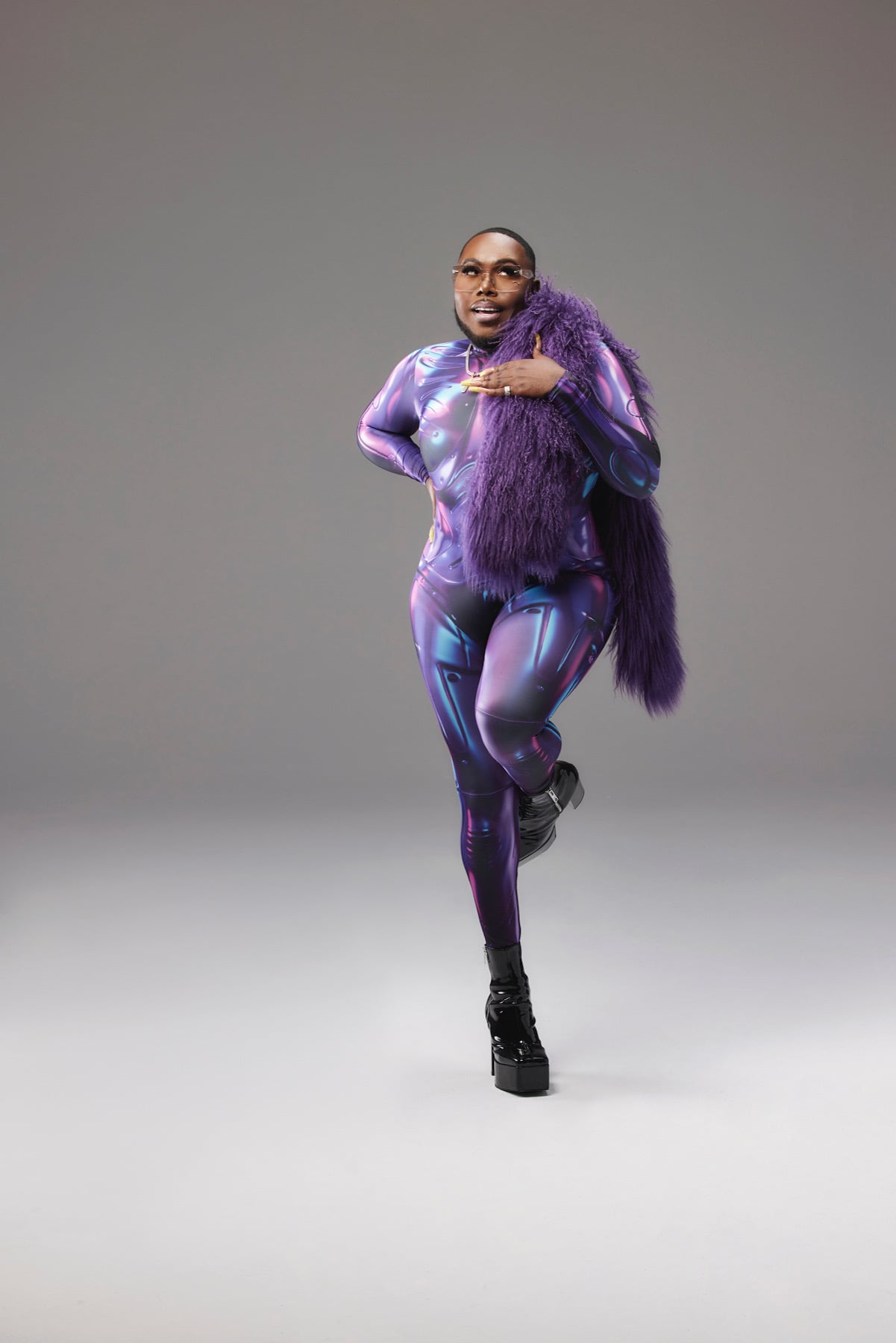 Image Source: Blair Caldwell
Already rubbing elbows with some of the most prominent artists of our time, Santana has the makings of being a culture-defining figure. He recently had a "legendary" run-in with Lil' Kim following the West Hollywood Pride Festival on June 5 — a "surreal moment" that almost left him speechless. "It was about to be her daughter's birthday, so I went out and met them, and she had so much love, respect, and admiration for me," Santana recalls. "I'm like, 'You're Lil' Kim, you're a legend.' It was really cool."
The "Booty" rapper also coyly teased a studio session he had just the night prior with a music icon. "That session was iconic — the girls could never," he shares excitedly. "It was so legendary, so exciting, so fun. It's a fresh sound, and you're actually going to get this very, very soon."
At this point, there's no denying Santana's star power. He's a walking testament that anything is possible with a bit of faith, consistency, hard work, and confidence. Santana's pie-in-the-sky goal is to start a whole new wave for himself, his community, and hip-hop — one that'll last far beyond his generation. "I just want to know that I opened the door and started a legacy that others of my culture could carry on," he says. As it stands right now, the rapper is changing the culture simply by being himself. "[I'm] just giving people me. You never see artists like [me], so being able to come into hip-hop culture — give them what I have to offer, my personality, the way I rap — my way is my aura, and that's me redefining the culture in itself."
Source: Read Full Article