Sole Mates: Nigel Sylvester and the Air Jordan 1
Since signing with Nike at age 18, Nigel Sylvester has pushed the boundaries of what's capable in BMX. Though he's never taken part in a competition, the Queens-born biker has helped the sport evolve in a way few before him have. His ultra-popular Go! series has racked up millions of views on YouTube, and he's the first BMXer to get shouted out in a JAY-Z verse and to collaborate with Jordan Brand.
Released in 2018, Sylvester's scuffed Air Jordan 1 nodded to the wear and tear riding bikes puts on your shoes. More importantly, it was the culmination of a lifelong dream. Before the AJ1, he had pro models made through Nike 6.0, had collaborated on the SB Dunk High "SOMP" and even lent his touch to a set of Air Force 1s on NikeID. However, he readily admits that there's nothing quite like working with the Jumpman, telling HYPEBEAST that collaborating on an Air Jordan 1 was something he'd "thought about multiple times when I was on my bike riding, filming clips, taking photos."
Sylvester has a unique perspective on the Air Jordan 1, and not just because he saw the inner workings of the Jumpman when he collaborated on it. As a professional bike rider, it meets his unique athletic and aesthetic needs. "BMX is a lifestyle sport," he said. "Throughout my day, I'm mostly on my bike or doing things around my bike, and the Air Jordan 1 seamlessly compliments that." Sylvester also has a deep appreciation for footwear as a whole, stretching well back before his signing with the Swoosh and to his days as a kid in Queens, New York who just wanted to look fresh like his brothers and cousins did.
In the latest installment of Sole Mates, Nigel Sylvester speaks to HYPEBEAST about his love for the Air Jordan 1, what his collaborative process was like, what he looks for from his BMXing shoes and much more.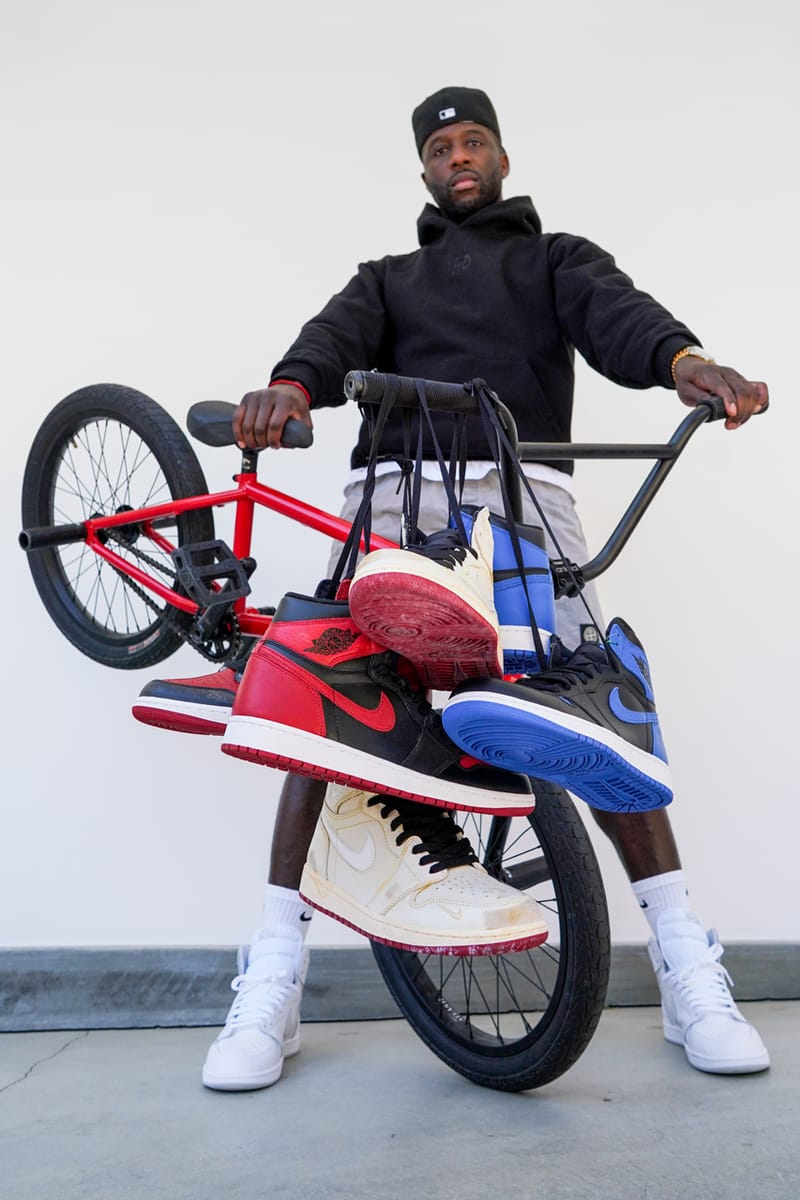 Ralphy Ramos
HYPEBEAST: What got you into sneakers, and what was sneaker culture like when you were growing up in Queens?
Nigel Sylvester: As far back as I can remember, sneakers have been a part of my life. I was a little kid, watching my big brother and cousins get fresh and buy sneakers. When I got a little older, my friends and I would jump on the dollar van to go to Green Acres Mall or head to the Coliseum block on Jamaica Avenue to look at the new kicks that came out. Getting fresh was always a big thing for me.
Were you and your friends wearing Air Jordan 1s back then, or did you come to the silhouette a little later in life?
Man, I was wearing all types of different kicks. Air Force 1s and Air Trainer Huaraches were constantly in rotation, Air Jordans when I could get them — that was tough as a kid, you know? [laughs]. Deon Sanders' Air Diamond Turf was in the mix too. It was, and still is, one of my favorite shoes. Those were my vibe back then, I loved shoes with straps when I was a kid.
Were you riding BMX in these shoes too?
When I was a kid and resources were, you know, "limited" [laughs] I would ride in whatever I could get my hands on. I'd usually wait till my new pairs weren't super fresh anymore and then ride in them. That was my "sneaker program" back then.
I watched your classic Ridin' With That Work videos from 2013-14 and spotted a bunch of Nike SB models. Were you riding in the Air Jordan 1 then as well, or did you transition into it a little later?
So when I first signed with Nike, I'd signed with Nike 6.0. I was wearing 6.0 shoes for years, and as 6.0 was phased out I transitioned into a more general Nike athlete and started wearing different stuff. Around then I was wearing a lot of SB Dunk Highs, which offered a lot of similarities to the Air Jordan 1. I was rocking Air Jordan 1s off my bike, but around when Ridin' With That Work came out I was like "you know what, I'm going to start wearing these on the bike as well" because they were so similar feature-wise to the Dunks.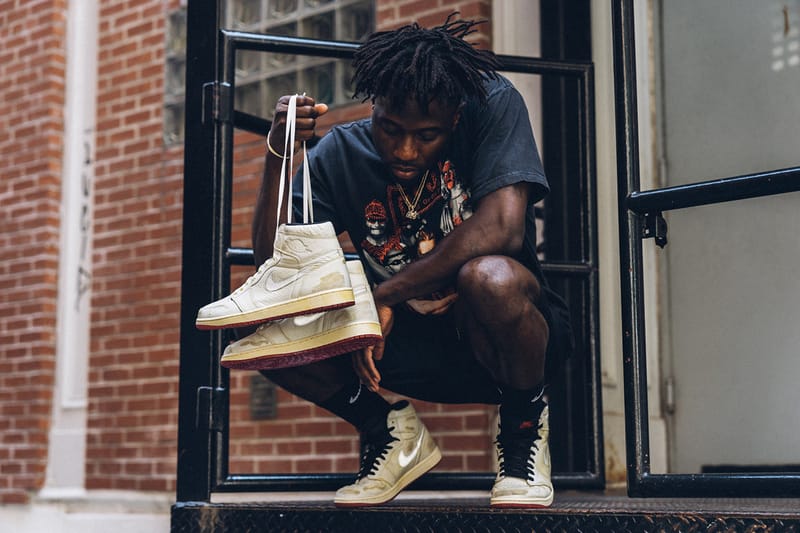 Eddie Lee/Hypebeast
Performance features and technology are often spotlighted in skate shoes, but I'm interested to know: what performance features do you look for in a BMX shoe, and how does the Air Jordan 1 provide them?
BMX is a lifestyle sport. Throughout my day I'm mostly on my bike or doing things around my bike, and the Air Jordan 1 seamlessly compliments that. For starters, the outsole works super well on my pedals. I need the grip and stability it provides. Secondly, it gives me ankle protection — which is a huge part of BMX. Third, it's nice and slim. That enables me to maneuver seamlessly on my pedals, and it doesn't interfere with the "lower mechanics" of riding in the way a more bulky shoe would.
"Collaborating on an Air Jordan 1 was something I'd thought about multiple times when I was on my bike riding, filming clips, taking photos. I was so excited."
Tell me about when you, Frank Cooke and the rest of the team at Jordan Brand started discussing an Air Jordan 1 collaboration. What was that experience like?
It definitely started with Frank Cooke. He and I were becoming close friends at the time, and each of us really appreciated and admired what the other brought to the game. I thought the way Frank told a story with his collaborative products was A1. We started discussing an official collaboration, and of course the Air Jordan 1 was at the top of that list. I think one of the first times I met Frank, I was rocking the worn-in Air Jordan 1 "Shadow" that we used as inspiration for my own pair.
Once that opportunity turned into a real thing? Man, it was a dream come true. I was super excited. Prior to that moment, collaborating on an Air Jordan 1 was something I'd thought about multiple times when I was on my bike riding, filming clips, taking photos. I was so excited, and was ready to create.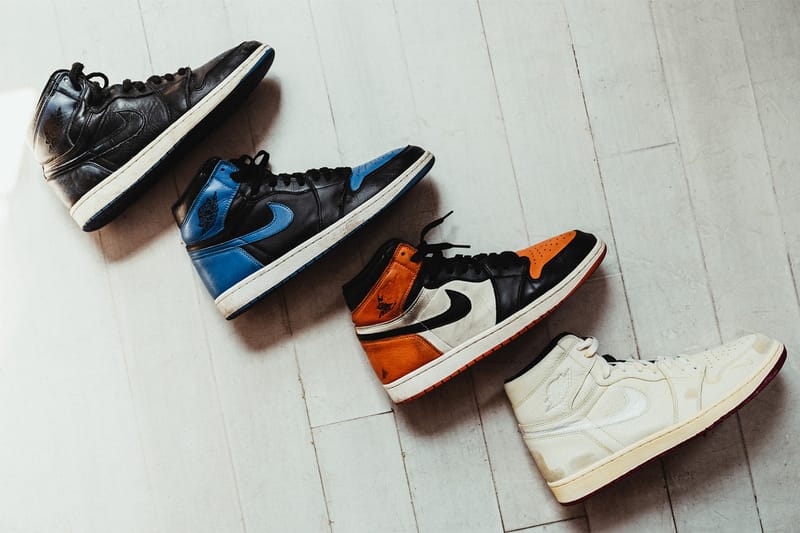 Eddie Lee/Hypebeast
A lot of modern-day collaborations seem to lack true feeling. Your Air Jordan 1 was a deeply personal story about you and your profession. Talk me through the process of telling your story through the shoe.
Man, it was extremely important for me to tell a compelling story and make the most of that collaboration. I have so much respect for Michael Jordan's footwear legacy, and it was a big responsibility to be the first BMX rider with an Air Jordan collaboration. I had to represent myself and BMX culture. I also wanted to put my stamp on Jordan history! All those things were in my mind when I was creating the shoe. I tried to channel the feeling of BMX — struggling to land a trick and finally getting it, capturing a dope photo, finally nailing a video part — and all the BMX experiences I'd had in my Air Jordan 1.
"I think that part of the reason [my Air Jordan 1] succeeded was that people were already invested in my story."
Let's talk about your Air Jordan 1's look. When it released in 2018, shoes with worn-in detailing weren't really a "thing." Now, it's a big trend and your shoes — intentionally or otherwise — were way ahead of that curve. Do you think they had any influence on this current trend?
Definitely. We took a chance offering a distressed Air Jordan 1, and I think its success gave brands, designers and creators a lot more confidence in offering a distressed shoe. I think that part of the reason it succeeded was that people were already invested in my story. For three, four years prior they'd watched me ride my bike in different Air Jordan 1s, create a bunch of different content and make different moments, so when my shoe came out they felt like they were a part of its story. They understood the "why," and didn't wonder what caused me to do a distressed shoe or ask why one of the Swooshes was missing [laughs]. 1 of 2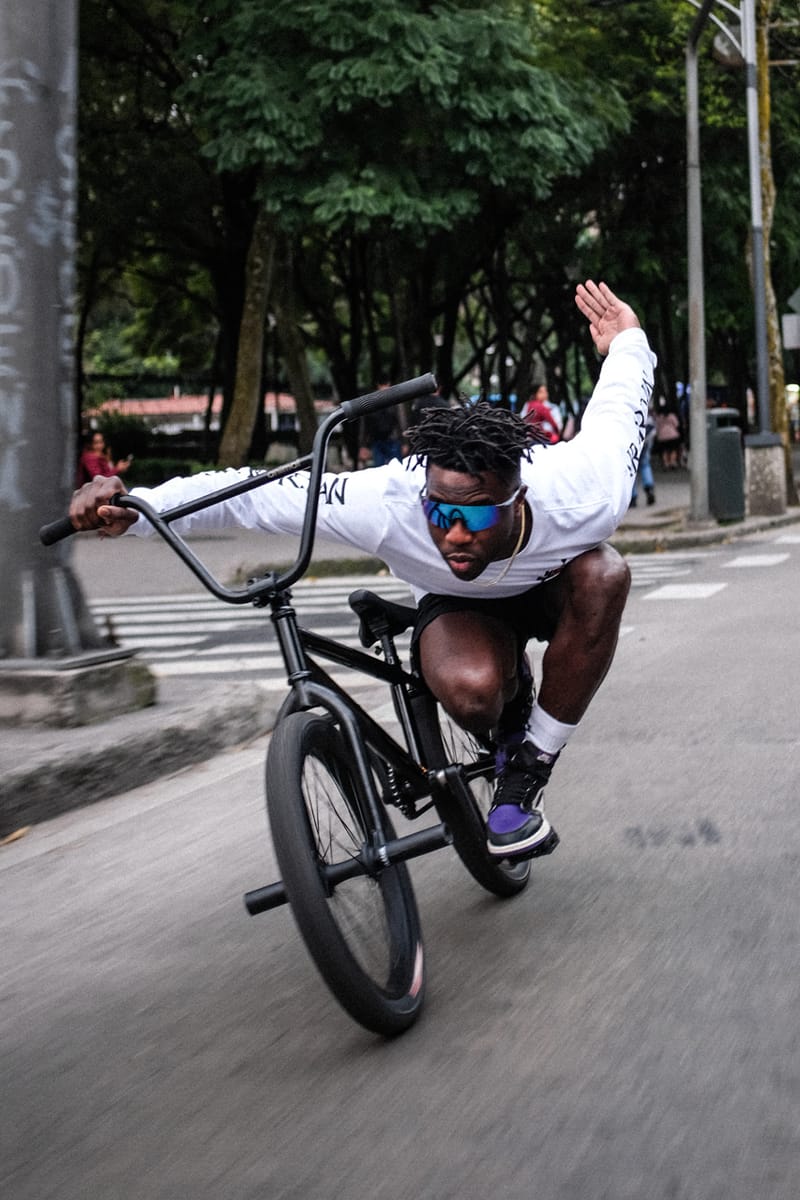 Ralphy Ramos2 of 2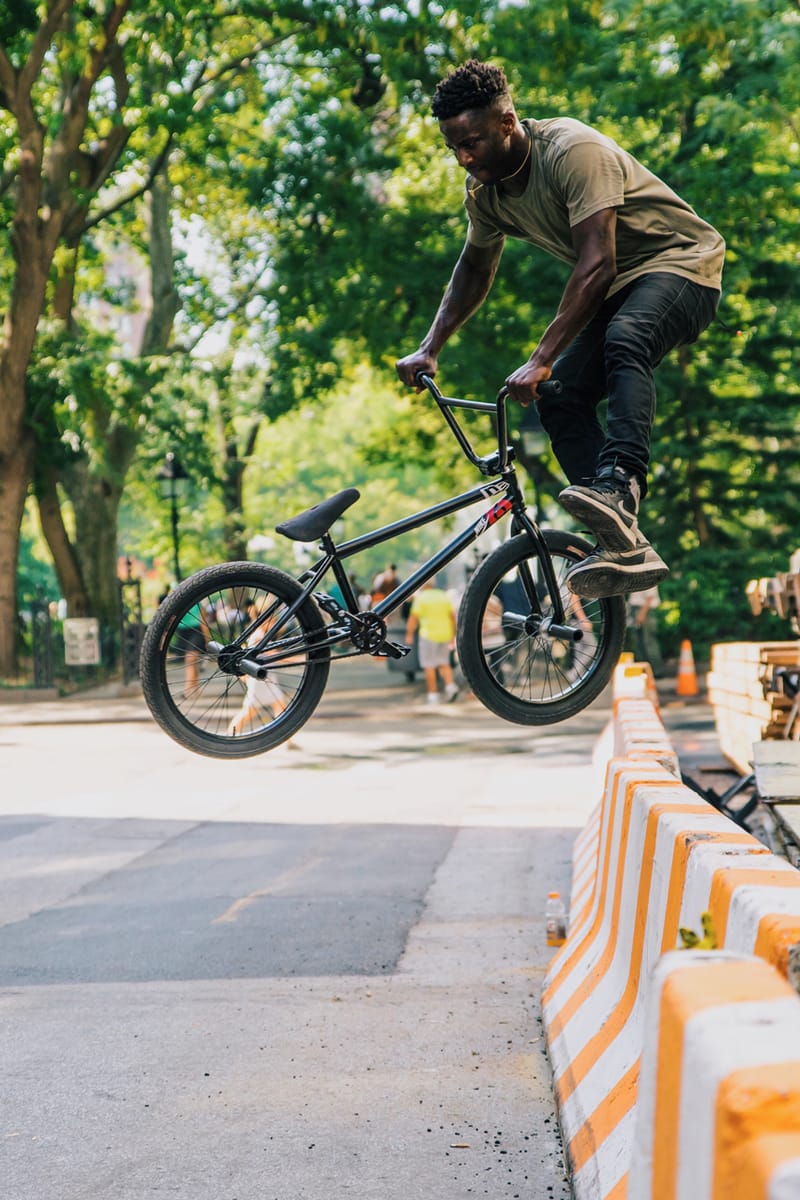 Ralphy Ramos
You have all these BMX memories in the Air Jordan 1. Do you associate certain pairs with specific on-bike moments, and do those memories come flooding back when you see those shoes?
For sure. That Air Jordan 1 "Shadow" we talked about earlier is at the top of my mind. I wore the hell out of those things, and they're in a ton of photos. I wore the Air Jordan 1 "Bred" when we filmed Go! Tokyo and that was a big moment for me — we did some incredible things when making that video, and I'll never forget it. There's a lot. The Air Jordan 1 "Rust Pink" brings some crazy flashbacks too.
From signing with Nike right out of high school to now, how has your perspective on the sneaker industry changed?
Man, I know one thing that hasn't changed is my love for sneakers. I can still remember the first time I went to Supreme to go get a pair of SB Dunks. Sneaker culture as a whole has definitely changed since those days though. There's certain things I like about it and certain things I don't, but at the end of the day there's still a very strong community — even with the big role technology plays these days.
The game may have changed, but the love remains the same.
The love is definitely still the same.
Source: Read Full Article