Stephanie Hsu on the Timely Chaos of "Everything Everywhere All At Once"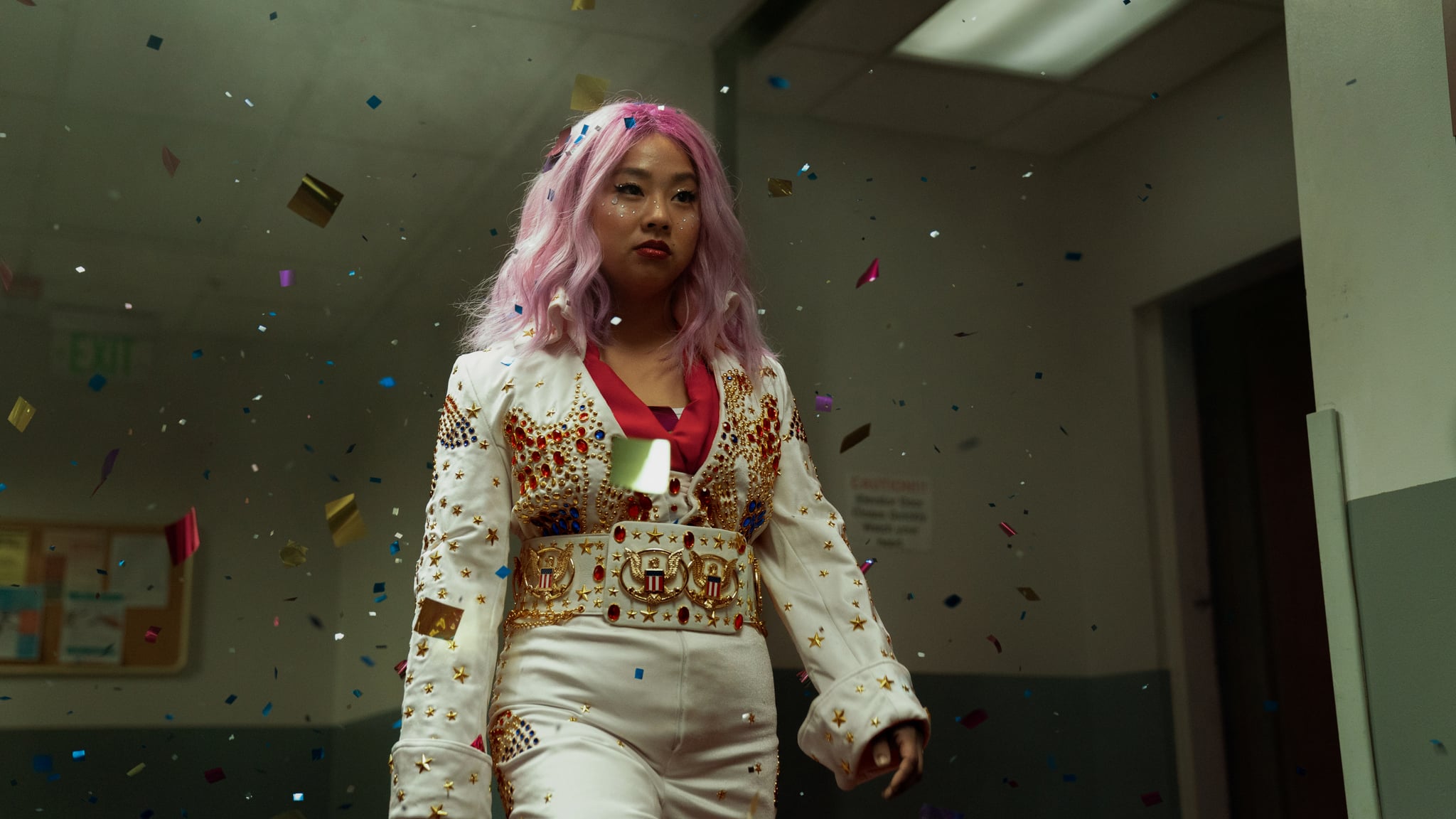 Stephanie Hsu stars in "Everything Everywhere All At Once," playing two characters who are much more similar than they first appear. On the one hand she's Joy Wang, the depressed daughter of Evelyn (Michelle Yeoh) and Waymond (Ke Huy Quan) who can never quite connect with her mother. She also plays Jobu Tupaki, a destructive agent of chaos who can jump between universes and tries to destroy all of existence. Hsu spoke to POPSUGAR all about making the movie, working with Yeoh, and joining the cast of "Marvelous Mrs. Maisel."
Hsu lived in New York when she first met the "Everything Everywhere All At Once" directors, Dan Kwan and Daniel Scheinert, known collectively as the Daniels. Hsu guest-starred on an episode of "Nora From Queens" that the Daniels directed.
"Honestly we had so much fun on that shoot," she explains. She had just finished a stint on Broadway and wrapped season three of "The Marvelous Mrs. Maisel." She says, "I fell in love with [the Daniels] so deeply that I was like I think I'm ready to go to LA. I just know that there are weirdos like the Daniels that I want to work with."
According to Hsu, shortly after she arrived in California, the Daniels called about the role in "Everything Everywhere All At Once." She says, "I had no idea Michelle Yeoh was attached, I had no idea it was A24, I had zero concept. I was just like, 'I want to work with you guys forever and ever.'"
Hsu says that the Daniels felt like "artistic soulmates" who weren't afraid to get weird, and the evidence of that mentality is all over "Everything Everywhere All At Once." She revealed that one of the first scenes she filmed with Yeoh was the hallway scene, where Jobu Tupaki's chaotic powers are first revealed. She fights off a squad of cops using a unique array of weapons, including confetti and dildos. Hsu was stressed that this was her first scene with Yeoh.
"I was like wait, hold on. I've never done a regular scene with her and now I have to throw dildos at her face?" she says. The Daniels encouraged Hsu to get weird with the scene, so she said to them, "Every time you want me to get weird, I need to make sure that you announce it to the whole room so that Michelle knows I'm about to get weird, because I really don't want to scare her."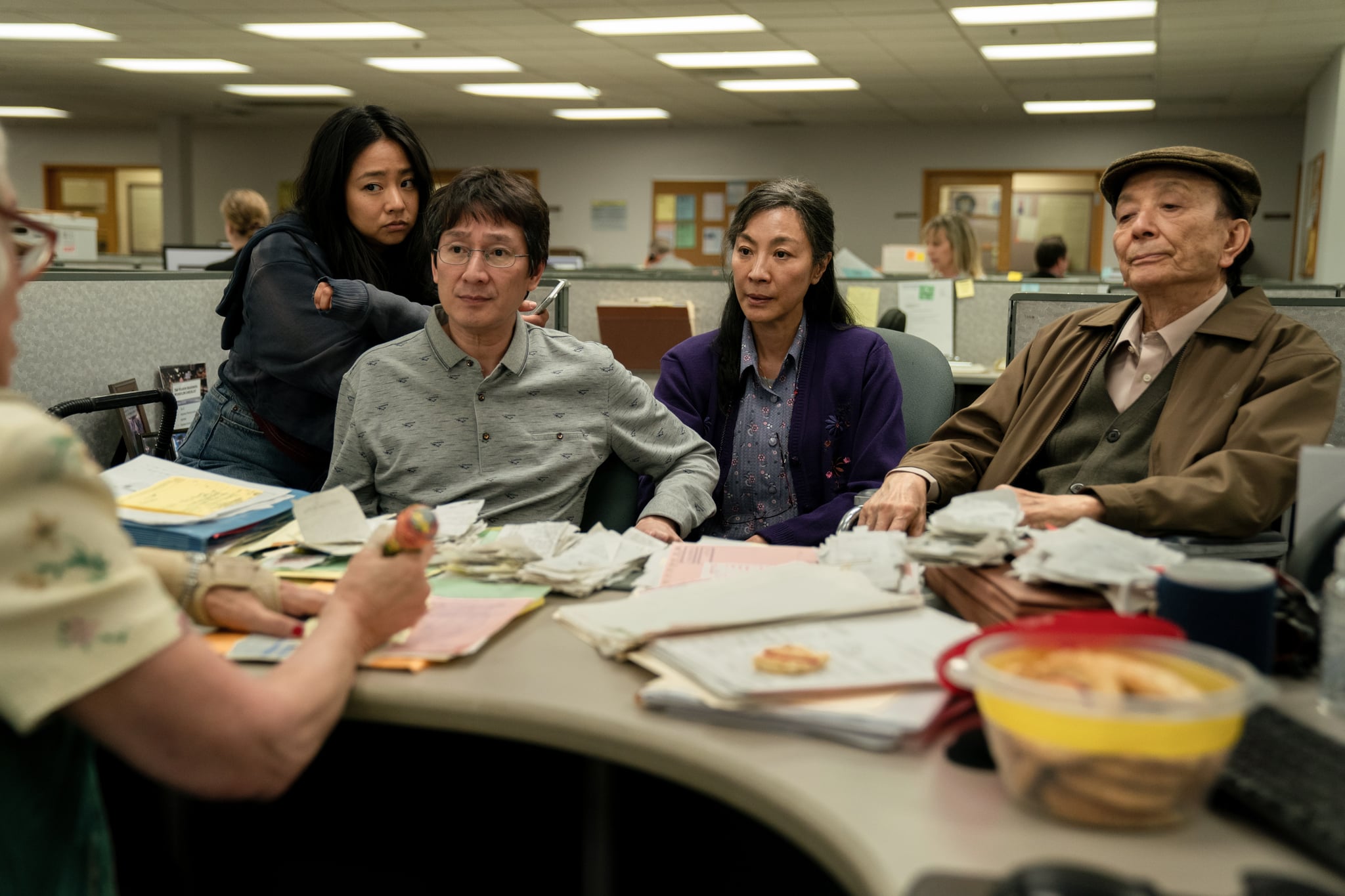 Hsu says that Yeoh "definitely" thought she was weird, but that she was immediately "such a generous scene partner." Working with the legendary actor, Hsu explains, was an amazing experience. "She is so loving," Hsu says. "I think that the mother-daughter relationship [in the film] is so real because both of us just immediately loved each other and were open to loving one another."
"She is so generous and you can sometimes forget that she is literally the Michelle Yeoh," Hsu says. "She is so funny. She keeps saying that she doesn't think she's funny, but she is one of the funniest people I know."
The movie was a major challenge for Hsu, Yeoh, and Quan, who had to keep the story of one family grounded as they ping ponged through countless multiverses, ranging from the realistic to the absurd (Hsu says her favorite is the one where they're just rocks). Hsu says the key to making the movie work was keeping their family relationship central. "These are still people and at the end of the day this is still a woman who's trying to get back to her family and that's the tension," she explains. Across the universes, the Joy, Evelyn, and Waymond are ultimately the same at their core. "Even though we splinter off, the way we relate to one another is actually still coming from the same place," she says.
This spring, Hsu also starred on the fourth season of "The Marvelous Mrs. Maisel." She plays Mei, who helps her parents run an illegal gambling club in Chinatown. "I'm so proud also and so grateful to get to play Mei," she says, but at first she was hesitant to join the cast in season three. "Before I read [the script, I was] scared to read this Chinese woman in the 1950s because I was so afraid it was going to be horribly racist. But she's not, she's a total badass and I've never seen anything like her."
Hsu explains, "I thought I'd never be able to be in a period piece ever. And now all the young Chinese women and young Asian women don't have to think that thought anymore because Mei exists. I feel lucky to kind of carve that little path for other people."
Though the themes of "Everything Everywhere All At Once" feel especially timely for the general chaos and fear of the last two years, Hsu revealed that they actually wrapped production just as Hollywood was shutting down in March 2020. Sheattributes the meeting of the film to this moment to the Daniels, saying, "I do think that visionary artists are ones who can somehow accidentally tell the future in some way. There's obviously no global pandemic in our film, but the chaos that we've all been feeling has been present for a very long time."
Hsu says, "I just feel so lucky that this movie is coming out now because I think that people are receptive and open and want to hear it and also need the catharsis that the movie provides."
"Everything Everywhere All At Once" opens nationwide on April 8.
Source: Read Full Article