Tamron Hall Says Her New Talk Show Will Go There — "Everything Is Political"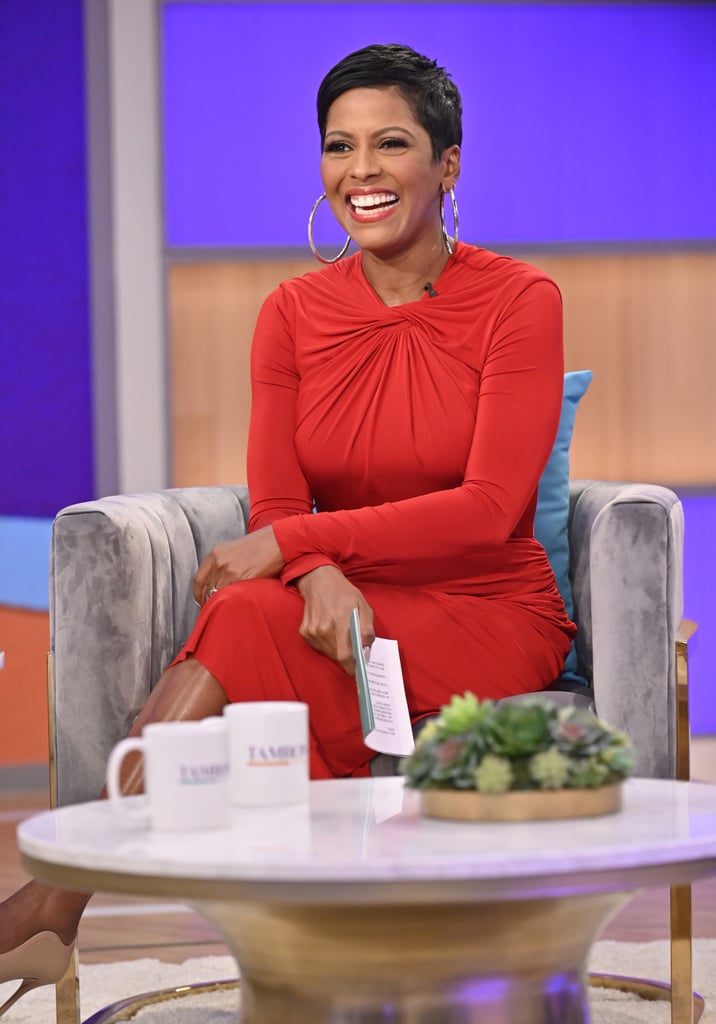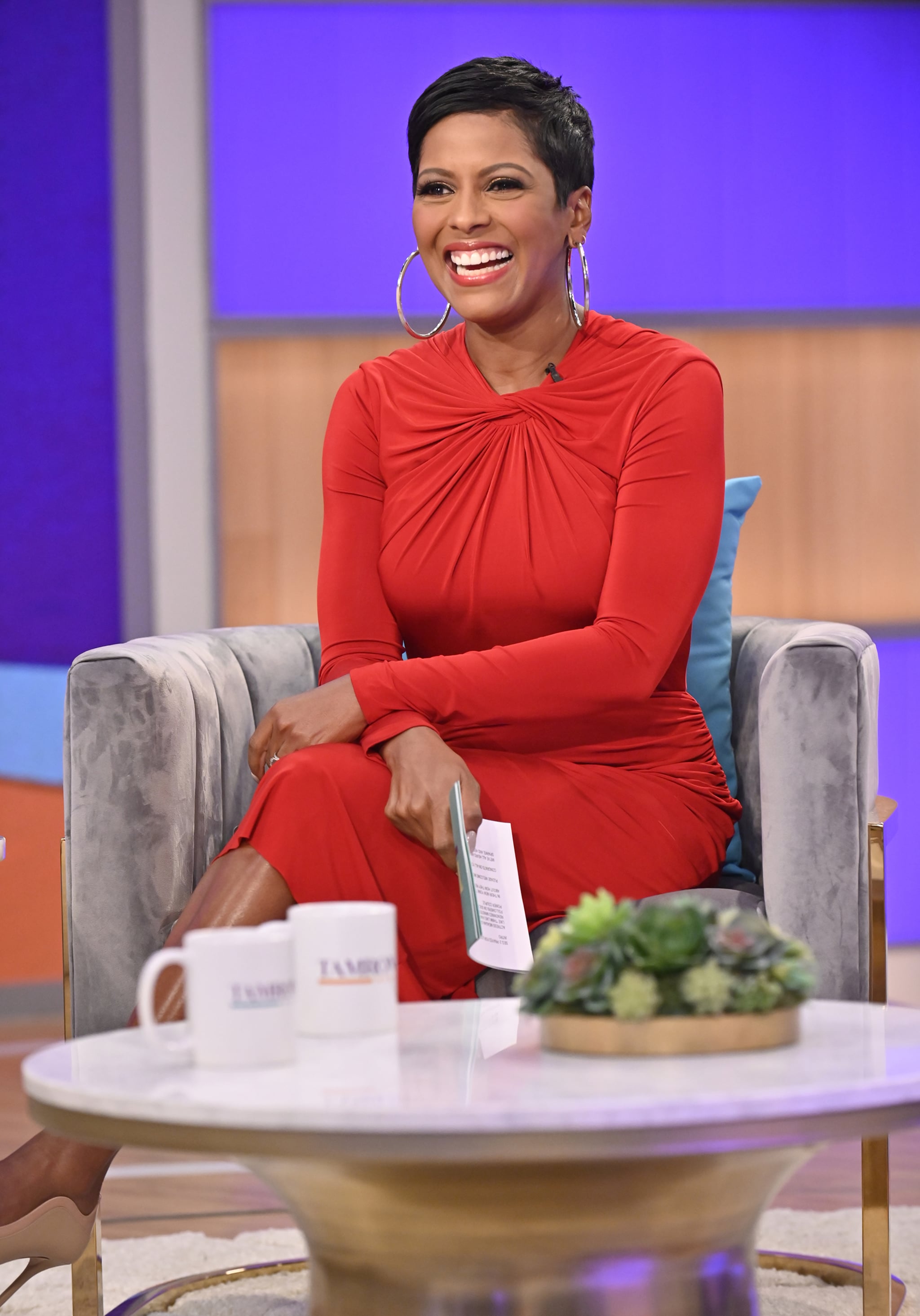 Tamron Hall apologizes as she joins a conference call with a handful of reporters just a few days before the Sept. 9 premiere of her new self-titled talk show. "Forgive me — my voice is hoarse and I'm also hiding in a corner of my child's nursery, trying not wake him up," she says with a quiet laugh. Since her newsmaking departure from Today — which came just before Megyn Kelly's controversial and short tenure on the third-hour of the morning show commenced in 2017 — Hall has gotten married and had her first child. And while she starts the conversation on a personal note, the interview quickly turns political.
The first reporter to ask a question inquires about her "friendship" with Donald Trump — a characterization Hall says was "a loose interpretation" and "probably unfair to me" — whether they talk, and whether she'd have him as a guest on her show. While Hall doesn't clearly answer those points, she does use the question as an opportunity to make one thing clear: she has no problem talking politics and plans to do so on her new series. "Everything is politics," she says. "I am a black woman in America — there is no way that I could ever avoid anything political."
Ahead, see what Hall says about bridging the American divide, why she wants to dig into uncomfortable topics, and why she wouldn't allow a brief working relationship with Harvey Weinstein to derail her show.
On How She Plans to Reach a Polarized America
"Rev. William Barber said, 'If you tell your children that this is the worst this country has seen, you're doing a disservice to your children.' Ignoring what the world and this country have beaten back at different points would be ignoring history and also a disservice for the people who paved the way for all of us," Hall says. "I think it's a deeper conversation. Everybody on this call: look at your Instagram. How diverse are your friends? How many people on this call, the last 10 pictures are all white people? I attended a conference [for] women over 35 in the tech industry — bloggers, writers — and they were all white. All white females who were doing it, and owning it, and I was so proud of them. But there was no diversity in the room. But then, we would wag our fingers at someone in Texas and say, 'Look at that redneck'? We live in the most diverse city in the country and are we talking that talk? Are we really believing that we have more in common then we have different? For me, that's an everyday challenge to make sure that I lead by example, but also that my show reflects that."
On Working With Harvey Weinstein in the Early Stages of the Show
"I've known Harvey all of a commercial break, as I say — maybe three months — and suddenly you know the stain of what this man is accused of has been placed upon me. And a lot of women, to be honest with you, [are] having to explain knowing him, or having to explain business decisions that we've made. Which, again, goes back to the unfairness of how women are spoken to, how black women are spoken to, and how we approach the perpetrator vs [other] people," Hall says. "Someone like Harvey Weinstein wasn't going to make me, break me, or define me, and I wasn't going to let any questions or any person allow that to happen. So for me, I just hunkered down, focused on what I needed to do, and I assume that the judicial system and women speaking up and speaking their truth will all work itself out. We are watching it play out in a courtroom very soon."
On the Uncovered Topics She Wants Her Show to Tackle
"Interraical dating — and not just from the black/white perspective. I have a colleague who is Asian, she says every time she goes out with a white guy somebody believes she is a gold digger," Hall, who is married to a white man, says. "I am willing to talk about those things in very real terms. I am willing to talk about womanhood. I had people early on in my career say things like 'Well, you don't understand, you're not a mom yet,' or 'You're not grown until you have a child.' You know, I was paying my own bills and on my own since I was 18! So I think those are some of the topics that I think we could talk about. The other thing is relationships. Other than Doctor Phil — and I say this jokingly — he is the only one that really talks about relationships. And if you go on his show, your relationship is really in trouble. We are going to bring that and much more to the conversation."
On Becoming a Mom at Age 48
"Honestly, I didn't realize I was an older mom until people started telling me I was. I was like, geriatric mom? But you know, you read a couple of comments here and there that say 'Well, your kid is going to be dead when your 20.' My mother's mother died when she was 10. My mom went to bed one night as a 10-year-old child and woke up without her mom. So there's guarantee on life. We aren't milk cartons, there is no expiration date on us that we know of. Maybe God knows, but we don't know," Hall says. "We are going to talk about the journey [on the show] and part of the journey is IVF. I can't think of the last time, maybe since Oprah, when someone actually dedicated a show to IVF. Do you know how many babies were born since Oprah probably did a blow-out show on IVF?"
On Having Fantasia Perform the Show's Theme Song
"It's awesome. Fantasia is incredible. I met her some years ago, and you know when you meet some people, and you just have a feeling? I felt it was all right, knowing and admiring Fantasia — not just as a singer, but her journey. She opened up to us about the fact that she could not read, and she was a single mom when she took that Idol crown," Hall says. "And the lyrics of the song "Shine," and feeling empowered. I used to always jokingly say that I have an imaginary convertible that I put back in my head and I throw on my "Freedom" by Beyonce or something that just gets me going. I wanted that feeling. No matter who you are, no matter what position you hold in this life, you can listen to that song and feel good. Like, 'Yes, I can shine. When they tell me I can't shine, I will shine. When they say that there's no space or room at the table for someone who looks like me, I can.' And that's the spirit of the song."
Source: Read Full Article