Taylor Swift Has Liked A Series Of Revealing Tumblr Posts After The Scooter Braun Drama
Yesterday, Taylor Swift shared a post on Tumblr after it was announced that Scooter Braun's company had acquired Taylor's former record label, Big Machine Records, for $300 million.
Taylor left Big Machine Records at the end of 2018 after her 10 year contract expired. She then signed a new deal with Republic Records.
When she announced her new deal on Instagram, Taylor explained that while she'd own the master recordings of all her work going forward, Big Machine would retain the rights to the masters for all six of her albums "in perpetuity".
https://instagram.com/p/BqXgDJBlz7d/
In her note on Tumblr, Taylor claimed that, prior to leaving Big Machine, she was given the option to earn back the rights to her masters if she signed a new contract with them. But, she was also told that Scott Borchetta — who signed Taylor when she was 15 — would sell the label after she signed a new contract, and so she decided to go elsewhere.
Taylor went on to say that Scooter owning the rights to her music was her "worst nightmare".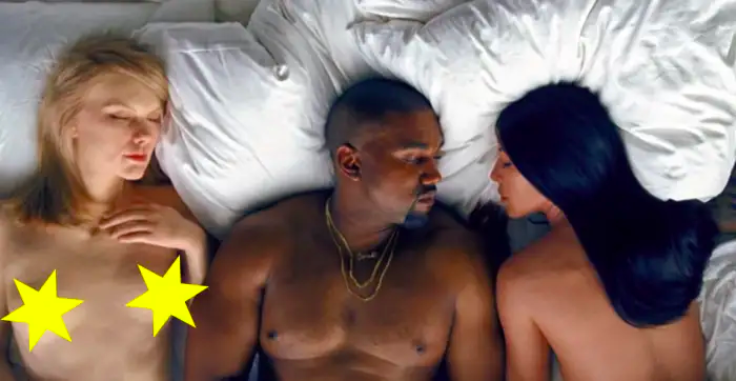 The reason? Scooter was Kanye West's manager at the time of their 2016 feud which eventually led to Taylor disappearing from the public eye. At the time, Scooter, Kanye and Justin Bieber — who's also managed by Scooter — posed for a selfie mocking her with the caption: "Taylor Swift what up". Not long afterwards, Kanye released the video for his track "Famous", which showed him lying in a bed surrounded by naked waxwork depictions of celebrities including Taylor.
Shortly after she posted her note on Tumblr, Justin Bieber took to Instagram and shared a lengthy caption criticising Taylor for her comments about his manager, and branding her a "bully".
https://instagram.com/p/BzWYdS9Hj5R/
And while Taylor is yet to post anything further on any of her social media accounts, she has been spending time on Tumblr, liking numerous posts from her fans which could give a glimpse into her mindset right now.
https://instagram.com/p/BzQjirhjjeq/
Here are some of the most important posts she's liked so far.
Taylor liked several posts which referenced the fact that, after the news of the deal broke, Scooter took to Instagram and shared this screenshot from a friend who'd captioned the image: "When your buddy buys Taylor Swift".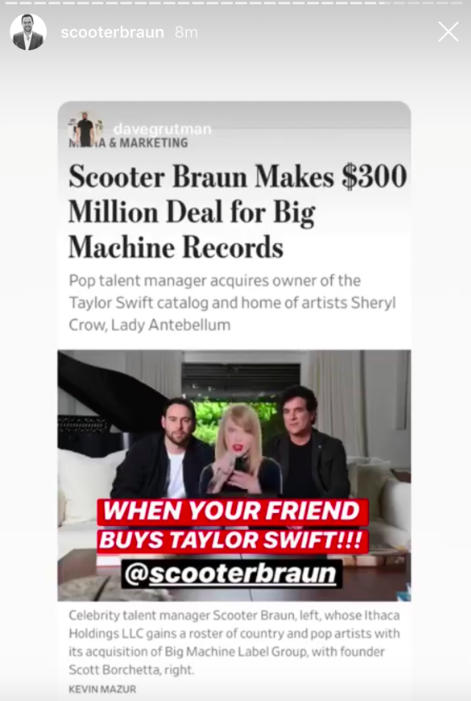 1.
Taylor firstly liked this post which said the "phrasing of the comment" was "disgusting".

2.
She also liked this one from a fan who said the comment had "turned [their] stomach".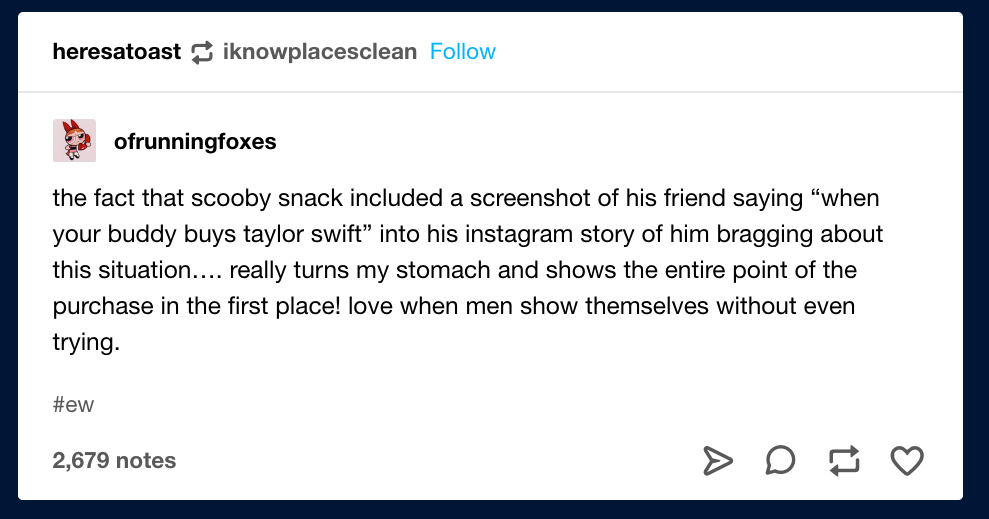 3.
As well as several posts from people expressing their disbelief over the comment.

4.
5.

6.
Taylor went on to like multiple posts which criticised the men involved in the situation — specifically Scooter Braun, Scott Borchetta and Justin Bieber.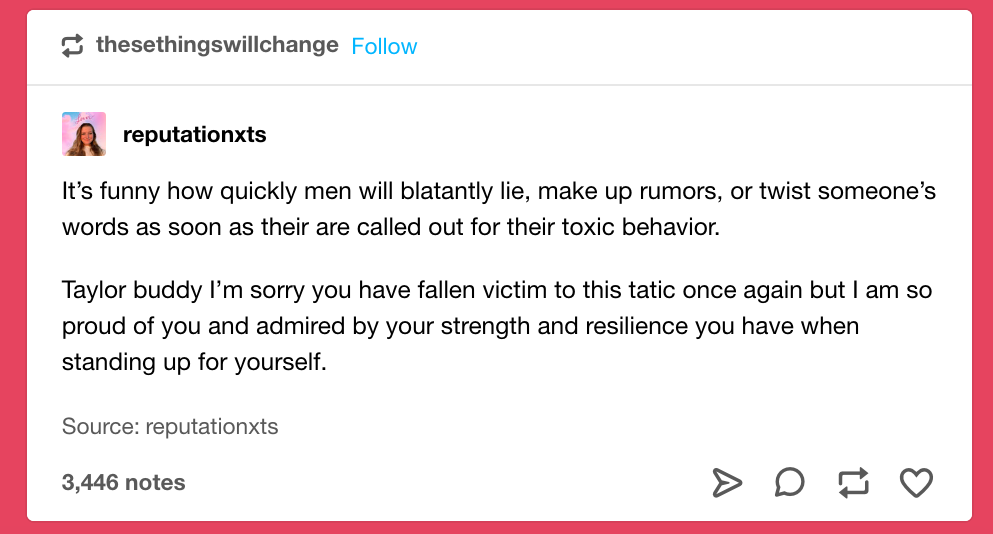 7.
"I'm fucking tired of men manipulating and twisting a situation in order to make themselves look better and a woman look crazy," wrote one fan.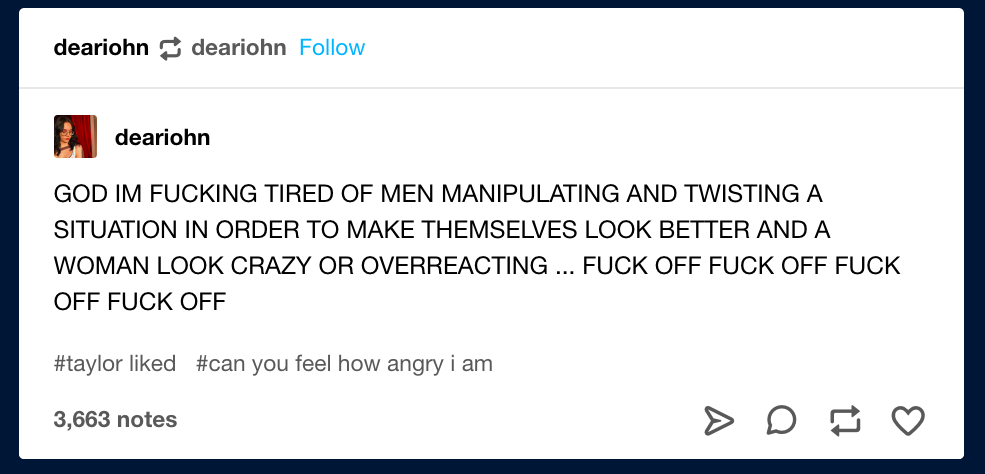 8.
"Remember what Halsey said about men wanting to have power just to abuse that power and women wanting to have power to stop being abused? This is exactly what is going on here," said another.

9.
This fan said they were "disgusted" by the attempt to invalidate Taylor's feelings.

10.
And Taylor also liked this post which criticised Scooter's wife, Yael Braun, for getting involved and posting her own statement defending her husband.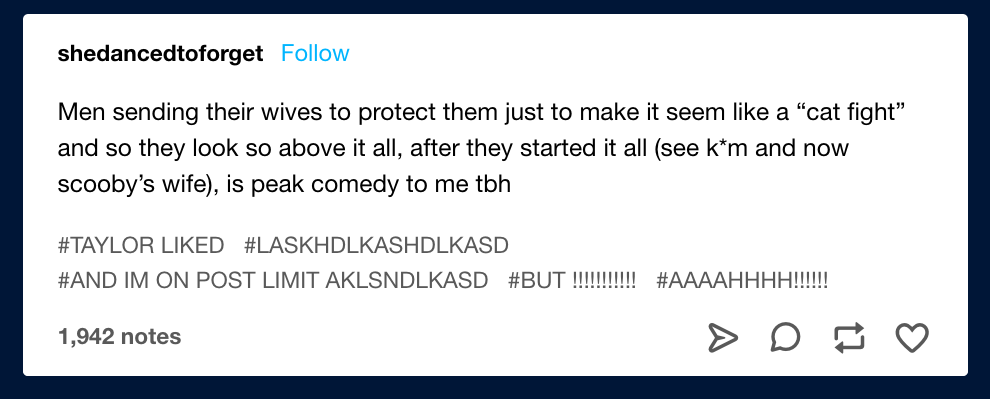 11.
Taylor then liked many of the posts which took issue with Yael describing her Tumblr post as a "temper tantrum".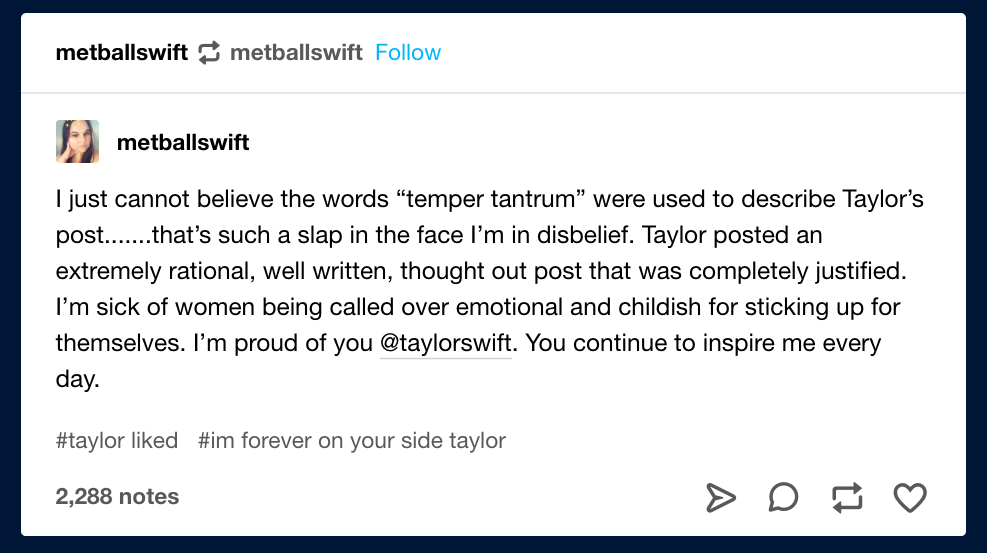 12.
13.
As well as several others which took issue with Justin Bieber calling her a "bully".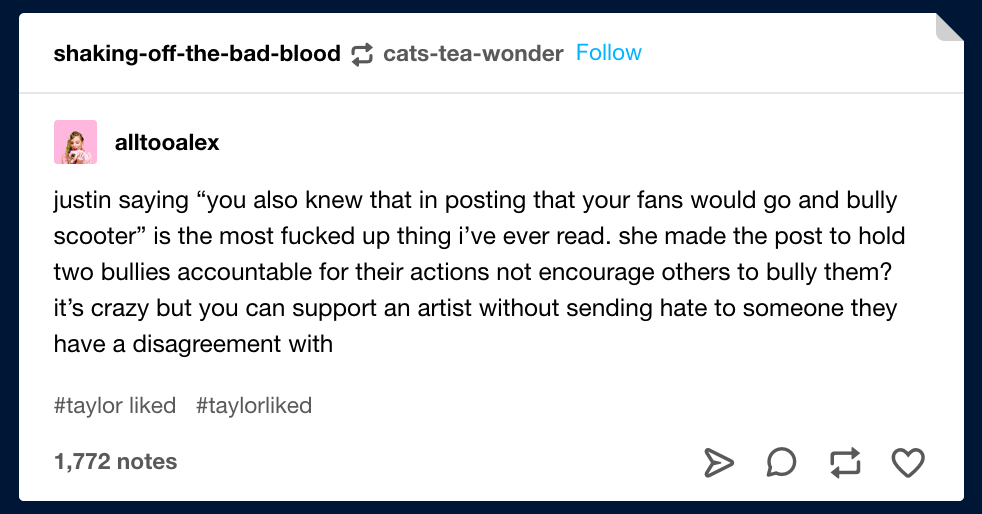 14.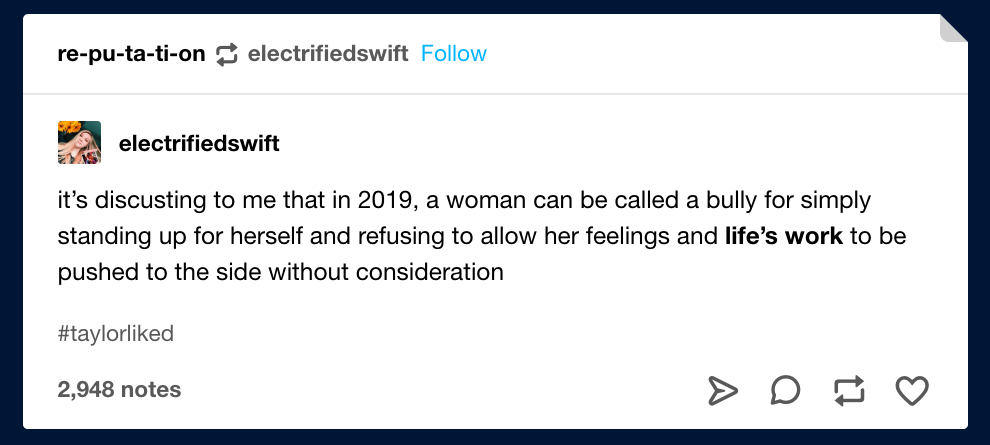 15.

16.
She also liked this post which referenced a line from Justin's post about the fact they hadn't "gotten to communicate [their] differences".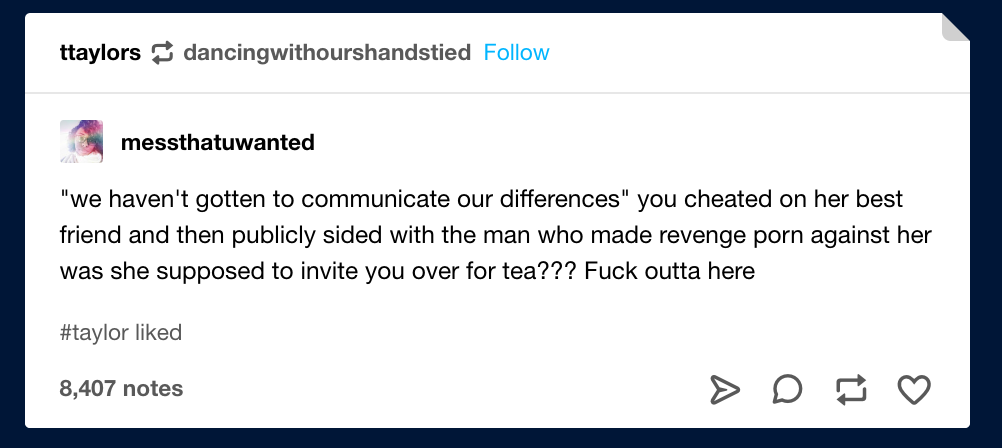 17.
And Taylor went on to like numerous comments which highlighted the fact that the vast majority of celebrities who had spoken out in support of Taylor were women.

18.
"The silence coming from the men in the music industry right now is deafening," wrote one fan.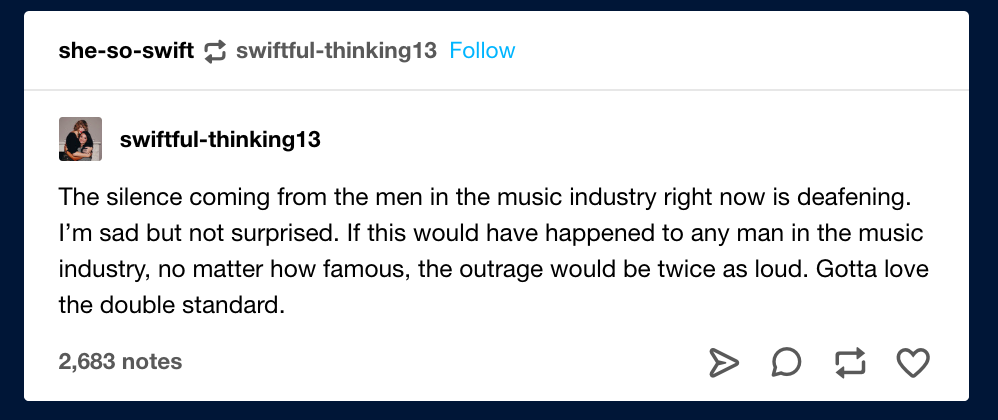 19.
"The first man who speaks out will be the real man," said another.

20.
But some fans pointed out that people should be concentrating on the crux of Taylor's argument — her disappointment over not owning her work — rather than ~spilling the tea~ or ~shading~ other celebrities. And she liked those posts, too.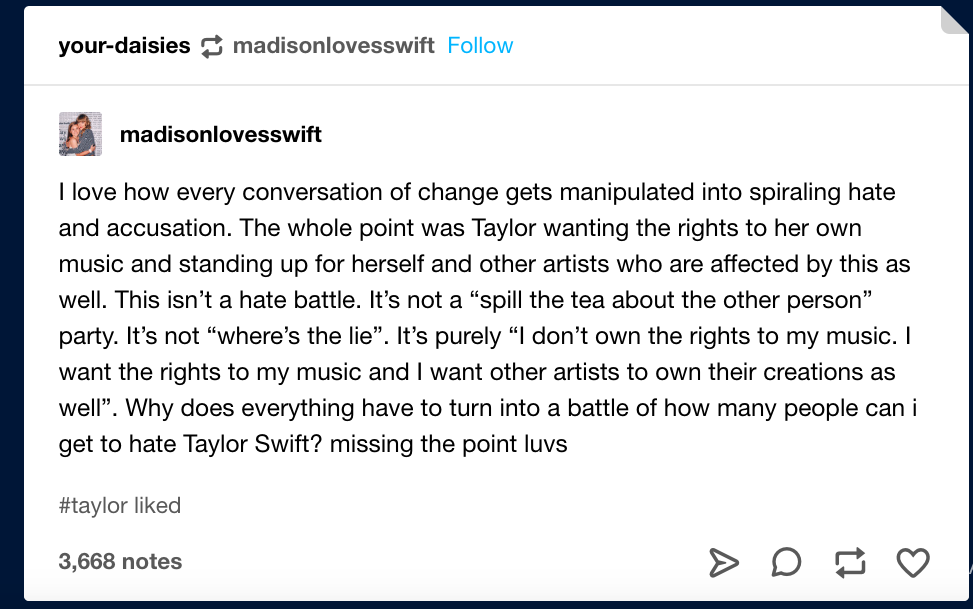 21.

22.
She also liked this post which praised her for describing Kanye West's "Famous" video "revenge porn".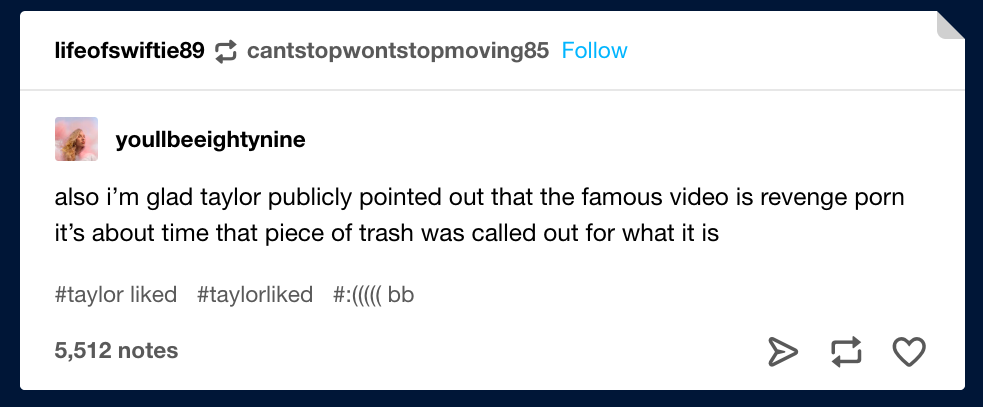 23.
As well as this one describing the terms of the contract as "bribery".

24.
And others which said she should've had the option to purchase the rights to her master recordings.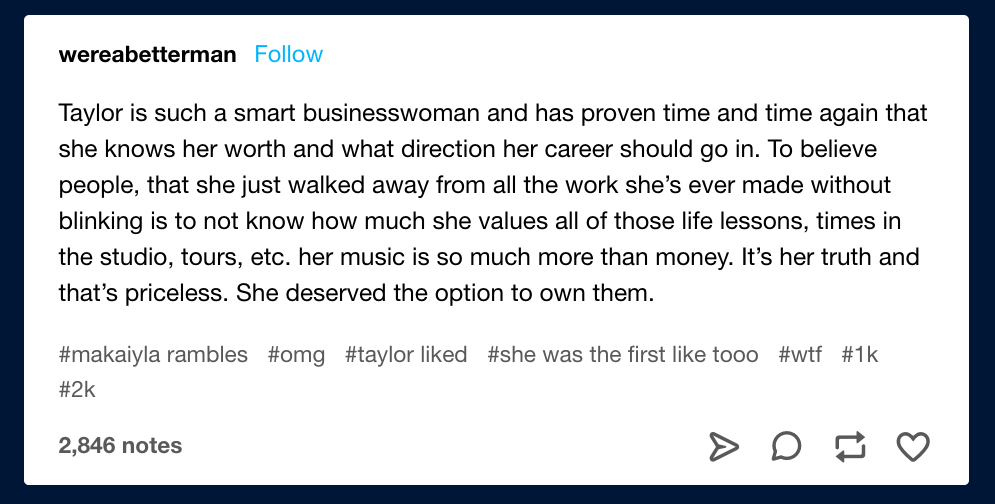 25.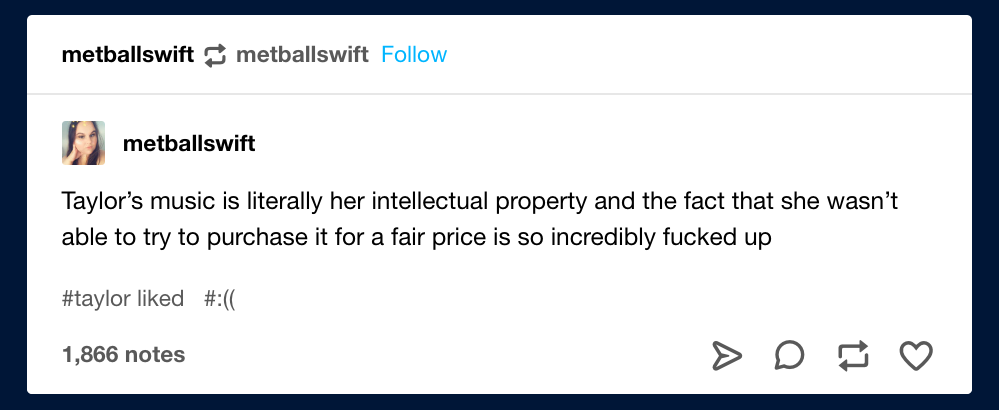 26.
Taylor liked some posts from people expressing their heartfelt sympathy.

27.
And others that said her anger and hurt over the situation was justified.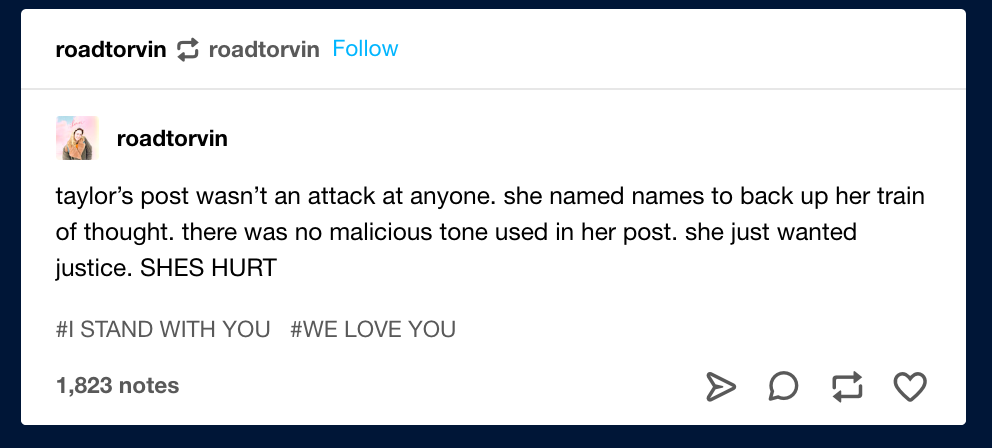 28.
And, finally, the last post Taylor liked was this one referencing the butterflies that have featured heavily throughout the Lover era so far.

Ellie Woodward is acting celebrity editor for BuzzFeed and is based in London.
Contact Ellie Woodward at [email protected].
Got a confidential tip? Submit it here.
Source: Read Full Article