The 50 Most Powerful Photos Of 2019

Love photography as much as we do? Sign up for the BuzzFeed News newsletter JPG.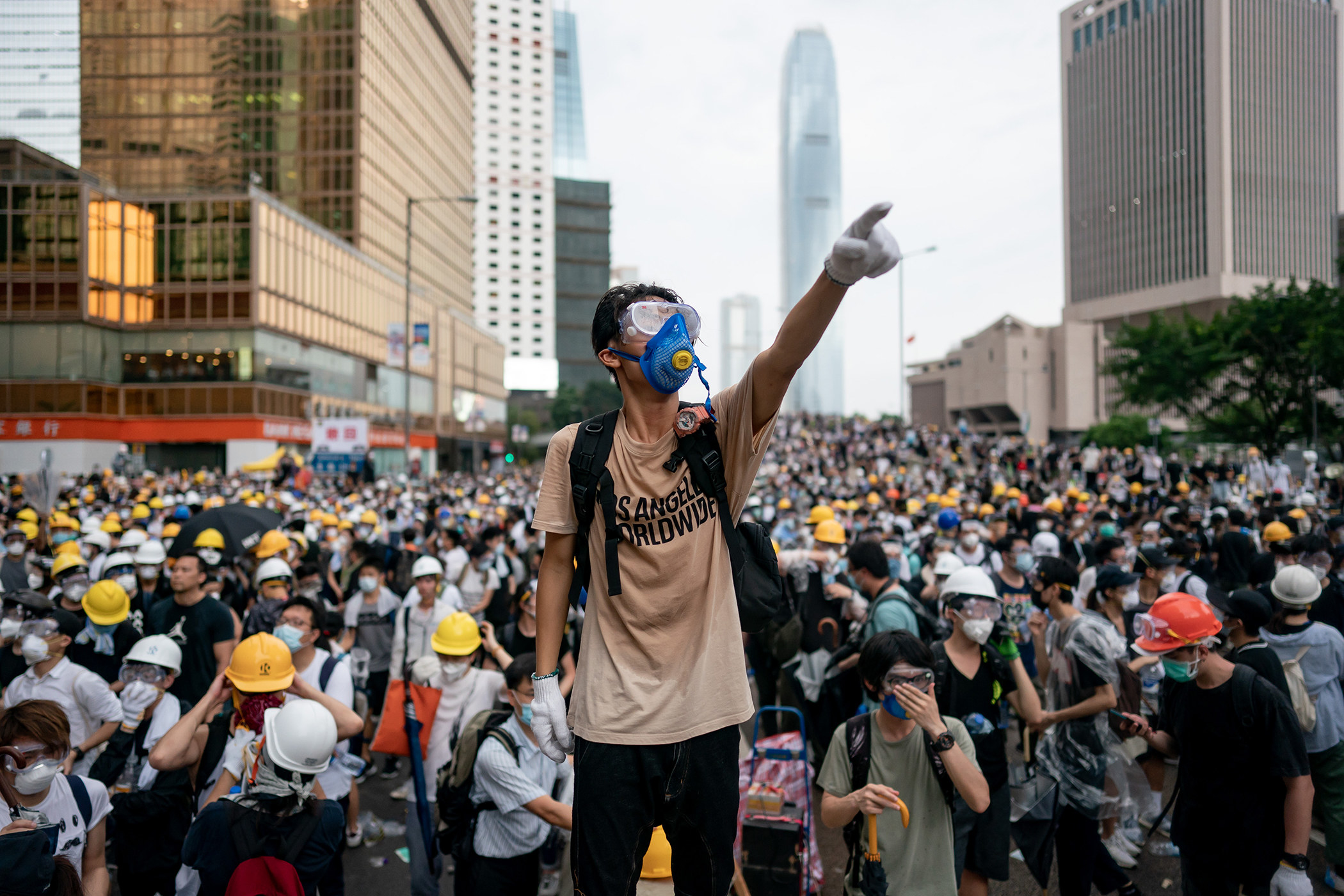 Large crowds of protesters gather in central Hong Kong in a show of strength against the government over a divisive plan to allow extraditions to China, June 12.
Members of Congress cheer after President Trump acknowledges the newly elected women representatives during his State of the Union address on Feb. 5.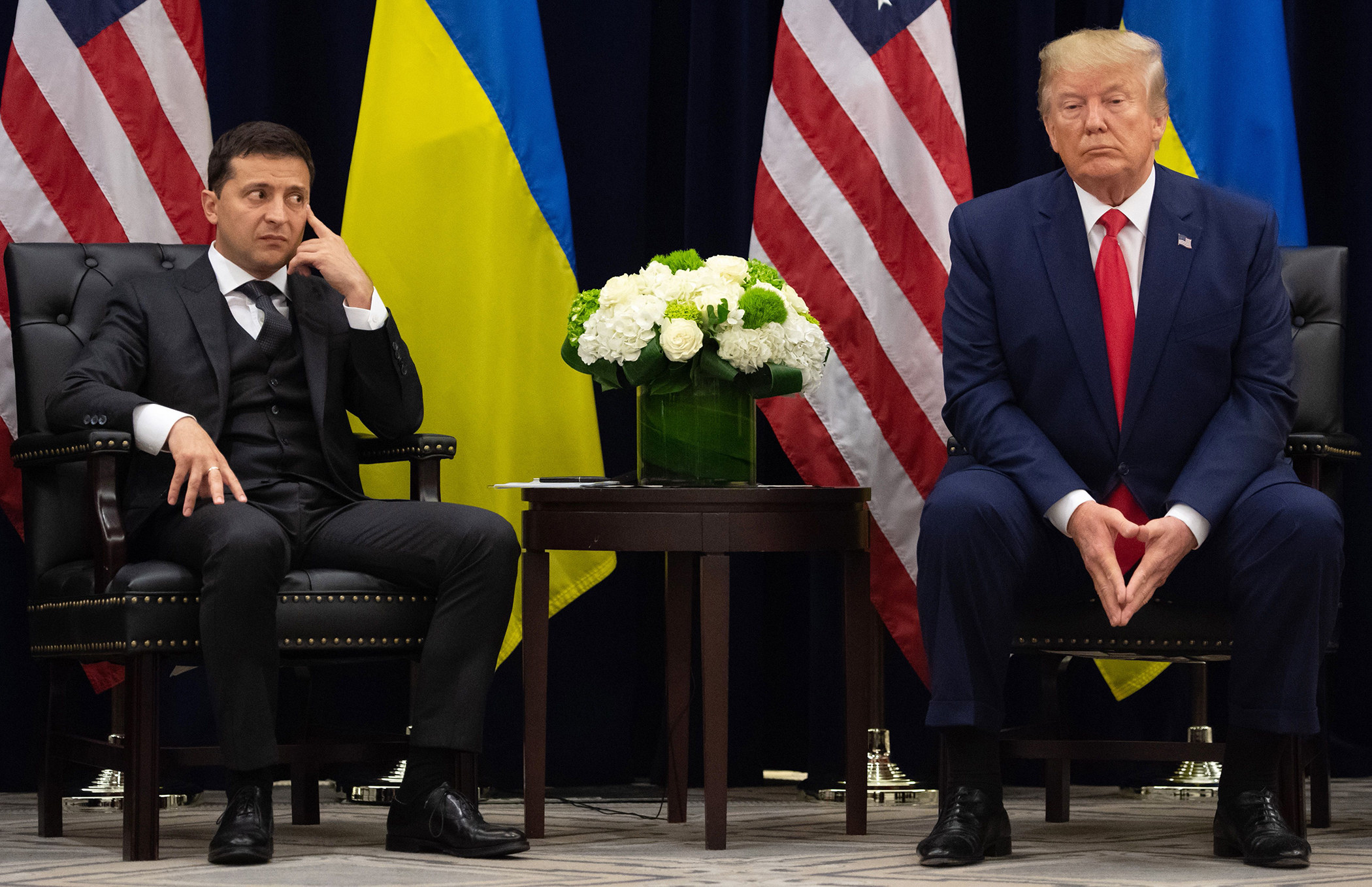 President Donald Trump and Ukrainian President Volodymyr Zelensky meet in New York on the sidelines of the United Nations General Assembly, Sept. 25.
Former special counsel Robert Mueller testifies before a House Judiciary Committee hearing about his report on Russian interference in the 2016 presidential election in Washington, DC, July 24.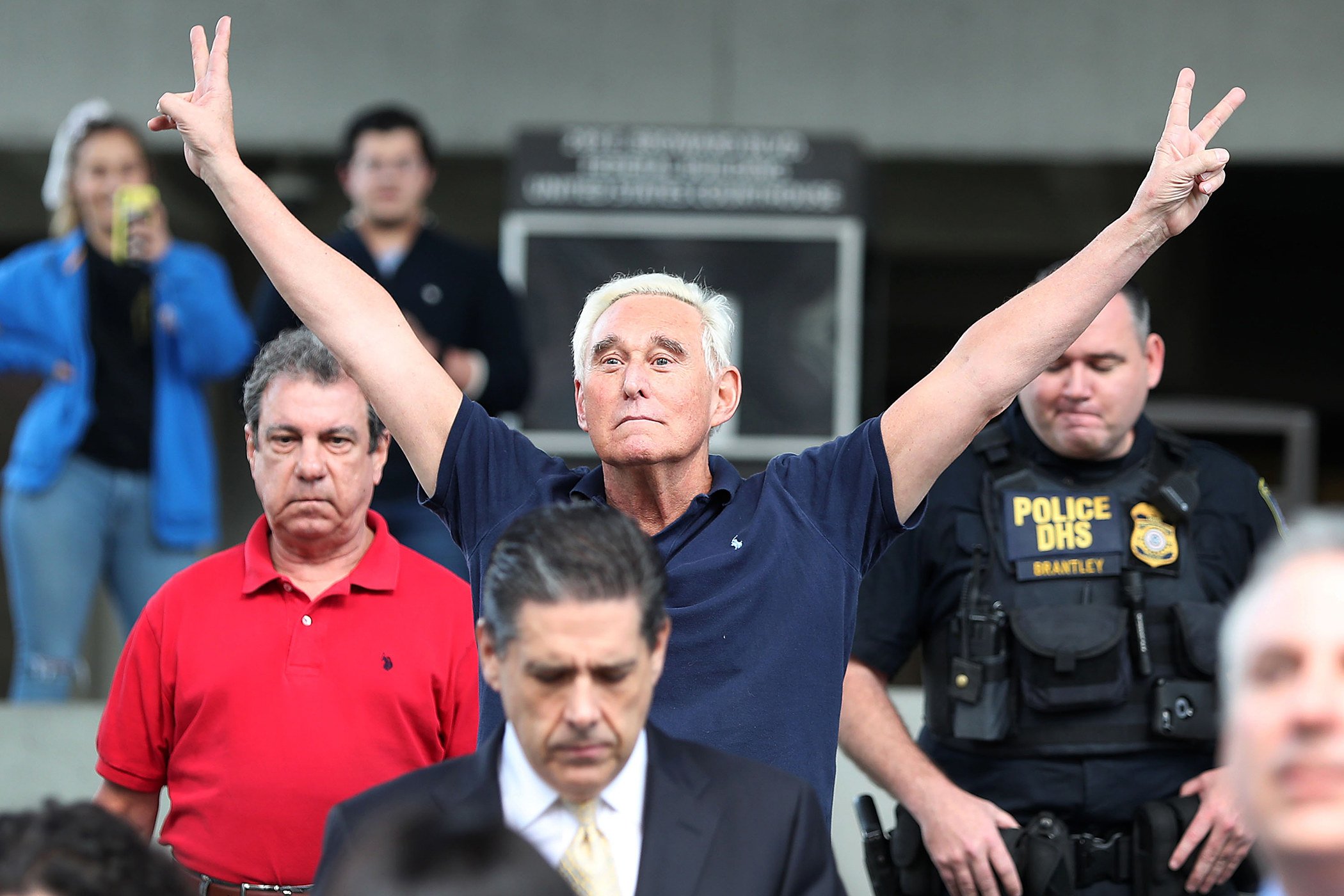 Roger Stone, a former advisor to President Donald Trump, exits the Federal Courthouse on Jan. 25, in Fort Lauderdale, Florida. Mr. Stone was charged by special counsel Robert Mueller of obstruction, giving false statements and witness tampering.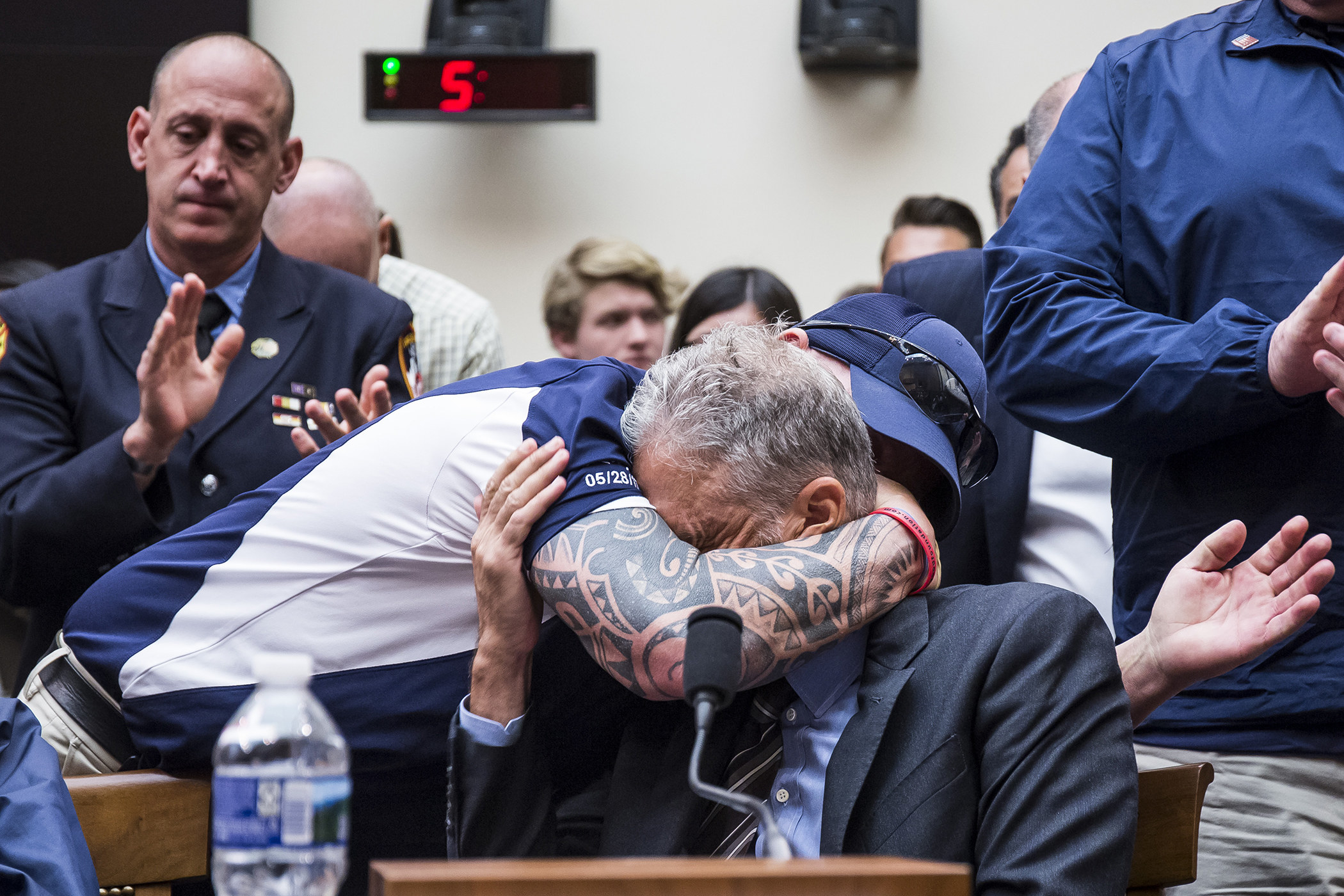 FealGood Foundation cofounder John Feal hugs former Daily Show host Jon Stewart during a House Judiciary Committee on Capitol Hill, June 11.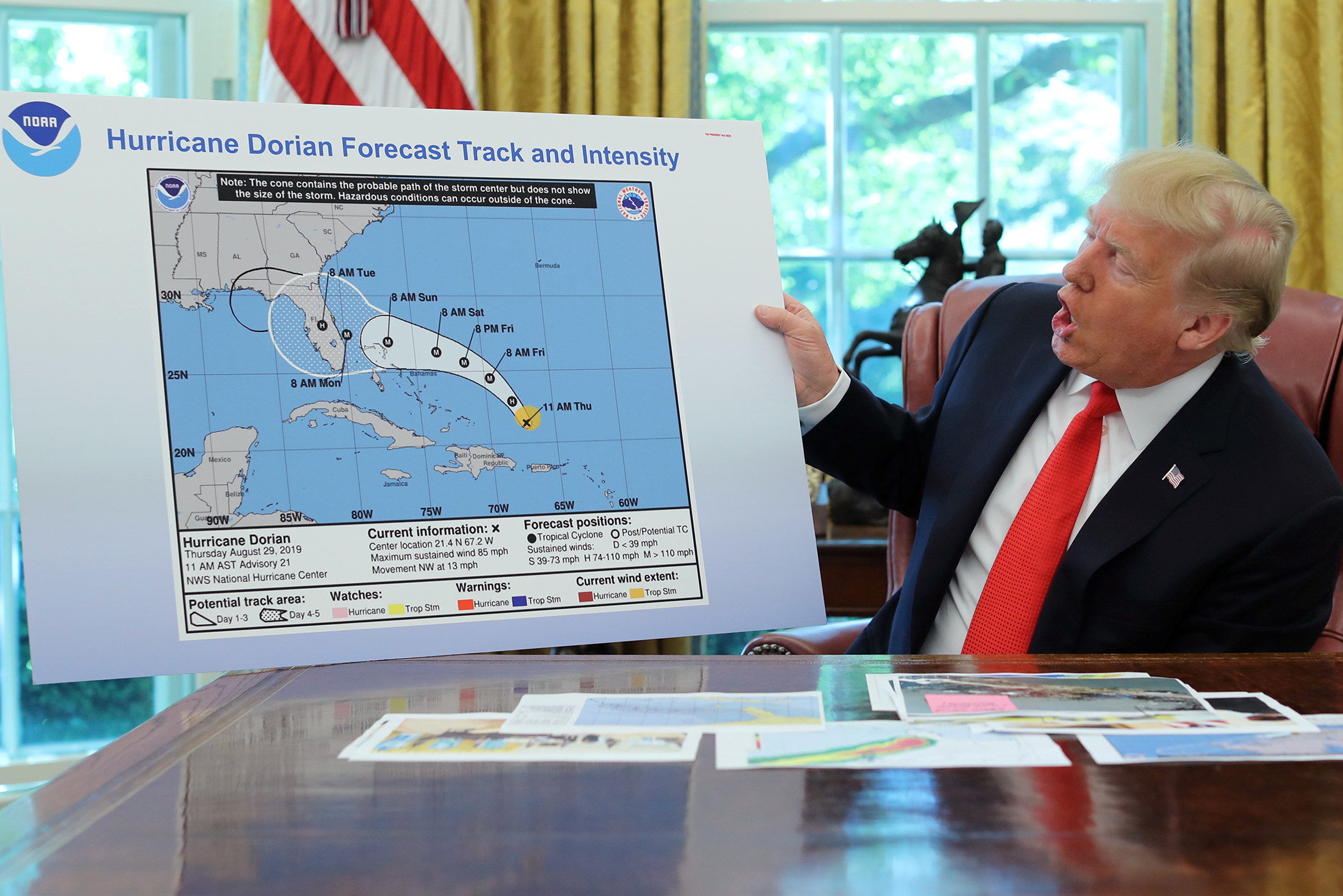 President Donald Trump holds a chart showing an altered track of Hurricane Dorian during a status report meeting on the hurricane in the Oval Office of the White House on Sept. 4.
Volunteers walk under the wind and rain from Hurricane Dorian through a flooded road as they work to rescue families in Freeport, Bahamas, on Sept. 3.
Synobia Reckley holds up the dress her niece wore as a flower girl at her wedding, as she goes through the rubble of her home destroyed a week ago by Hurricane Dorian in Rocky Creek East End, Bahamas, on Sept. 8.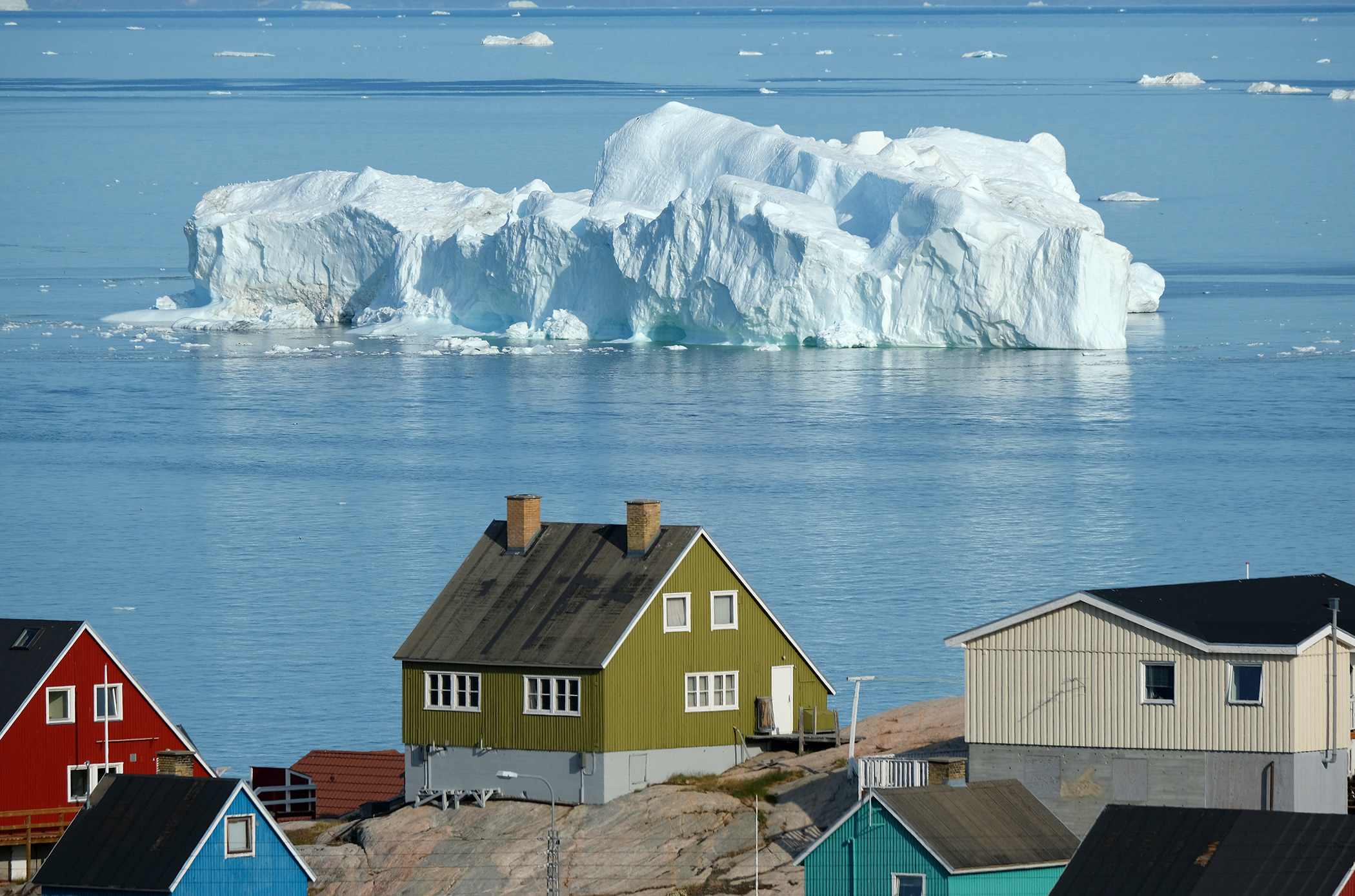 An iceberg floats behind houses during unseasonably warm weather on July 30, in Ilulissat, Greenland.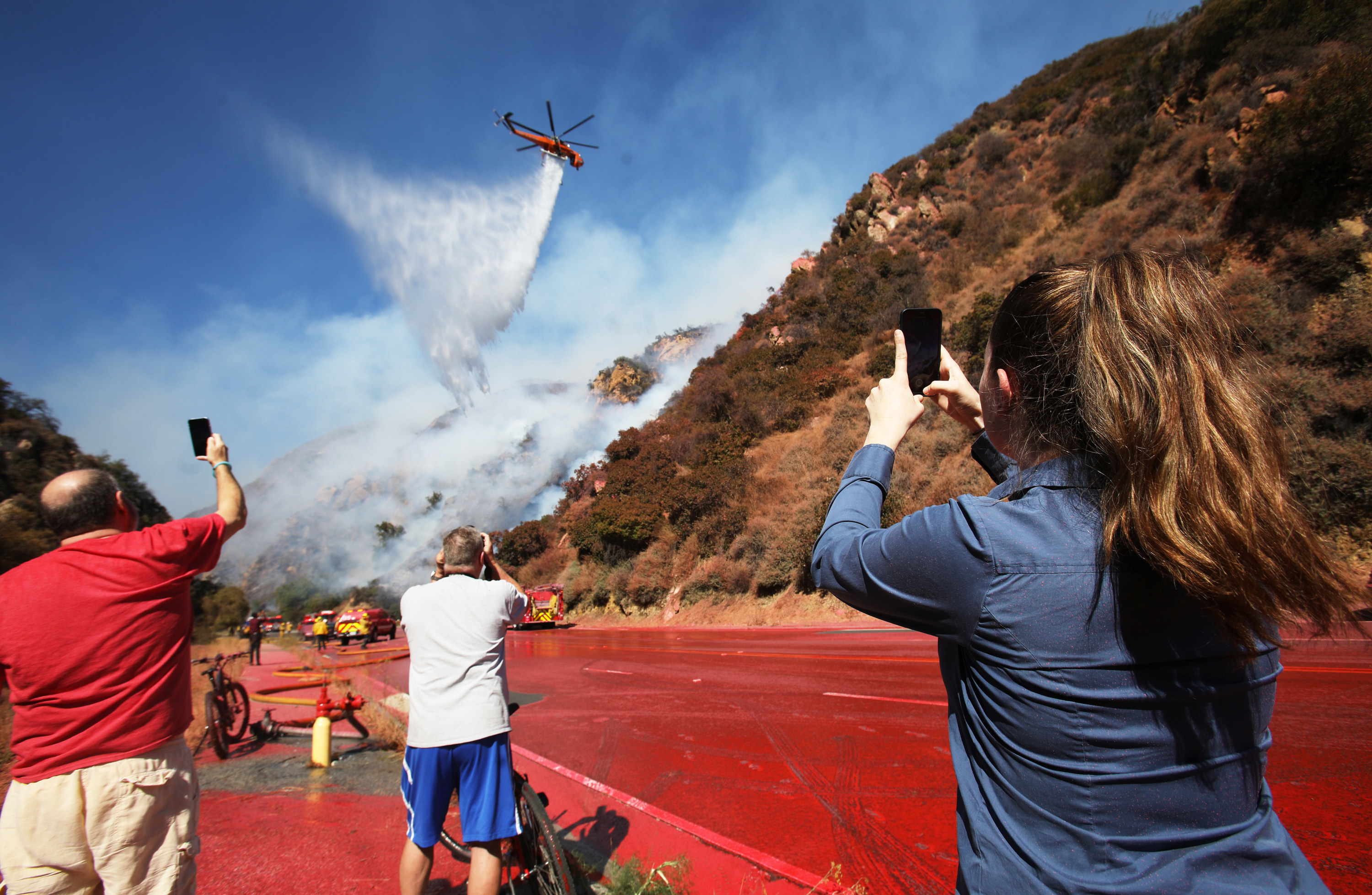 Onlookers take photos as a firefighting helicopter makes a water drop over a wildfire threatening a nearby hillside home in the Pacific Palisades neighborhood of Los Angeles, Oct. 21.
Floodwater surrounds a farm on March 22, near Craig, Missouri.
A section of the Amazon rain forest is left decimated by wild fires on Aug. 25, near Porto Velho, Brazil.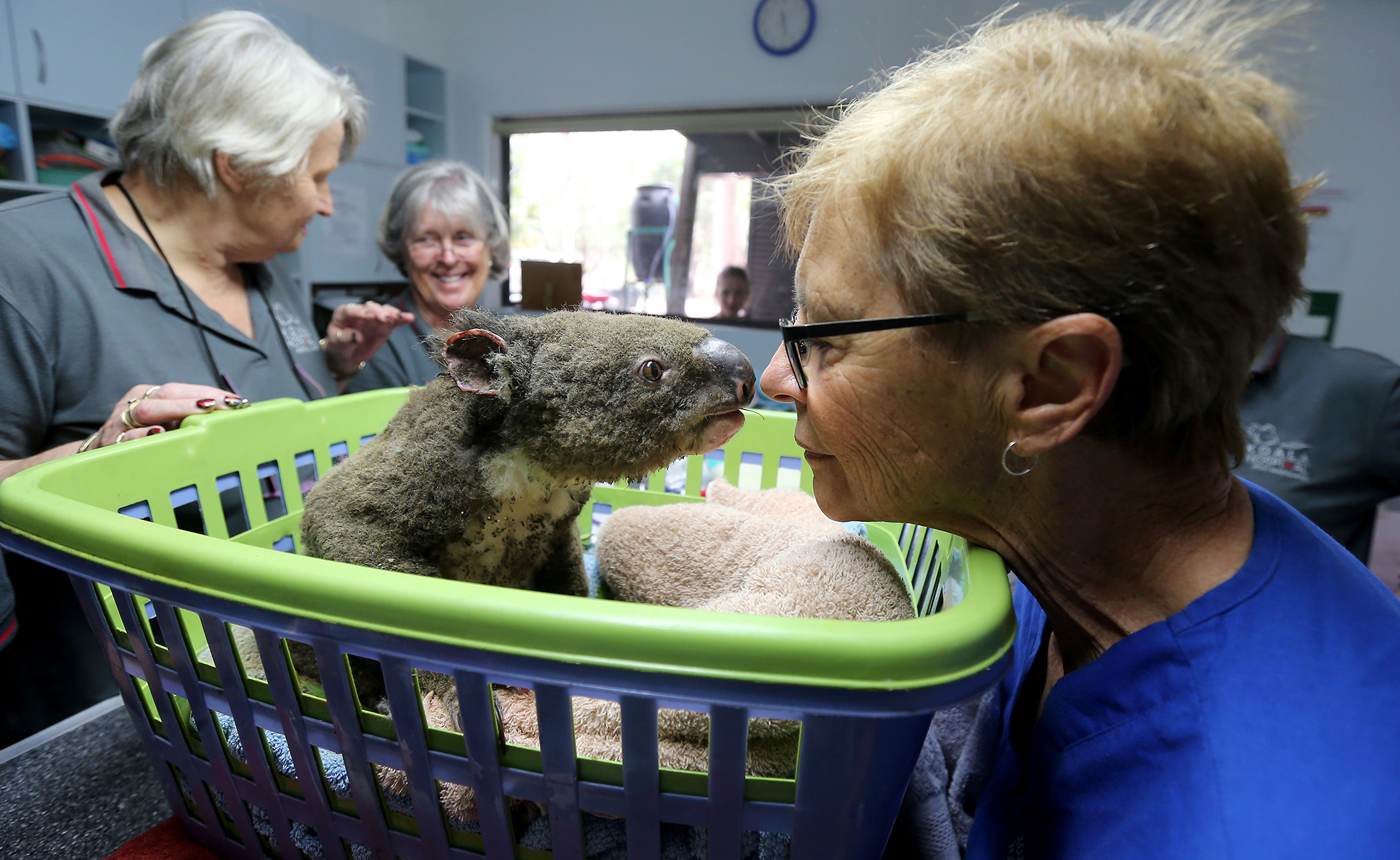 From left: Sheila Bailey, Judy Brady, and Clinical Director Cheyne Flanagan tend to a koala named Paul from Lake Innes Nature Reserve as he recovers from burns at the Port Macquarie Koala Hospital in Port Macquarie, Australia, Nov. 29.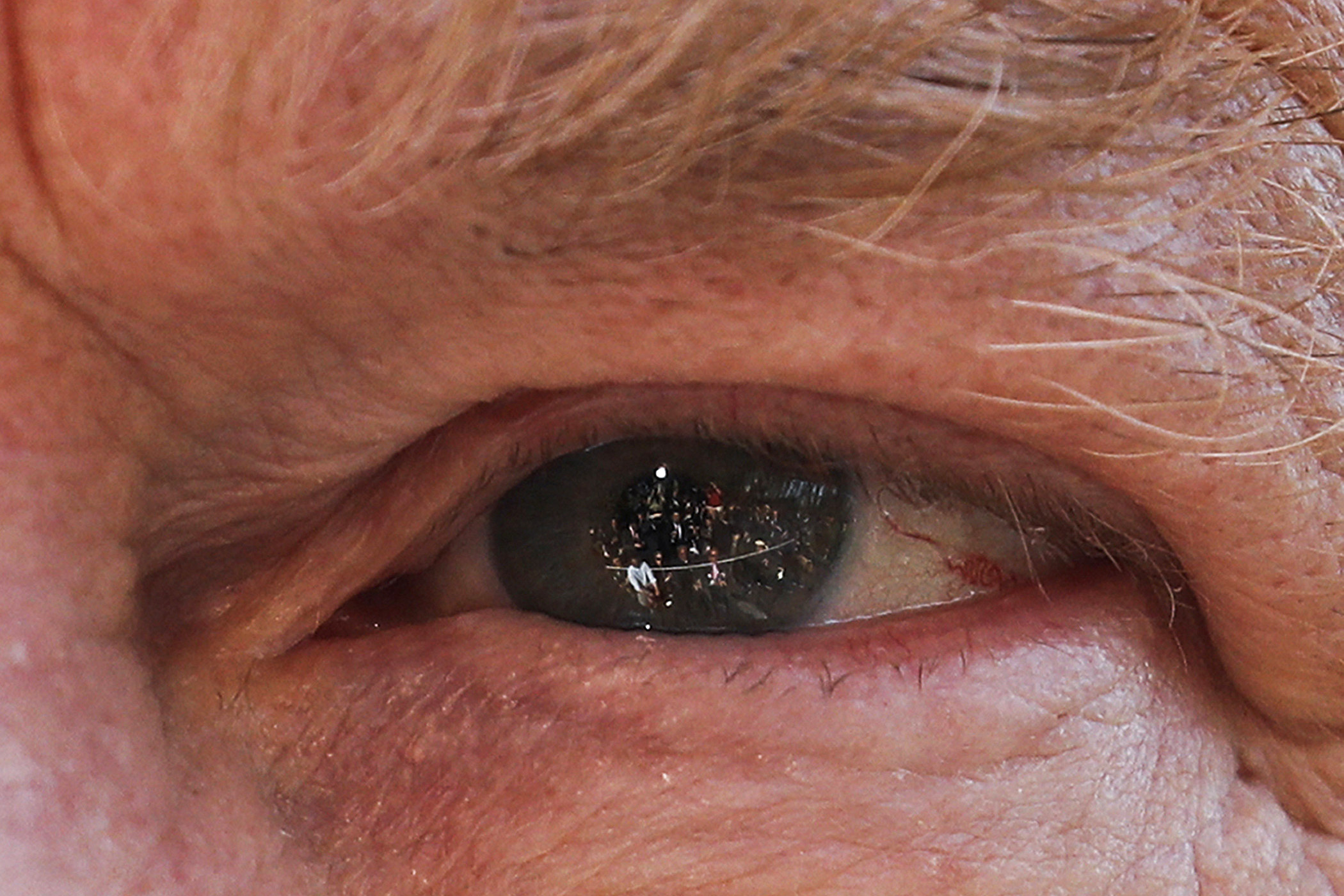 Members of the media are seen reflected in President Donald Trump's eye as he answers questions on the South Lawn of the White House in Washington, DC, before boarding Marine One helicopter, April 10.
House Speaker Nancy Pelosi gestures at President Donald Trump during a meeting to discuss the withdrawal of US forces from Syria, Oct. 16.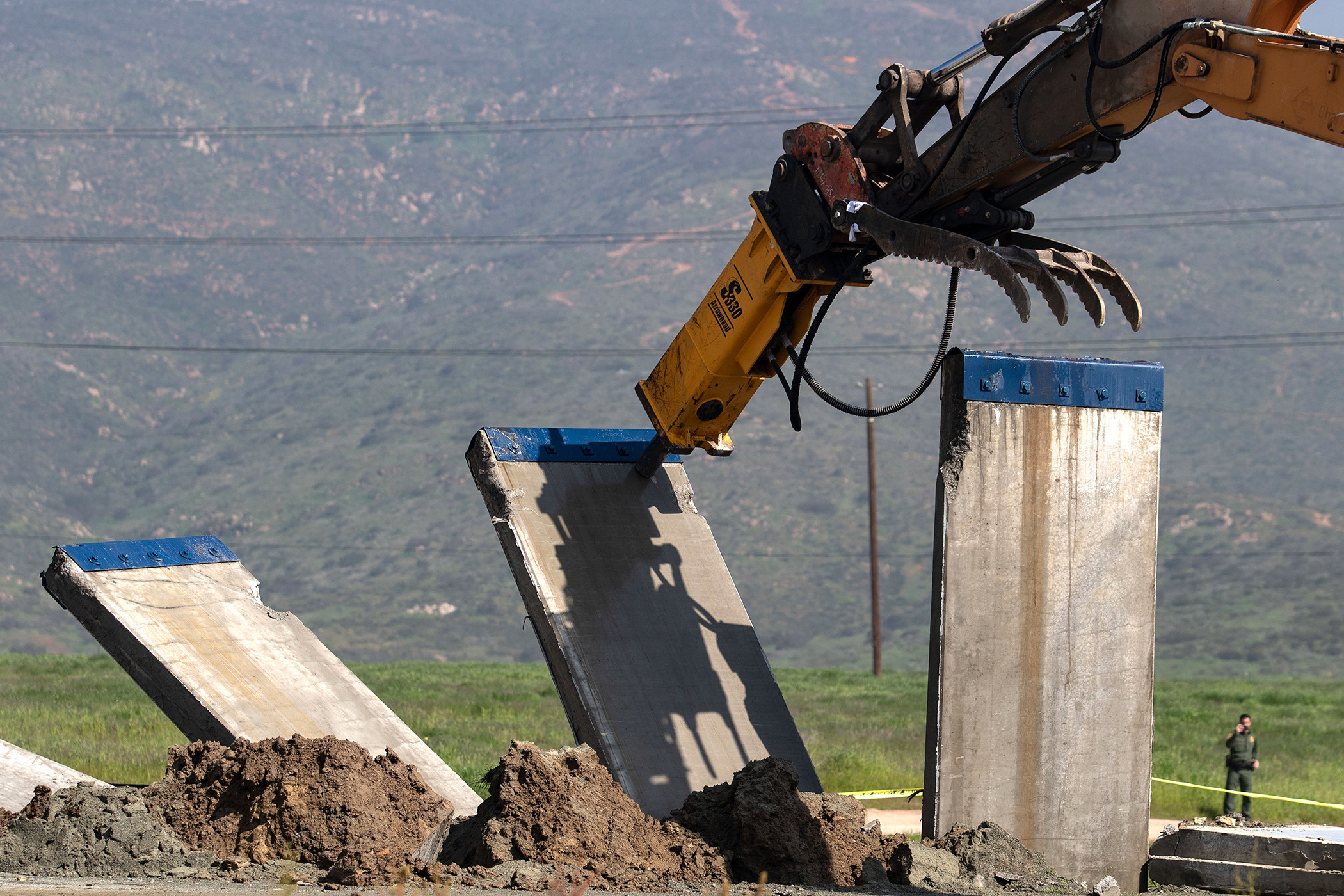 A border wall prototype is torn down at the US–Mexico border, as seen from Tijuana, Feb. 27.
US Border Patrol agents provide food, water, and medical screening to scores of migrants at a processing center after crossing the international border between the United States and Mexico on March 22, in El Paso, Texas.
US Border Patrol agent Carlos Ruiz apprehends a mother and daughter from Ecuador on Sept. 10 in Penitas, Texas.
Warning
This image is graphic
Tap to reveal
Click to reveal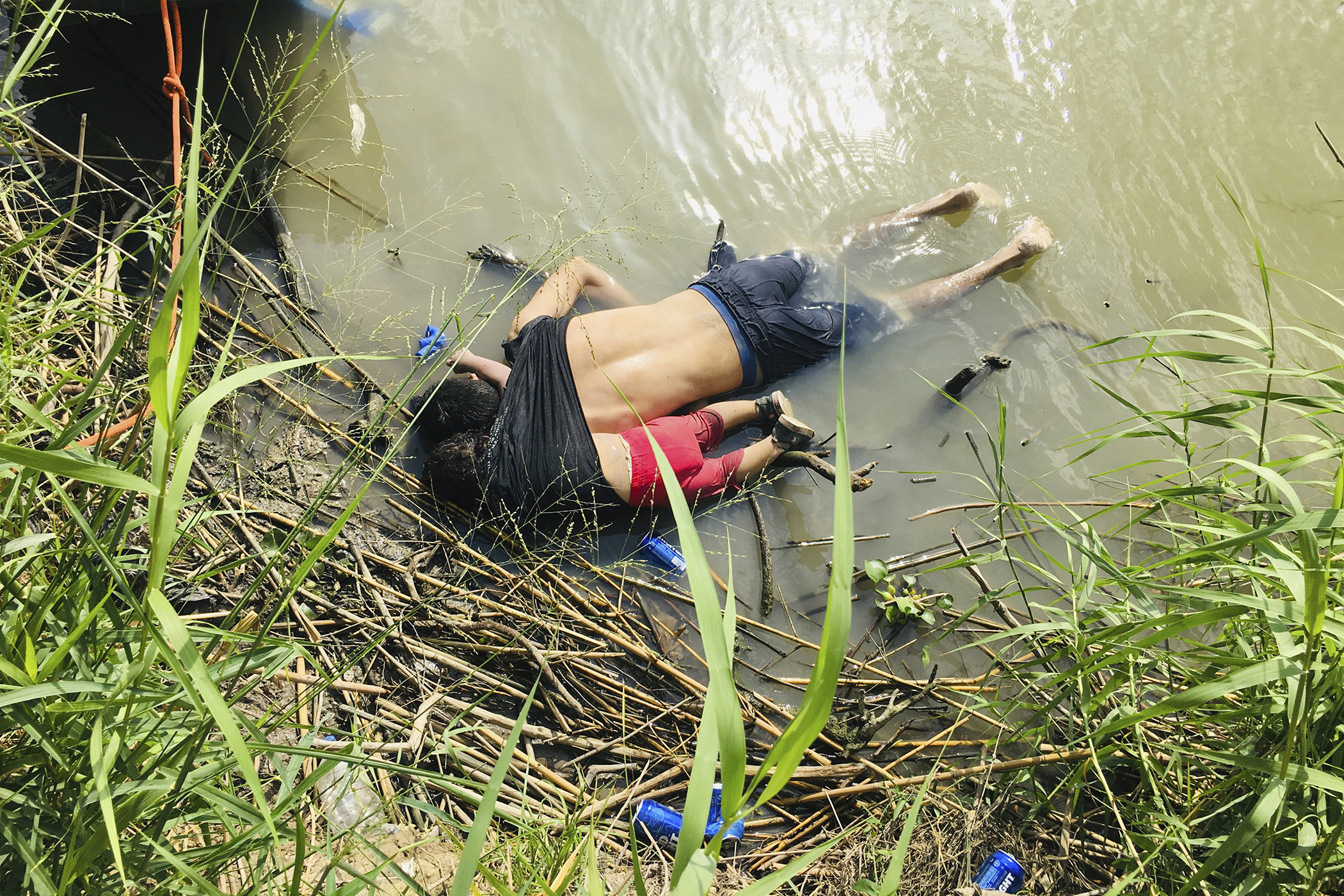 The bodies of Salvadoran migrant Óscar Alberto Martínez Ramírez and his almost 2-year-old daughter Valeria lie on the bank of the Rio Grande in Matamoros, Mexico, on June 24, after they drowned trying to cross the river to Brownsville, Texas.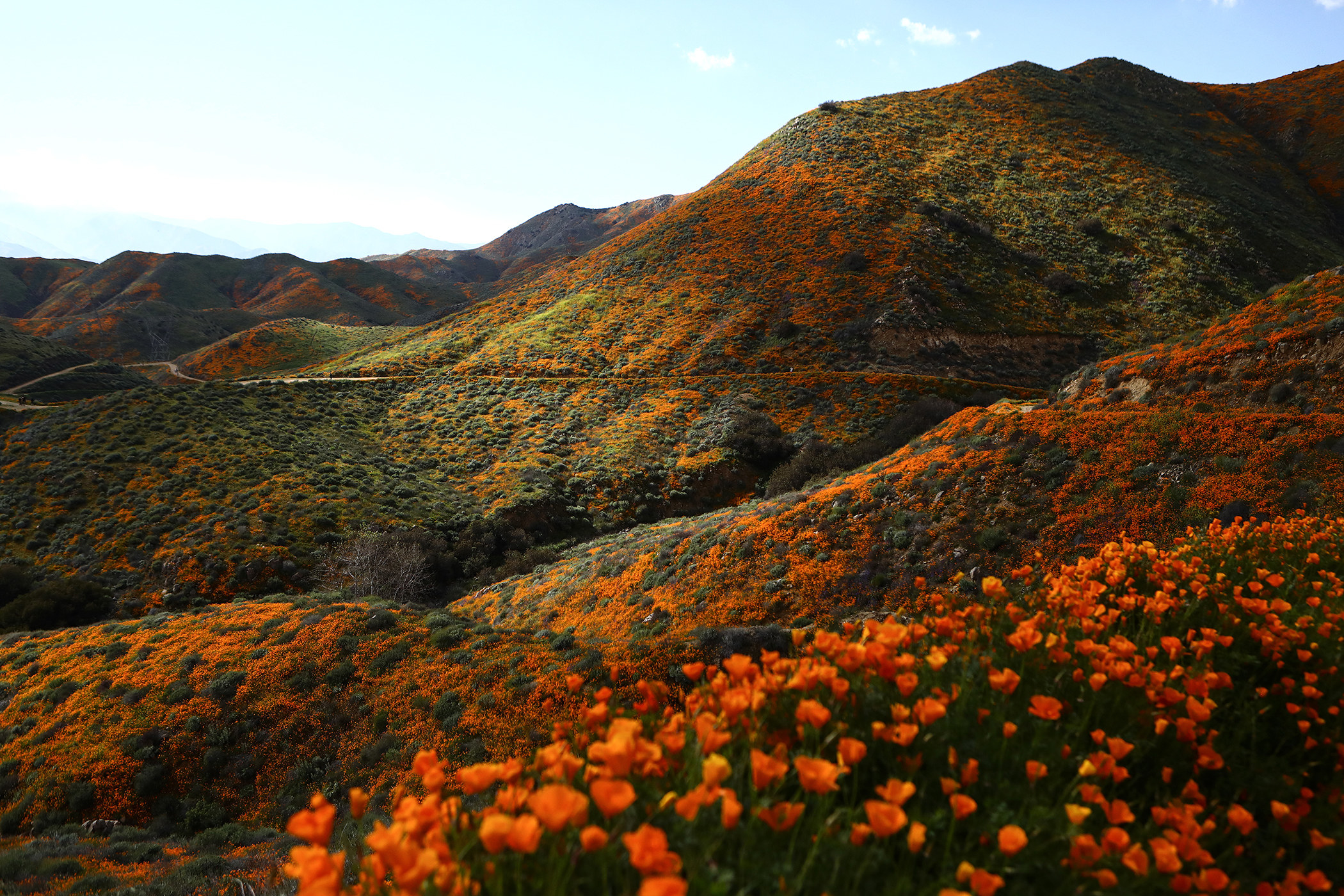 A "super bloom" of wild poppies blankets the hills of Walker Canyon on March 12, near Lake Elsinore, California.
Students are evacuated from Saugus High School onto a school bus after a shooting at the school left multiple students dead and injured on Nov. 14, in Santa Clarita, California.
Shoes piled outside the scene of Sunday's mass shooting in Dayton, Ohio, Aug. 4.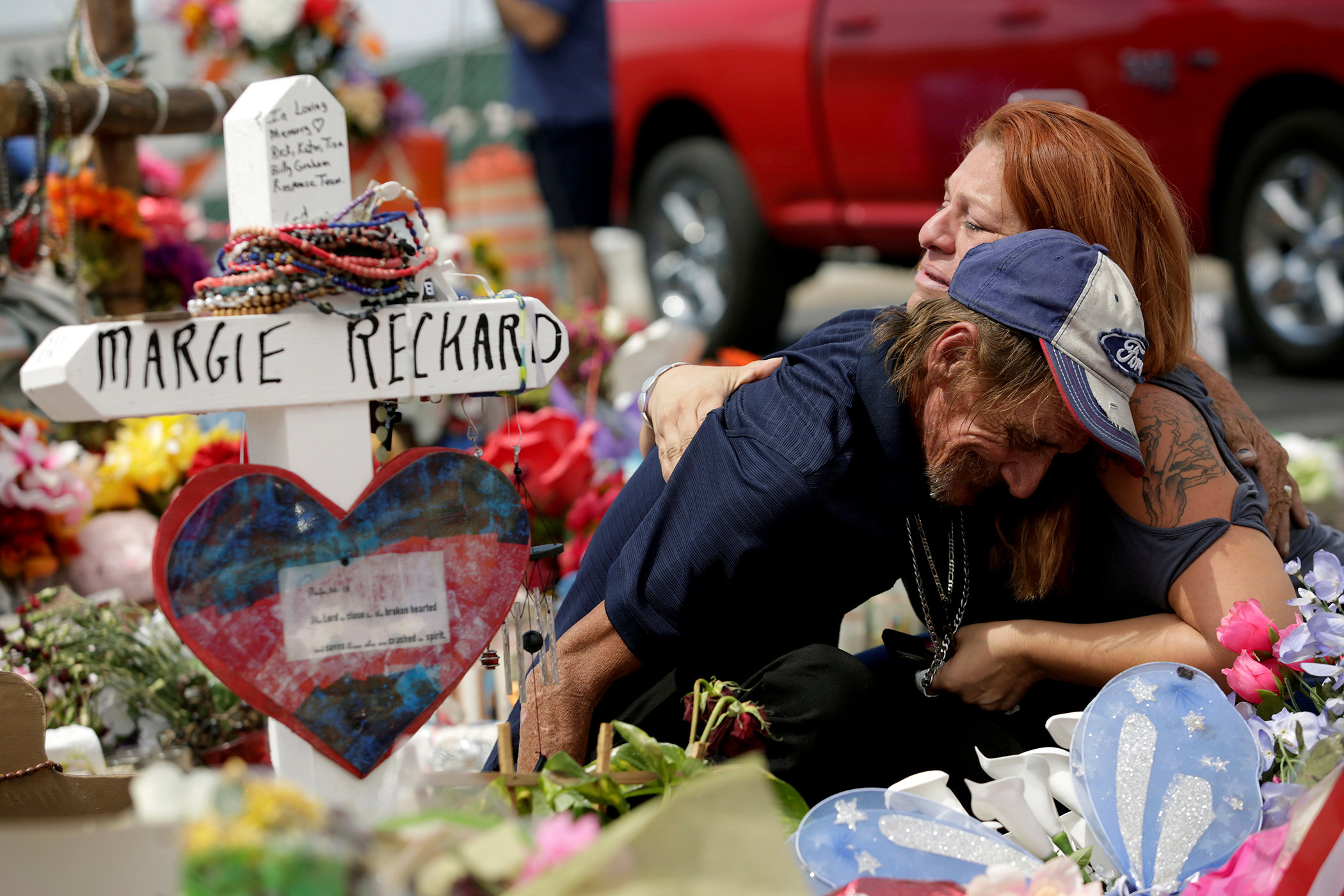 Antonio Basco — whose wife, Margie Reckard, was killed during a shooting at a Walmart in El Paso, Texas — is comforted by a woman next to a white wooden cross bearing the name of his late wife at a memorial for victims of the shooting, Aug. 15.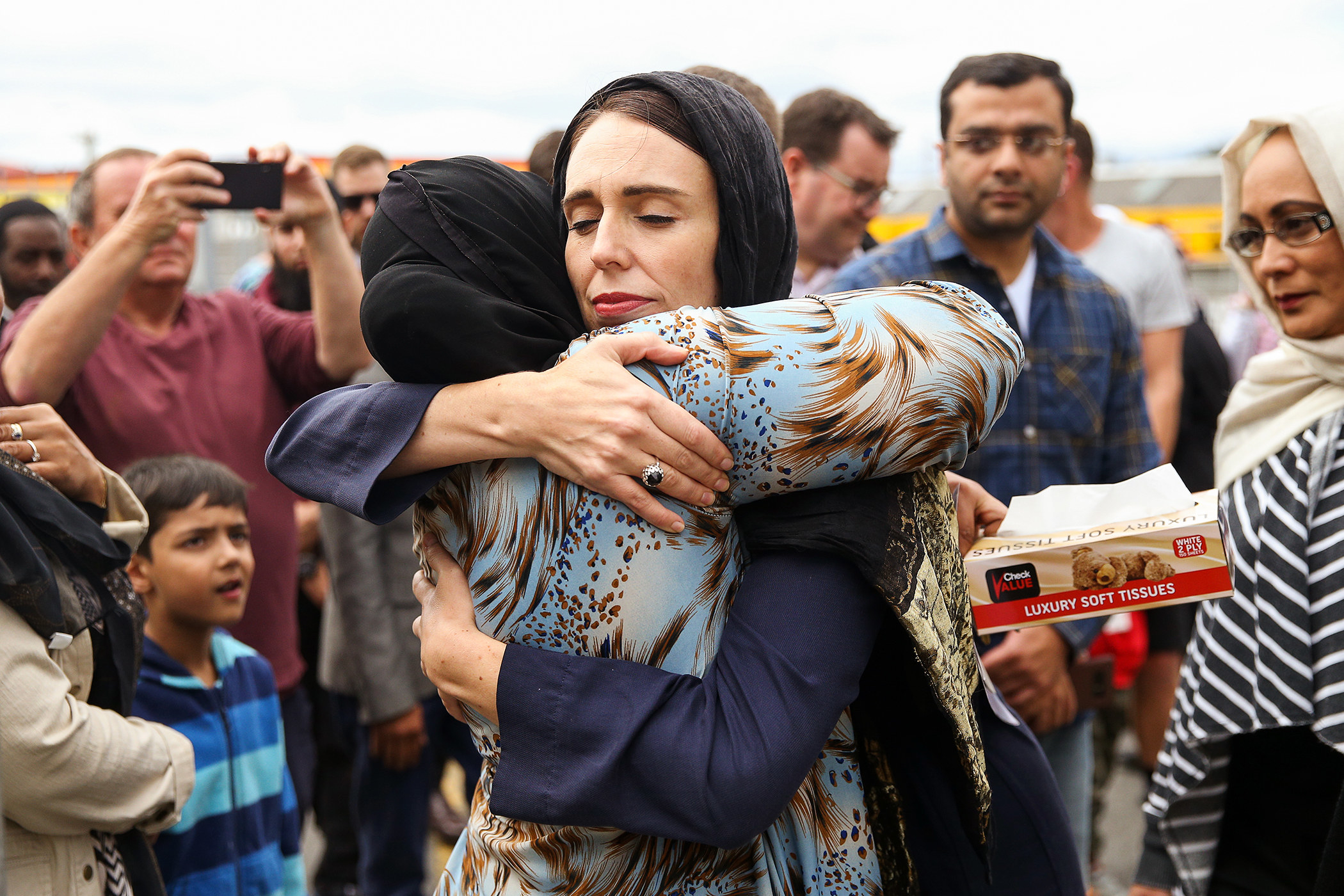 Prime Minister Jacinda Ardern hugs a mosque-goer at the Kilbirnie Mosque in Wellington, New Zealand, on March 17.
Abortion-rights supporters stand on both sides of a street near the Gateway Arch as they take part in a protest in favor of reproductive rights on May 30, in St. Louis.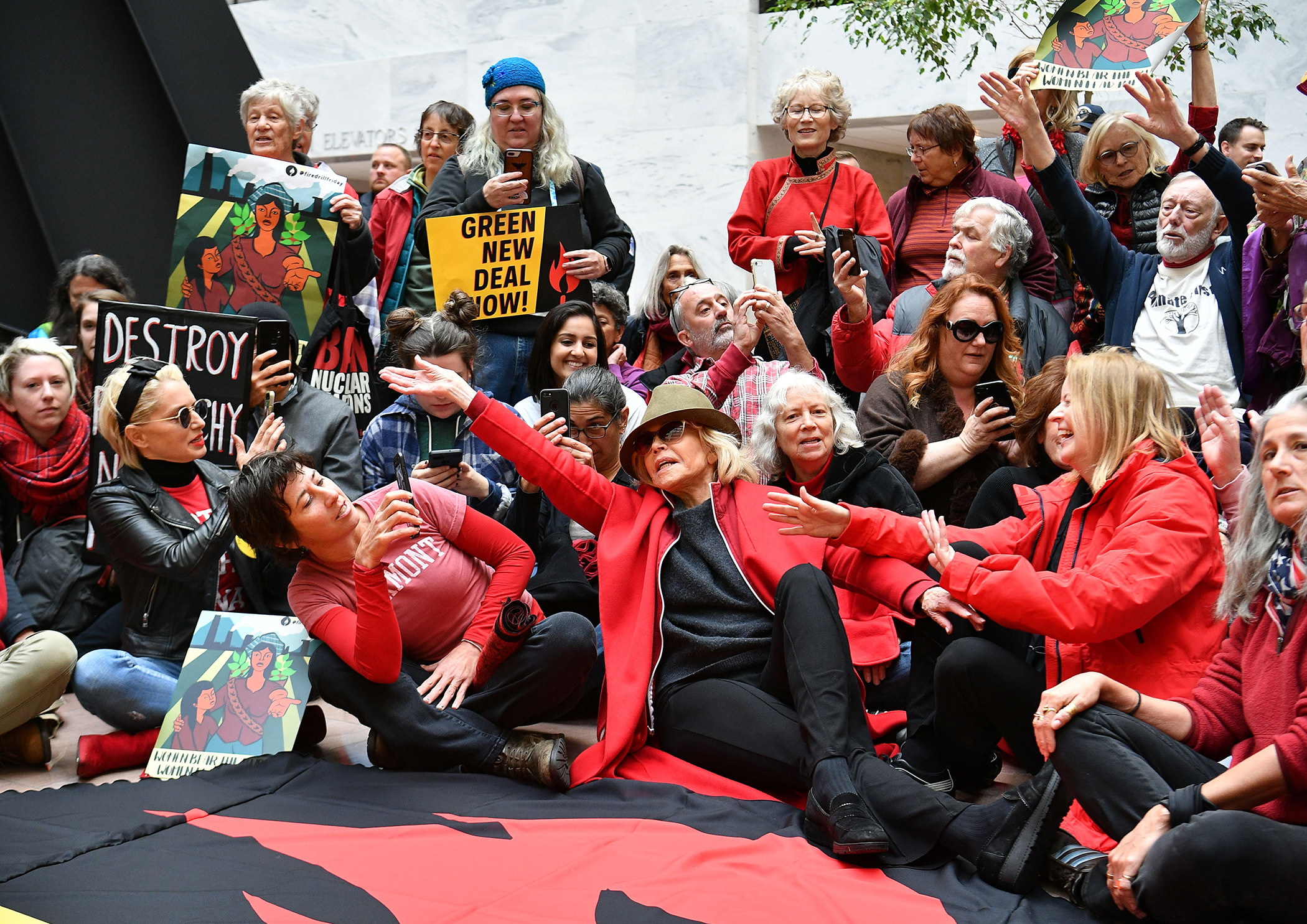 Actress and activist Jane Fonda, center, sits with activists inside the Heart Senate office building during a climate change protest on Nov. 1, in Washington, DC.
Opponents gather to stage a protest after the call from self-proclaimed interim president of Venezuela, Juan Guaidó, demanding soldiers to allow humanitarian aid into the country, in Caracas, Venezuela, on Feb. 12.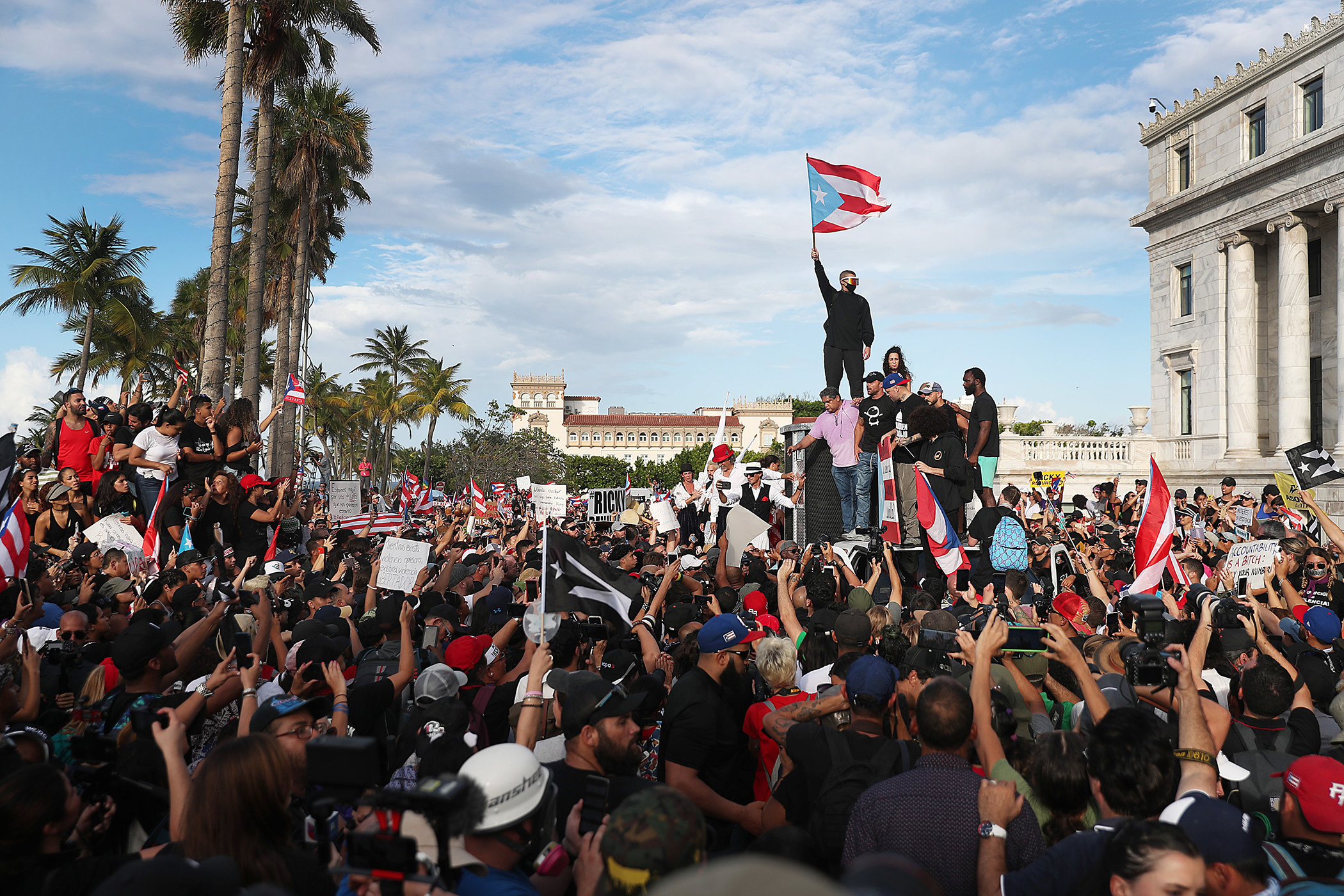 Rapper Bad Bunny (holding the flag), singer Ricky Martin (in the black hat), and rapper Residente (in the blue hat) join demonstrators protesting against Puerto Rico's then-governor Ricardo Rosselló in Old San Juan, July 17. There were calls for Rosselló to step down after it was revealed that he and top aides were part of a private chat group that contained misogynistic and anti-gay messages.
Demonstrators make a line as riot police officers attempt to repel them with a water cannon during protests in Santiago, Chile, Oct. 20. Violent demonstrations, sparked by economic conditions and social inequality, raged into a third day in the city.
Jerome Rodrigues, one of the leaders of the Yellow Vests, lies on the street after getting wounded in the eye during clashes with riot police in Paris on Jan. 26.
People are evacuated by a member of security forces at the scene of a terrorist attack at the Dusit hotel compound in Nairobi, Kenya, on Jan. 15.
Women and children wait to be searched by members of the Kurdish-led Syrian Democratic Forces after leaving ISIS's last holdout of Baghouz, Syria, on Feb. 27.
Syrian Arab and Kurdish civilians arrive in Tall Tamr, located in northeastern Syria, after fleeing Turkish bombardment on the northeastern towns along the Syria–Turkey border, Oct. 10. Kurds in Syria battled to hold off a Turkish invasion on Oct. 9 after airstrikes and shelling launched a long-threatened operation that could reshape the country and trigger a humanitarian crisis.
An aerial view taken on Oct. 27, shows the site that was hit by helicopter gunfire near the northwestern Syrian village of Barisha, where "groups linked to the Islamic State group" were present, according to a Britain-based war monitor with sources inside Syria.
Men suspected of being affiliated with the Islamic State gather in a prison cell in the northeastern Syrian city of Hasakeh on Oct. 26. Kurdish sources say around 12,000 IS fighters including Syrians, Iraqis as well as foreigners from 54 countries are being held in Kurdish-run prisons in northern Syria.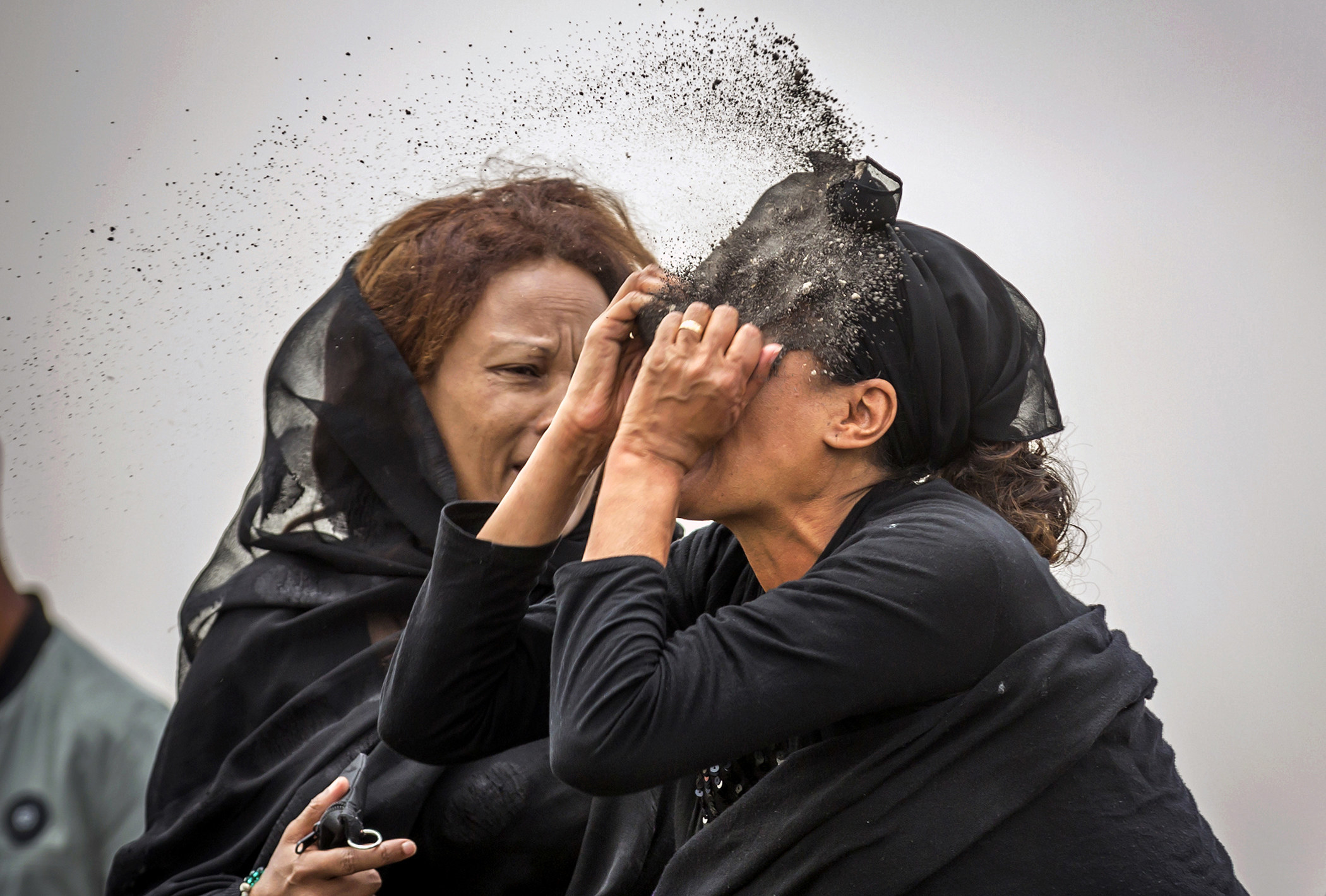 After an Ethiopian Airlines Boeing 737 Max 8 jet crashed shortly after takeoff, killing all 157 people on board, an Ethiopian relative of a victim throws dirt in her own face after realizing that there is nothing physical left of her loved one, March 14.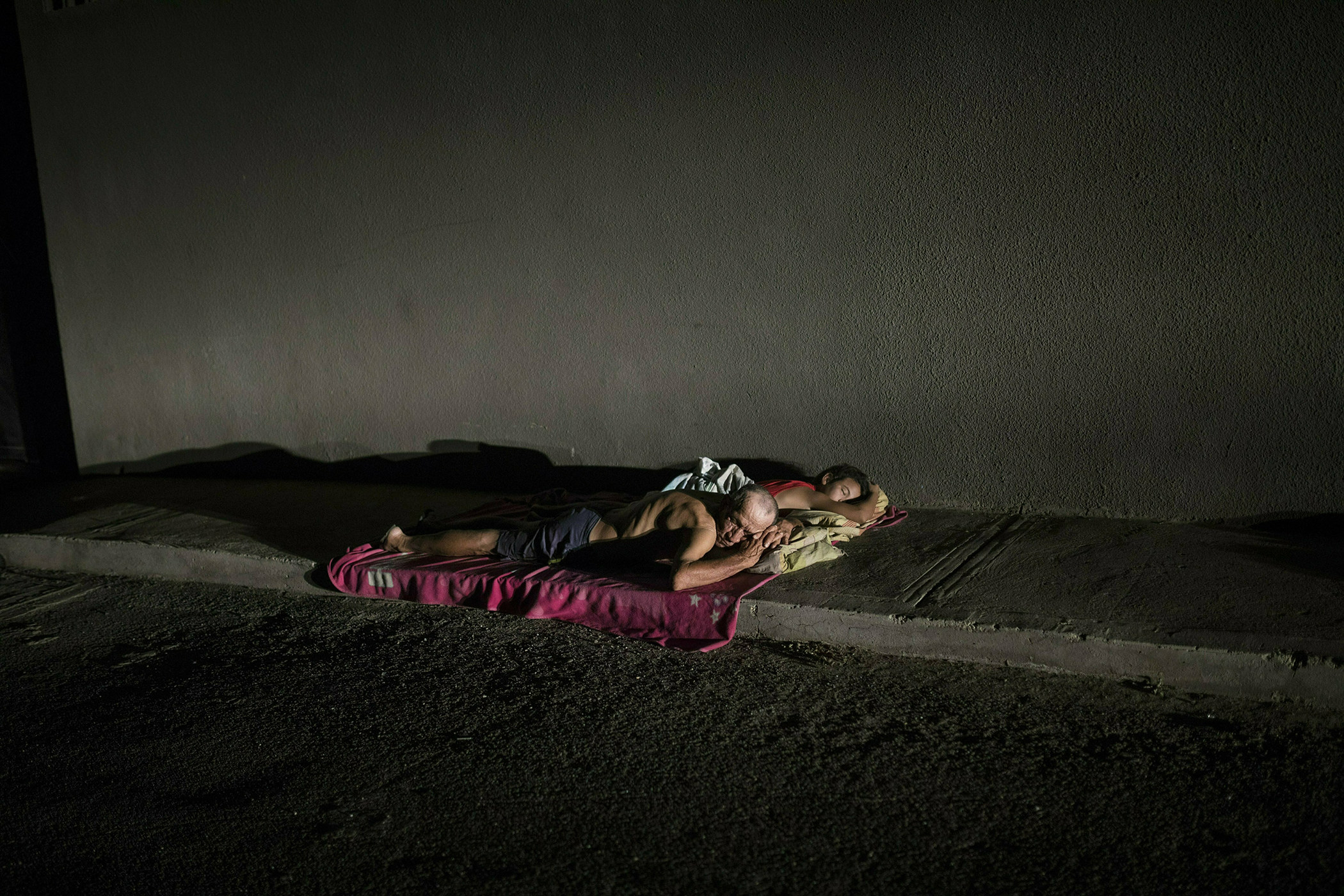 People sleep on the sidewalk to escape from the heat during a blackout in Maracaibo, Venezuela, on May 15.
Botham Jean's younger brother Brandt Jean hugs convicted murderer and former Dallas police officer Amber Guyger after delivering his impact statement to her after she was sentenced to 10 years in jail, on Oct. 2, in Dallas.
Women of the United States Military Academy celebrate after commencement ceremonies in West Point, New York, May 25.
Taiwanese same-sex couples cheer with supporters at their wedding party in Taipei, Taiwan, on May 25. Taiwan became the first place in Asia to allow same-sex marriage.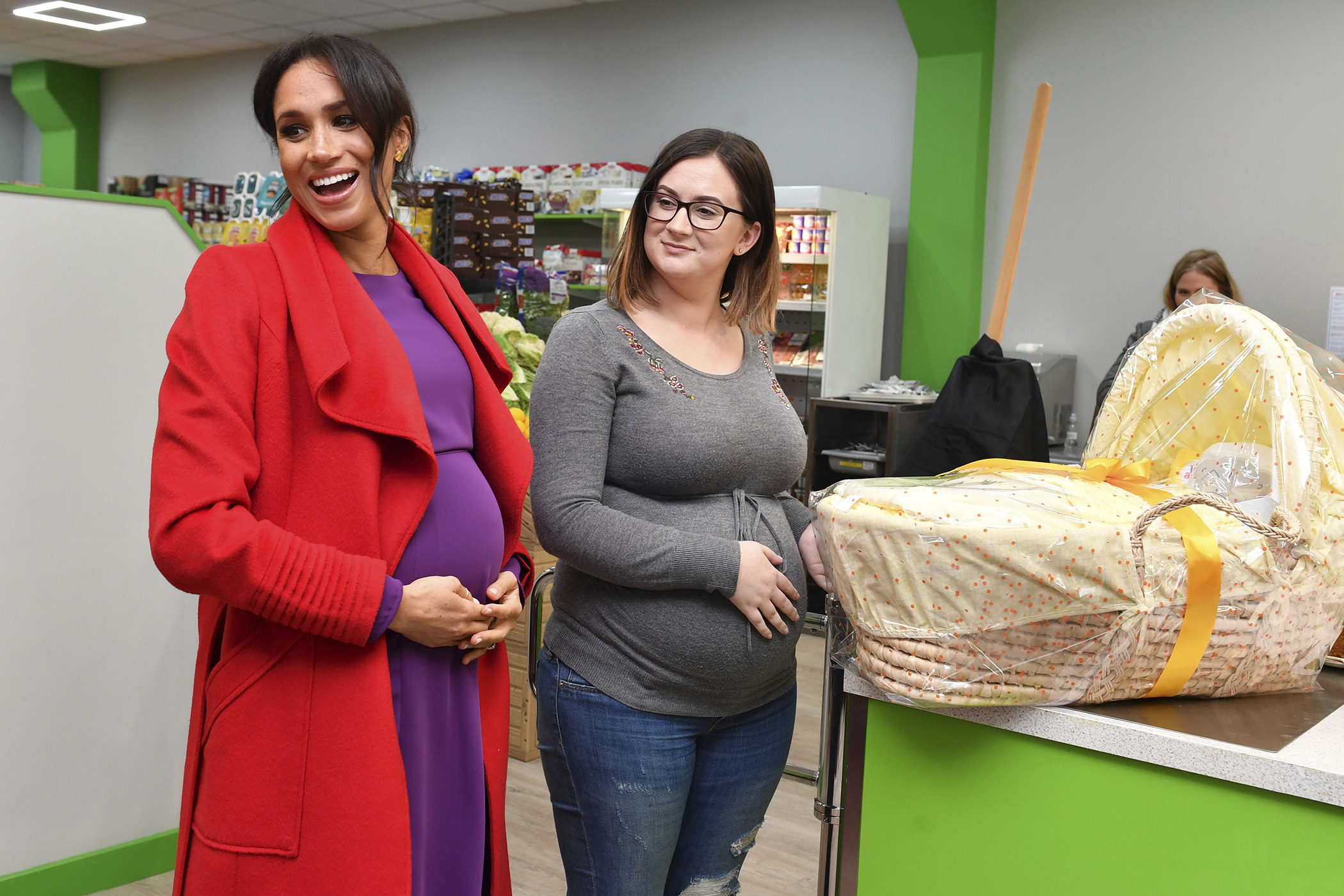 Britain's Meghan, Duchess of Sussex, presents Angela Midgley with a baby basket as she and Prince Harry officially open a citizens supermarket and community café in Birkenhead, England, on Jan. 14.
Members of the World Cup–winning US women's national soccer team take part in a ticker-tape parade in New York City, July 10.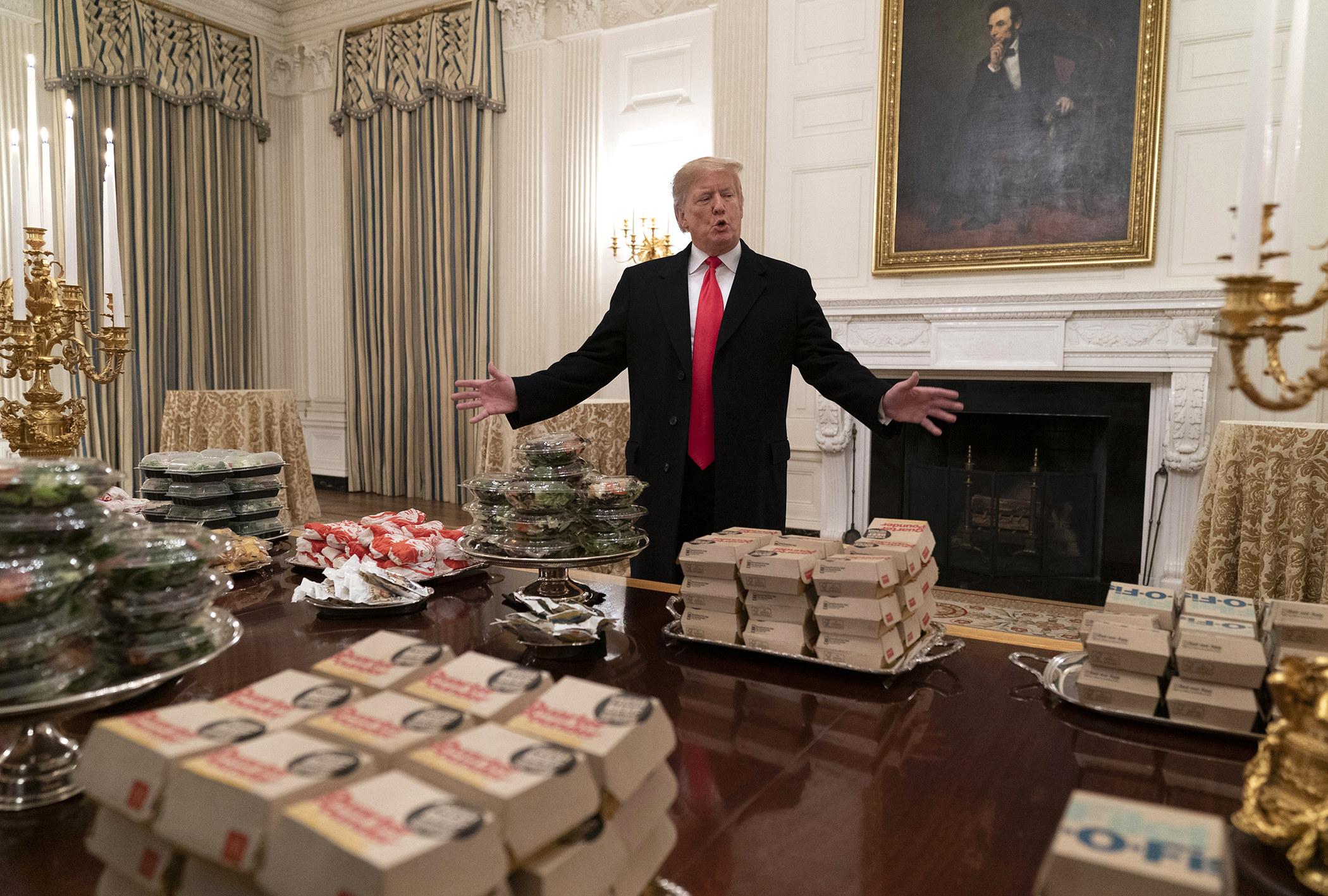 President Donald Trump presents fast food to be served to the Clemson Tigers football team to celebrate their championship at the White House on Jan. 14.
Actor Lori Loughlin, facing charges in a nationwide college admissions cheating scheme, is escorted to federal court in Boston on April 3.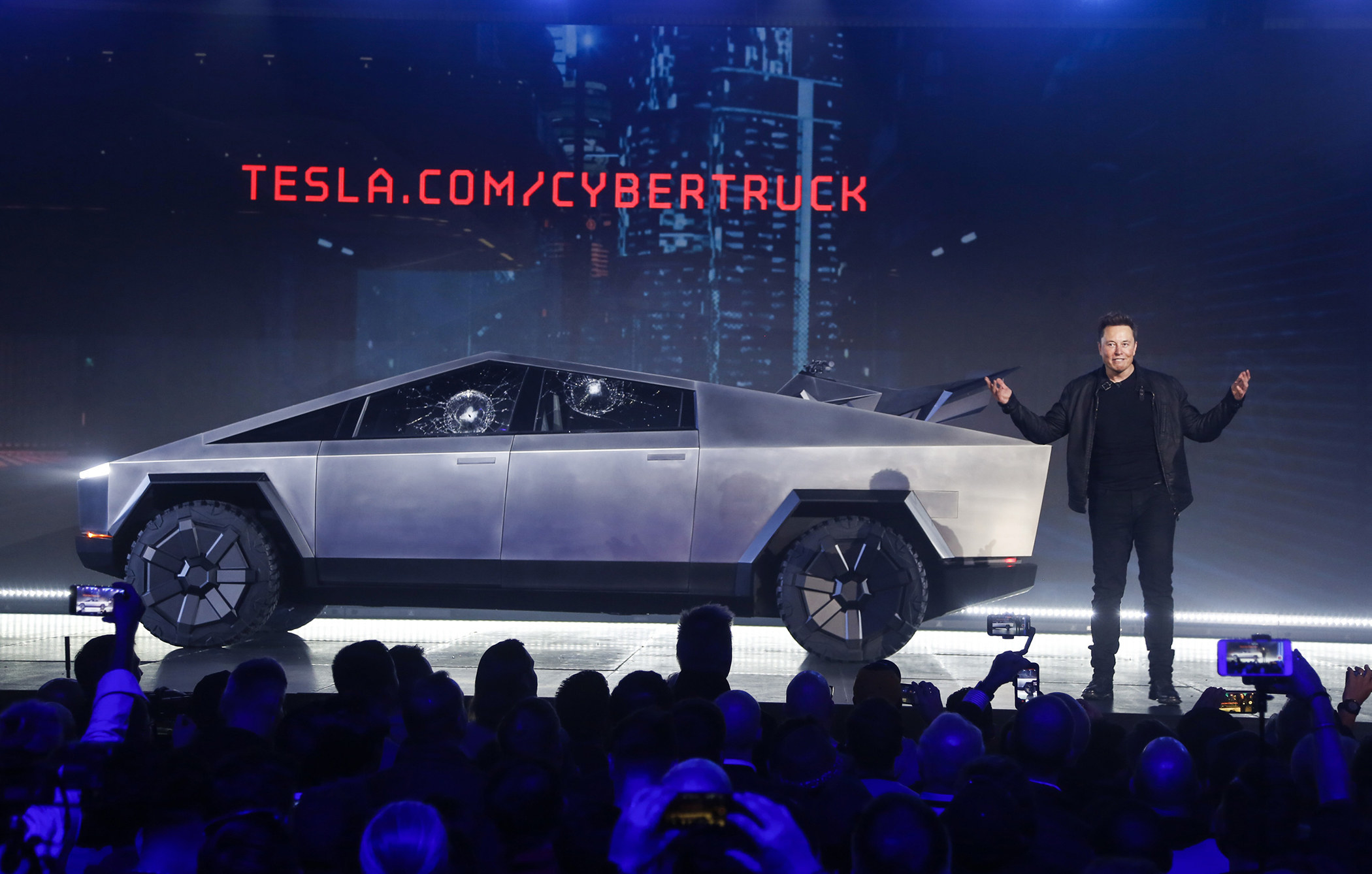 Tesla CEO Elon Musk introduces the Cybertruck at Tesla's design studio on Nov. 21, in Hawthorne, California.
The entrance to the Alienstock festival is marked on the road in Rachel, Nevada, Sept. 20.
An inflatable planet Earth is bounced around the crowd during a climate change awareness rally at Sydney Town Hall on March 15, in Sydney, Australia.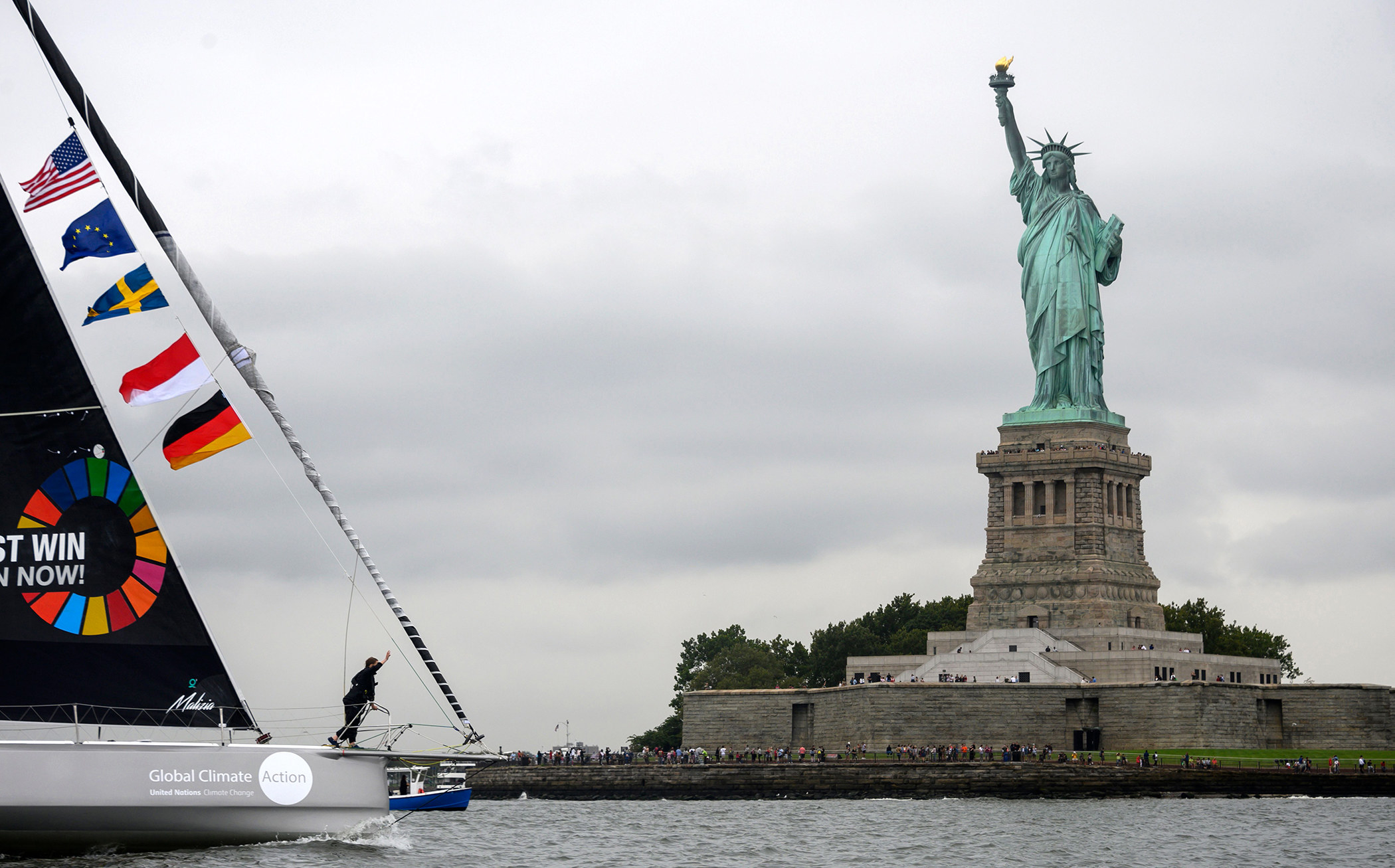 Swedish climate activist Greta Thunberg, 16, arrives in New York City after a 15-day journey crossing the Atlantic in the Malizia II, a zero-carbon yacht, Aug. 28.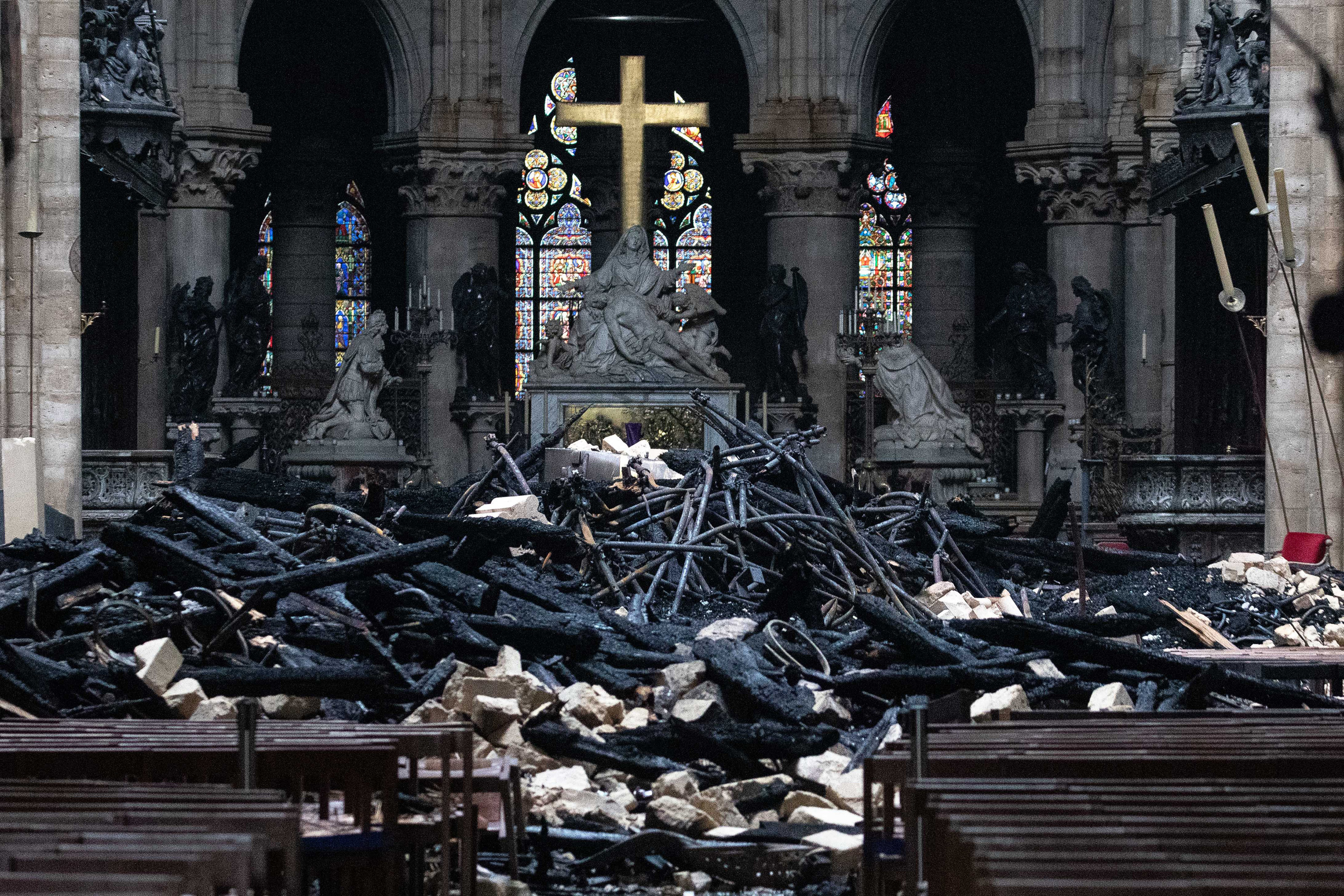 Fallen debris from the burned-out roof structure sits near the high altar inside Notre Dame Cathedral in Paris, April 16, 2019.

Gabriel H. Sanchez is the photo essay editor for BuzzFeed News and is based in New York City.

Contact Gabriel H. Sanchez at [email protected]

Got a confidential tip? Submit it here.
Source: Read Full Article