This Is What The Last Decade Of Protest Looked Like

Love photography as much as we do? Sign up for the BuzzFeed News newsletter JPG.
The 2010s offered unprecedented visibility to civic and political issues as the rise of social media fueled protests around the world and mobilized large groups of people behind their causes. In the US, hashtags like #MeToo and #BlackLivesMatter became rallying cries for social justice; internationally, protesters in the Arab Spring and Hong Kong demonstrations used social media to spread information and work against the governments trying to silence them.
While the internet has helped shed light on these causes, it's also provided a new platform for hate and bigotry in the form of ultranationalism, tribalism, and white supremacy. As we enter the next decade, issues like climate change, internet privacy, and gun violence have gained traction among a new generation of activists who are sure to shift the discourse in the coming years.
To highlight the tremendous moments in activism that have defined this past decade, BuzzFeed News combed through thousands of pictures to highlight the ones that best represent the events that have shaped the world as we know it today. While this list could not include every major protest of the last decade, we attempted to collect pictures that spoke to larger social shifts. Here are the most powerful protest photos from the 2010s.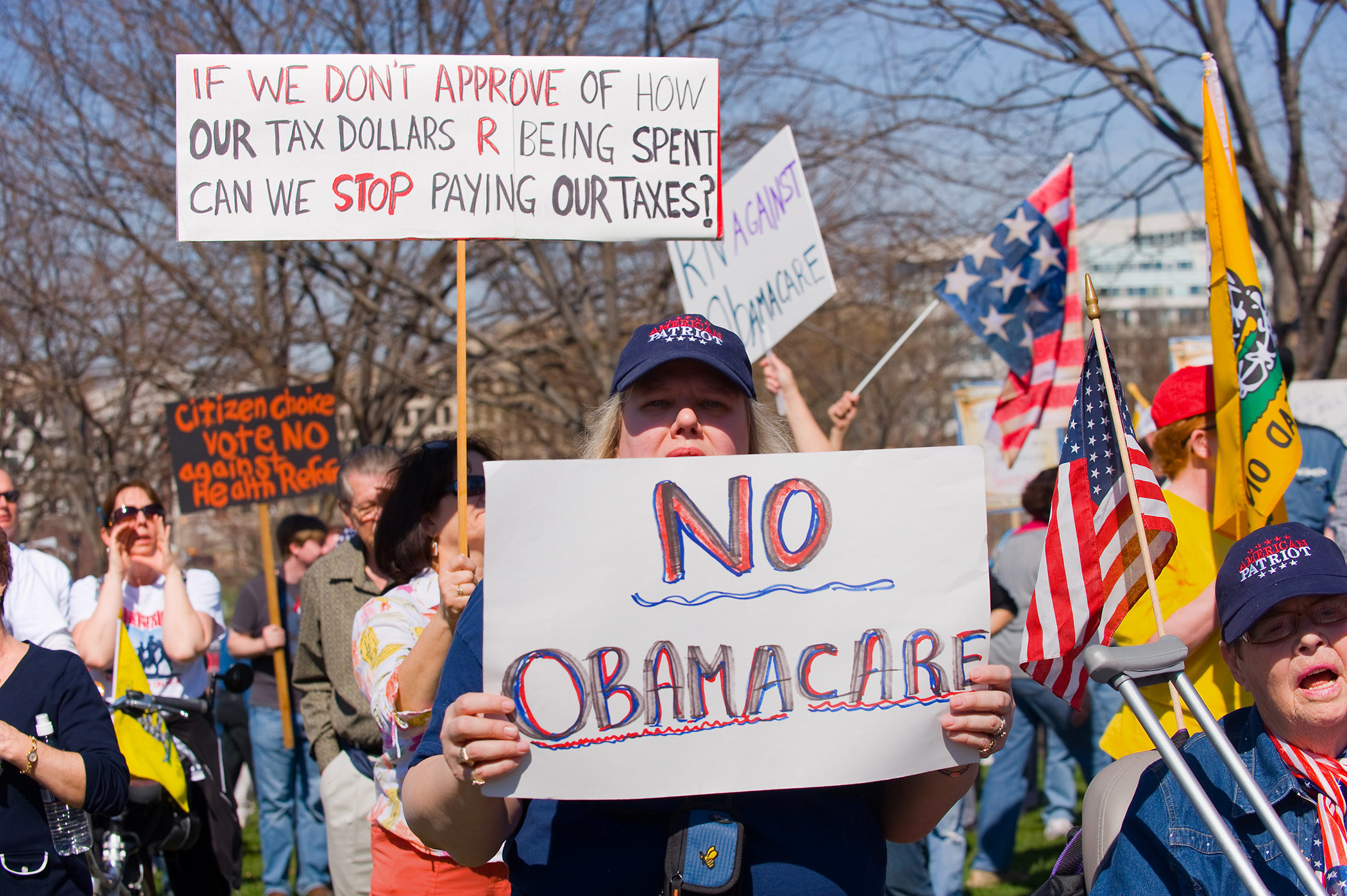 Supporters of the tea party movement demonstrate outside the US Capitol against the Affordable Care Act, March 20, 2010.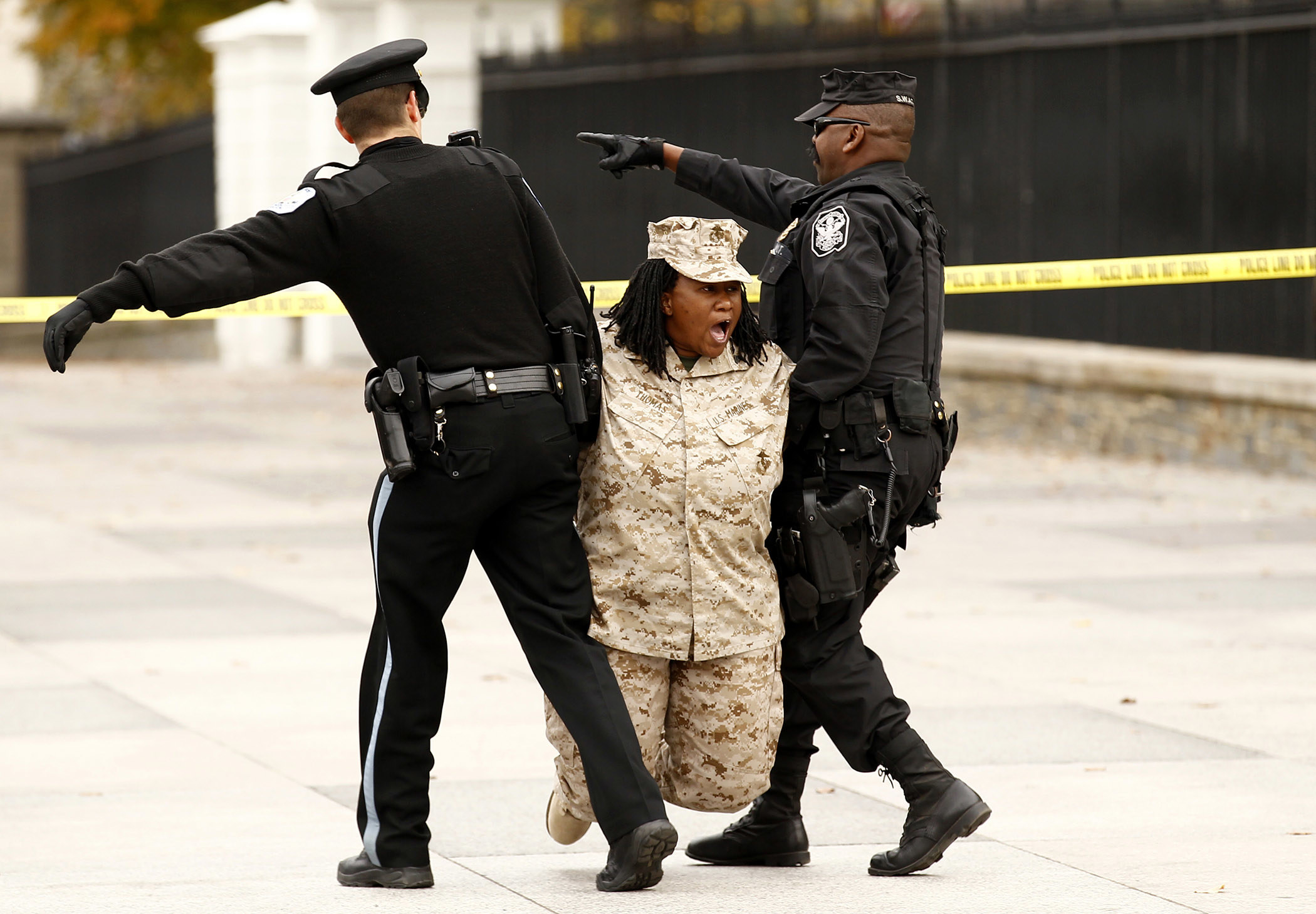 Veteran Evelyn Thomas is arrested after handcuffing herself to a fence at the White House, Nov. 15, 2010. Thomas and 12 others were arrested in their protest against the "don't ask, don't tell" law that prevented openly queer people from serving in the US military.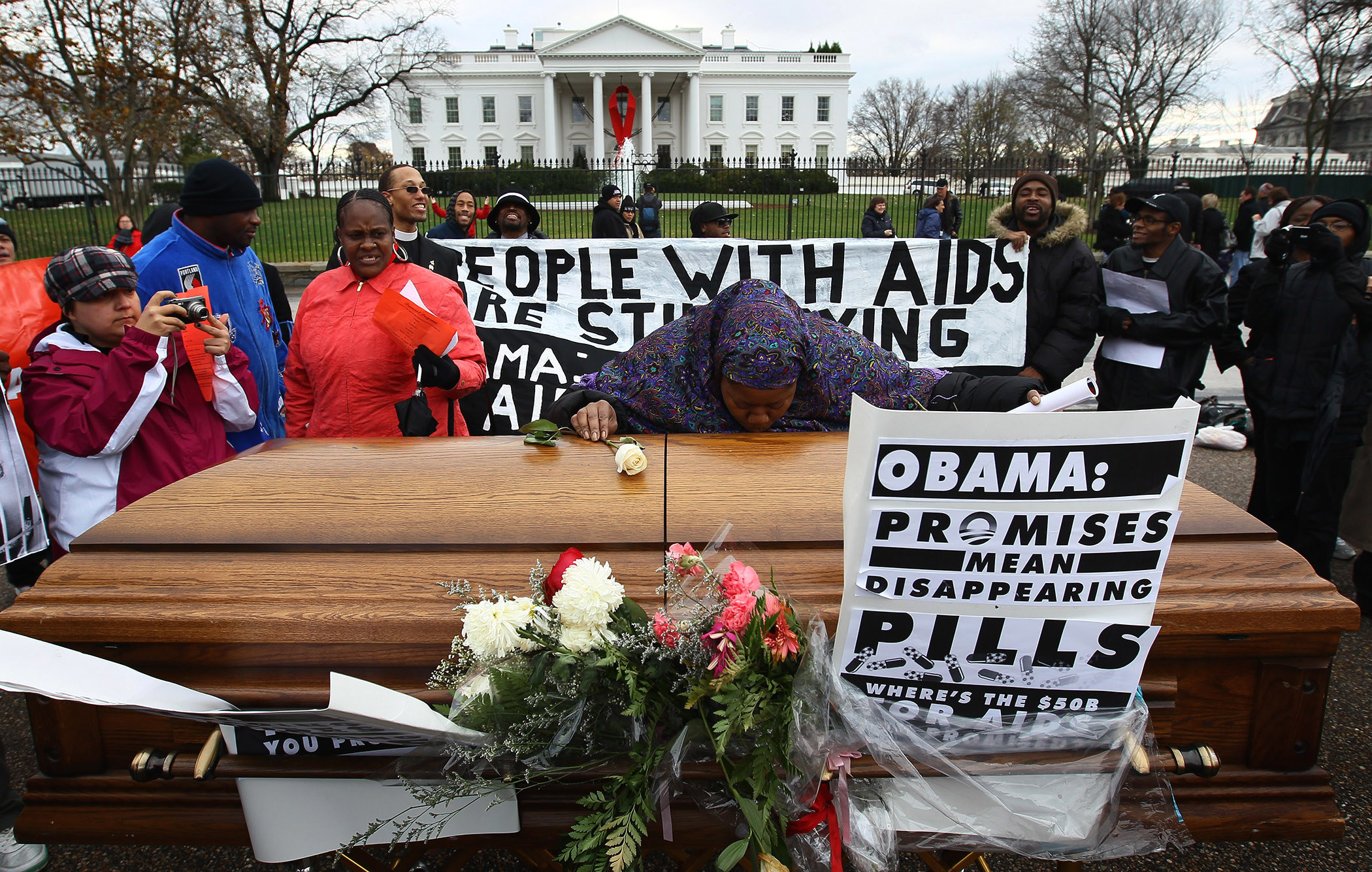 Taalibah Ines kisses a coffin while joining a group of AIDS activists marking World AIDS Day by holding a funeral in front of the White House, Dec. 1, 2010.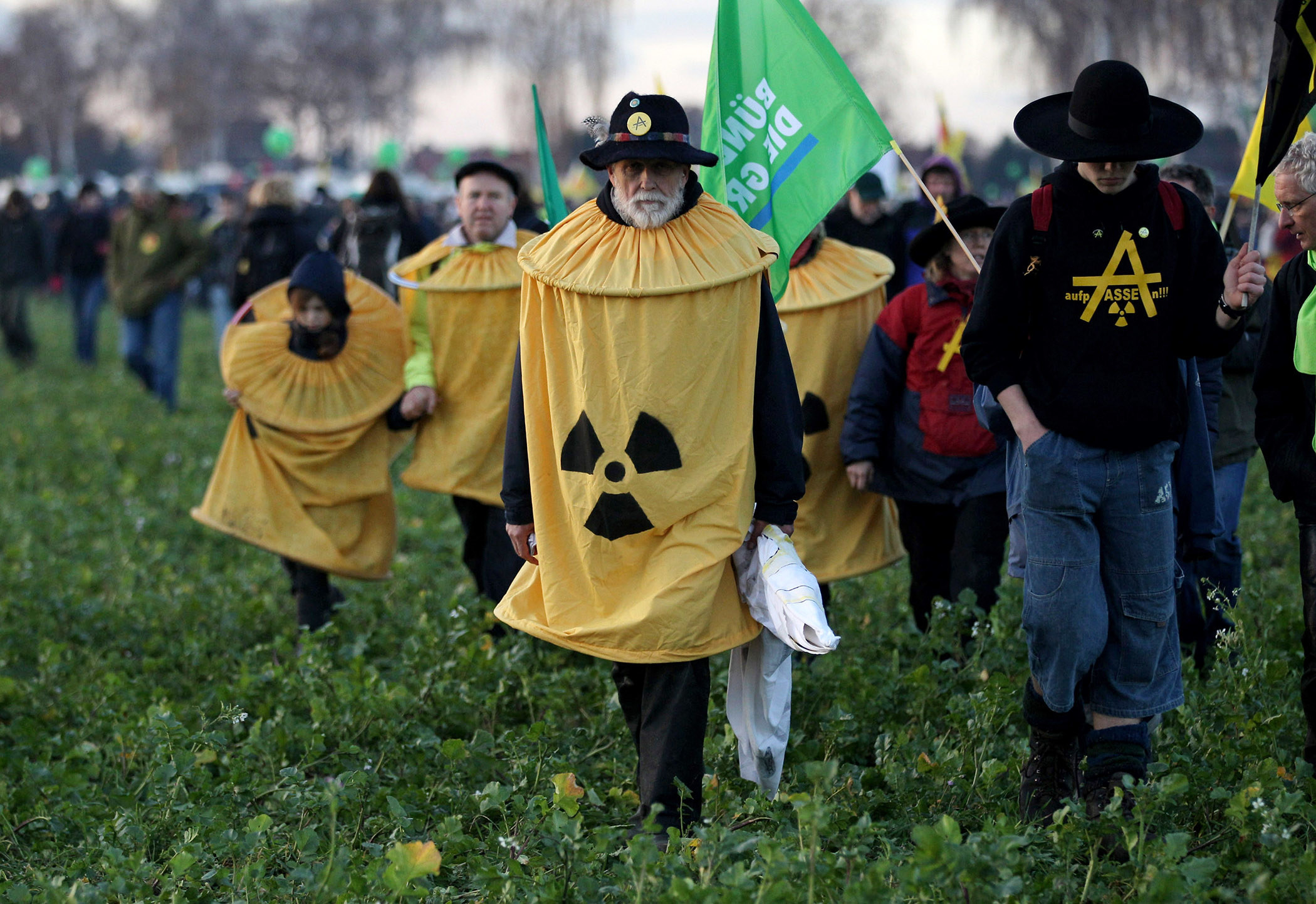 Anti-nuclear activists march through a field after a demonstration against nuclear waste in Dannenberg, Germany, Nov. 6, 2010.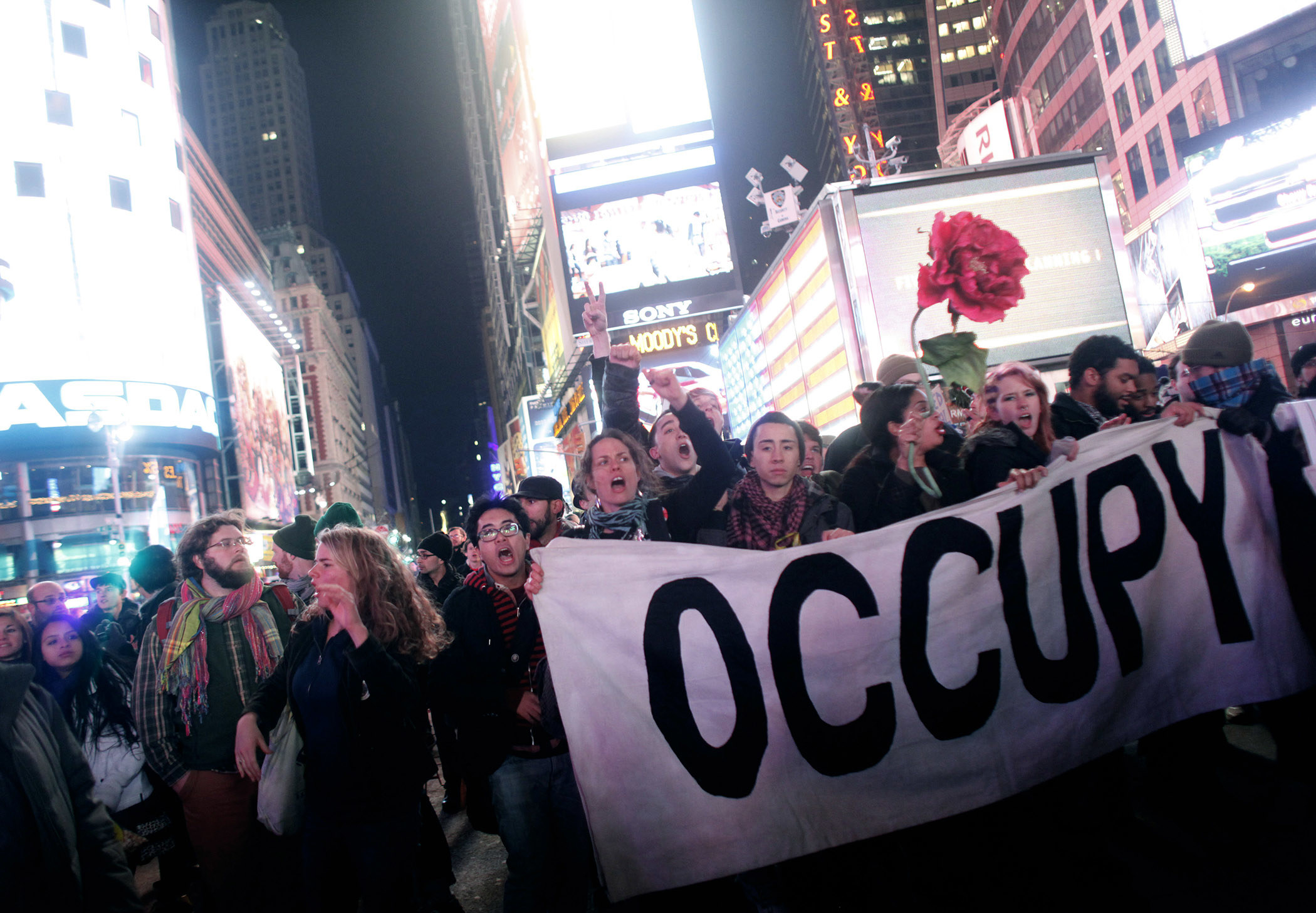 Occupy Wall Street activists demonstrate in Times Square, Dec. 17, 2011.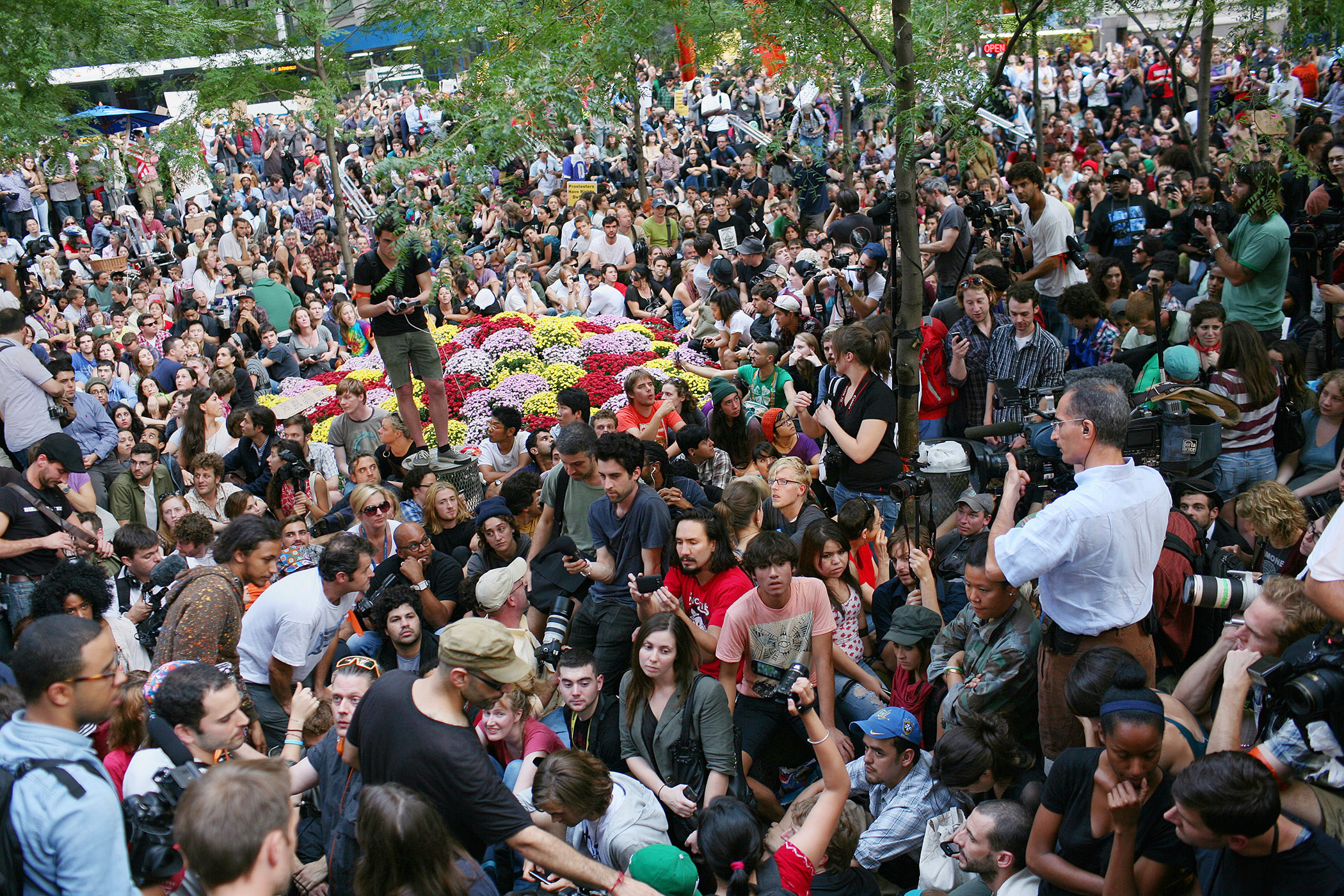 People gather for an Occupy Wall Street protest in Zuccotti Park in New York City's Financial District, Sept. 30, 2011.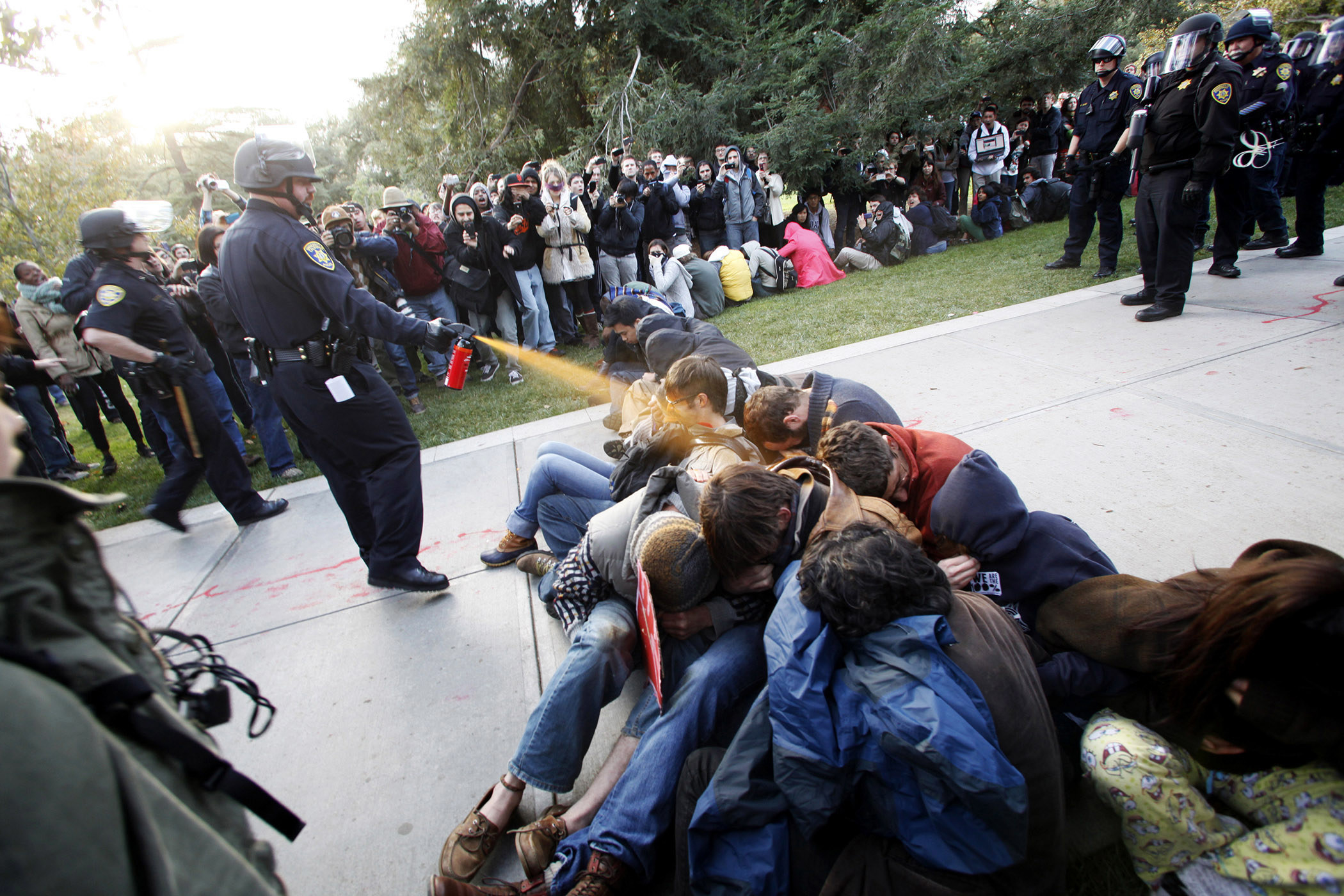 Lt. John Pike, an officer with the University of California, Davis, uses pepper spray on student Occupy protesters, Nov. 18, 2011.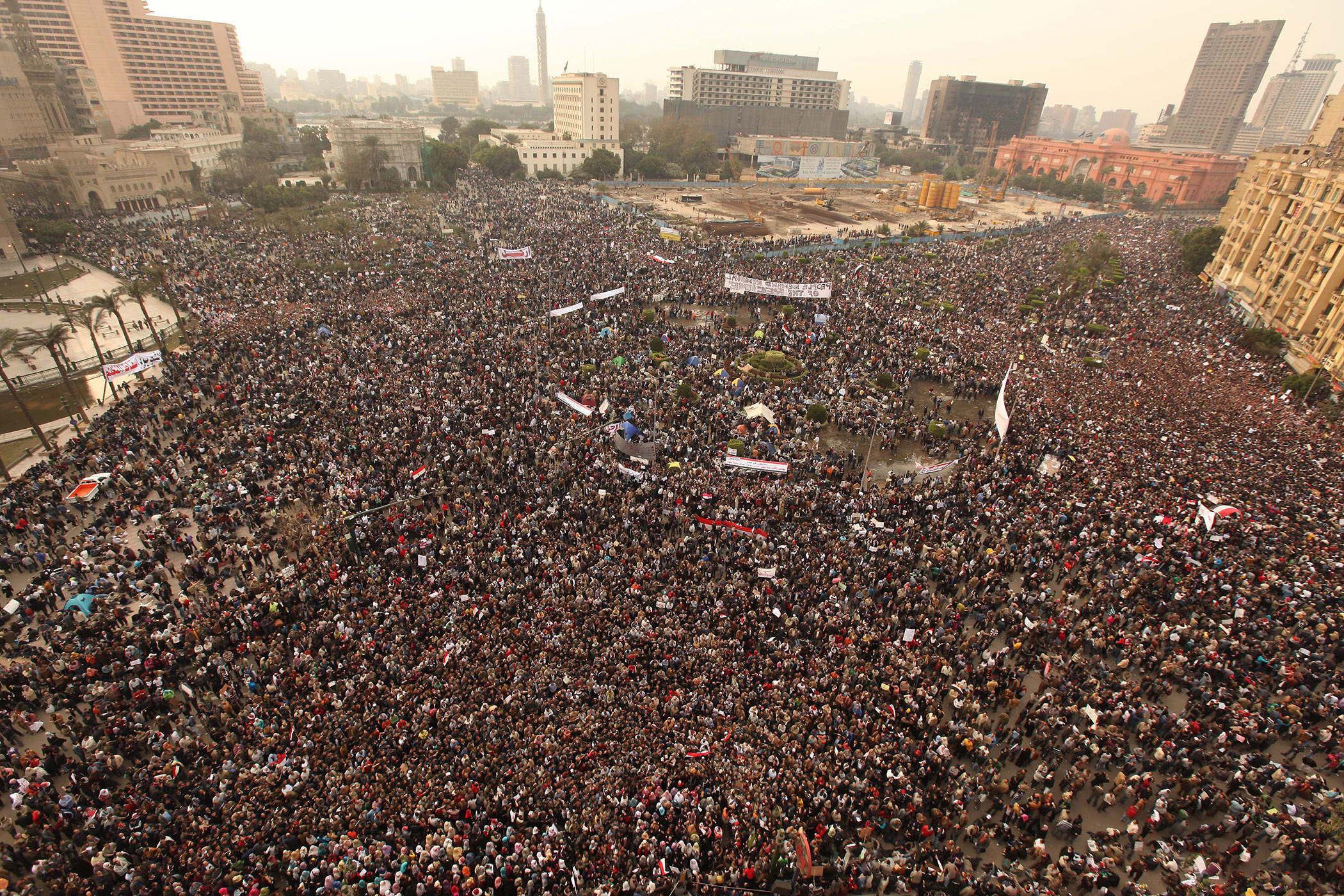 Protesters gather in Tahrir Square in Cairo, Feb. 1, 2011. Tens of thousands of people assembled to demand the ouster of then-president Hosni Mubarak.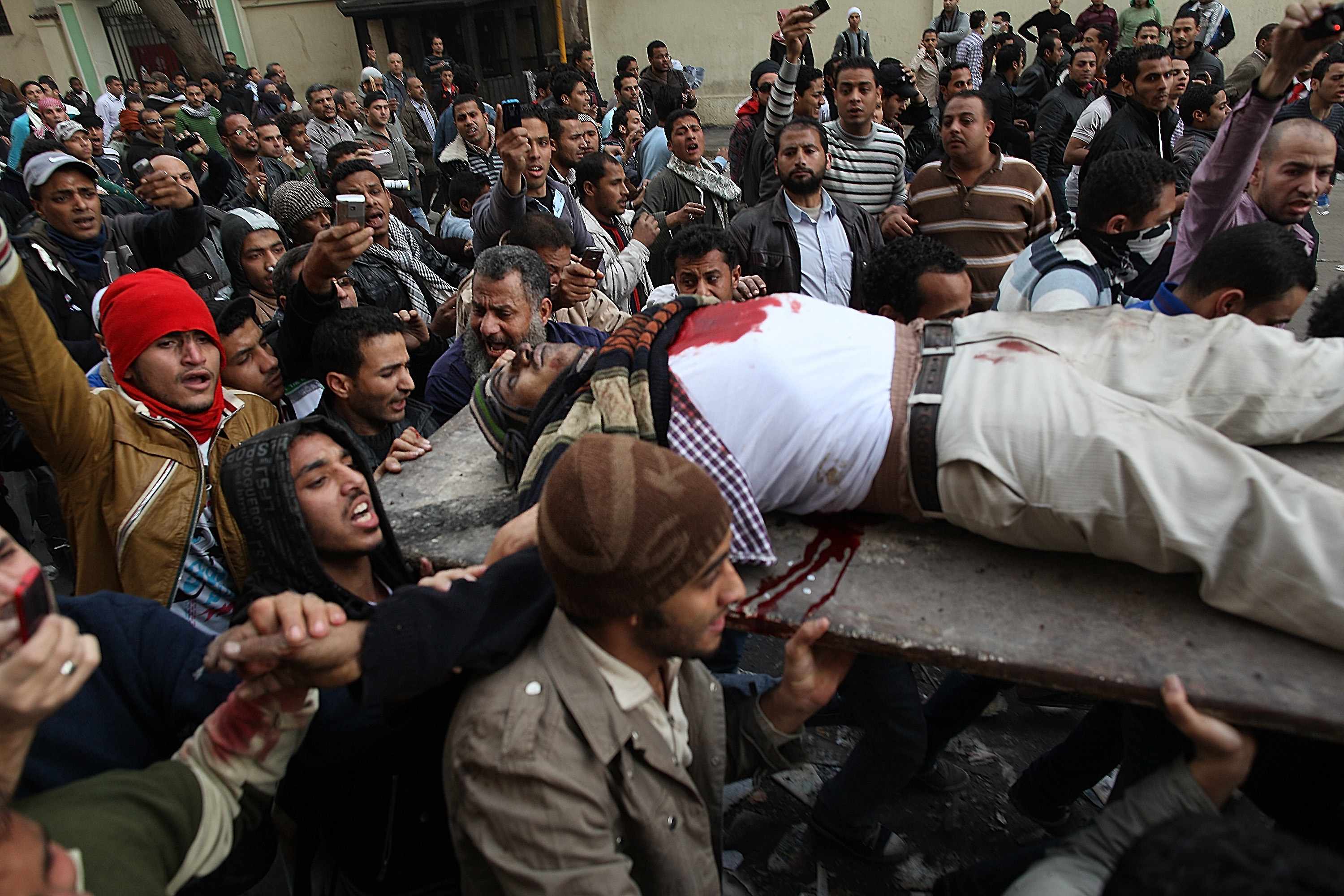 Protesters carry an injured man during clashes with riot police near Tahrir Square, Jan. 29, 2011.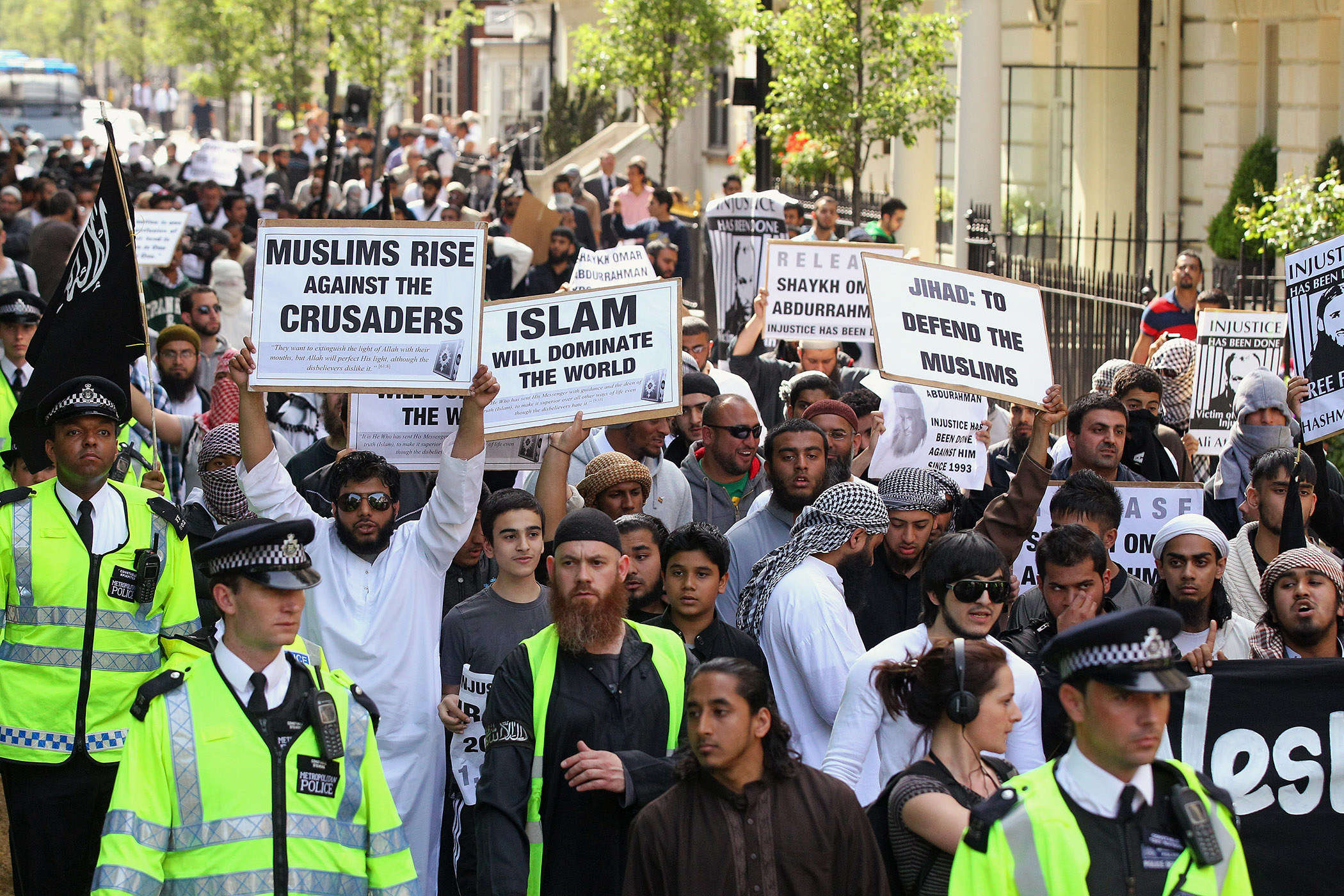 Muslims protest against the killing of Osama bin Laden outside the US Embassy in London, May 6, 2011.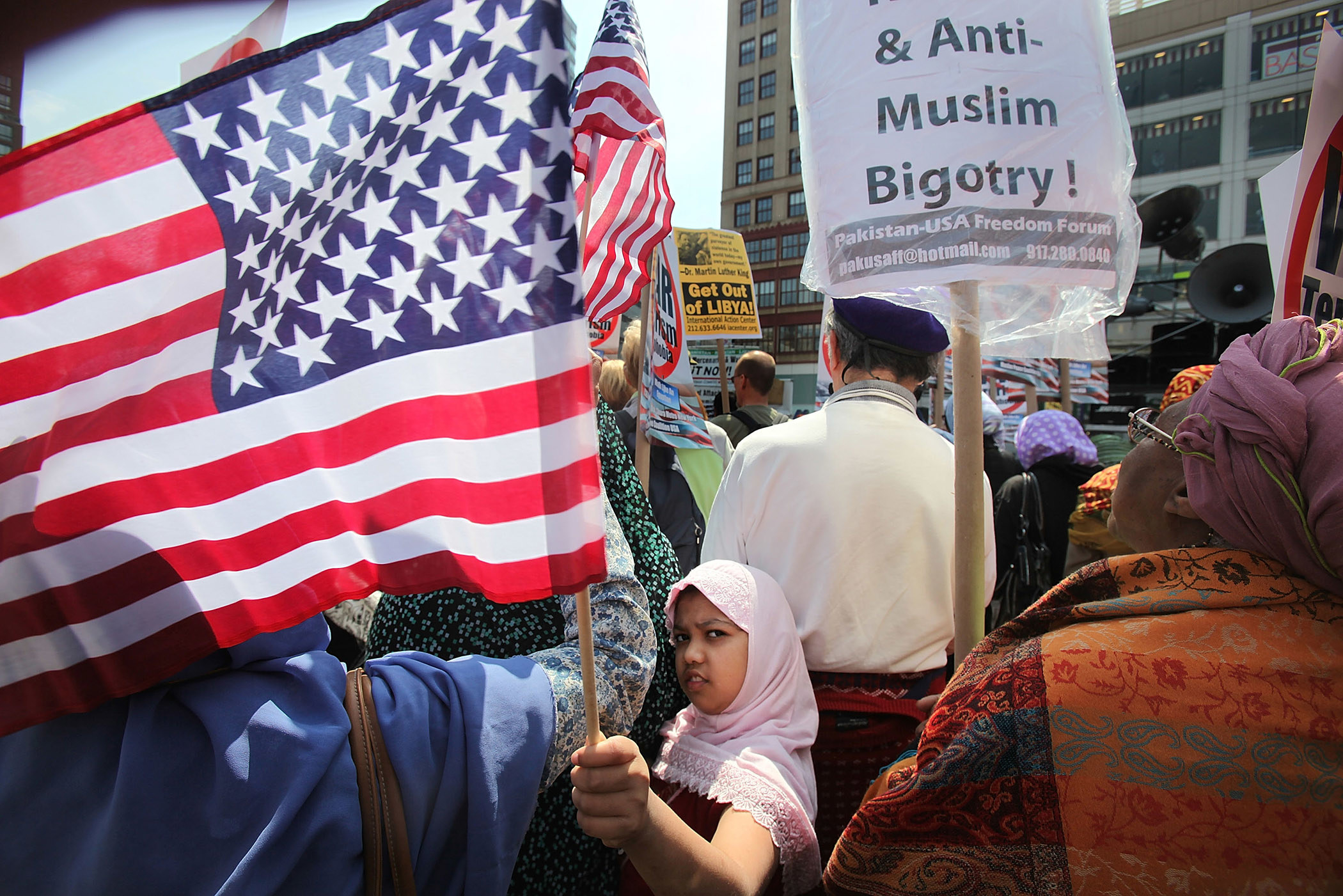 Muslim protester Farzana Sabrina waves a US flag at an anti-war rally in Union Square in New York City, April 9, 2011. Thousands of protesters called for the US to end the wars in Iraq and Afghanistan, and a large Muslim contingent protested against anti-Muslim prejudice.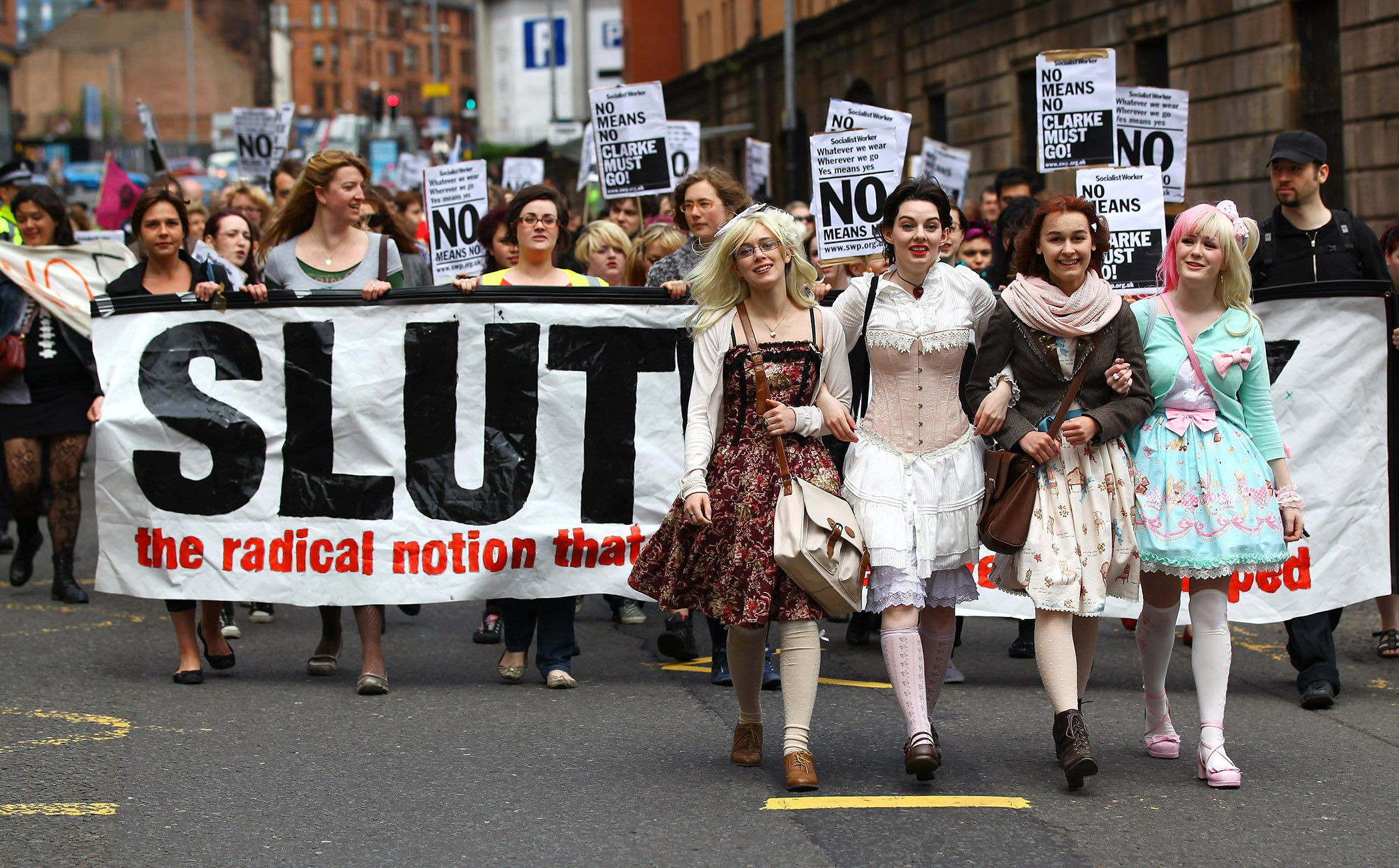 Demonstrators participate in a Slutwalk in Glasgow, June 4, 2011. Glasgow's first-ever Slutwalk was organized to raise awareness about commonly held attitudes toward rape and sexual assault.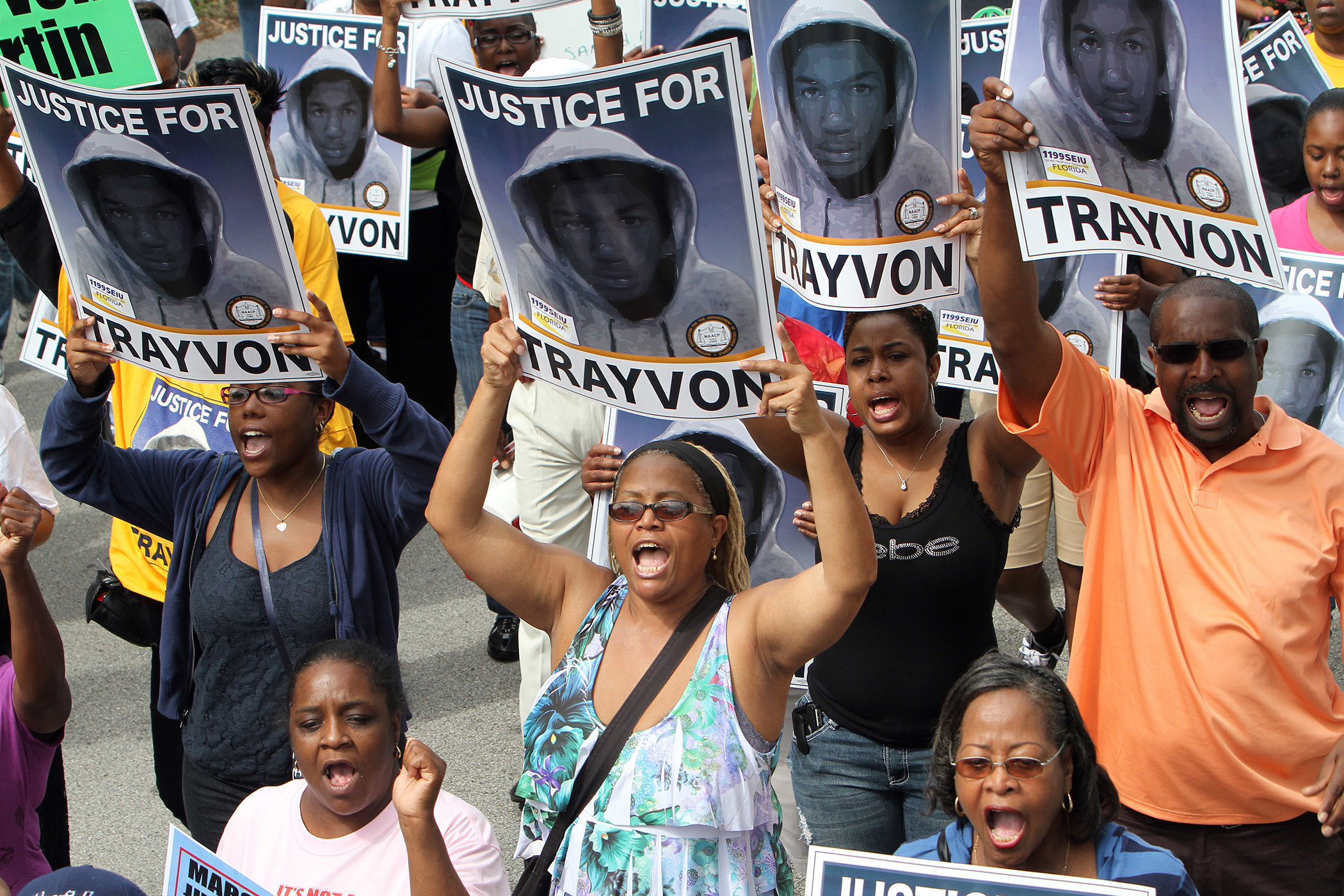 Thousands of demonstrators march in Sanford, Florida, during an NAACP rally demanding justice following the shooting of Trayvon Martin, March 31, 2012.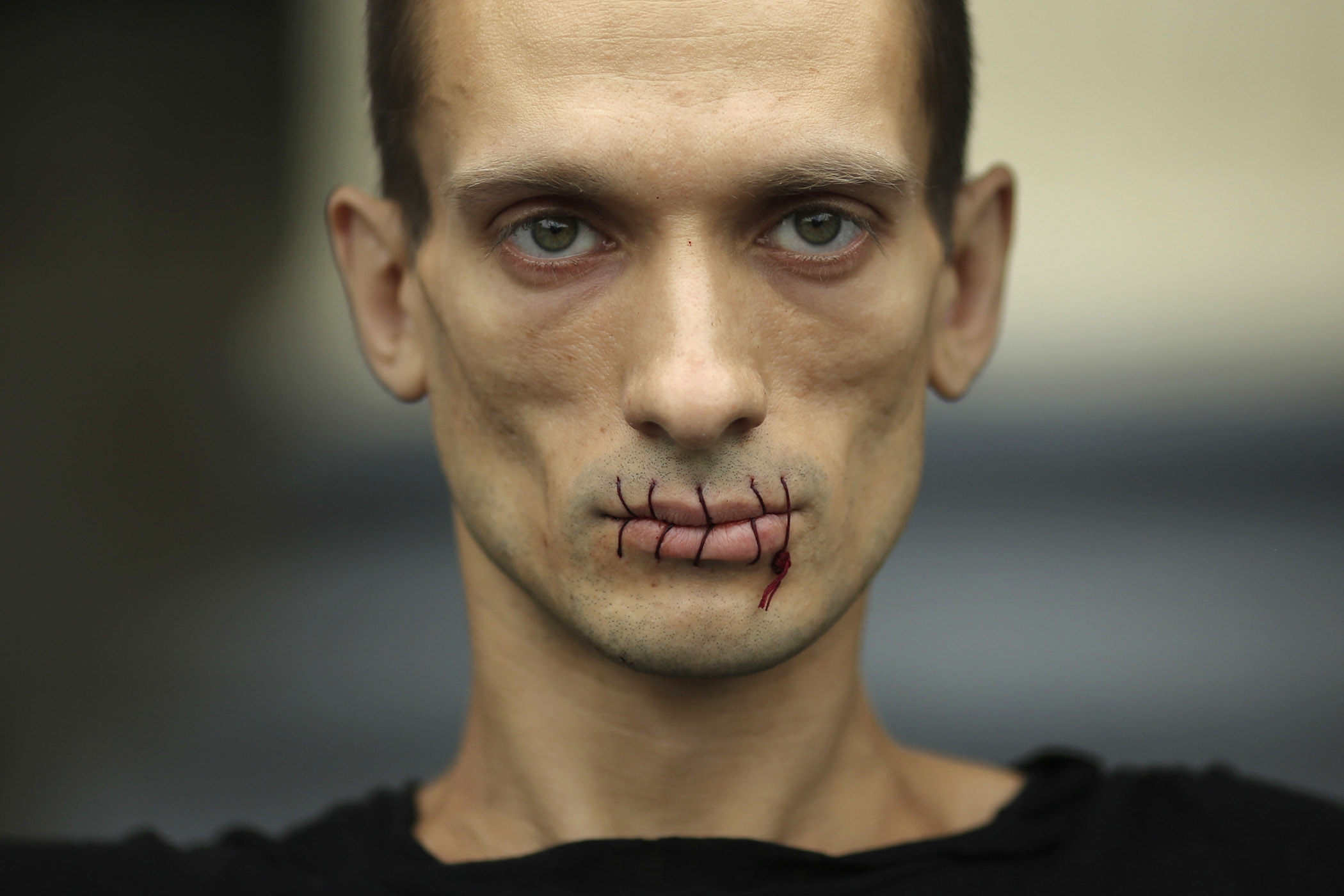 Artist Pyotr Pavlensky, a supporter of the jailed members of the punk band Pussy Riot, sews his mouth closed in protest outside the Kazan Cathedral in St. Petersburg, July 23, 2012. The band members, three women punk rockers, derided Putin in a protest in the country's main cathedral.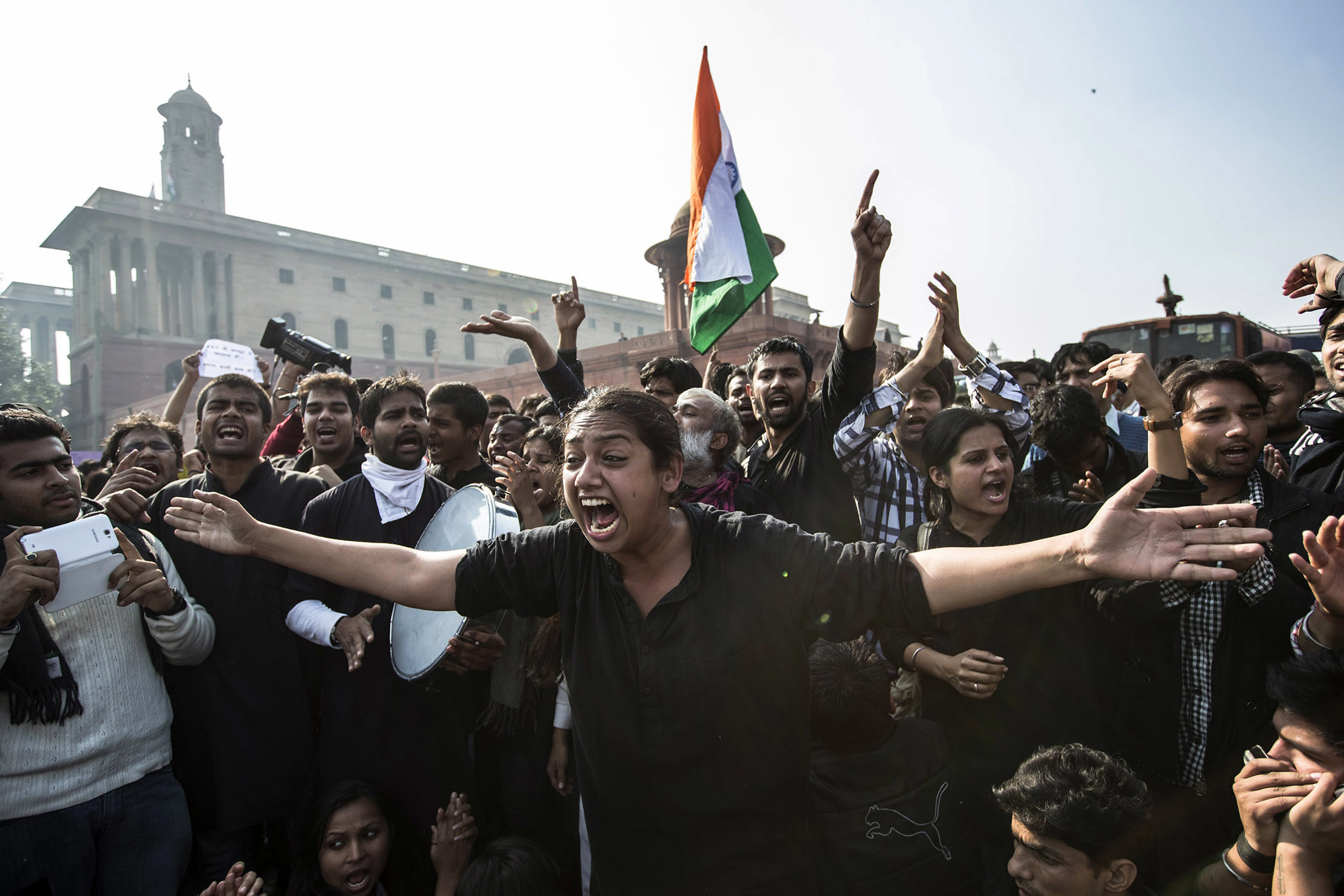 Protesters chant anti-police slogans during a protest in front of the Rashtrapati Bhavan in New Delhi, India, against the government's reaction to recent rape incidents in the country, Dec. 22, 2012.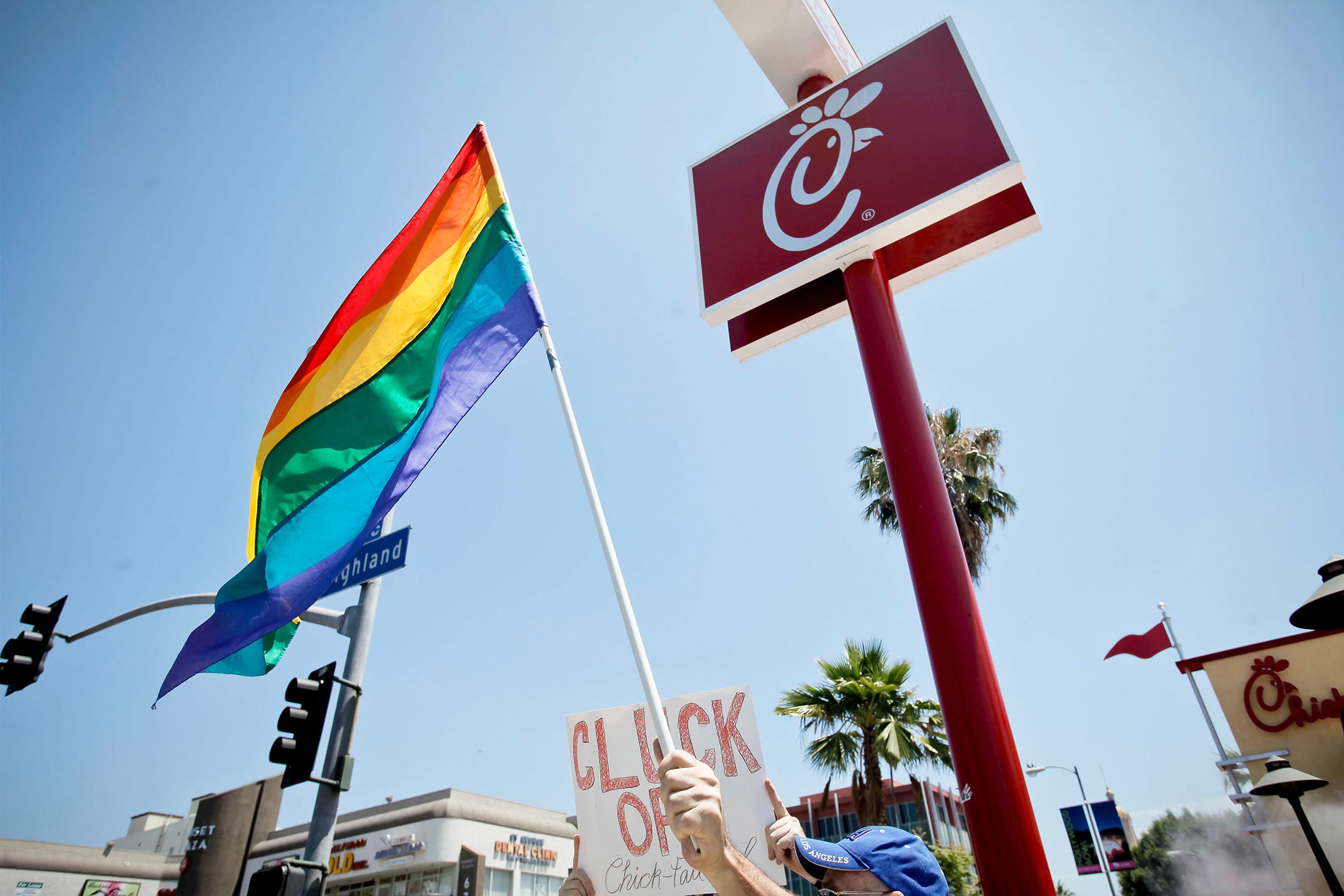 Protesters with PETA and the LGBTQ community demonstrate against Chick-fil-A's views on LGBTQ issues in Hollywood, California, Aug. 1, 2012.
Activists from Femen, a Ukrainian women's rights group, spray water on André-Joseph Léonard, the archbishop of Mechelen-Brussels and primate of Belgium, (left) during a conference at a Brussels university, April 23, 2013.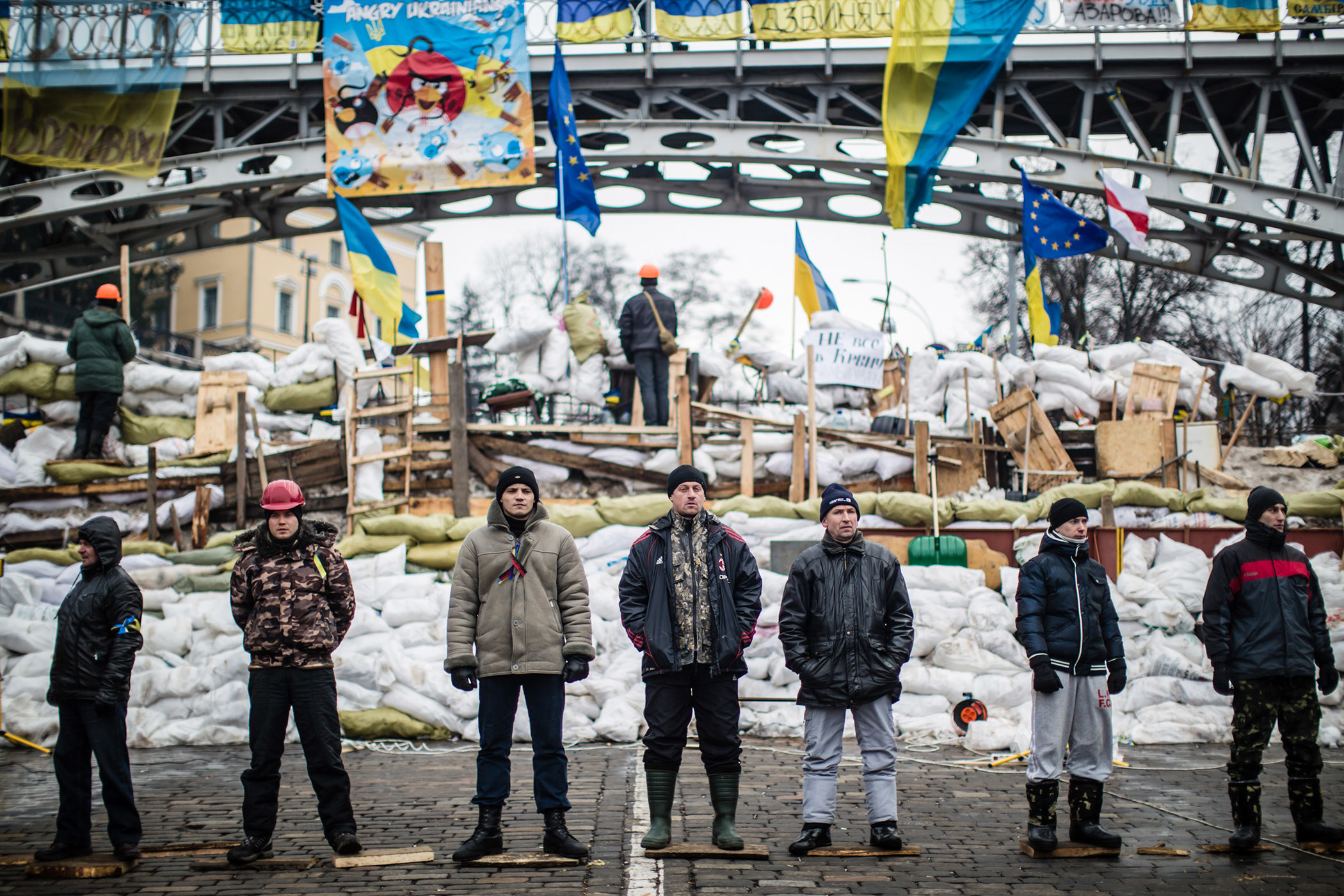 Anti-government protesters guard a barricade designed to keep police from evicting them from Independence Square in Kyiv, Dec. 13, 2013. Thousands of people protested against the government due to a decision by then-president Viktor Yanukovych to suspend a trade agreement with the European Union in favor of incentives from Russia.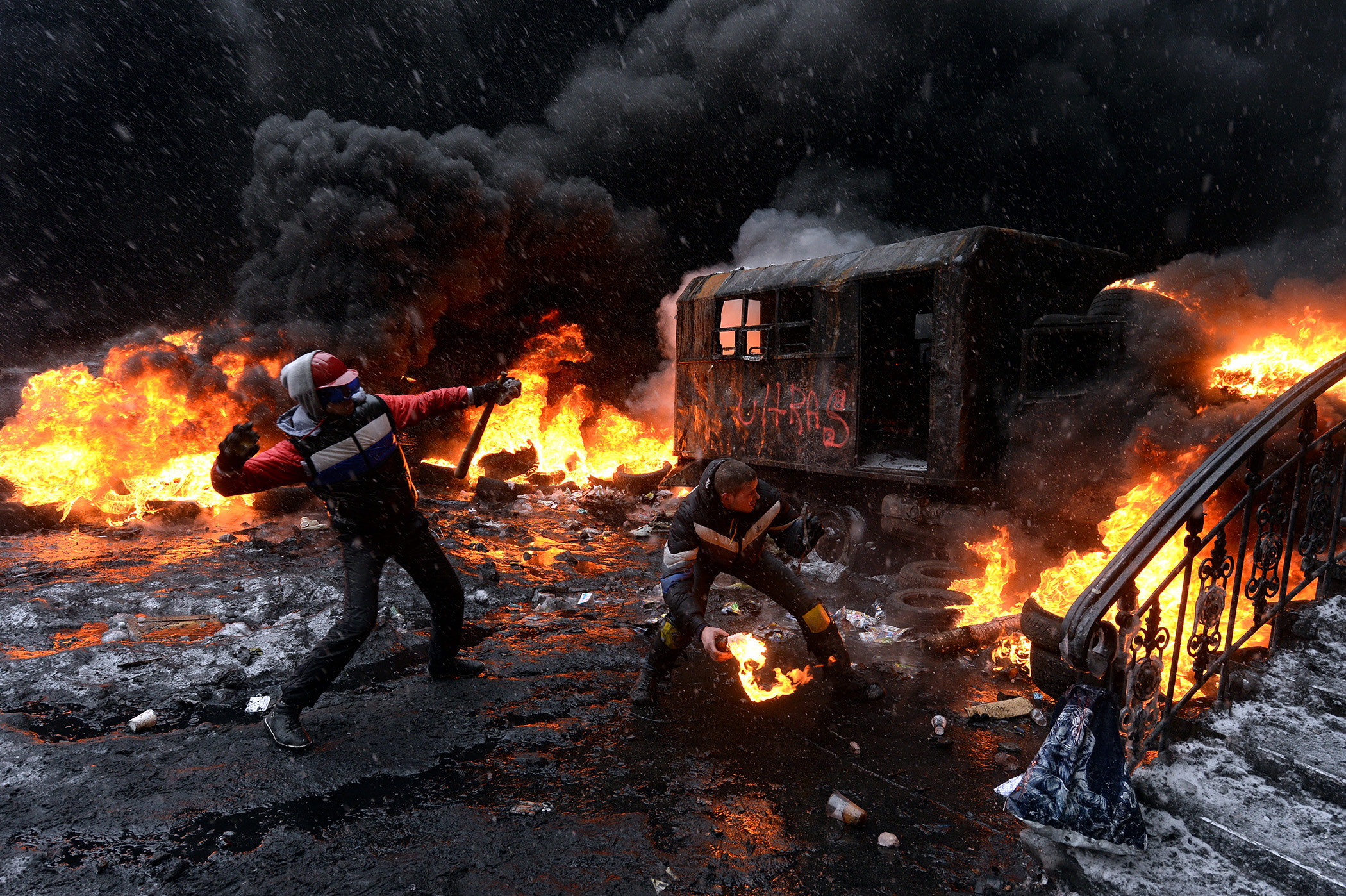 A protester throws a Molotov cocktail at riot police in Kyiv, Jan. 22, 2014. Ukrainian police stormed protesters' barricades in Kyiv as violent clashes erupted.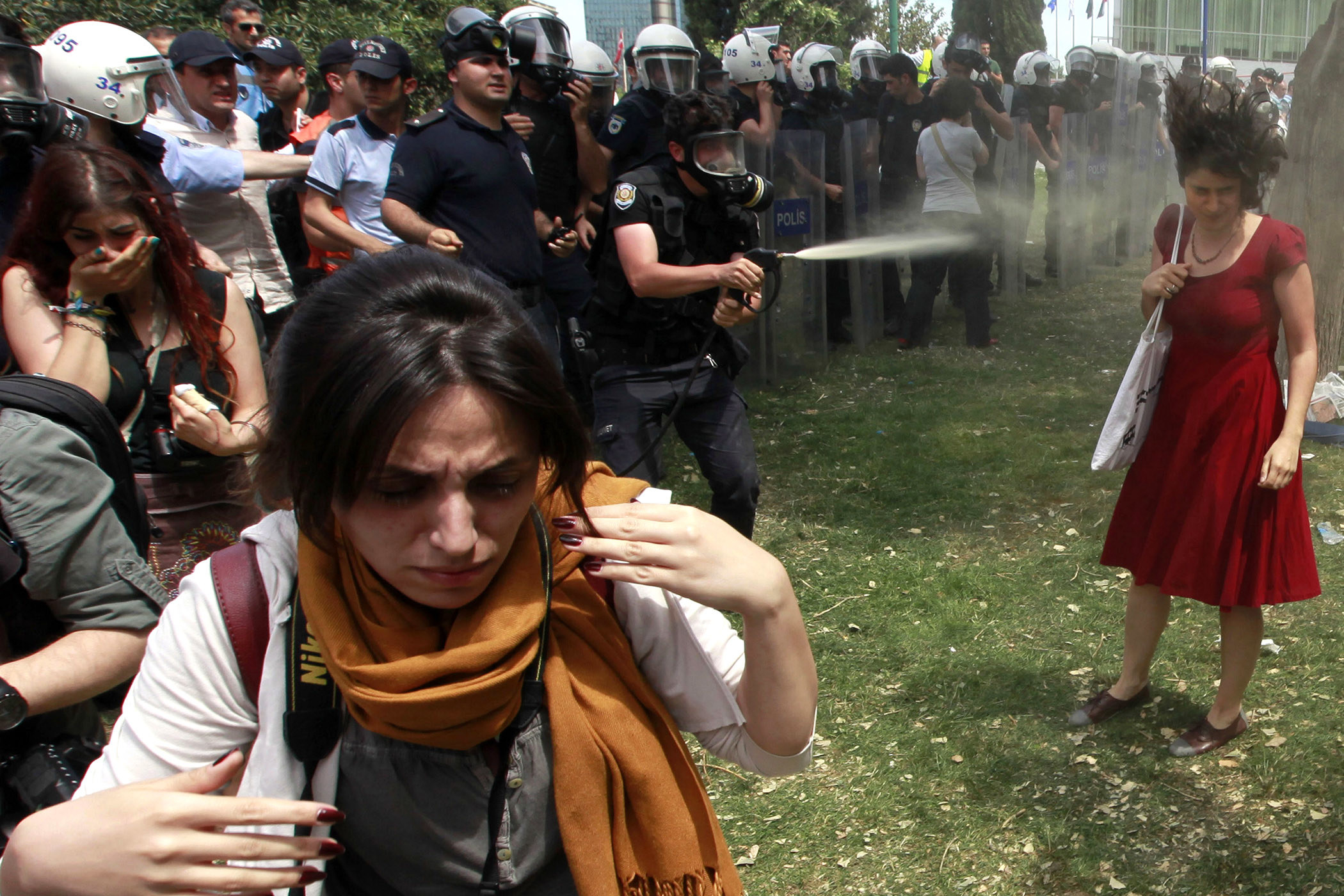 A Turkish riot police officer uses tear gas on people protesting the destruction of trees in a park in Taksim Square, Istanbul, May 28, 2013.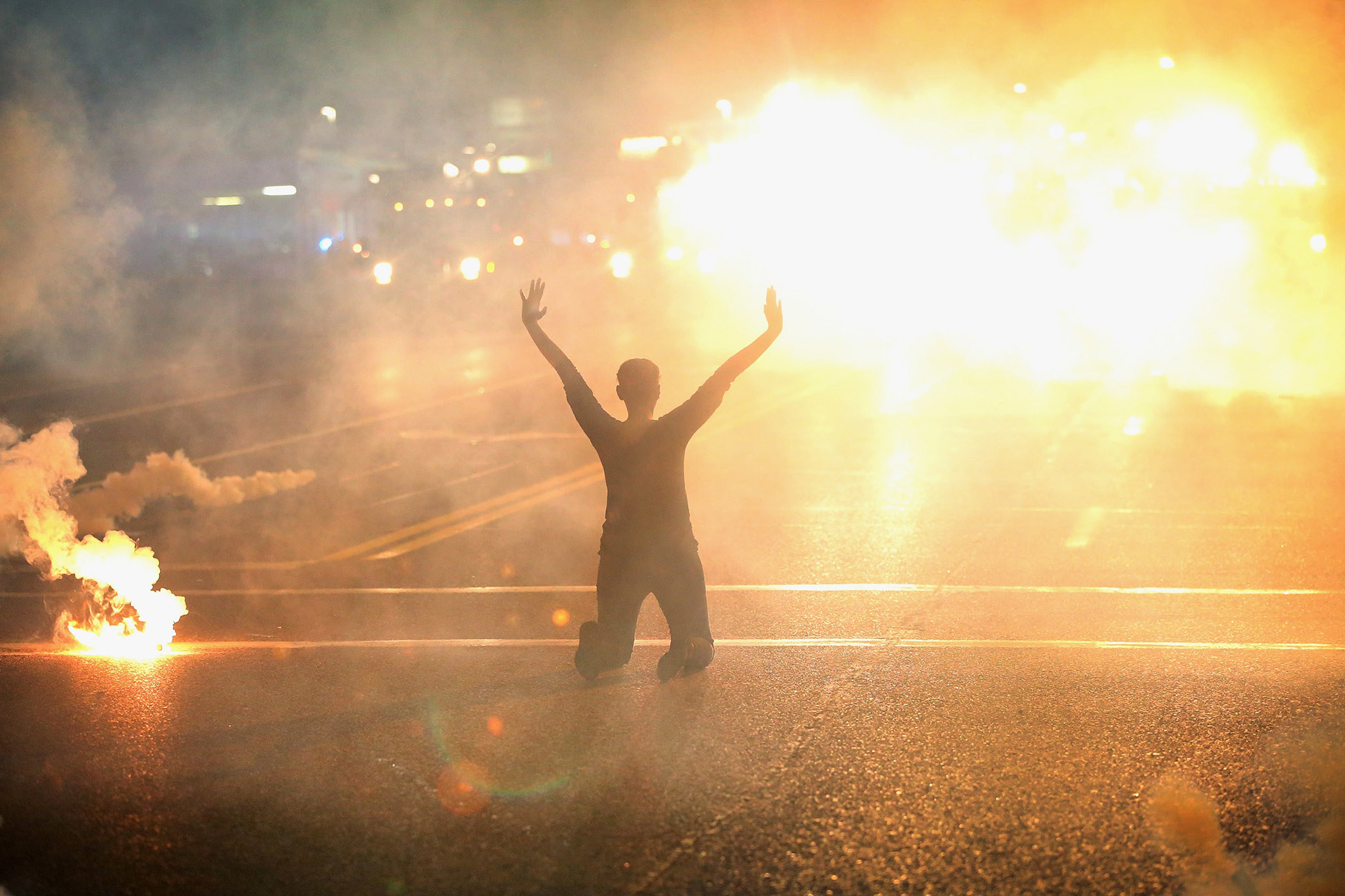 Tear gas rains down on a woman kneeling in the street with her hands in the air after a demonstration over the killing of 18-year-old Michael Brown by a police officer in Ferguson, Missouri, Aug. 17, 2014.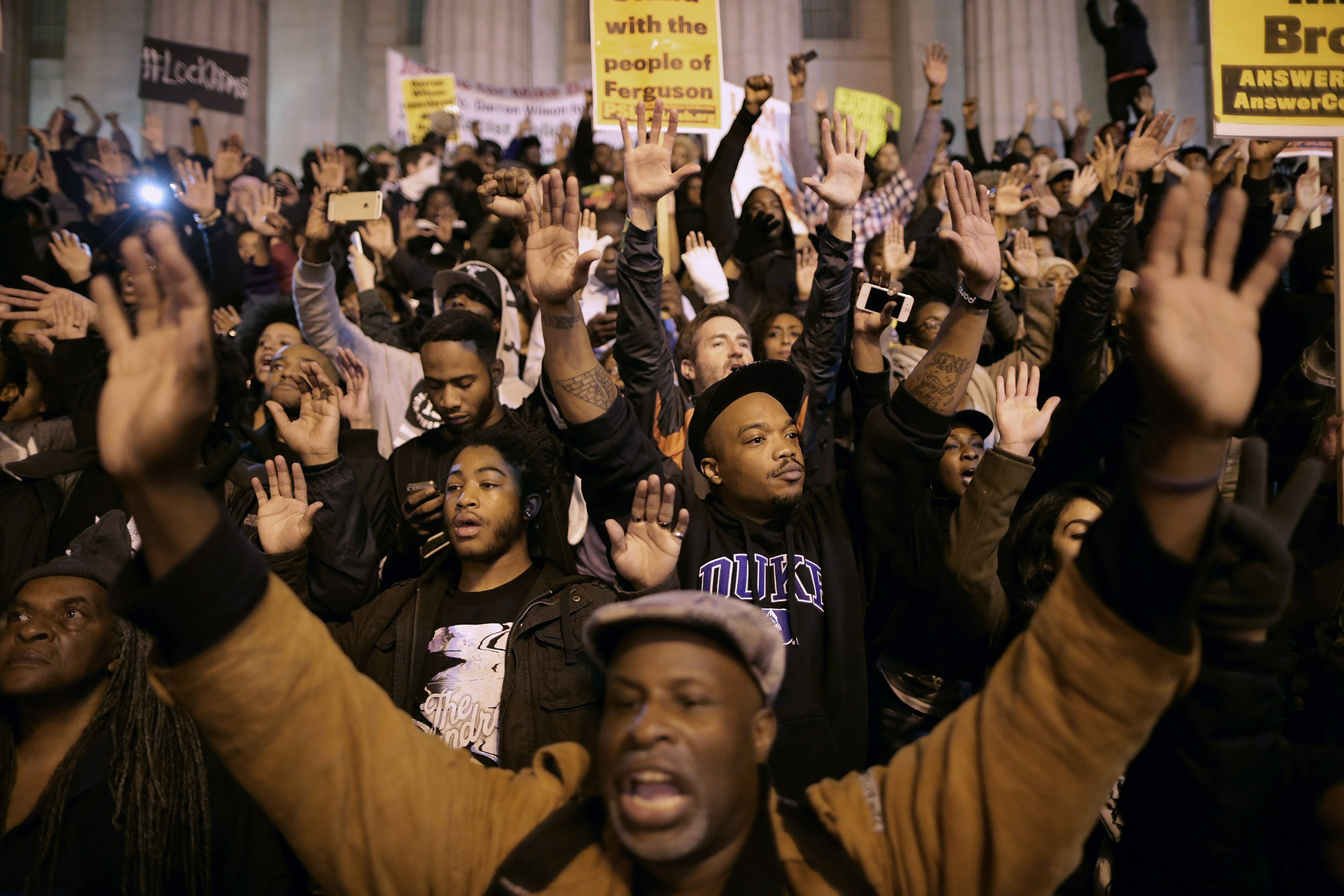 More than 1,000 demonstrators chant "hands up, don't shoot!" on the steps of the National Portrait Gallery a day after the Ferguson grand jury decision to not indict officer Darren Wilson in the Michael Brown case in Washington, DC, Nov. 25, 2014.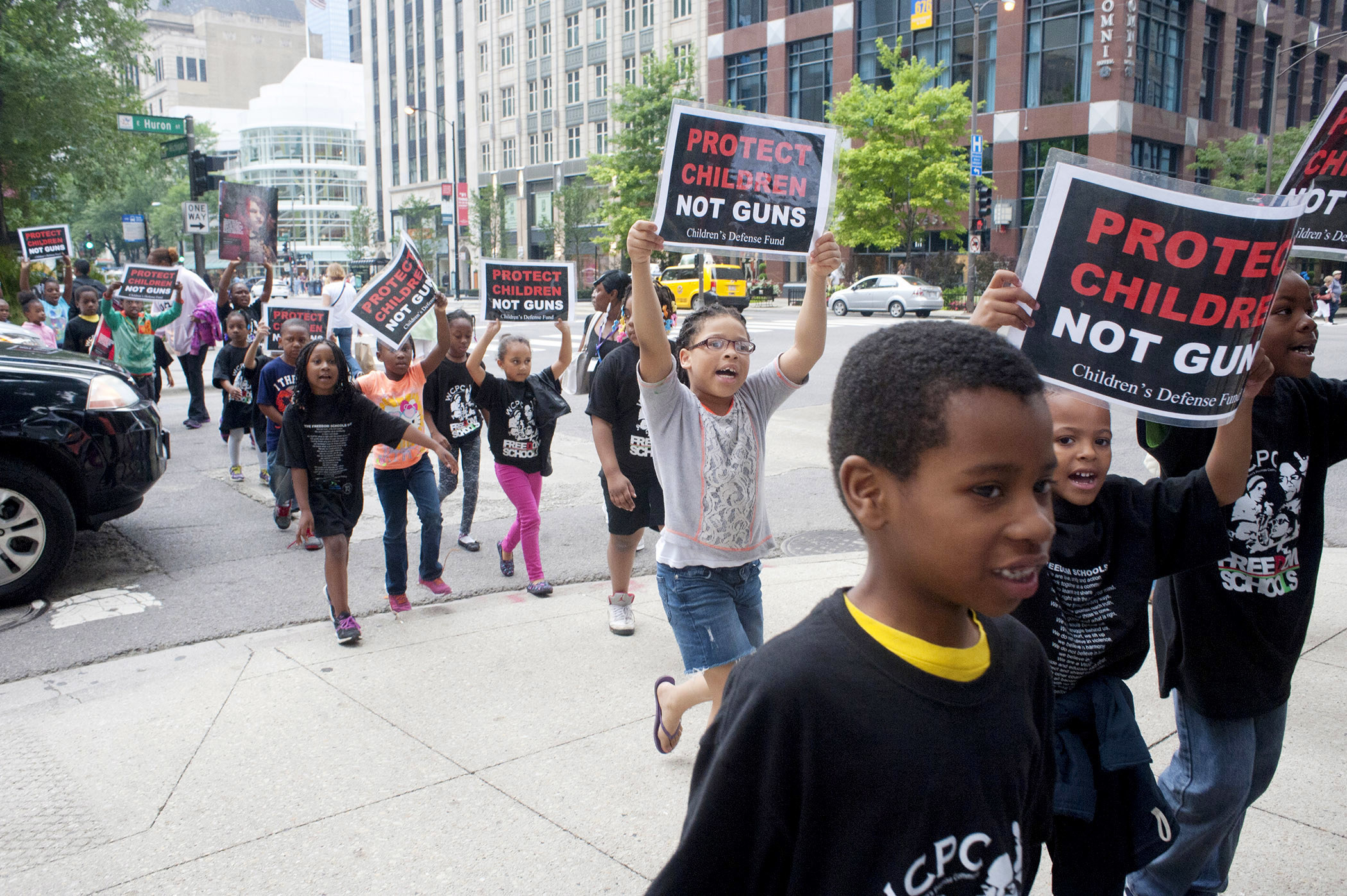 Children march in Chicago to protest against gun violence, July 31, 2013.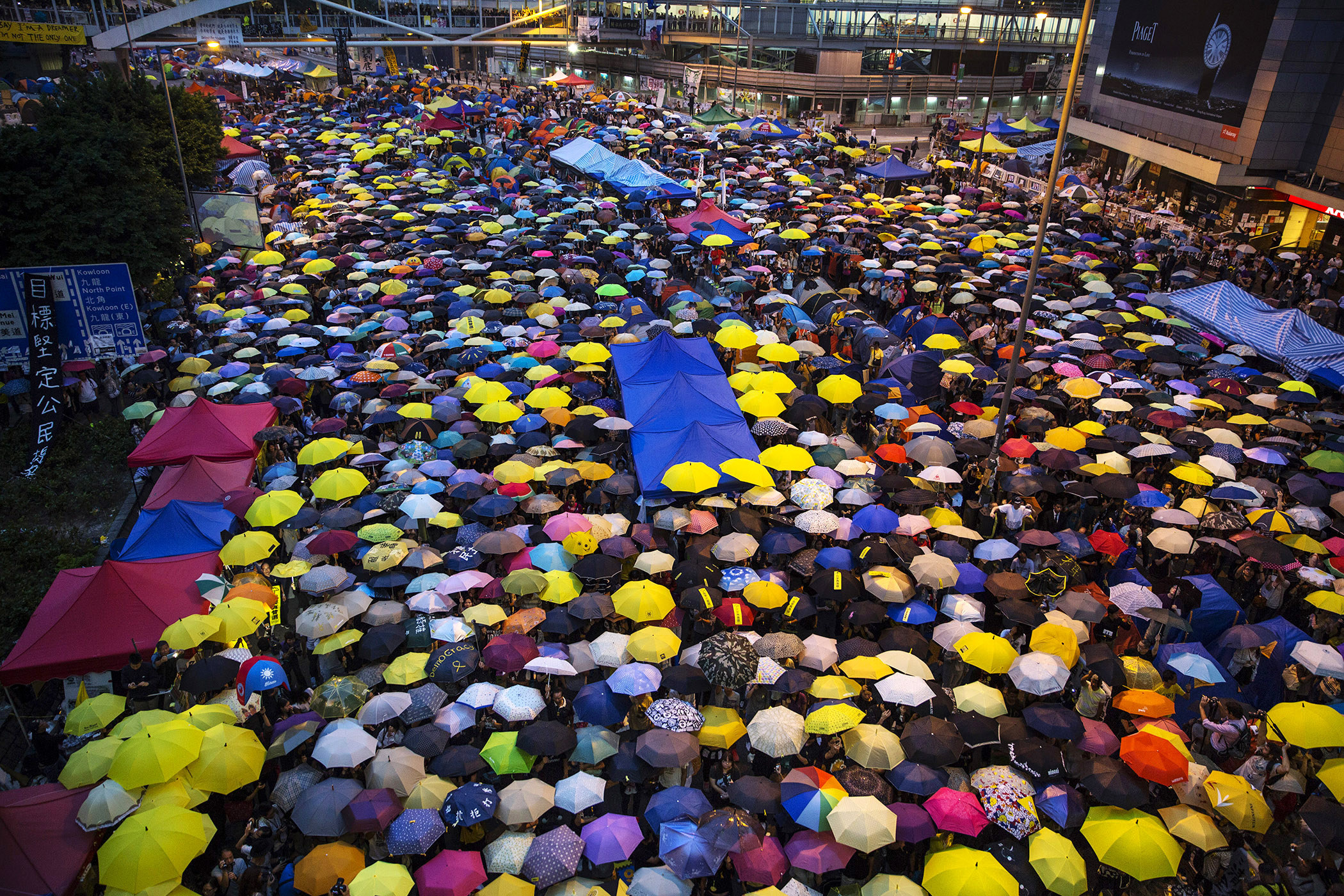 Umbrellas are opened as tens of thousands of people come to the main protest site one month after Hong Kong police used tear gas to disperse pro-democracy protesters, Oct. 28, 2014.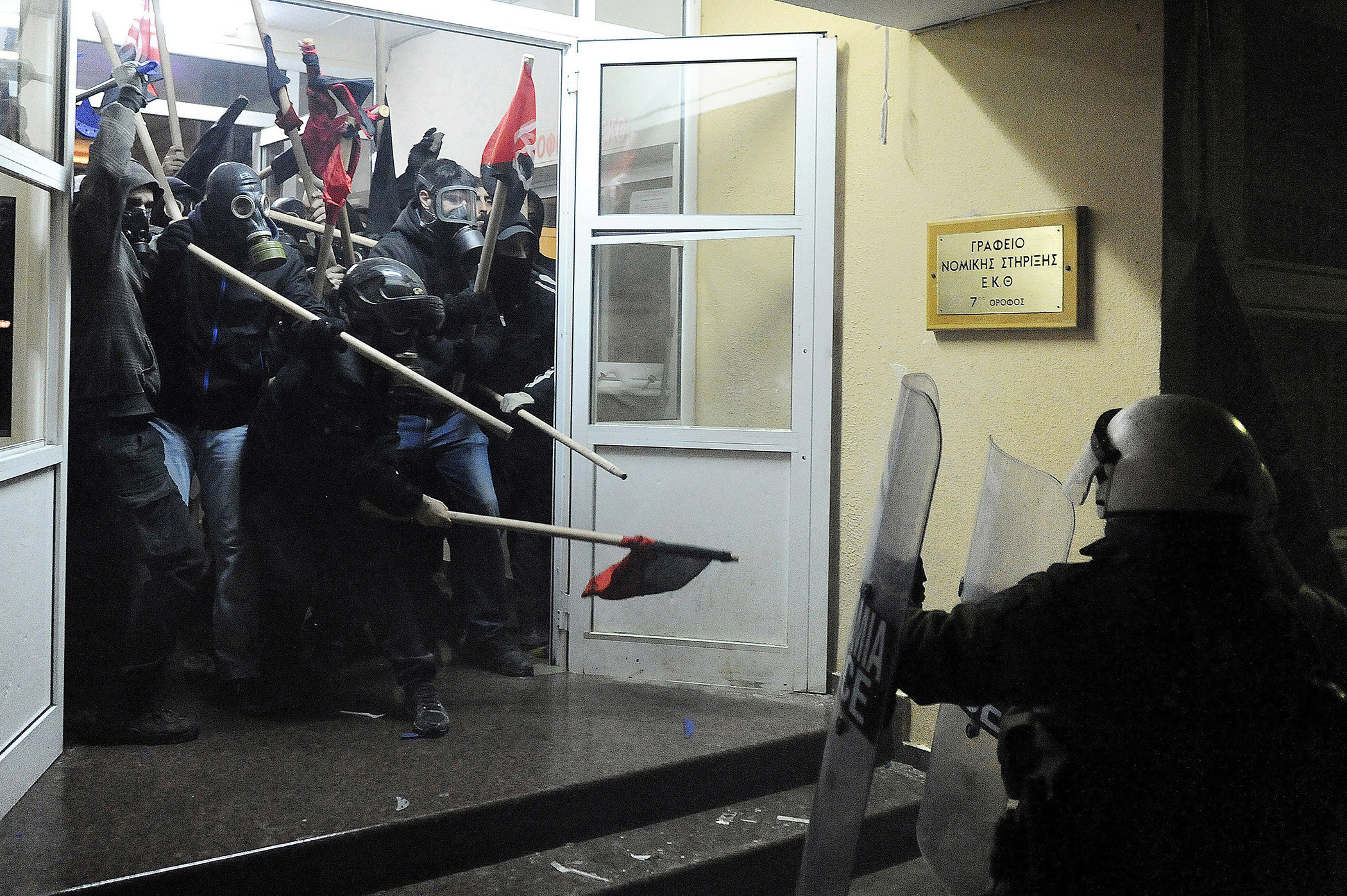 Riot police clash with masked protesters occupying the Labor Center of Thessaloniki, Greece, Dec. 6, 2014. Police fired tear gas to disperse protesters, who hurled back Molotov cocktails and set ATMs and garbage cans on fire in towns around Greece during marches held on the anniversary of the 2008 police killing of a teenager.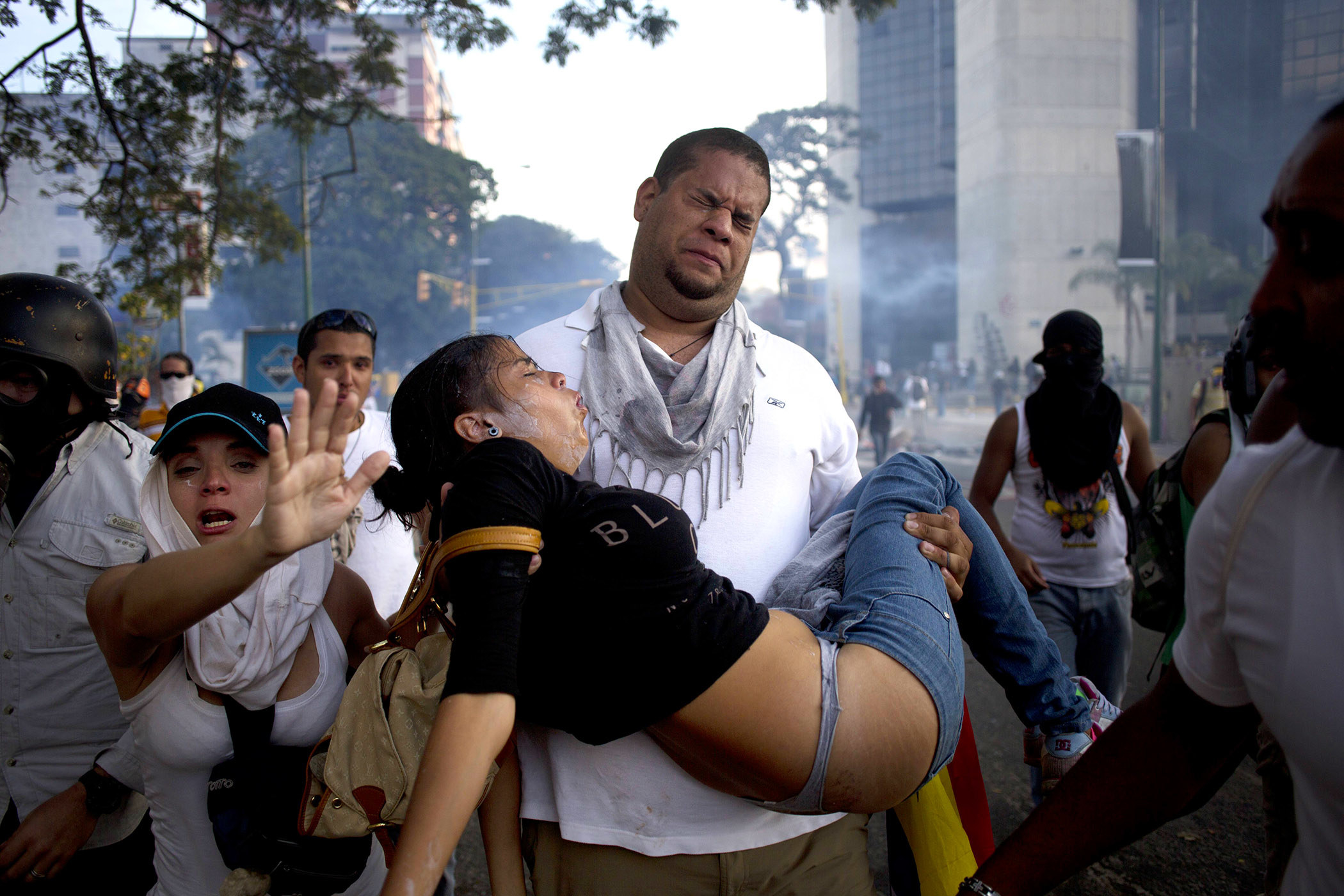 After riot police launched tear gas toward anti-government protesters, a man carries a woman affected by the substance in Caracas, Venezuela, Feb. 22, 2014.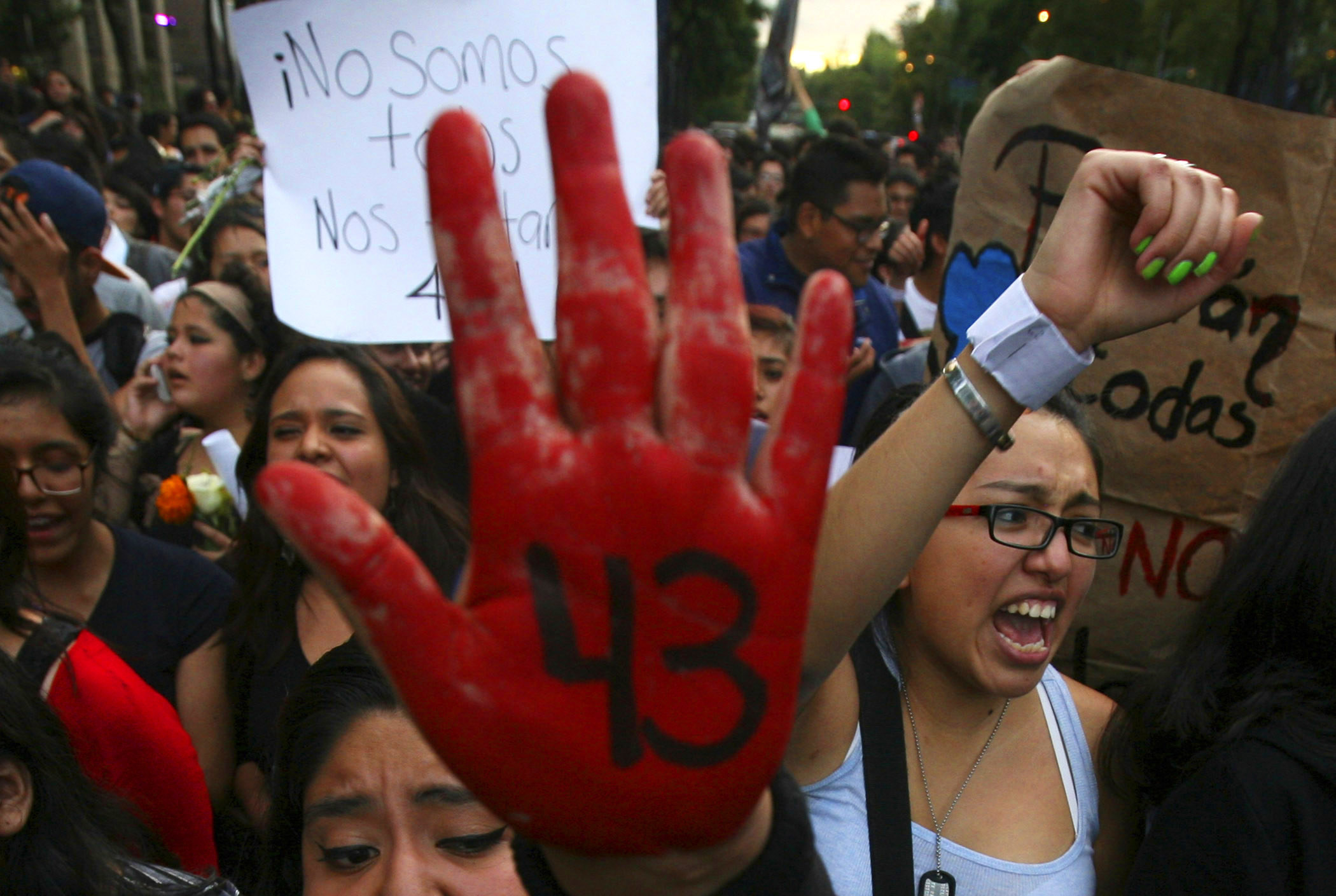 People protest the disappearance of 43 students in Mexico City, Oct. 22, 2014. Then-president Enrique Peña Nieto defended the widely criticized investigation of the 43 students' disappearance, but conceded that his administration has failed to bring the country peace.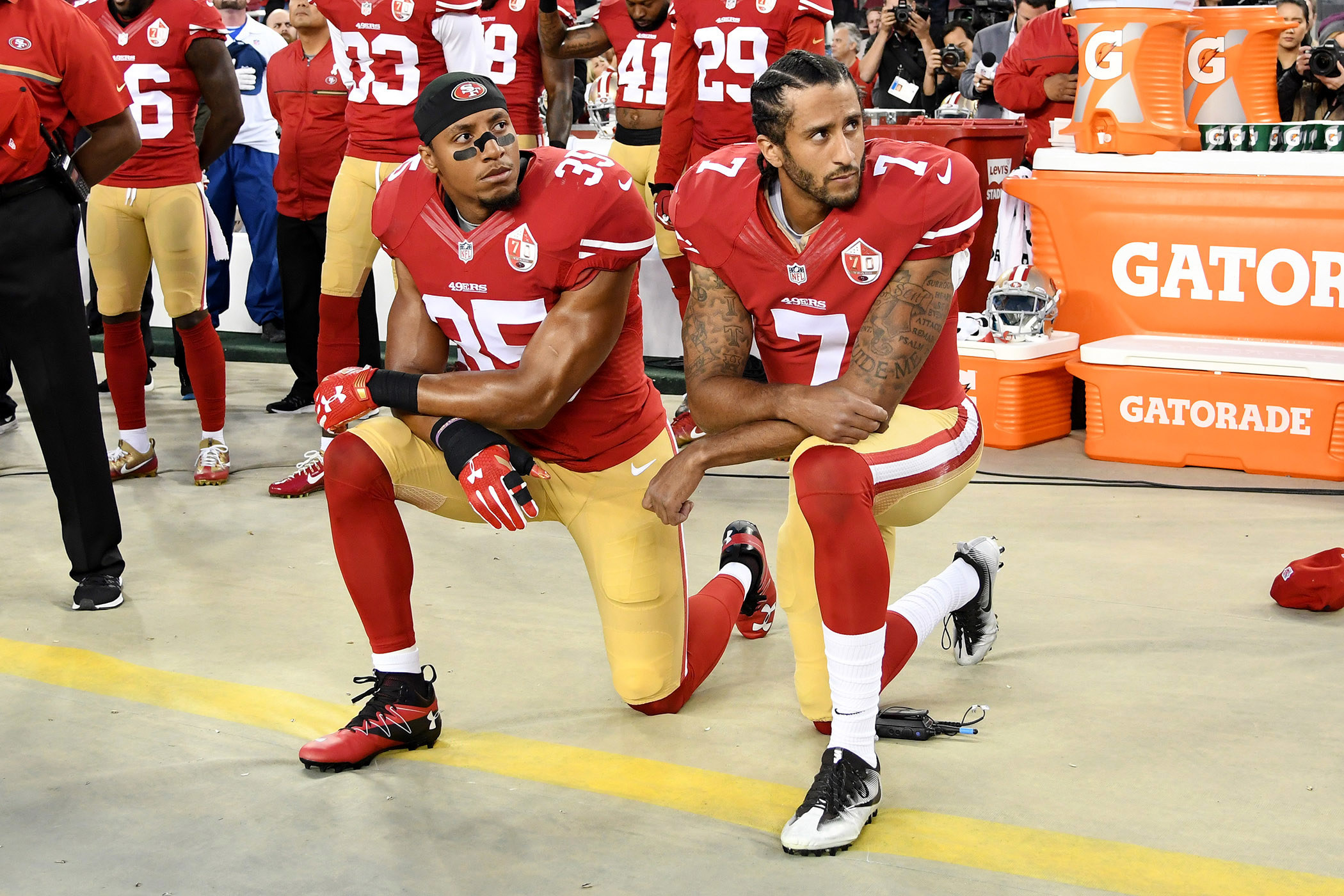 The San Francisco 49ers' Eric Reid (left) and Colin Kaepernick kneel in protest during the national anthem prior to playing the Los Angeles Rams in Santa Clara, California, Sept. 12, 2016.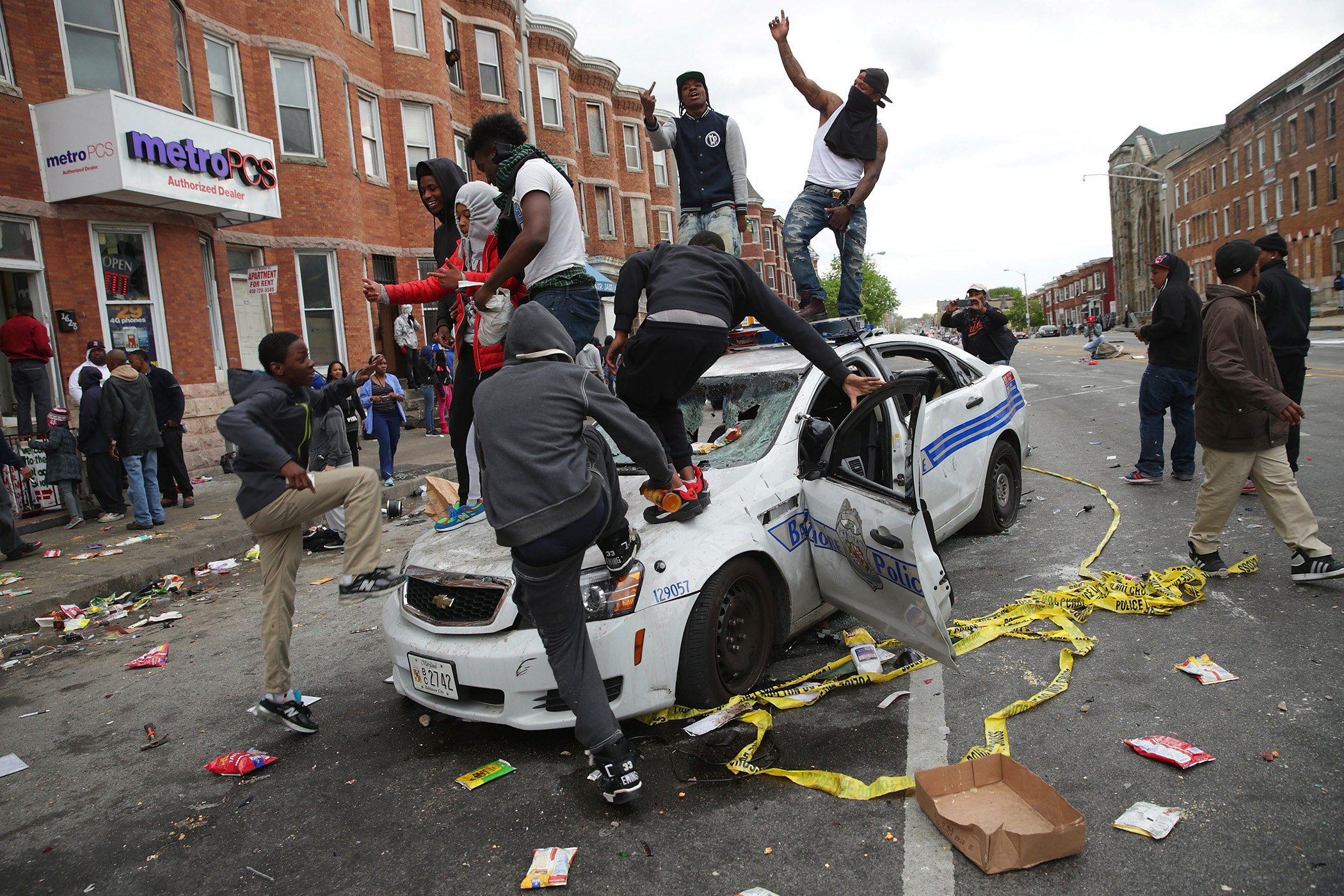 Demonstrators climb on a destroyed police car during violent protests following Freddie Gray's funeral in Baltimore, April 27, 2015. Gray, 25, was arrested for possessing a switchblade on April 12 outside the Gilmor Homes housing project. According to his attorney, Gray died a week later in the hospital from a severe spinal cord injury he received while in police custody.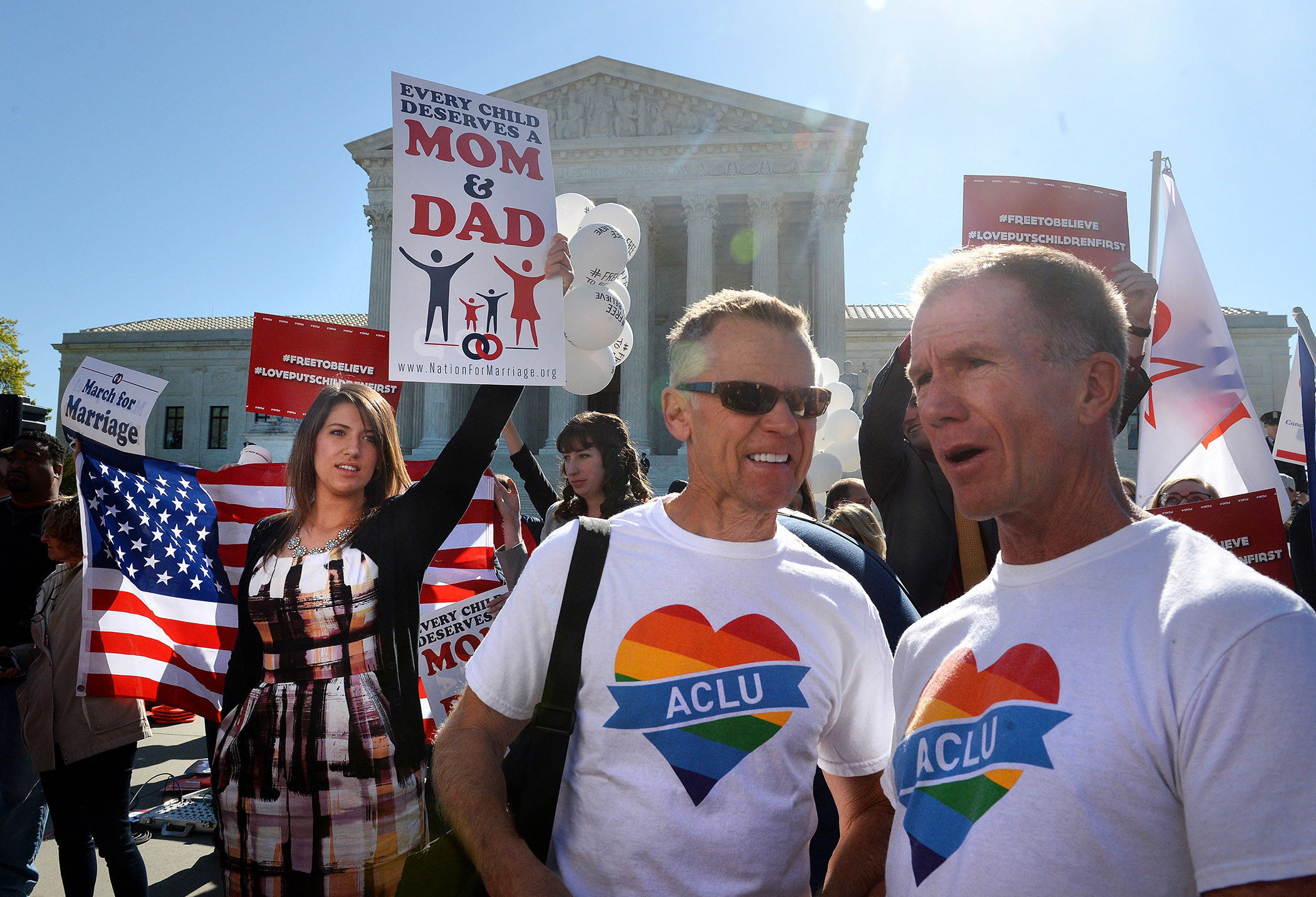 Both LGBTQ and anti-gay activists protest outside the US Supreme Court, April 28, 2015.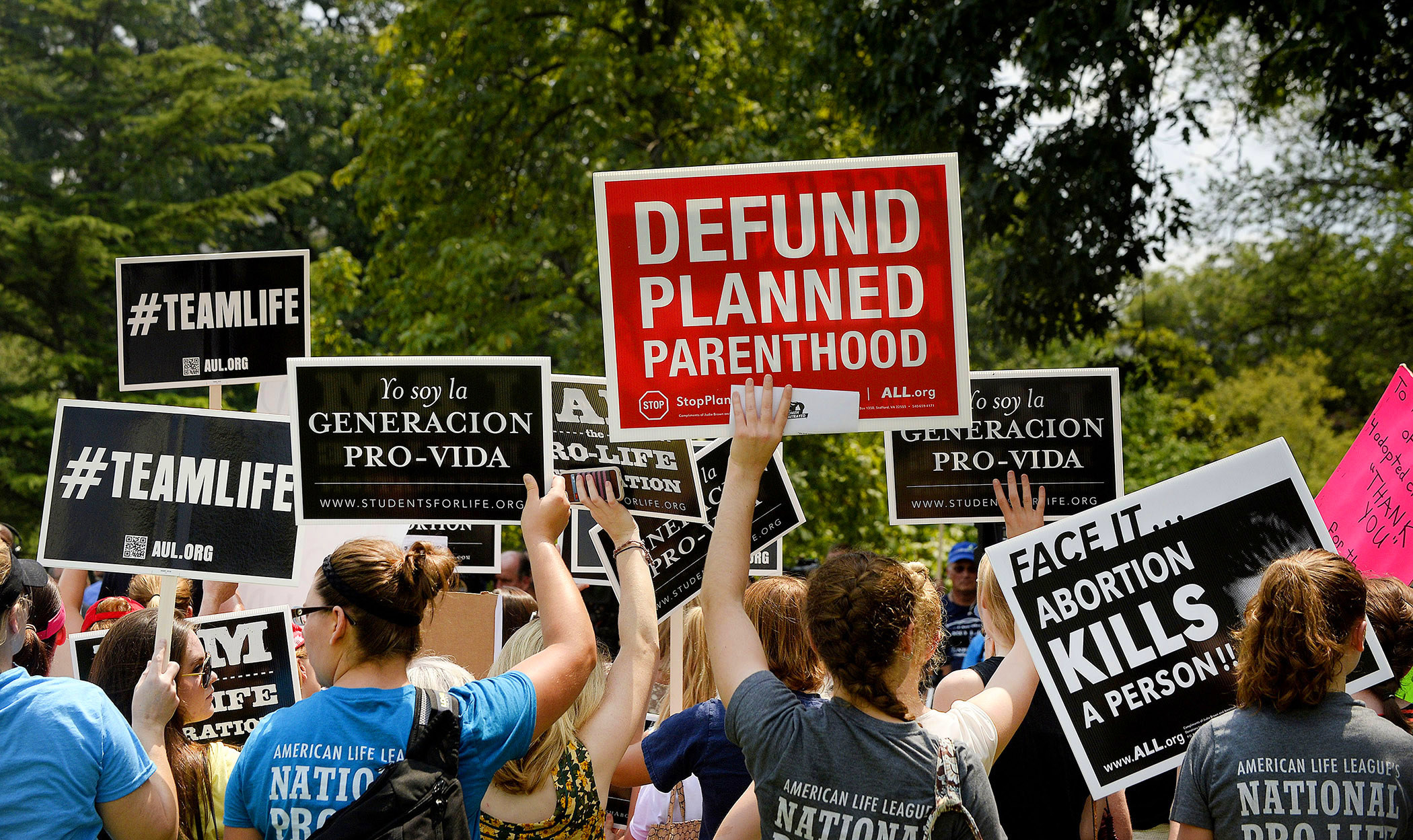 Anti-abortion activists hold a rally opposing federal funding for Planned Parenthood in front of the US Capitol, July 28, 2015.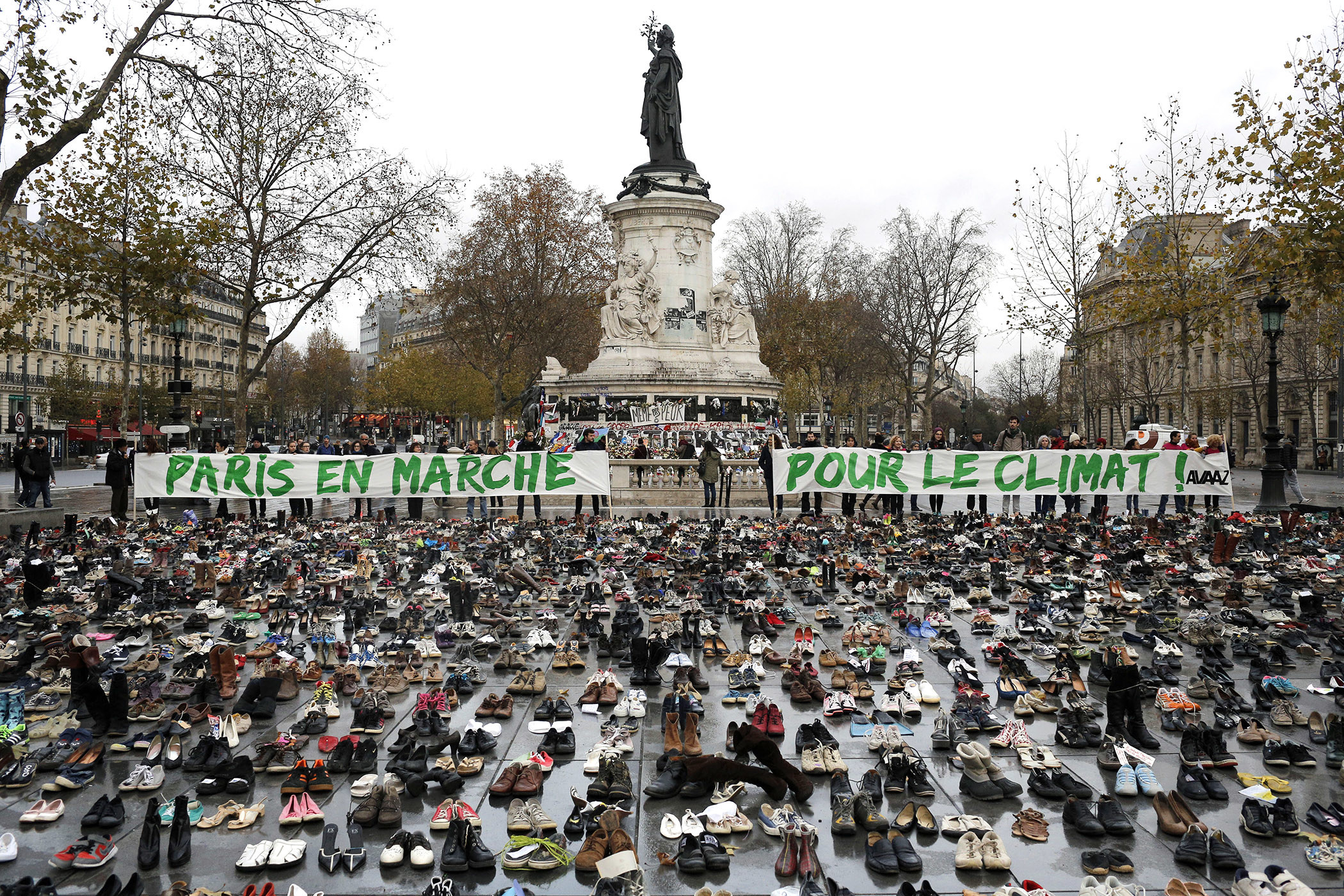 Hundreds of pairs of shoes are displayed at the Place de la République in Paris as part of a symbolic and peaceful rally called "Paris sets off for climate," Nov. 29, 2015.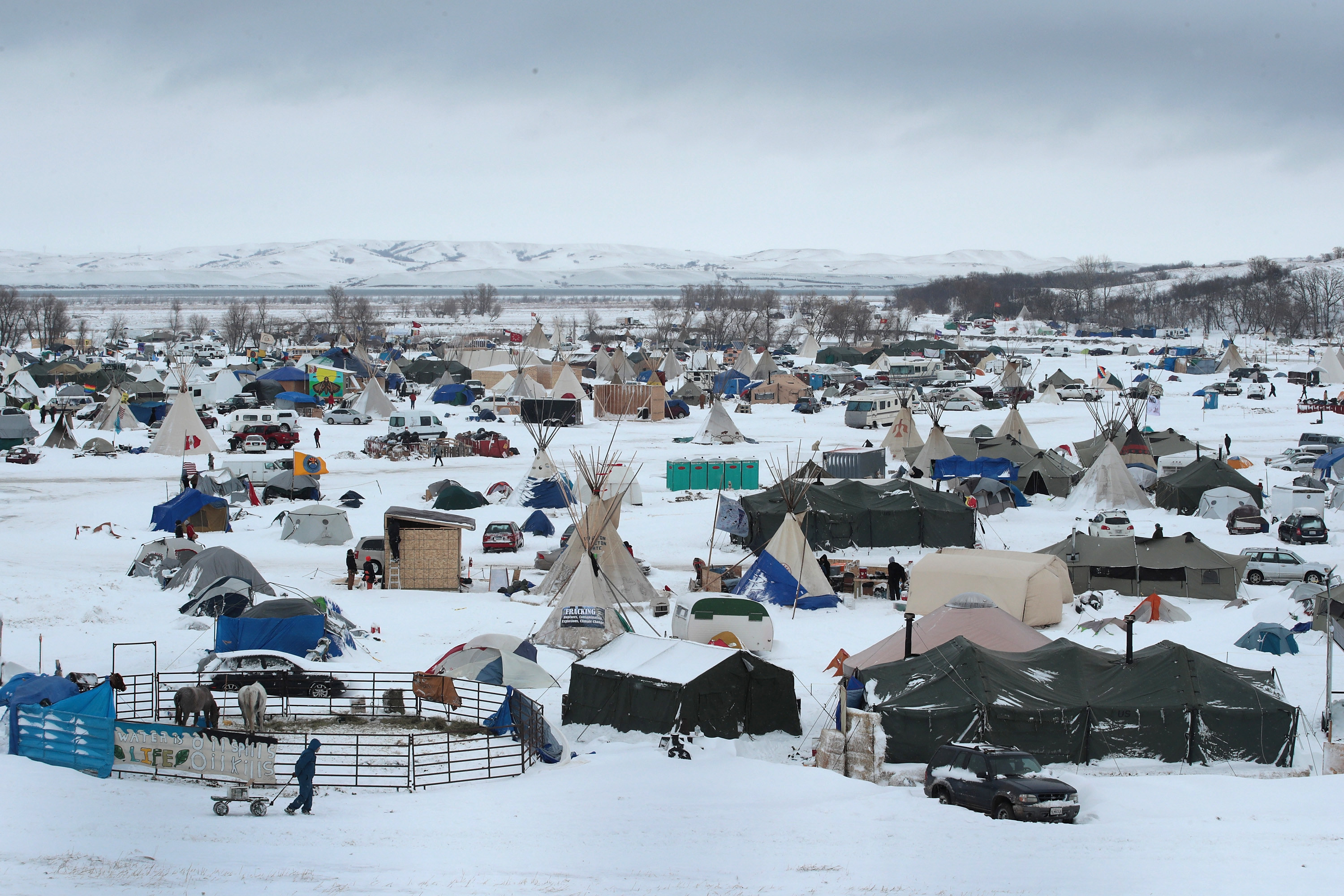 Snow covers the Oceti Sakowin Camp near the Standing Rock Sioux Reservation outside Cannon Ball, North Dakota, Nov. 30, 2016. Native Americans and activists from around the country gathered at the camp for several months to try to halt the construction of the Dakota Access Pipeline.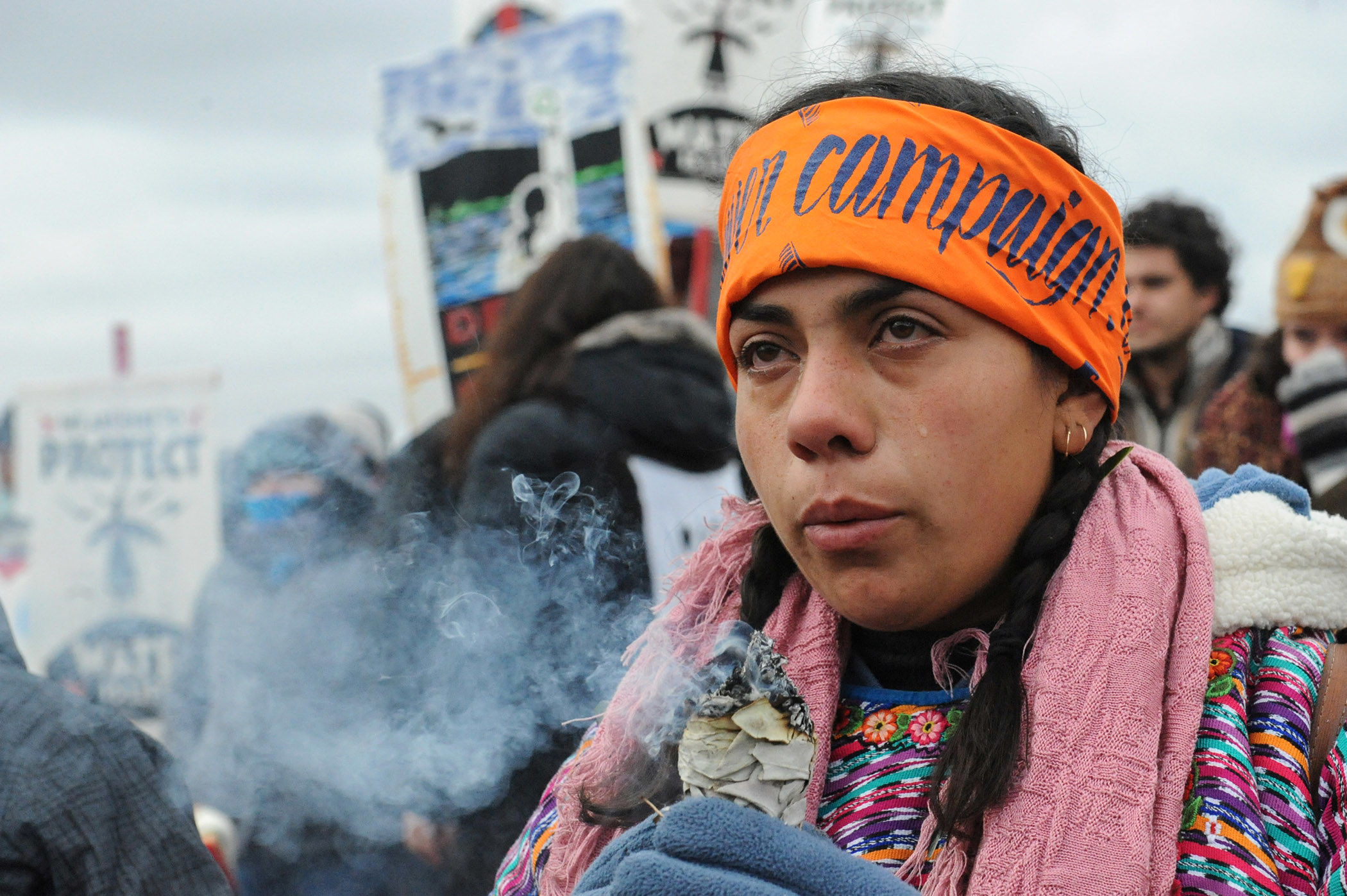 A protester cries while watching a demonstration on Thanksgiving Day during a protest against the Dakota Access Pipeline near the Standing Rock Sioux Reservation, Nov. 24, 2016.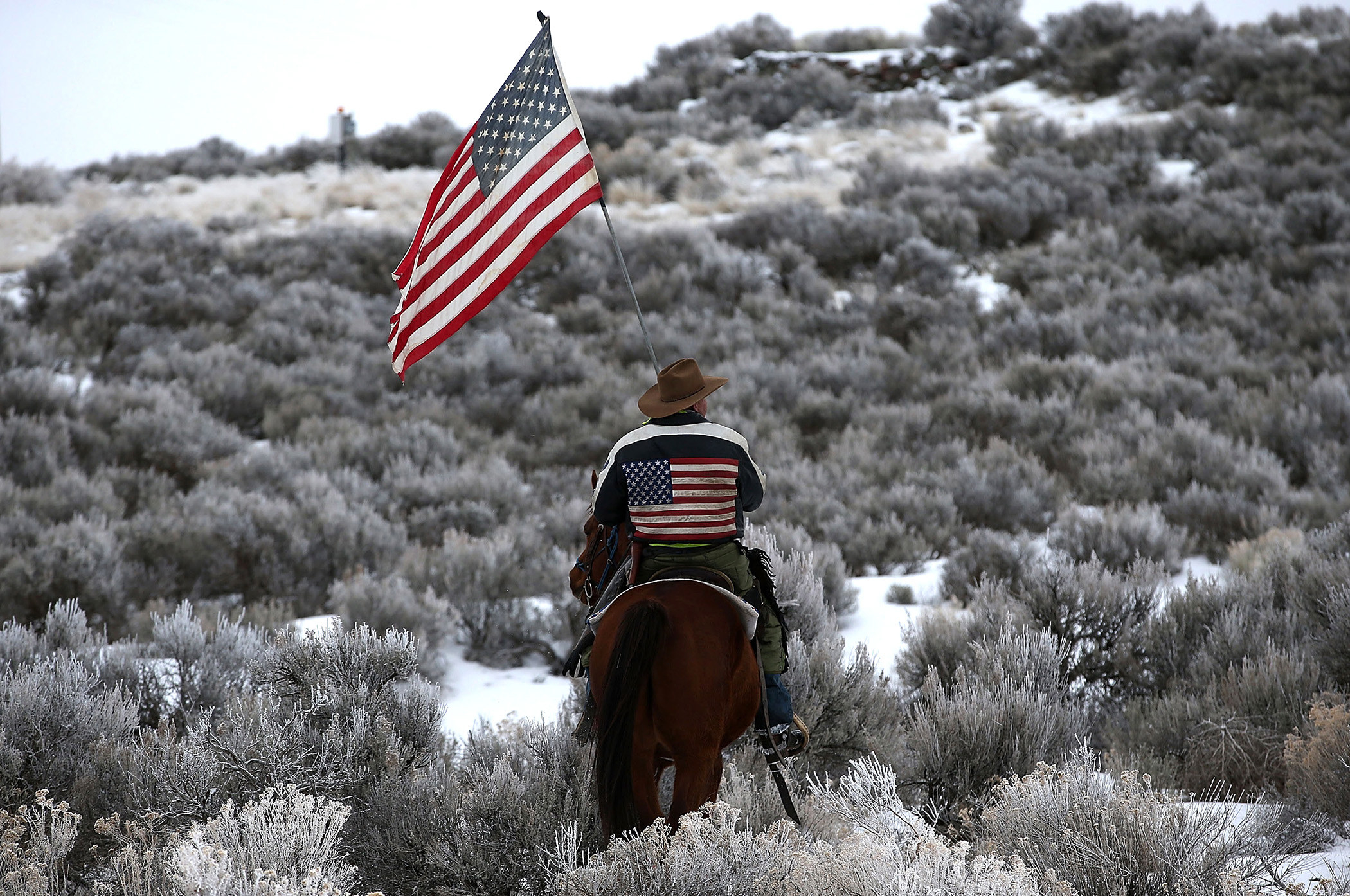 Duane Ehmer carries a US flag as he rides his horse on the Malheur National Wildlife Refuge near Burns, Oregon, Jan. 7, 2016. An armed anti-government militia group occupied the Malheur National Wildlife Refuge Headquarters to protest the jailing of two ranchers for arson.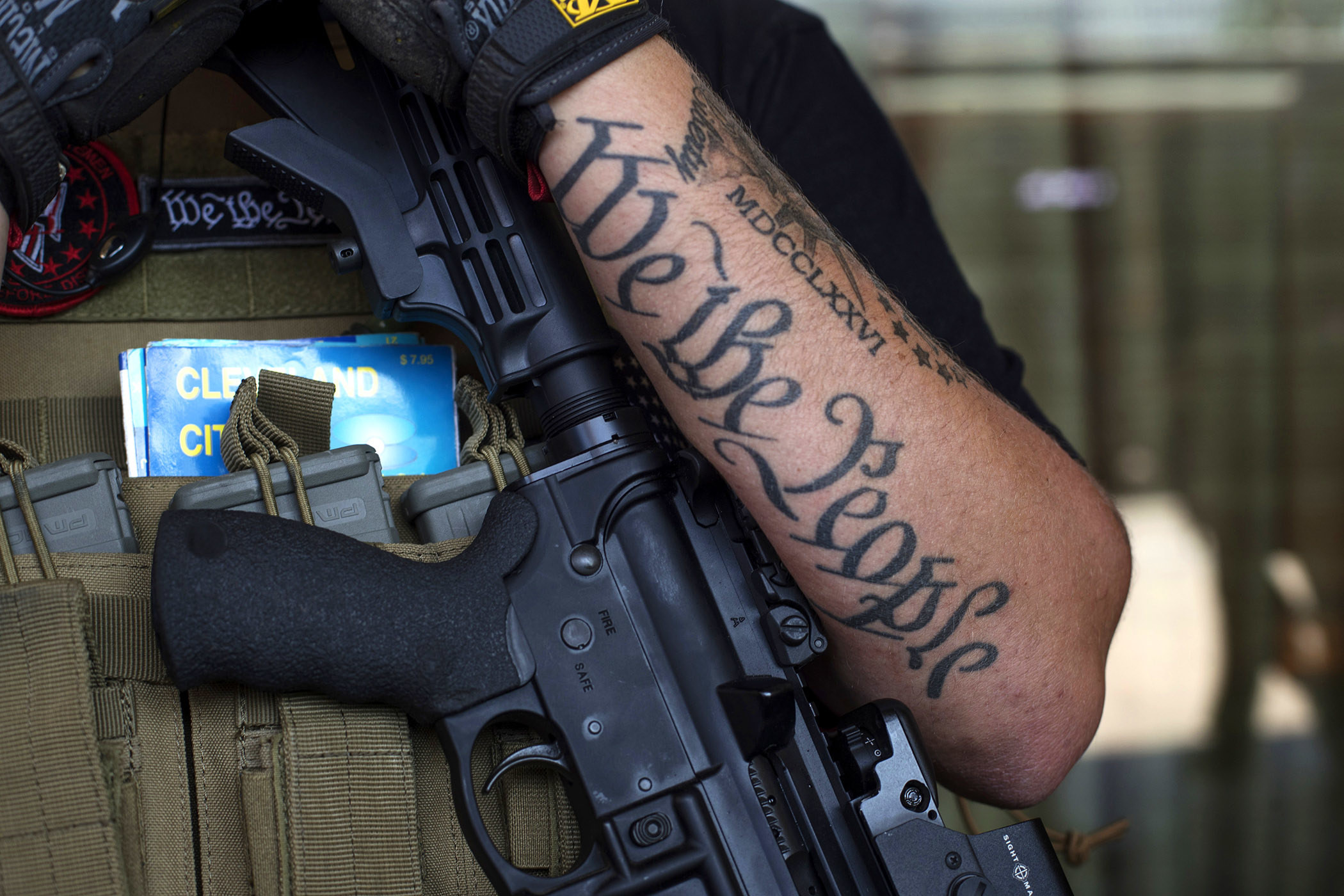 An open carry advocate holds a gun while demonstrating during the Republican National Convention in Cleveland, Ohio, July 19, 2016.
A demonstrator protesting the shooting death of Alton Sterling is detained by law enforcement near the Baton Rouge Police Department headquarters in Louisiana, July 9, 2016.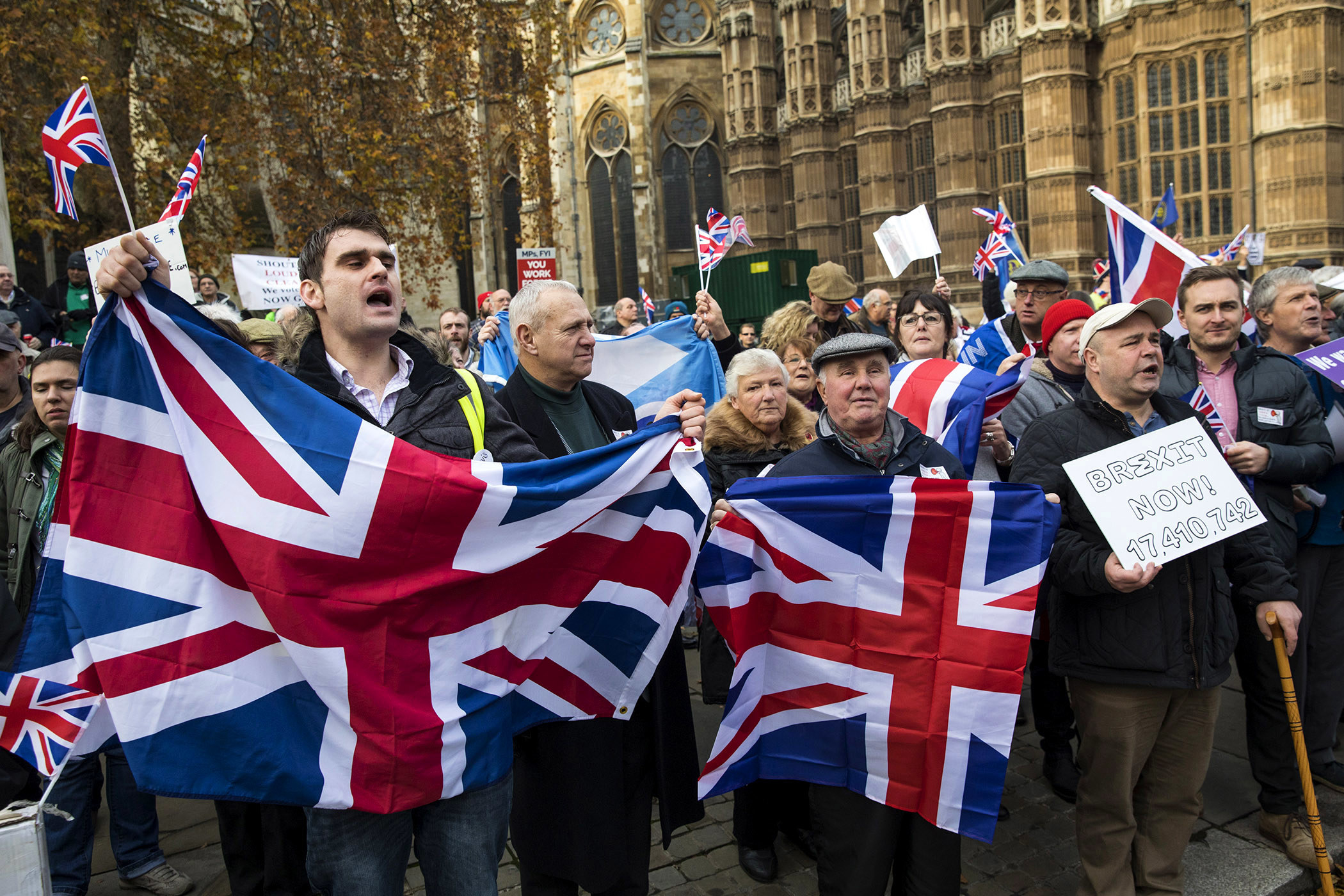 Pro-Brexit demonstrators hold Union Flags as they protest outside the Houses of Parliament in London, Nov. 23, 2016. British Prime Minister Theresa May said she would not delay triggering Article 50, the formal process of leaving the European Union, but wanted to avoid a "cliff edge."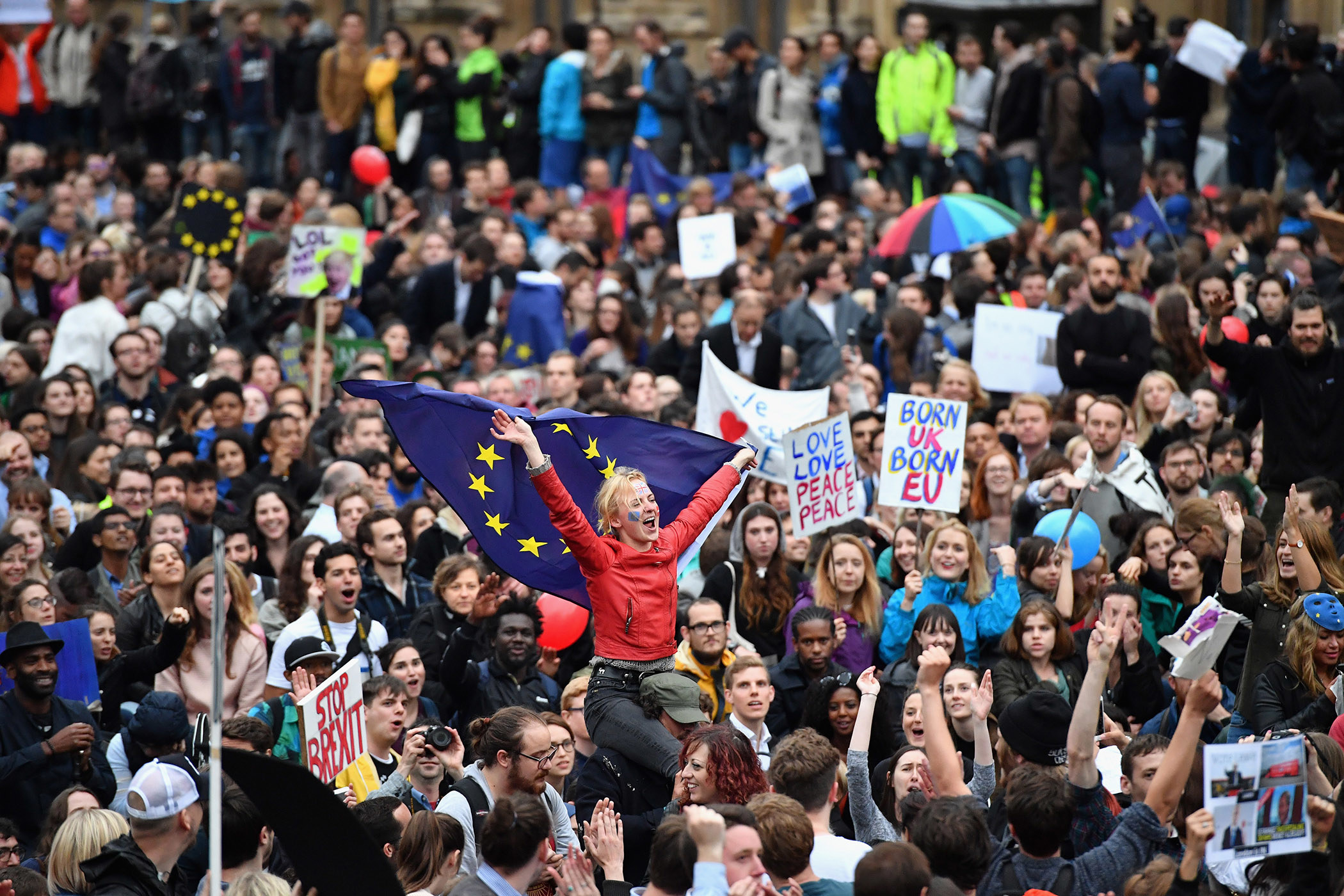 Anti-Brexit protesters demonstrate against the EU referendum result outside the Houses of Parliament in London, June 28, 2016.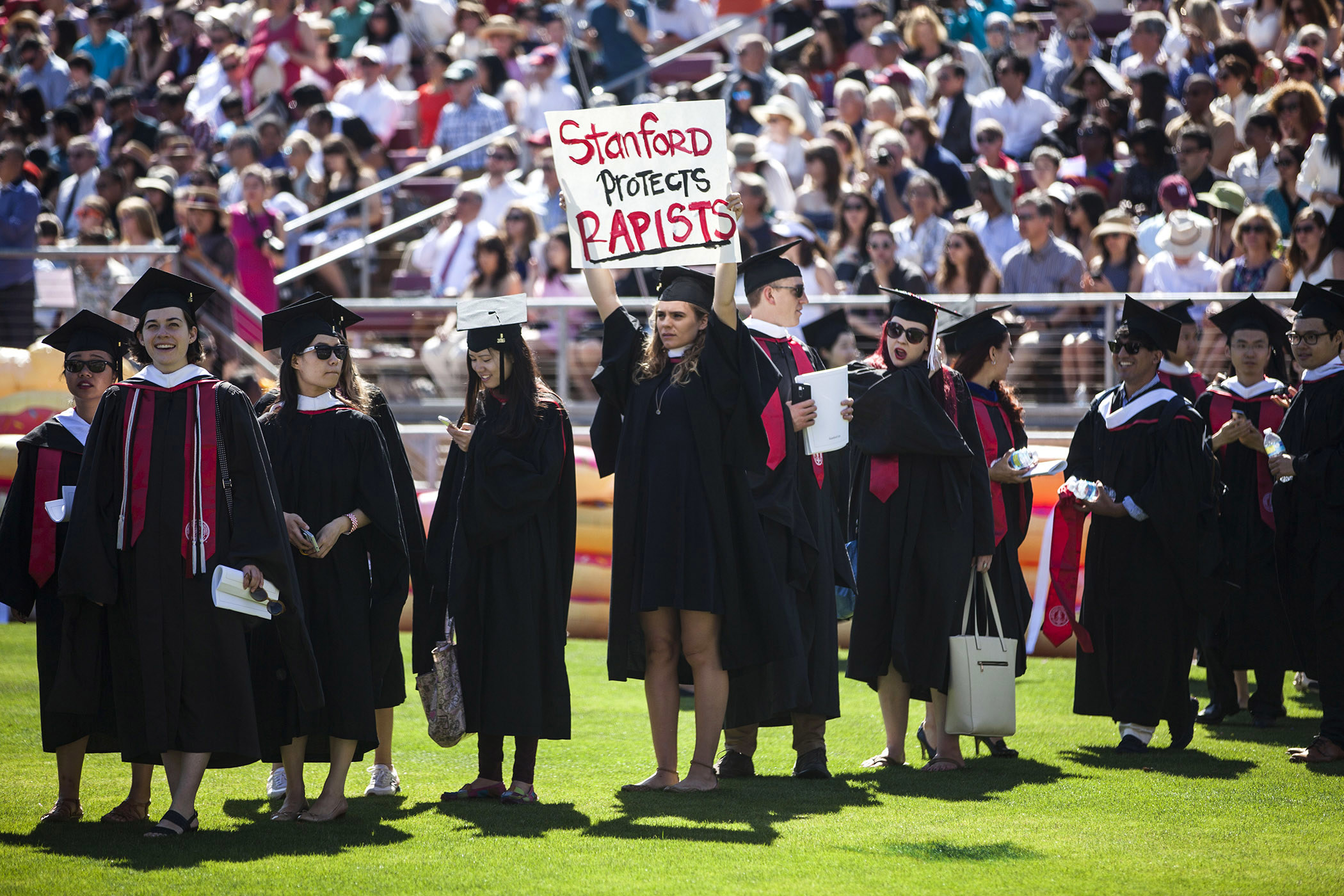 Graduating student Andrea Lorei holds a sign in protest during the 125th Stanford University commencement ceremony on June 12, 2016, in Stanford, California. The ceremony was held amid controversy about an on-campus rape case and its sentencing.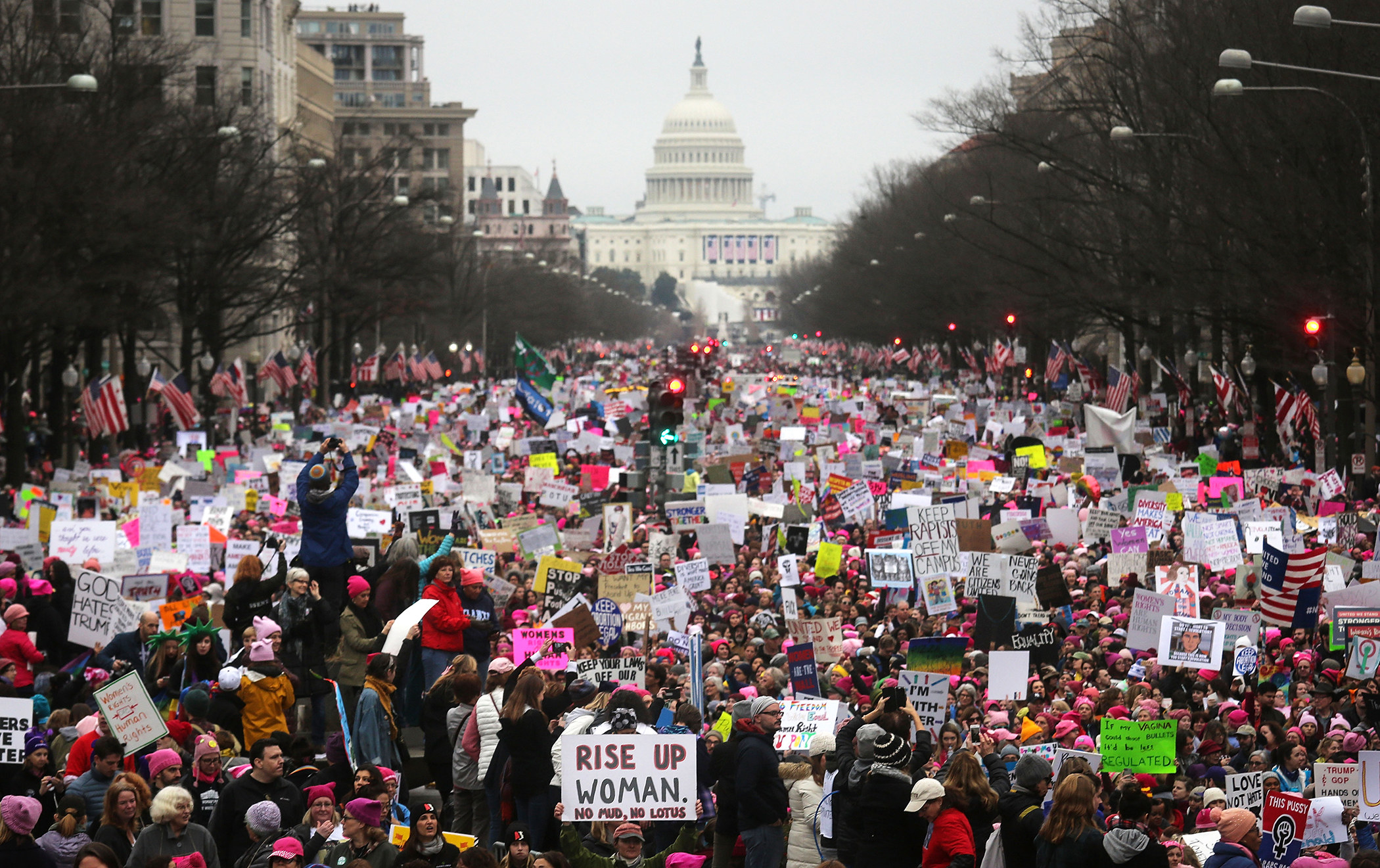 Protesters walk during the Women's March on Washington, DC, Jan. 21, 2017. Large crowds attended the rally a day after President Donald Trump was sworn in as the 45th US president.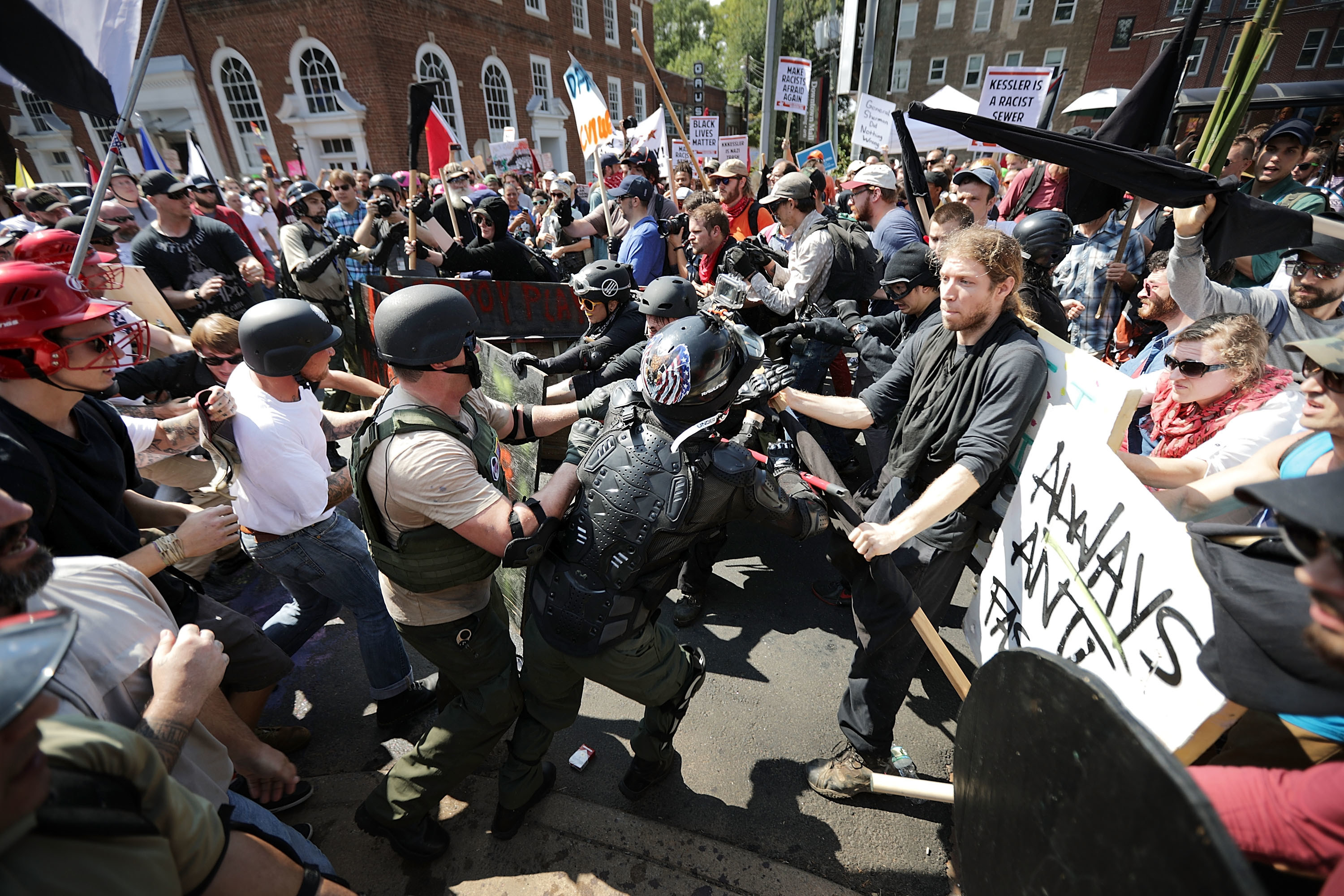 White nationalists, neo-Nazis, and members of the alt-right clash with counter-protesters during the "Unite the Right" rally in Charlottesville, Virginia, Aug. 12, 2017.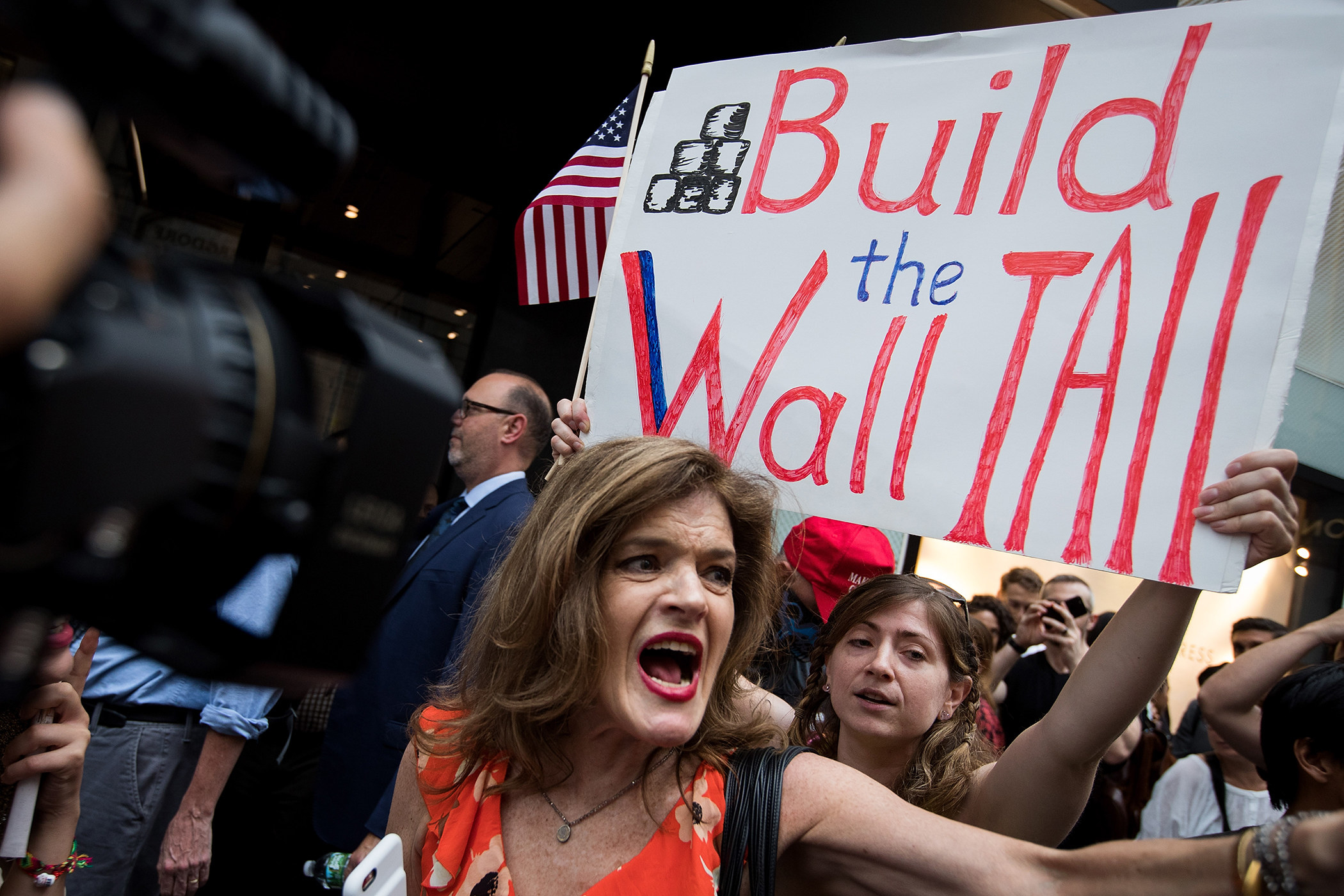 A Trump supporter shouts during an argument with anti-Trump protesters near Trump Tower in New York City, Aug. 14, 2017.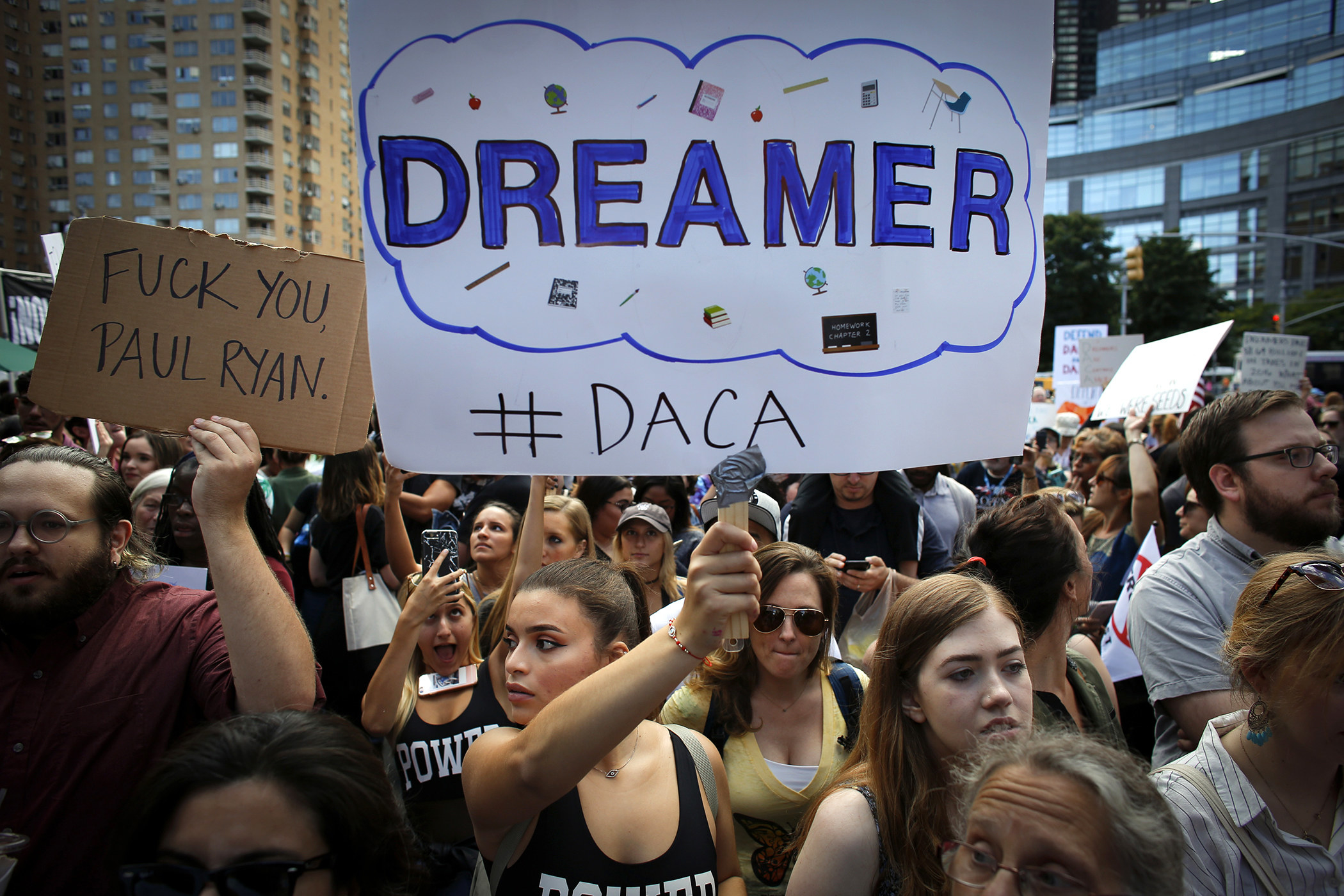 A woman holds a placard as she marches in protest of President Trump's decision on DACA in front of a Trump Hotel in New York City, Sept. 9, 2017.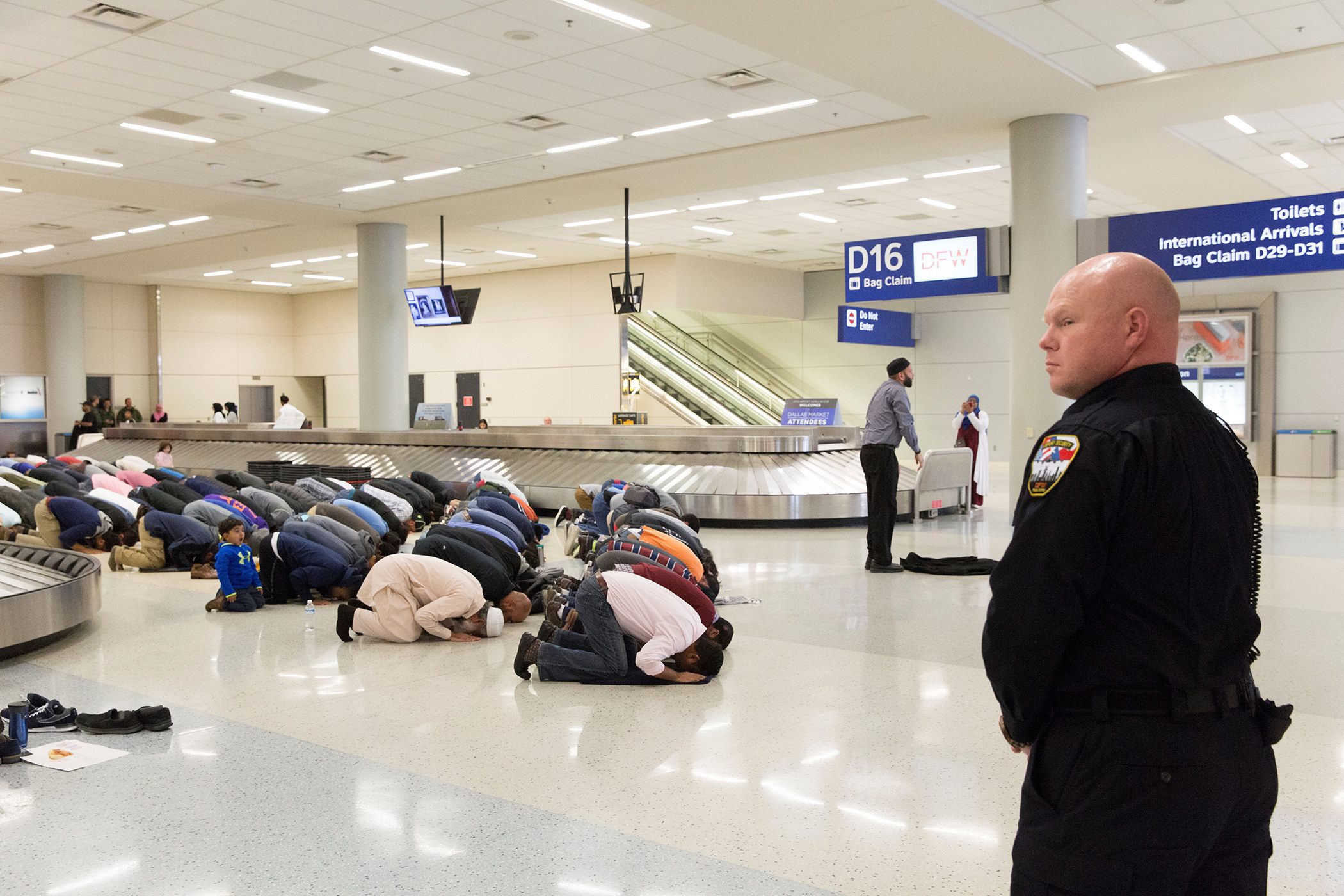 People gather to pray in baggage claim during a protest against the travel ban imposed by Trump's executive order, at the Dallas/Fort Worth International Airport, Jan. 29, 2017.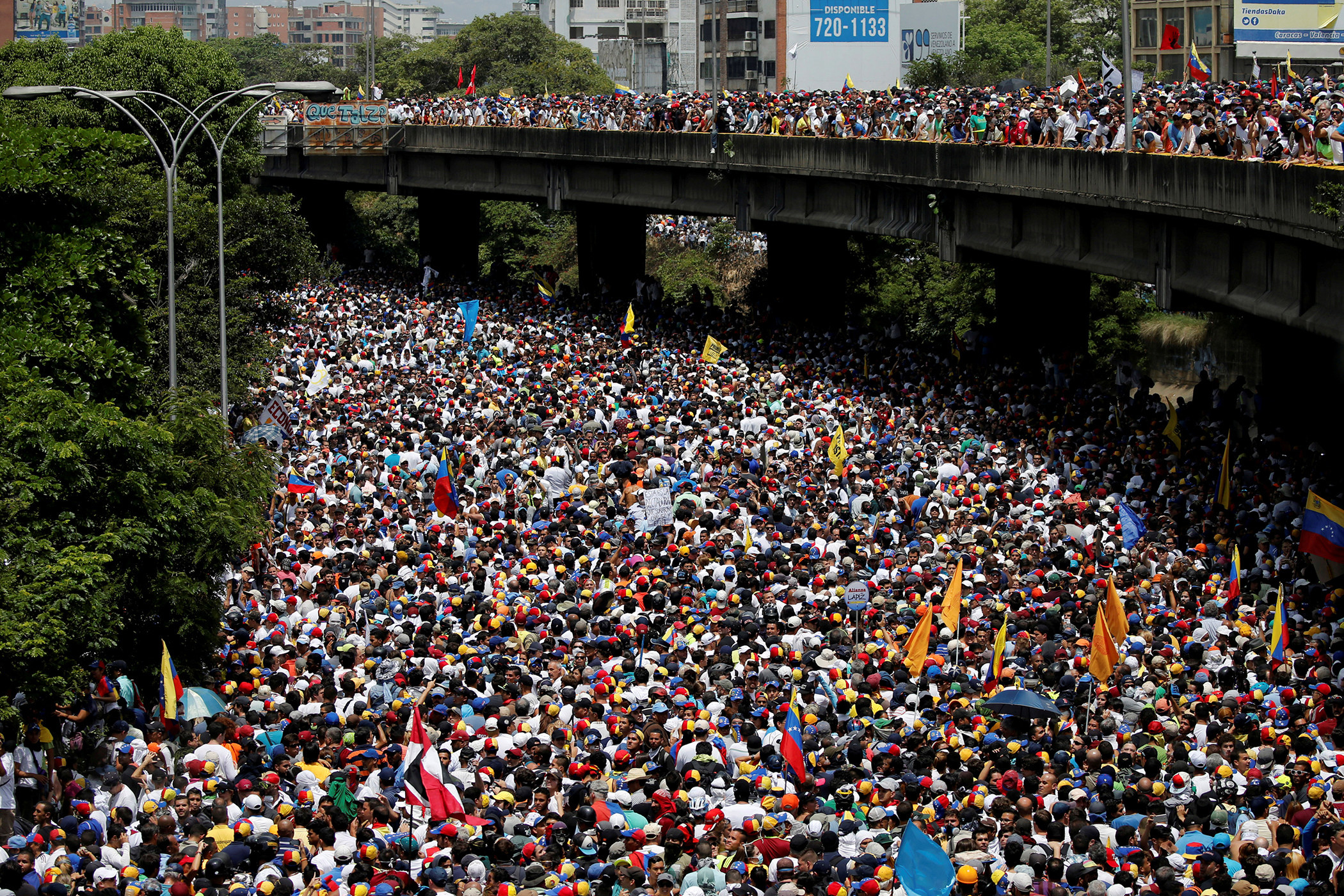 Demonstrators march against Venezuela's President Nicolás Maduro in Caracas, Venezuela, April 19, 2017.
Uber drivers protest against legislation threatening the company's business model in Sao Paulo, Brazil, Oct. 30, 2017.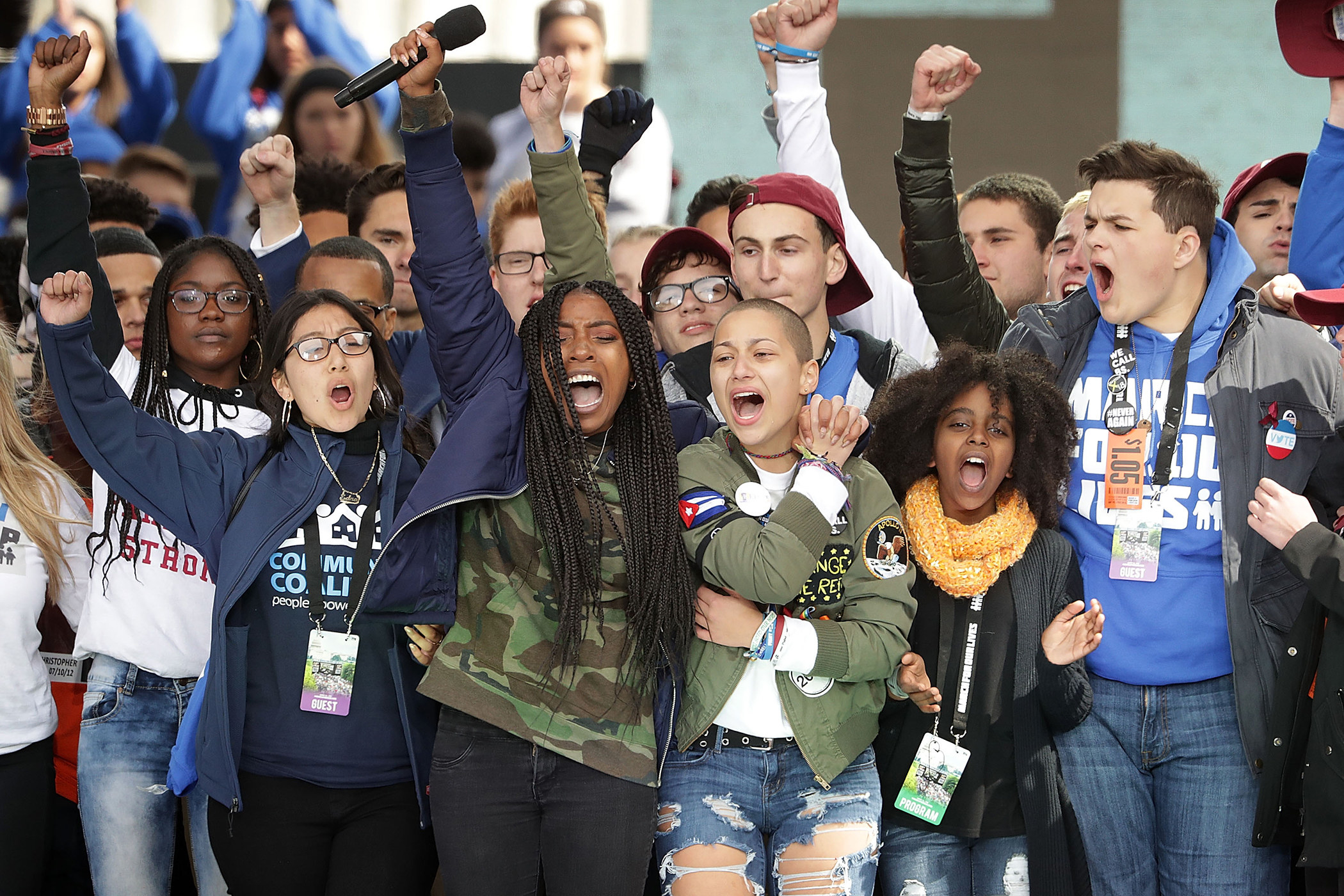 Students from Marjory Stoneman Douglas High School stand together on stage with other young victims of gun violence at the conclusion of the March for Our Lives rally in Washington, DC, March 24, 2018. Hundreds of thousands of demonstrators, including students, teachers, and parents gathered in Washington for the anti-gun violence rally organized by survivors of the Marjory Stoneman Douglas High School shooting on Feb. 14 that left 17 dead.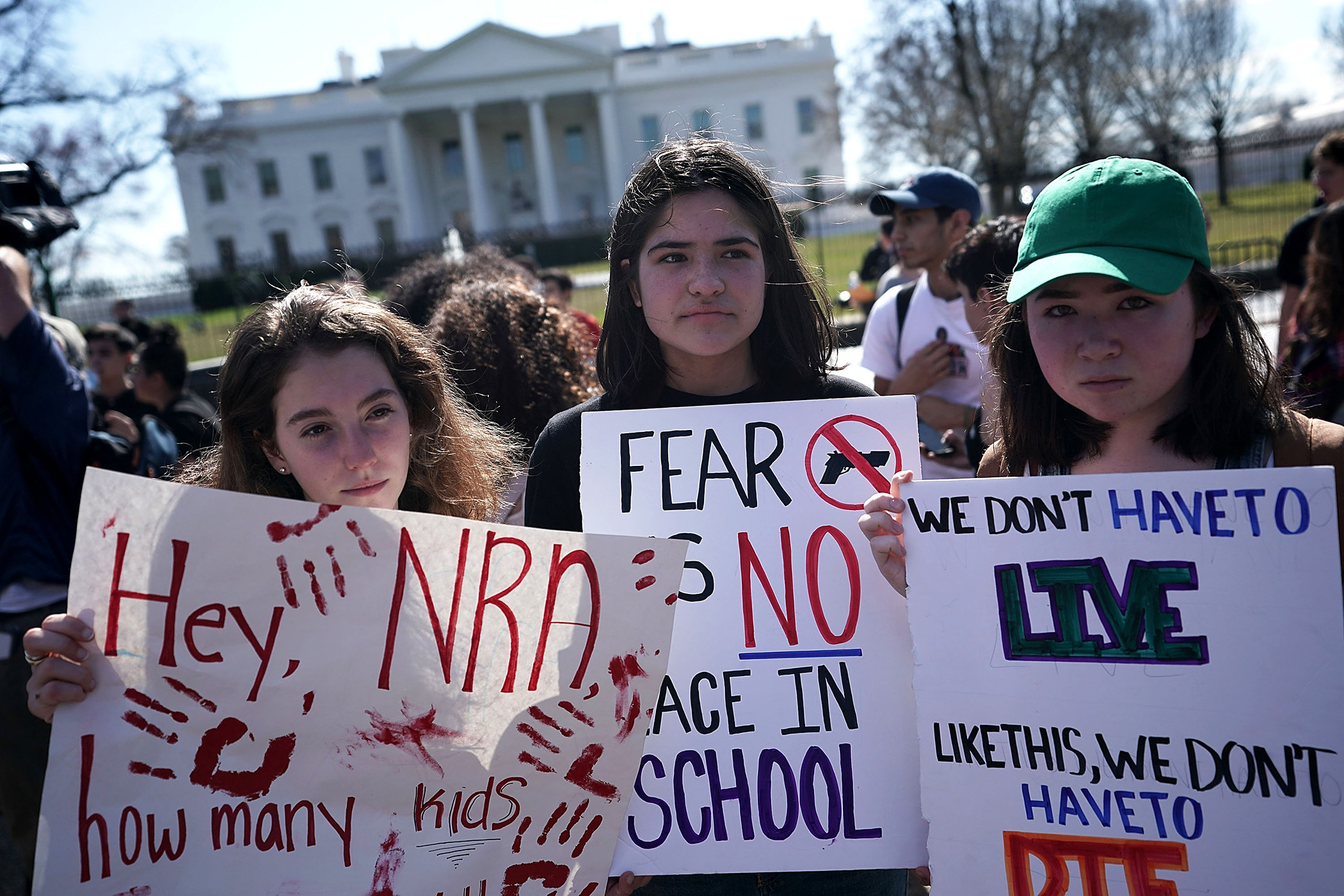 Students participate in a protest against gun violence outside the White House in Washington, DC, Feb. 21, 2018.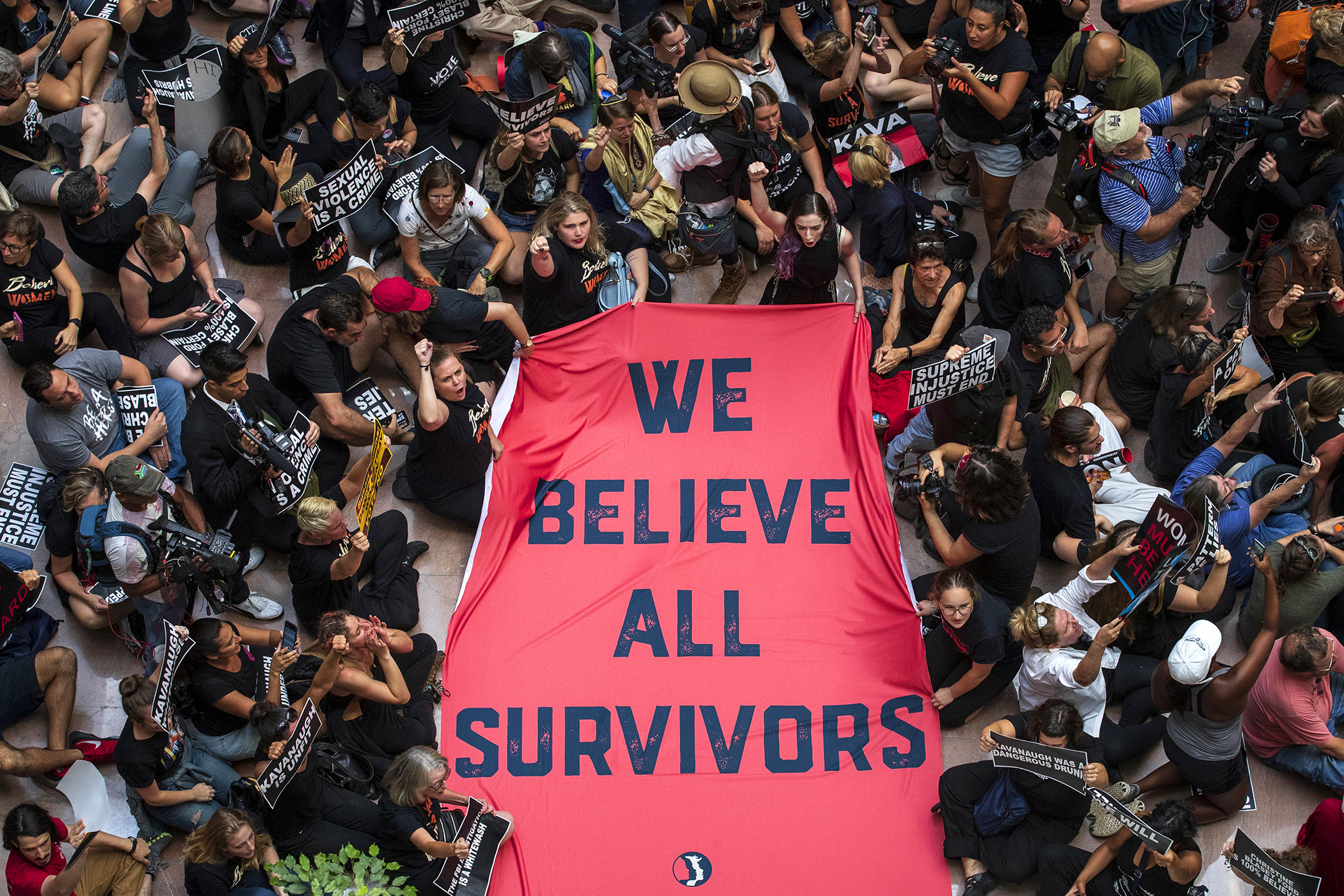 Protesters rally against then-nominee for the Supreme Court Brett Kavanaugh in Washington, DC, Oct. 4, 2018.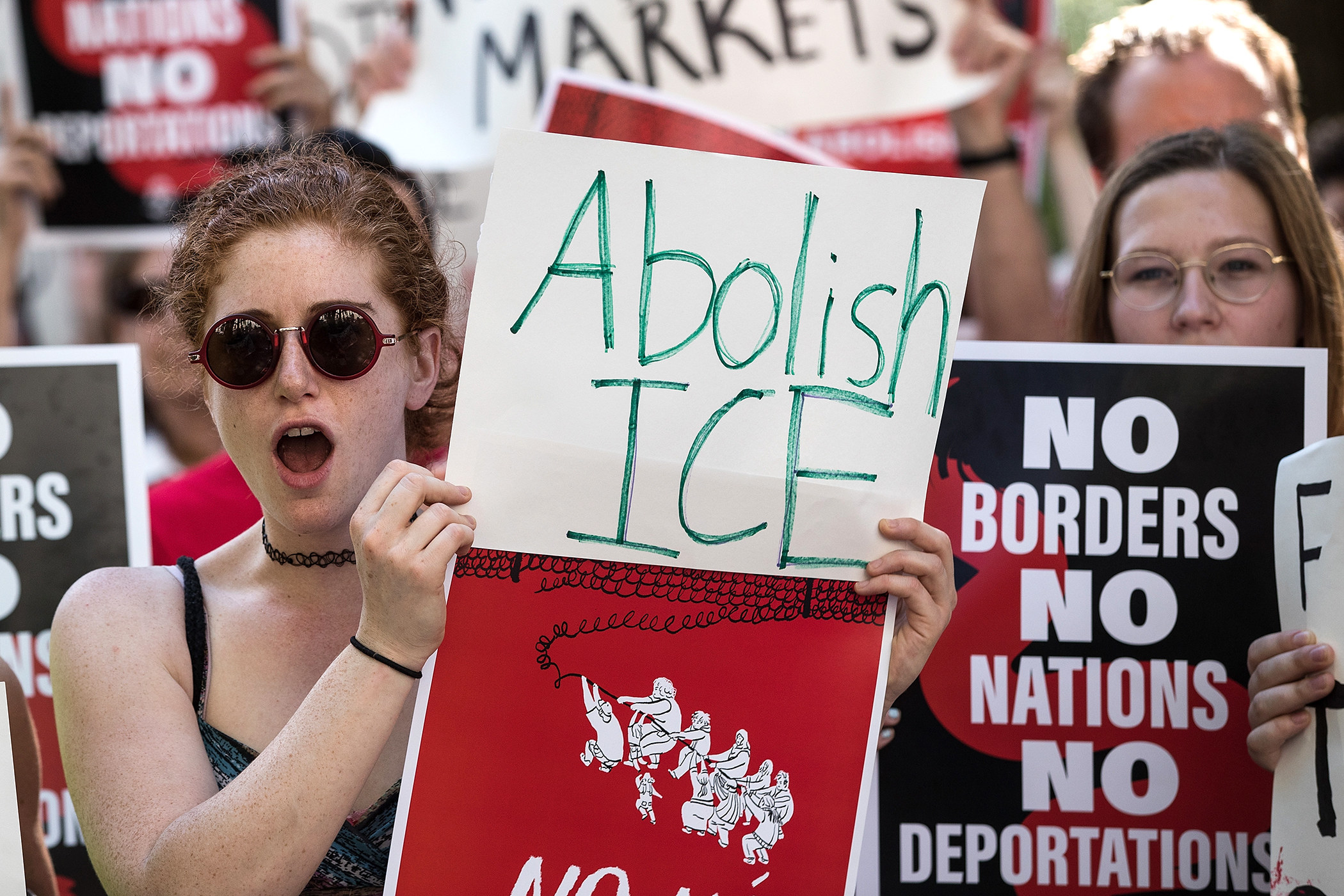 Activists march and rally against Immigration and Customs Enforcement and the Trump administration's immigration policies, near the ICE offices in New York City, June 29, 2018.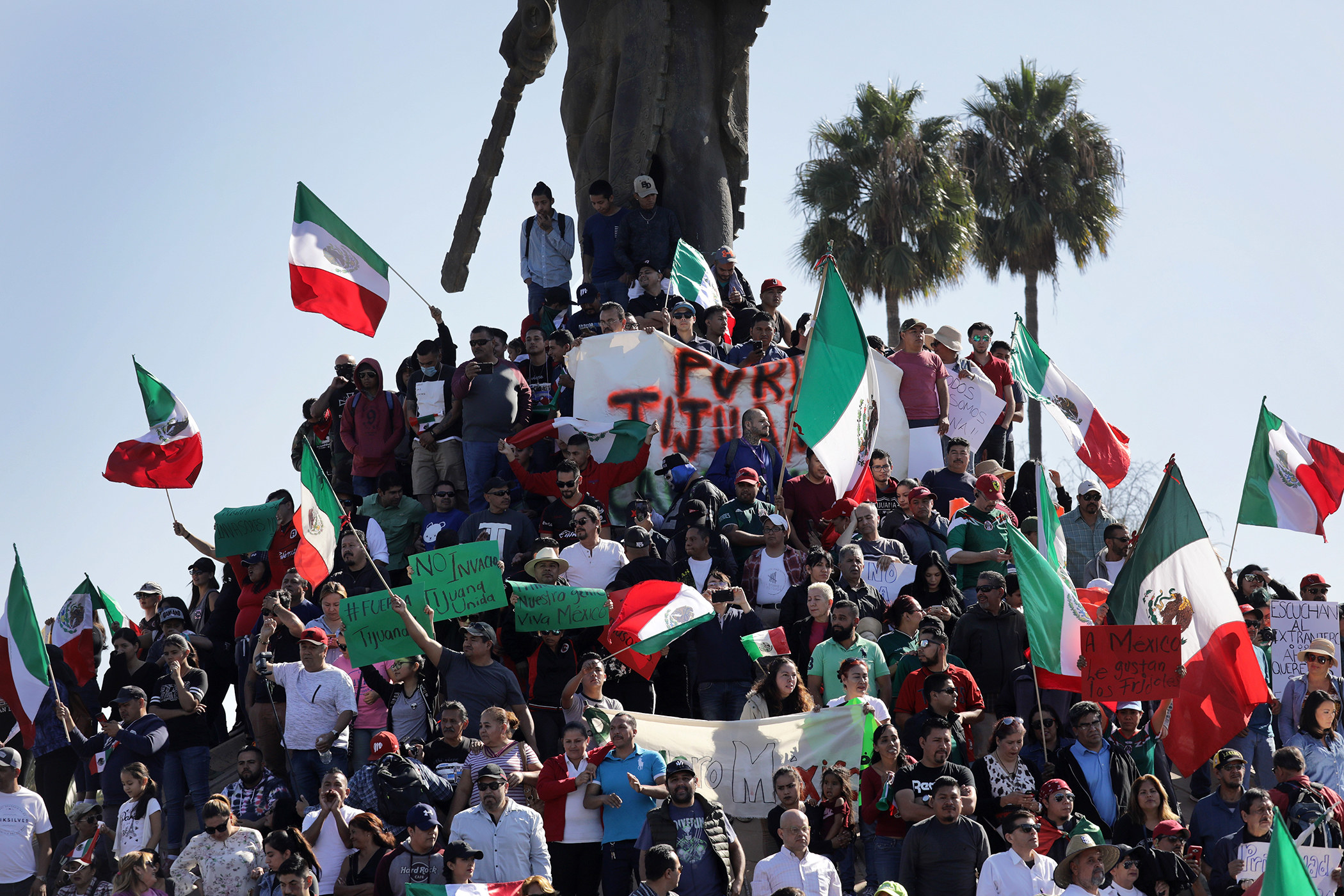 Anti-immigrant protesters take part in a demonstration in Tijuana, Mexico, Nov. 18, 2018.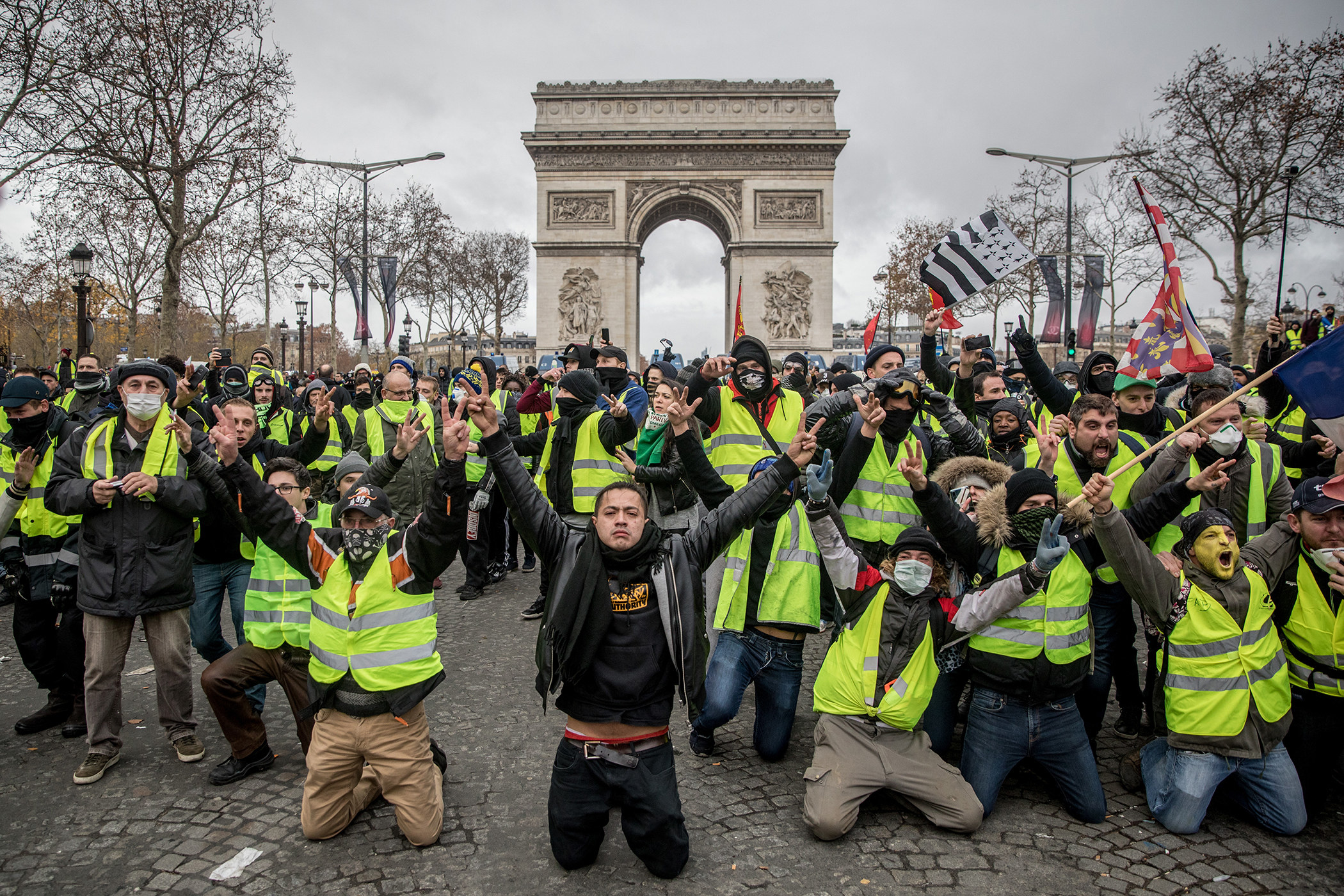 Protesters chant slogans in opposition to a new fuel tax during the "yellow vests" demonstration in Paris, Dec. 8, 2018.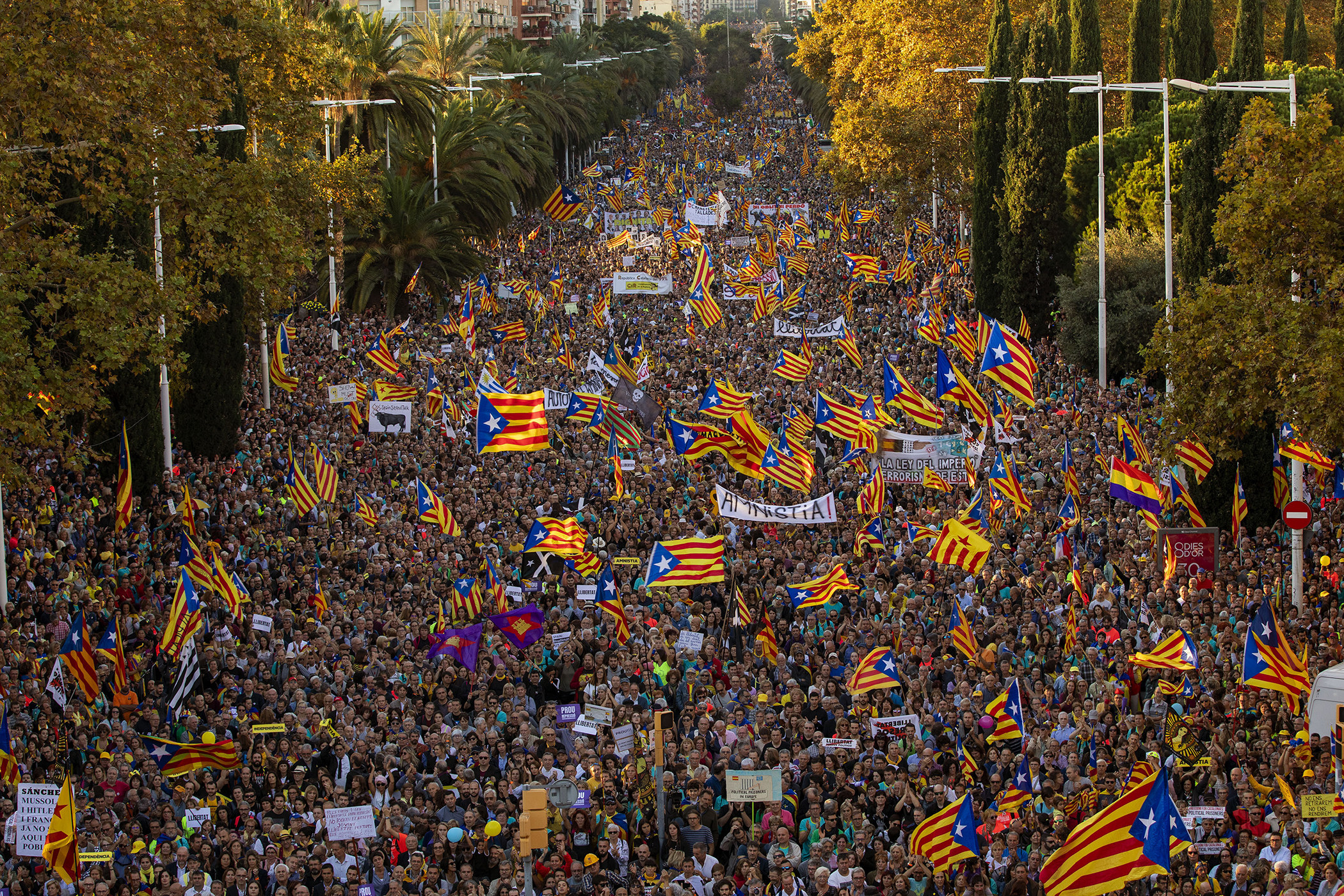 Catalan pro-independence protesters gather during a demonstration in Barcelona, Oct. 26.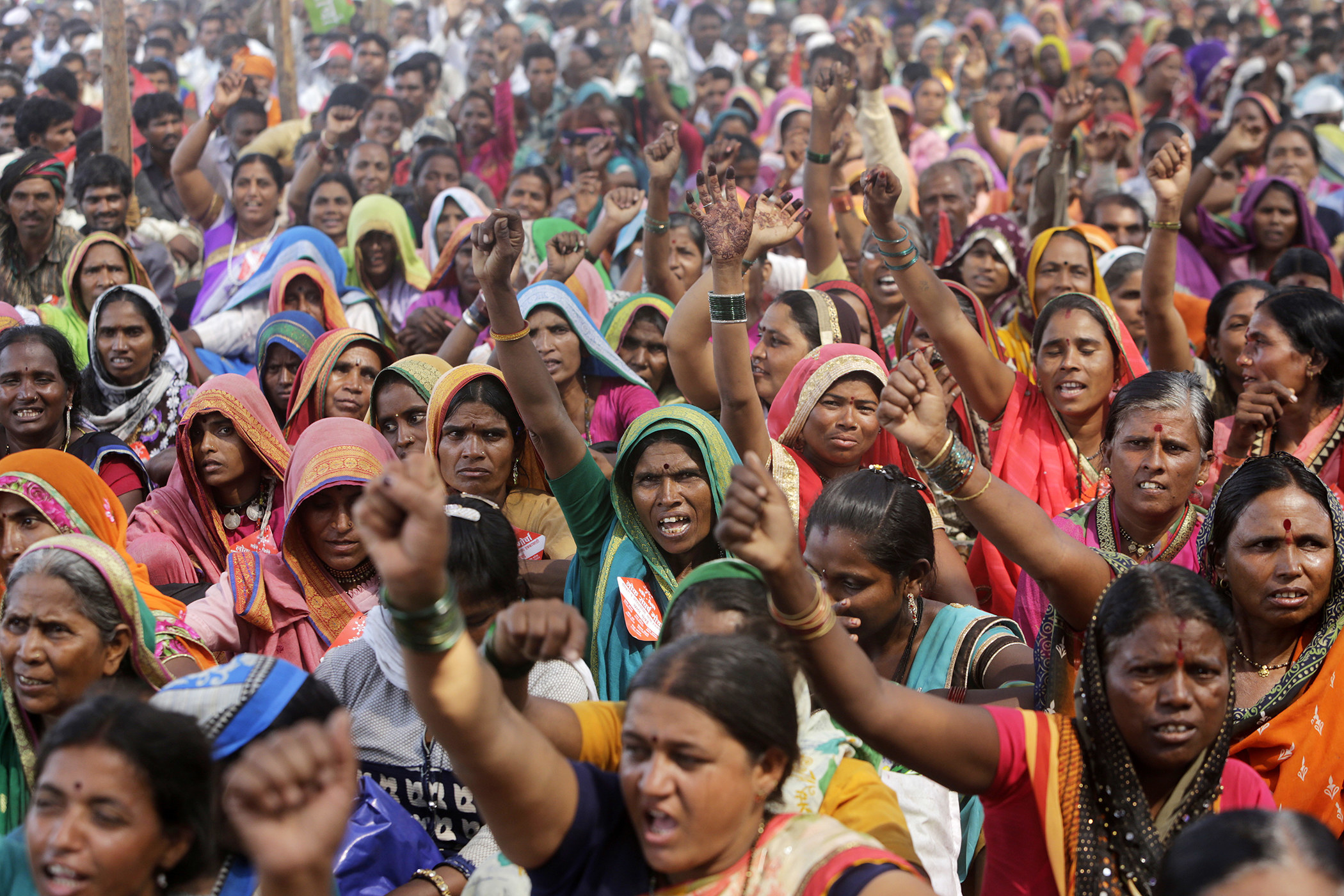 Members of Lok Sangharsh Morcha, an organization of farmers and laborers across Maharashtra state, participate in a protest in Mumbai on Nov. 22, 2018. The farmers made several demands, including for loan waivers, drought compensation, and the transfer of forest rights to the tribal community.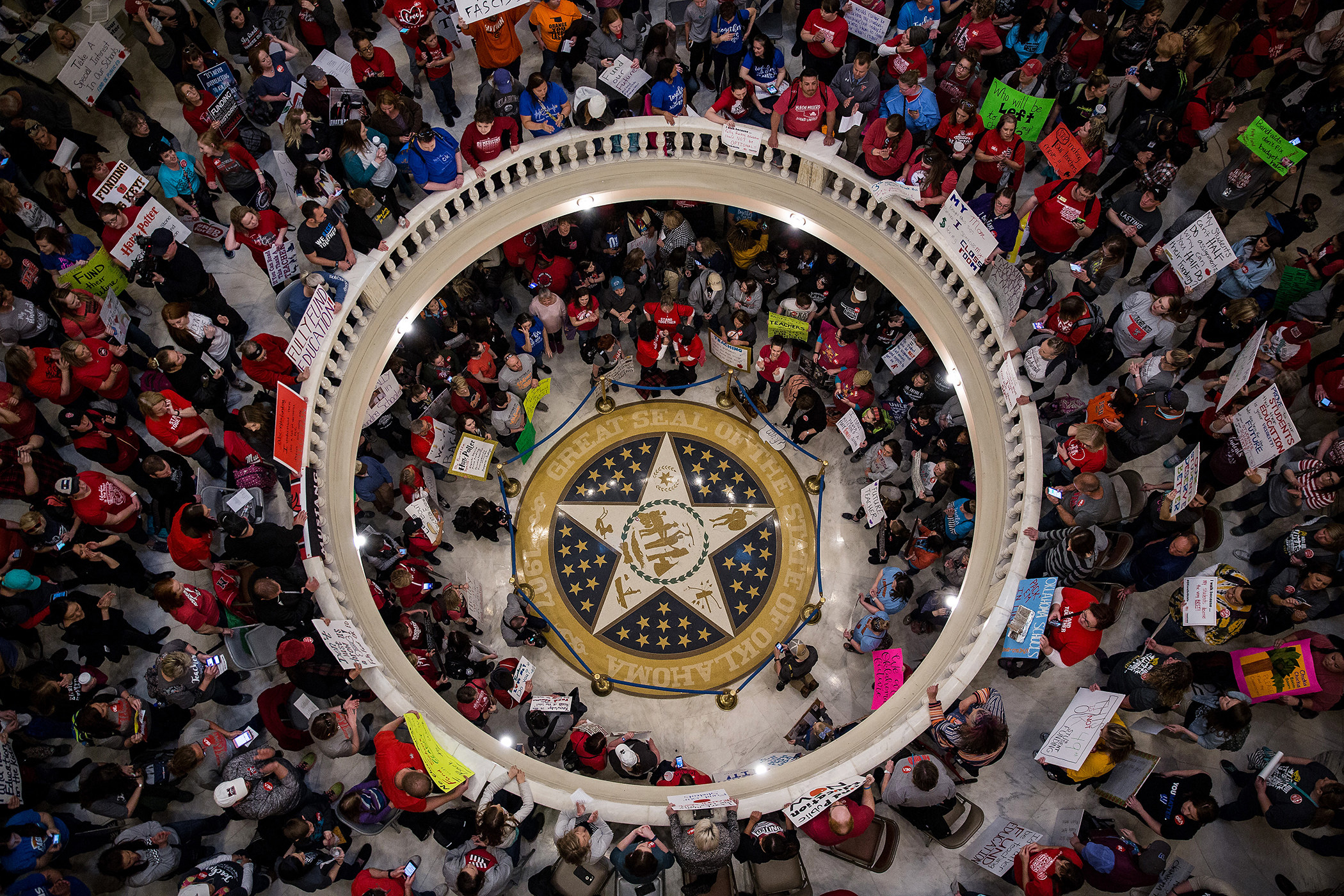 Teachers and demonstrators hold signs during a rally inside the Oklahoma State Capitol building in Oklahoma City, April 3, 2018. Hundreds of teachers crowded into the building to demand additional funding for the state's public schools.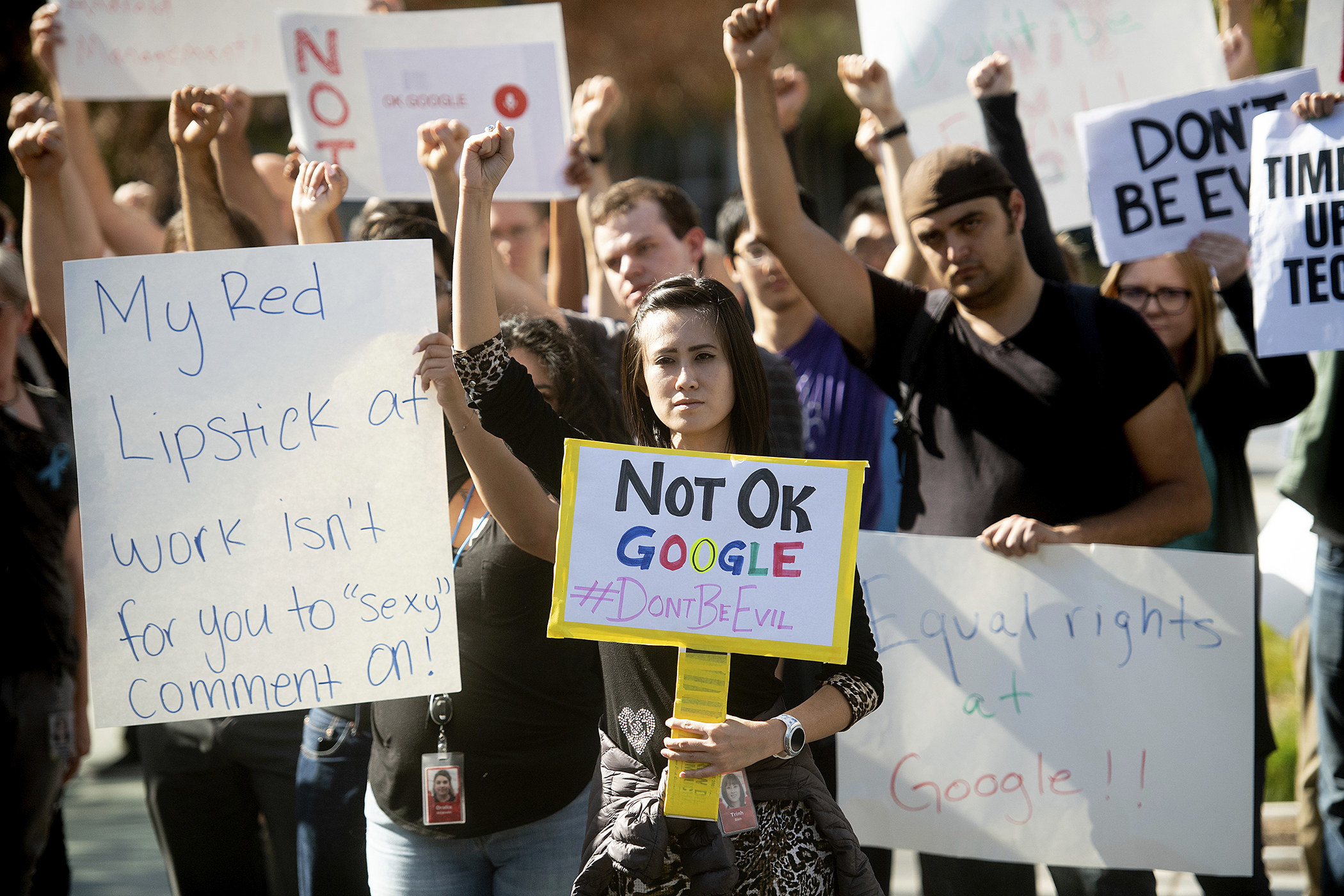 Workers protest against Google's handling of sexual misconduct allegations at the company's Mountain View, California, headquarters, Nov. 1, 2018.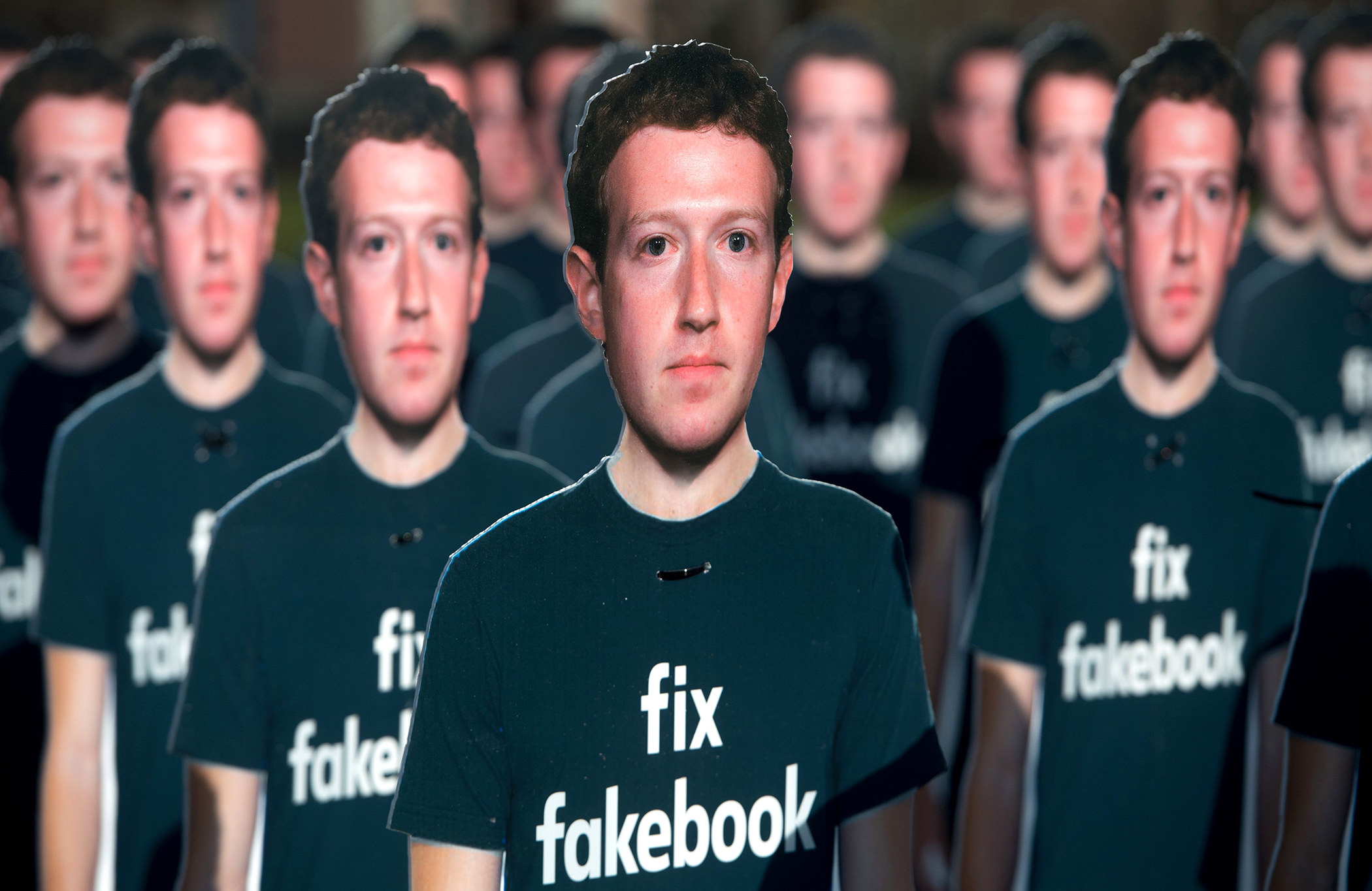 One hundred cardboard cutouts of Facebook founder and CEO Mark Zuckerberg stand outside the US Capitol in Washington, DC, to call attention to the hundreds of millions of fake accounts spreading disinformation on the social media platform, April 10, 2018.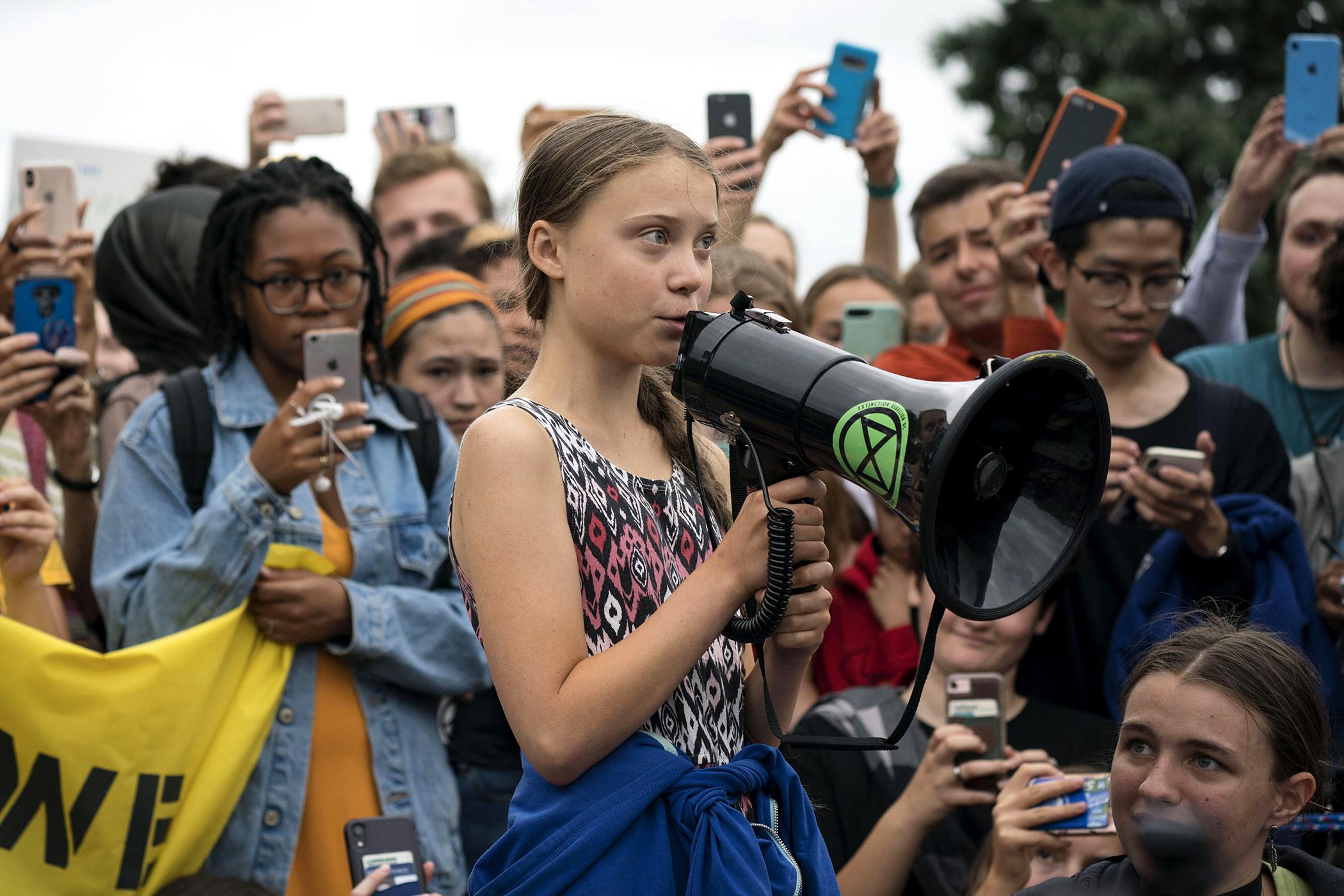 Teenage Swedish climate activist Greta Thunberg delivers brief remarks surrounded by other student environmental advocates during a strike to demand action be taken on climate change outside the White House in Washington, DC, Sept. 13.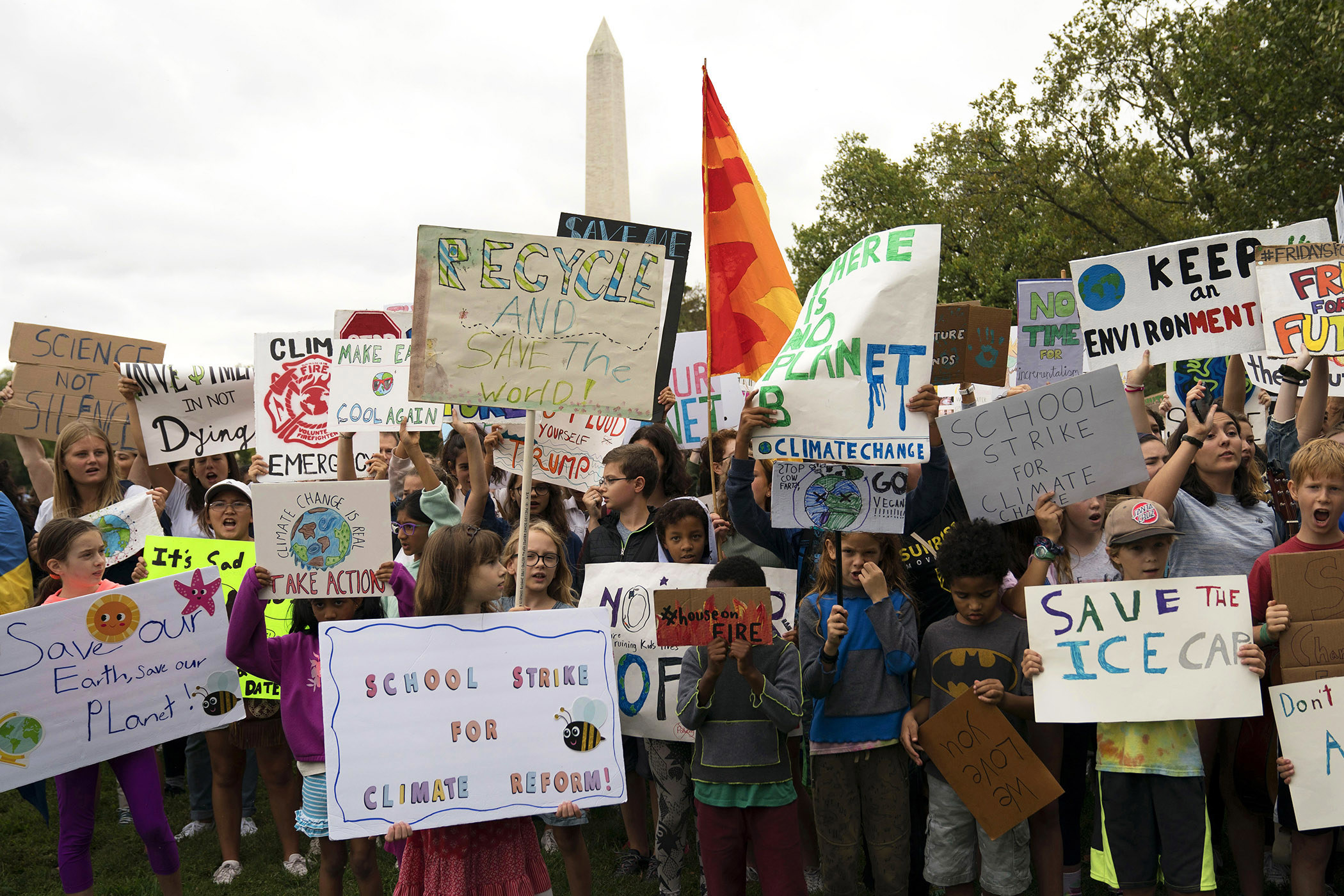 Student environmental advocates participate in a strike to demand action be taken on climate change outside the White House in Washington, DC, Sept. 13.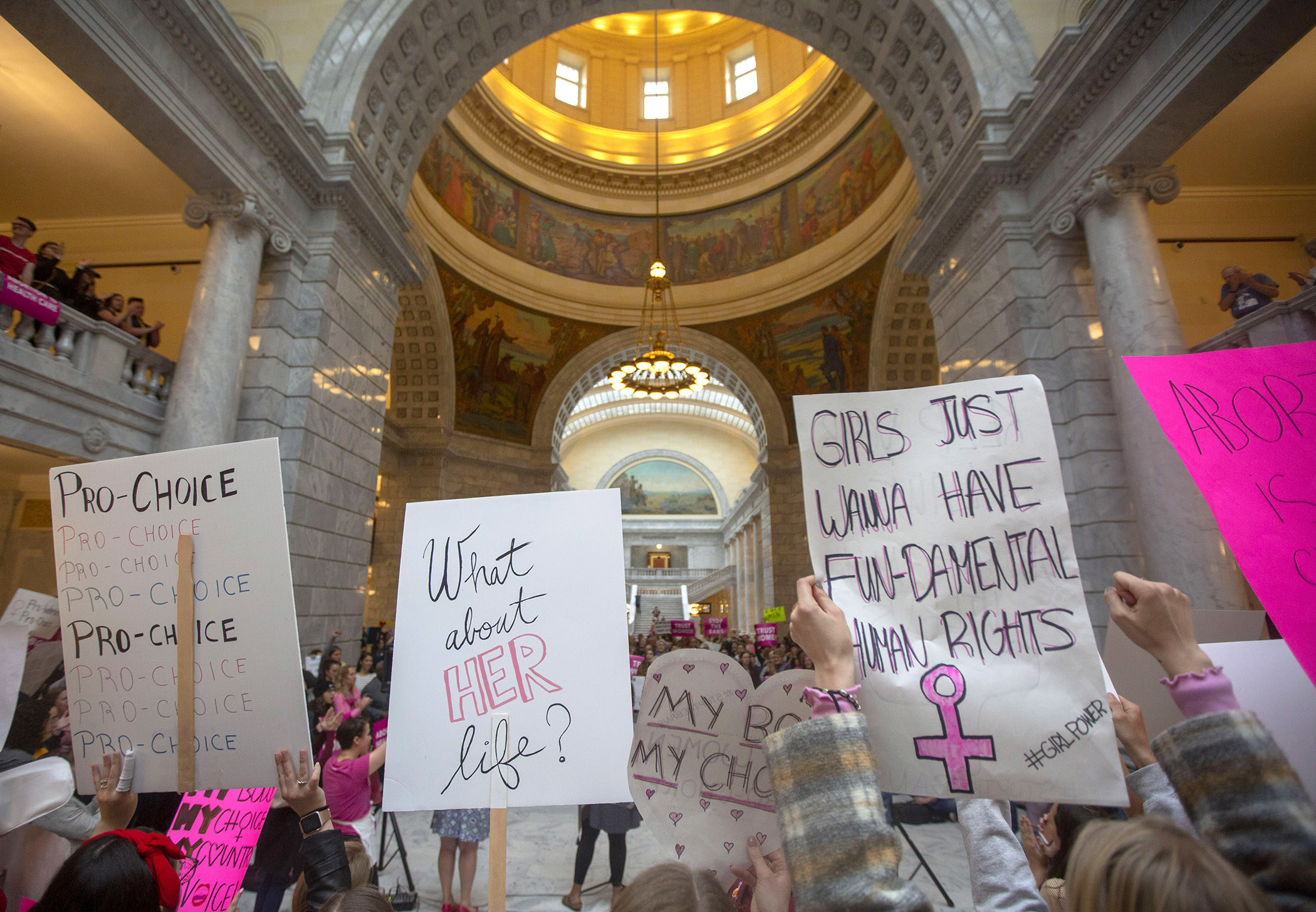 Women's rights activists hold signs at a rally to oppose abortion bans happening throughout the United States, at the Utah State Capitol in Salt Lake City, May 21.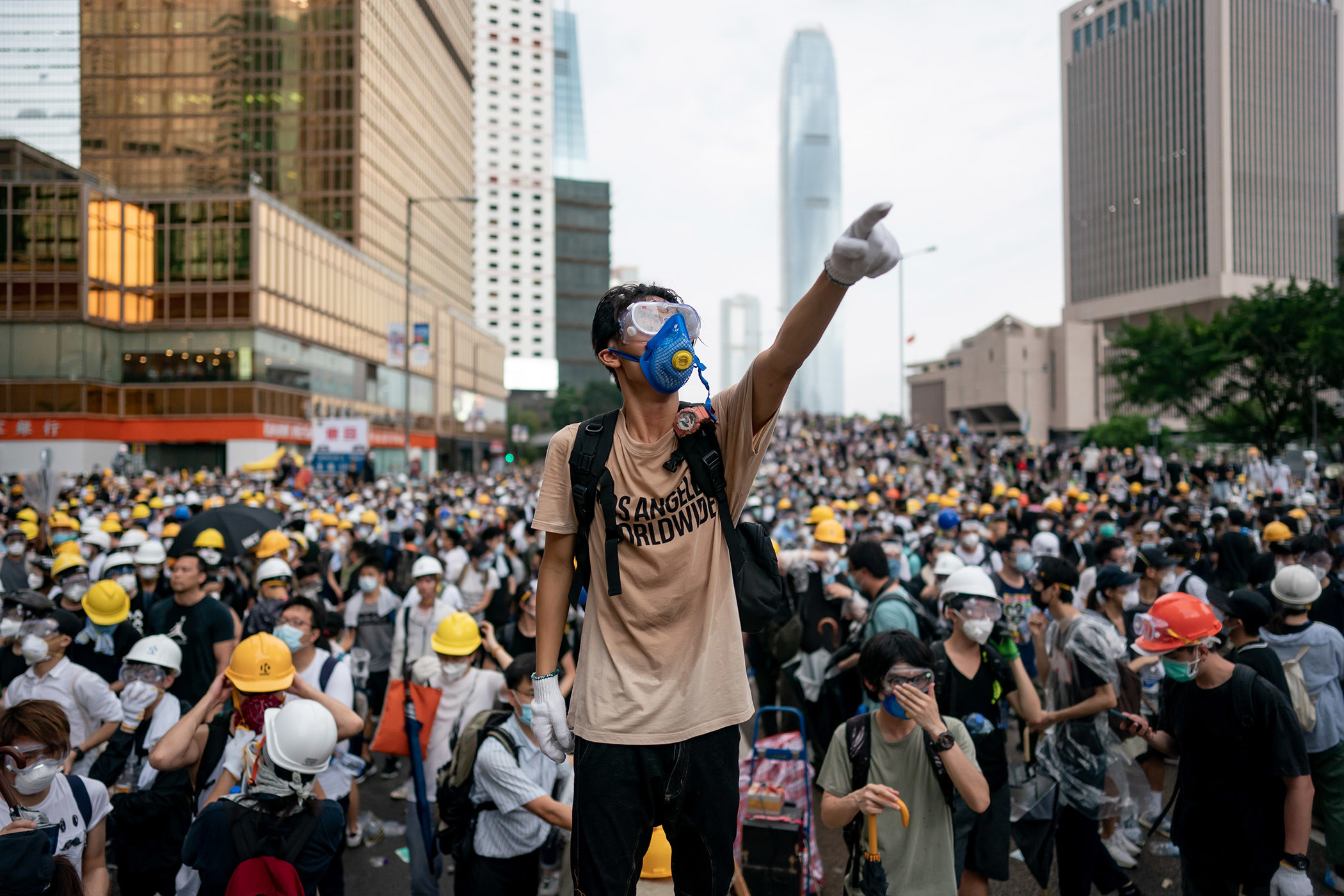 Large crowds of protesters gather in central Hong Kong in a show of strength against the government over a divisive plan to allow extraditions to China, June 12.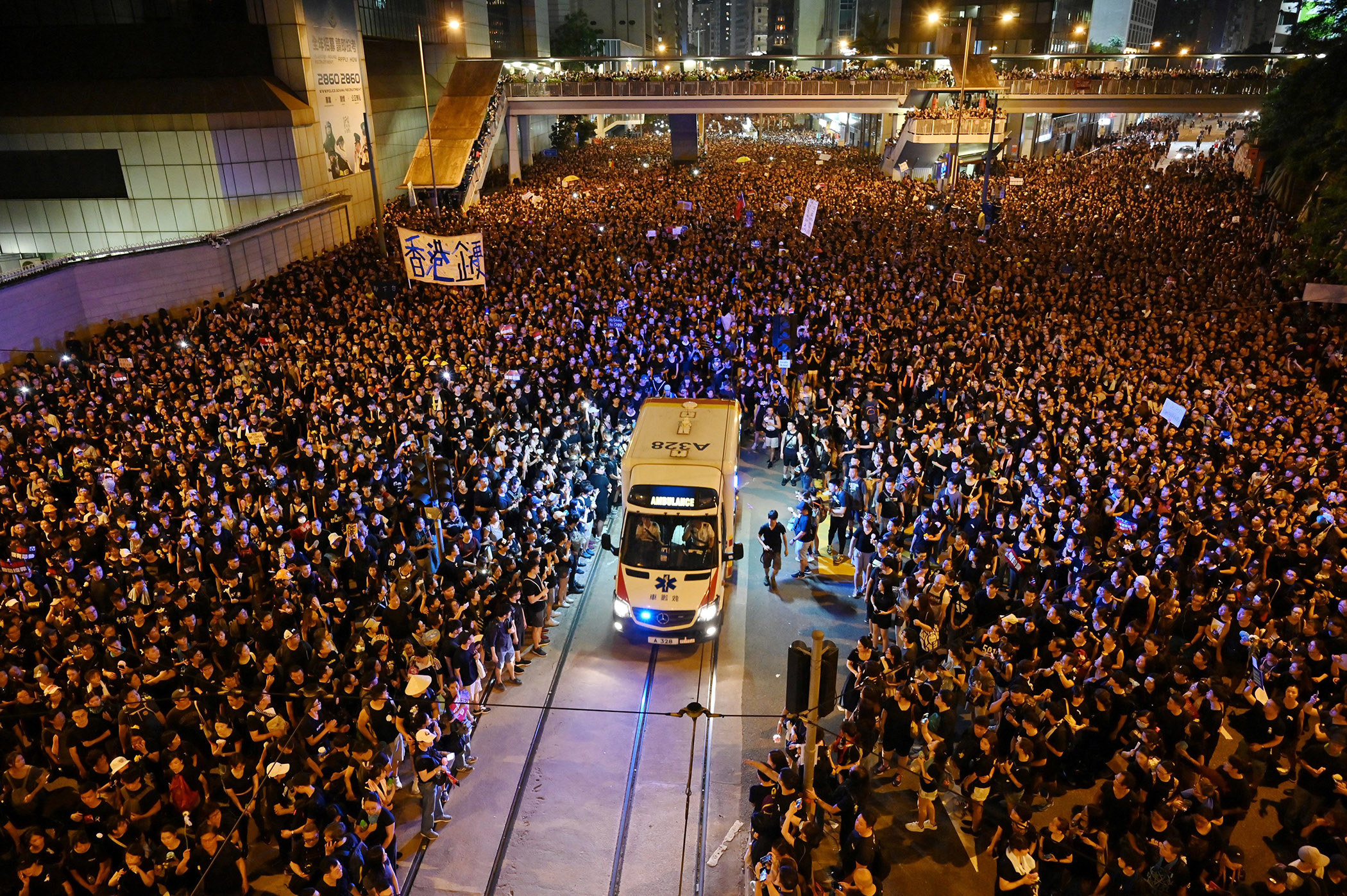 An ambulance is surrounded by thousands of protesters dressed in black during a rally against a controversial extradition law proposal in Hong Kong, June 16.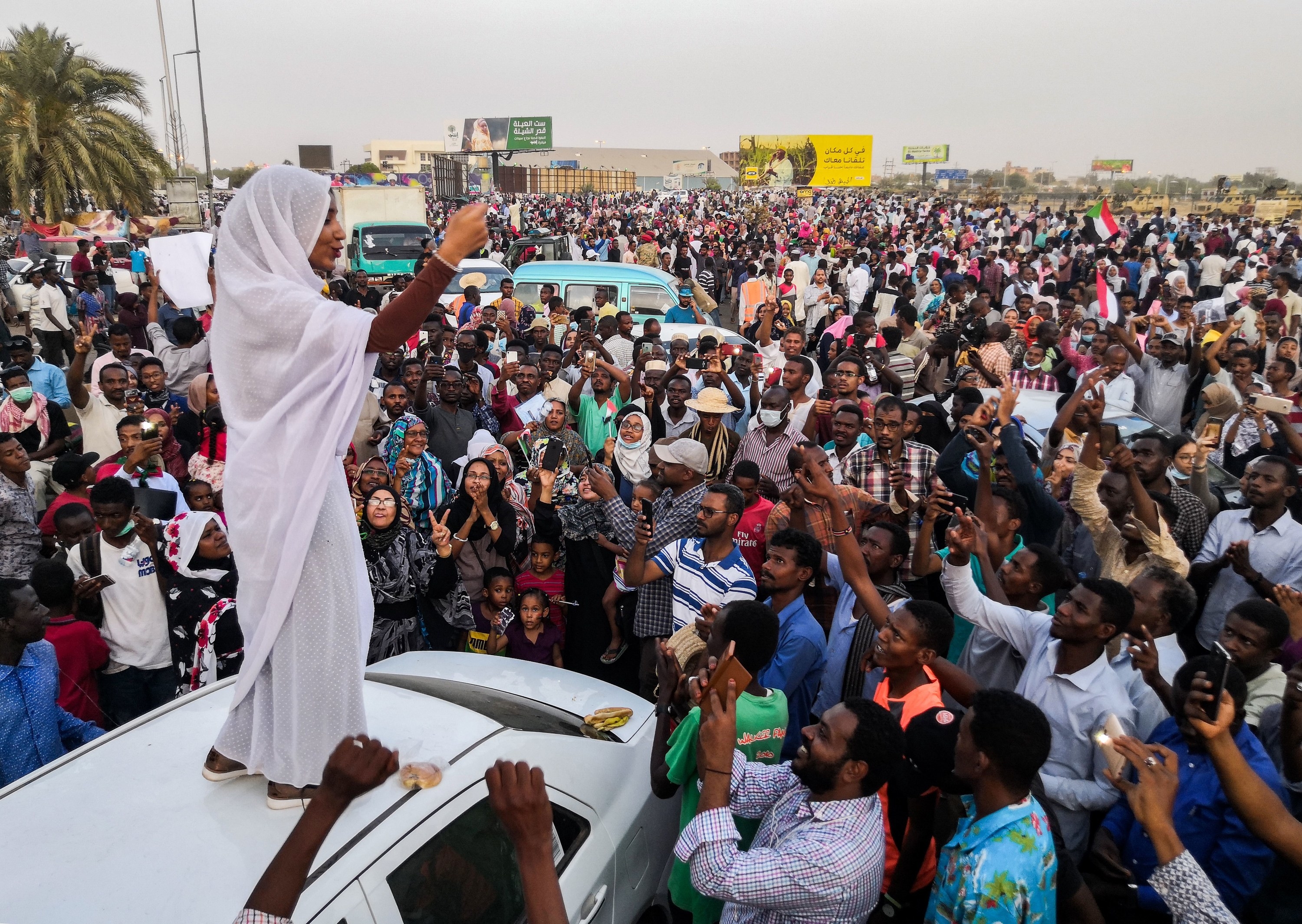 Alaa Salah addresses protesters during a demonstration for economic reforms and the resignation of then-president Omar al-Bashir, in Khartoum, Sudan, April 10.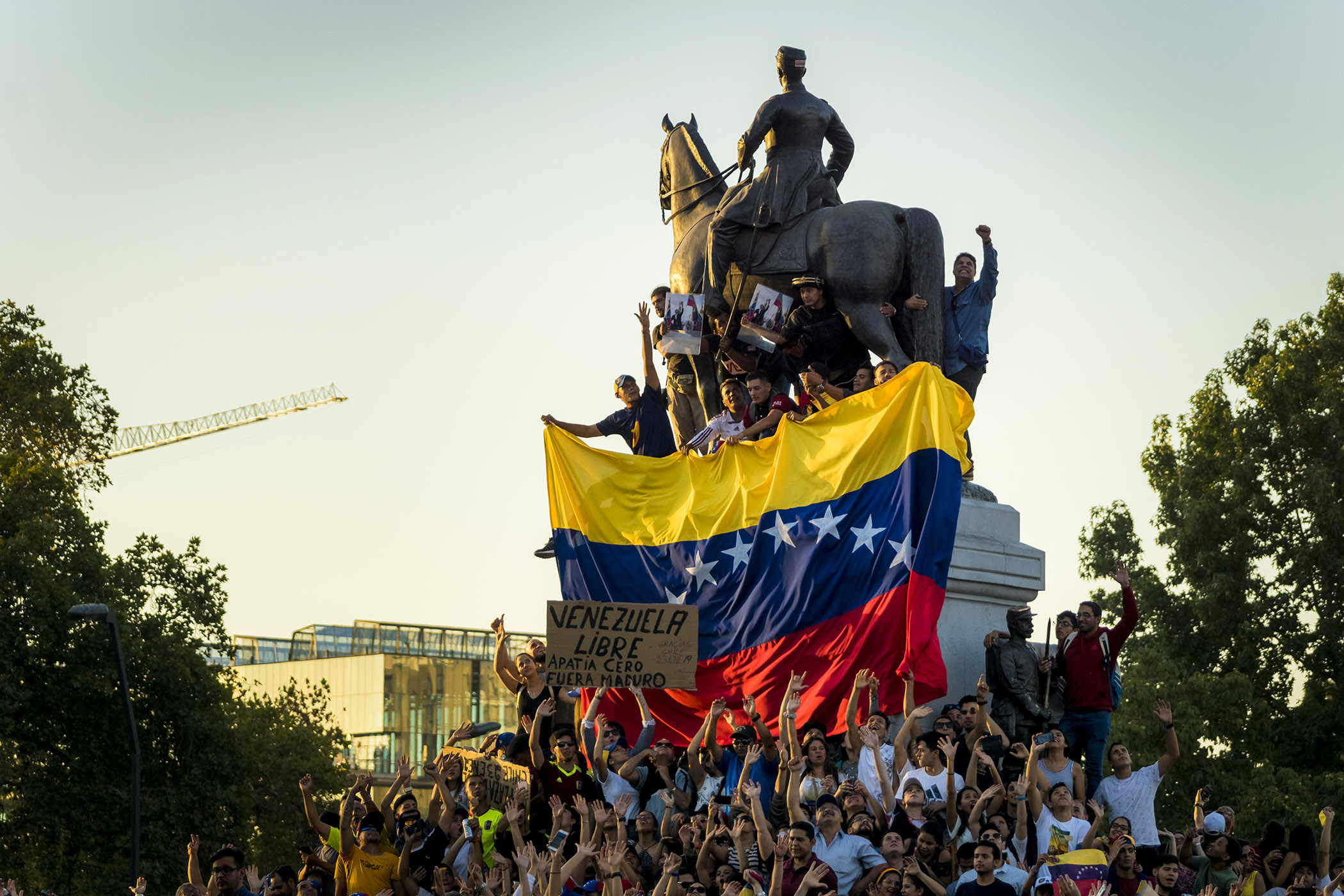 Thousands of protesters gather at Plaza Baquedano to demonstrate their support for opposition leader Juan Guaidó in Santiago, Chile, Jan. 23.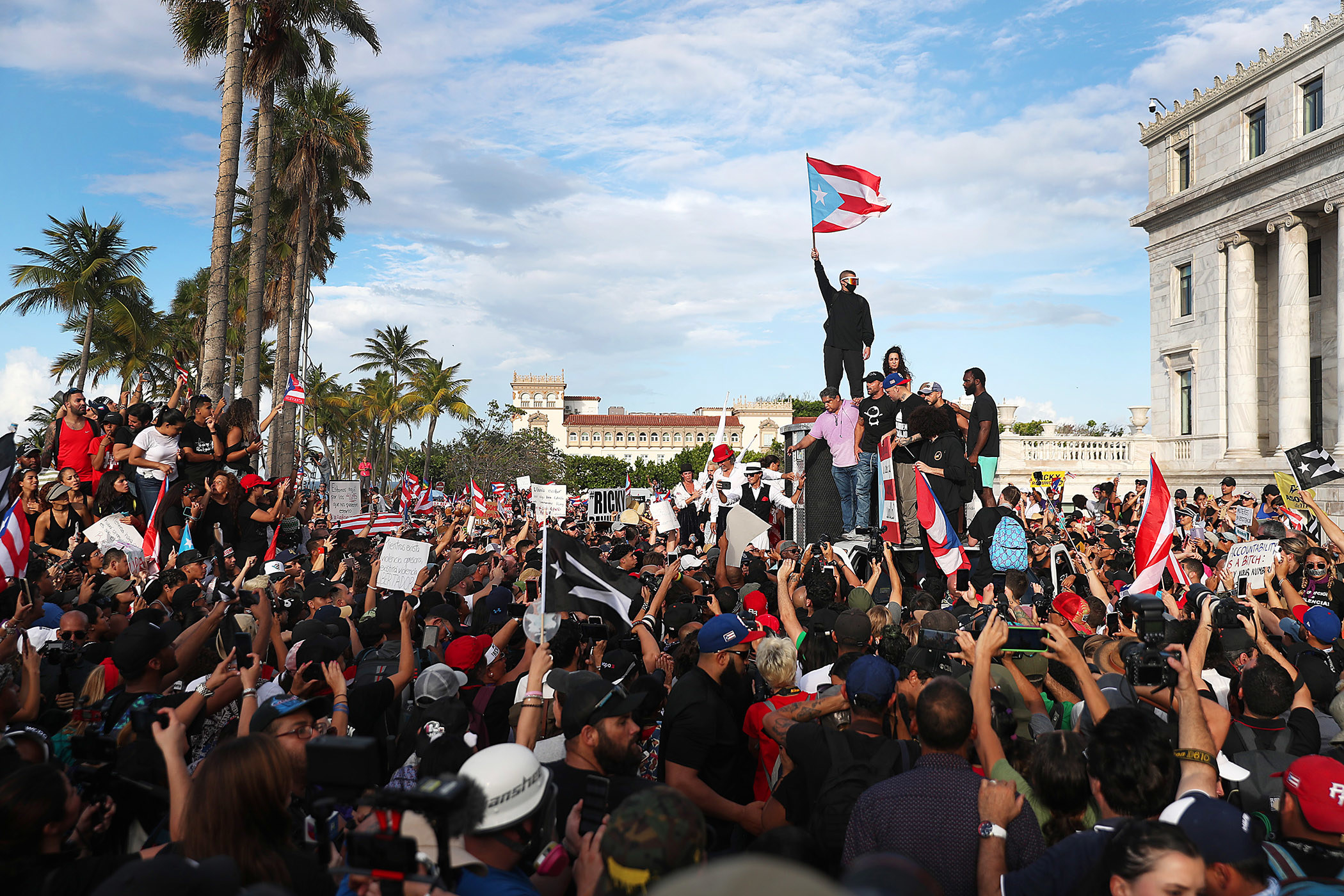 Rapper Bad Bunny (holding the flag), singer Ricky Martin (in the black hat), and rapper Residente (in the blue hat) join demonstrators protesting against Puerto Rico's then-governor Ricardo Rosselló in Old San Juan, July 17. There were calls for Rosselló to step down after it was revealed that he and top aides were part of a private chat group that contained misogynistic and anti-gay messages.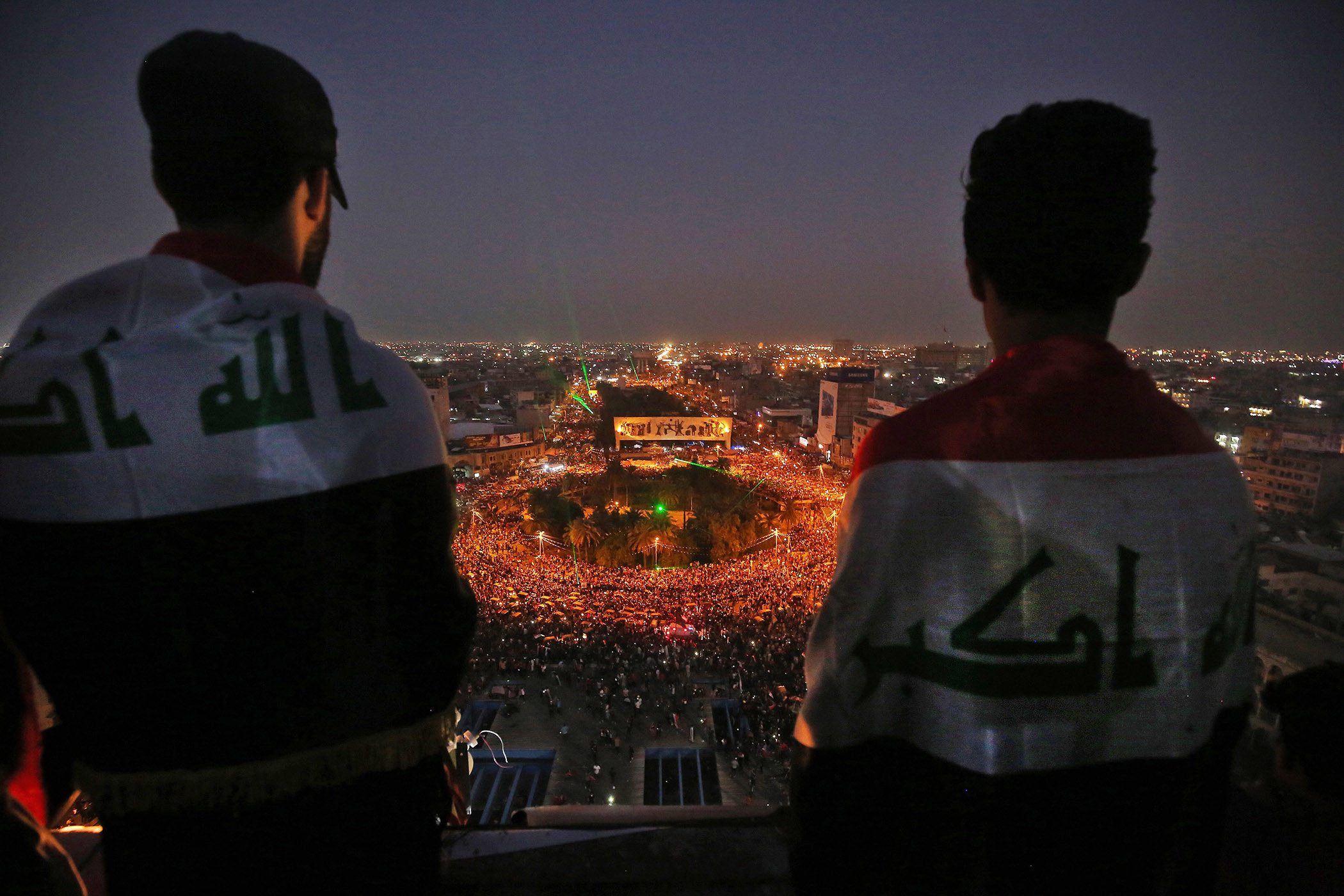 Iraqi protesters gather at Tahrir Square during ongoing anti-government demonstrations in the capital Baghdad, Oct. 31.
Gabriel H. Sanchez is the photo essay editor for BuzzFeed News and is based in New York City.

Contact Gabriel H. Sanchez at [email protected]

Got a confidential tip? Submit it here.
Source: Read Full Article