Twitter's Jack Dorsey Donated $5,600 To Tulsi Gabbard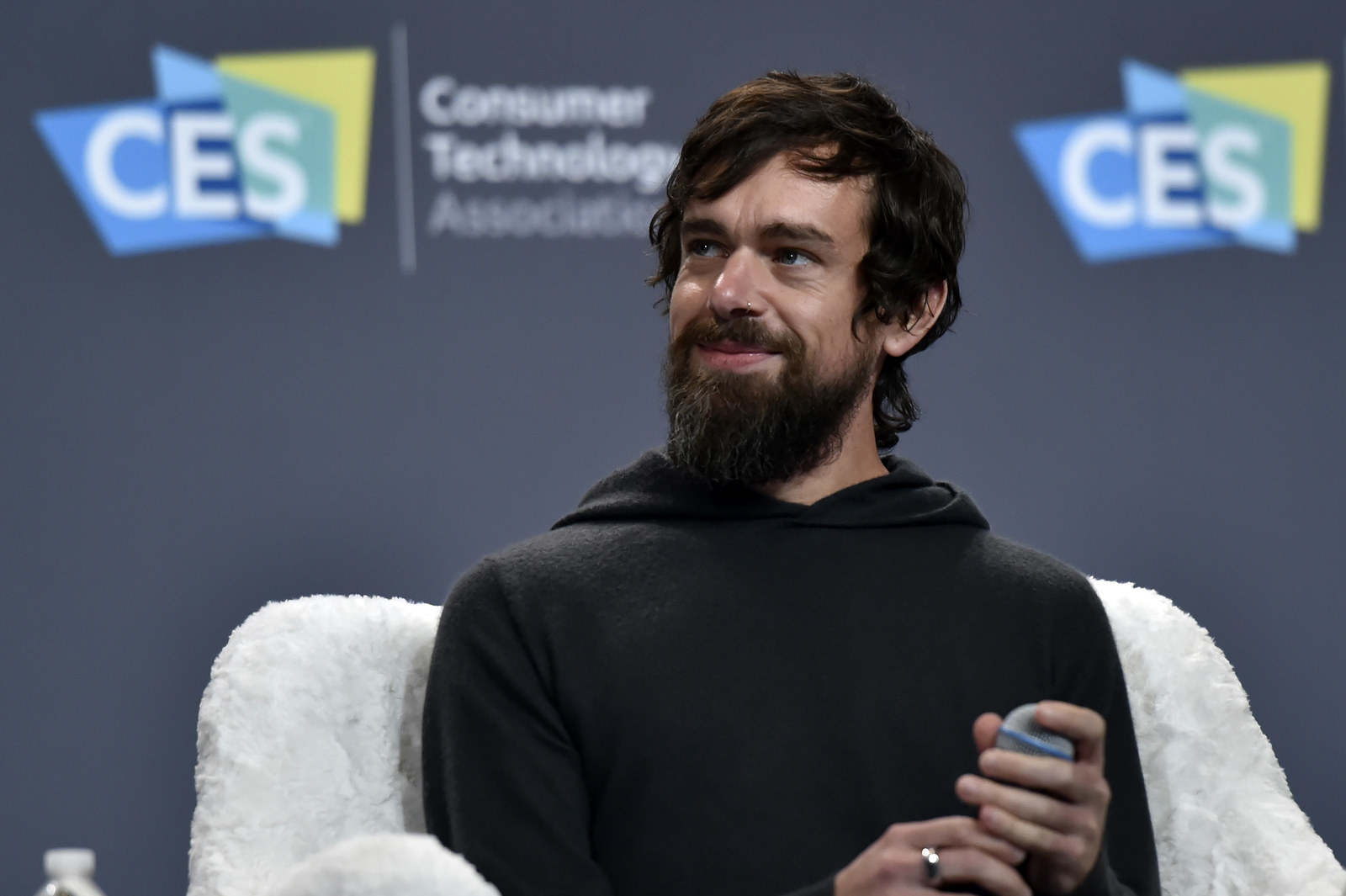 Twitter CEO Jack Dorsey followed up his earlier 2019 donation to Andrew Yang — by giving several thousand dollars to Rep. Tulsi Gabbard's presidential campaign and another thousand to Yang.
According to the FEC filings for "Tulsi NOW," Dorsey donated $5,600 — the maximum donation — to Gabbard the day after the first Democratic debate.
Gabbard, probably best known for her visit to Syrian dictator Bashar al-Assad, delivered an anti-war message onstage at the June debate after another candidate pressed her on the Assad visit. The lawmaker from Hawaii deployed to Kuwait and Iraq, where she served as a medic.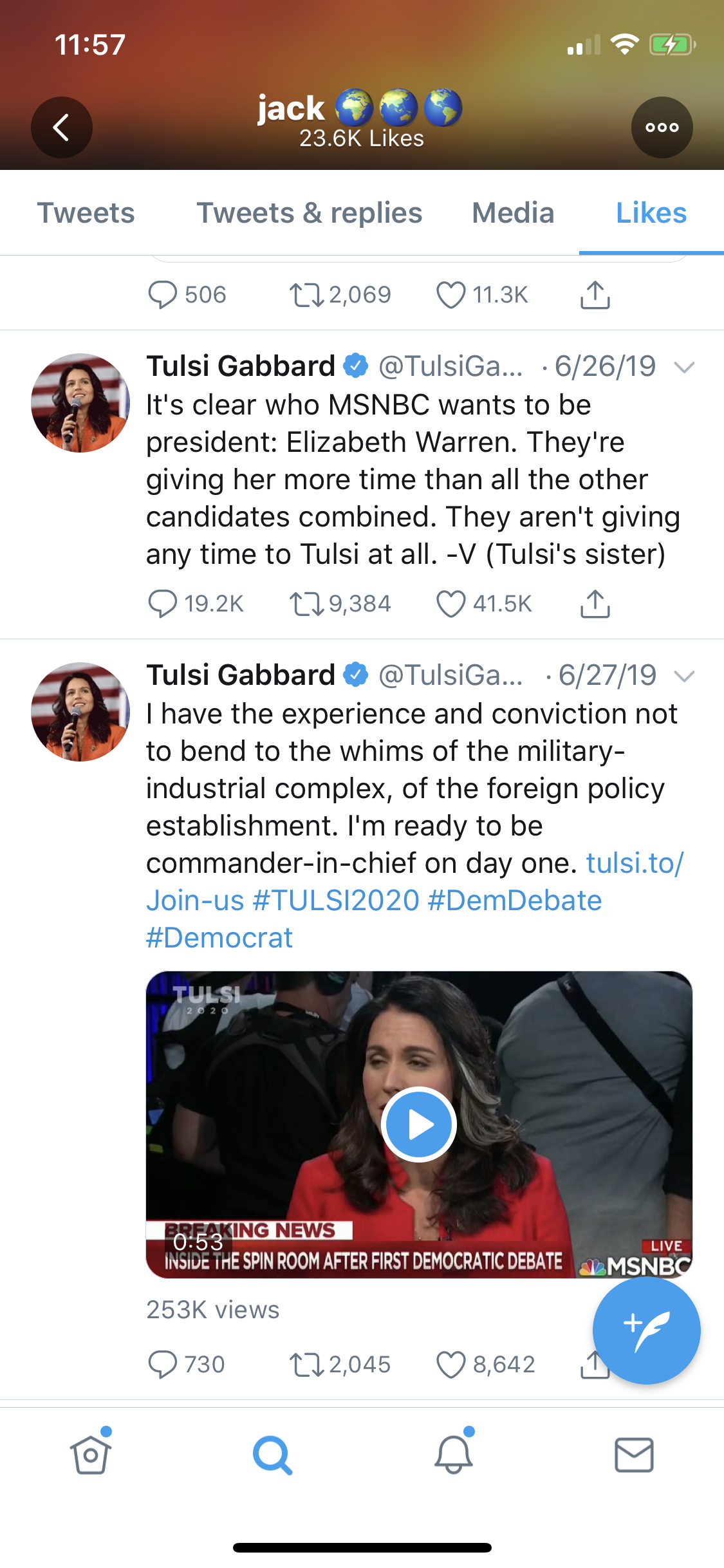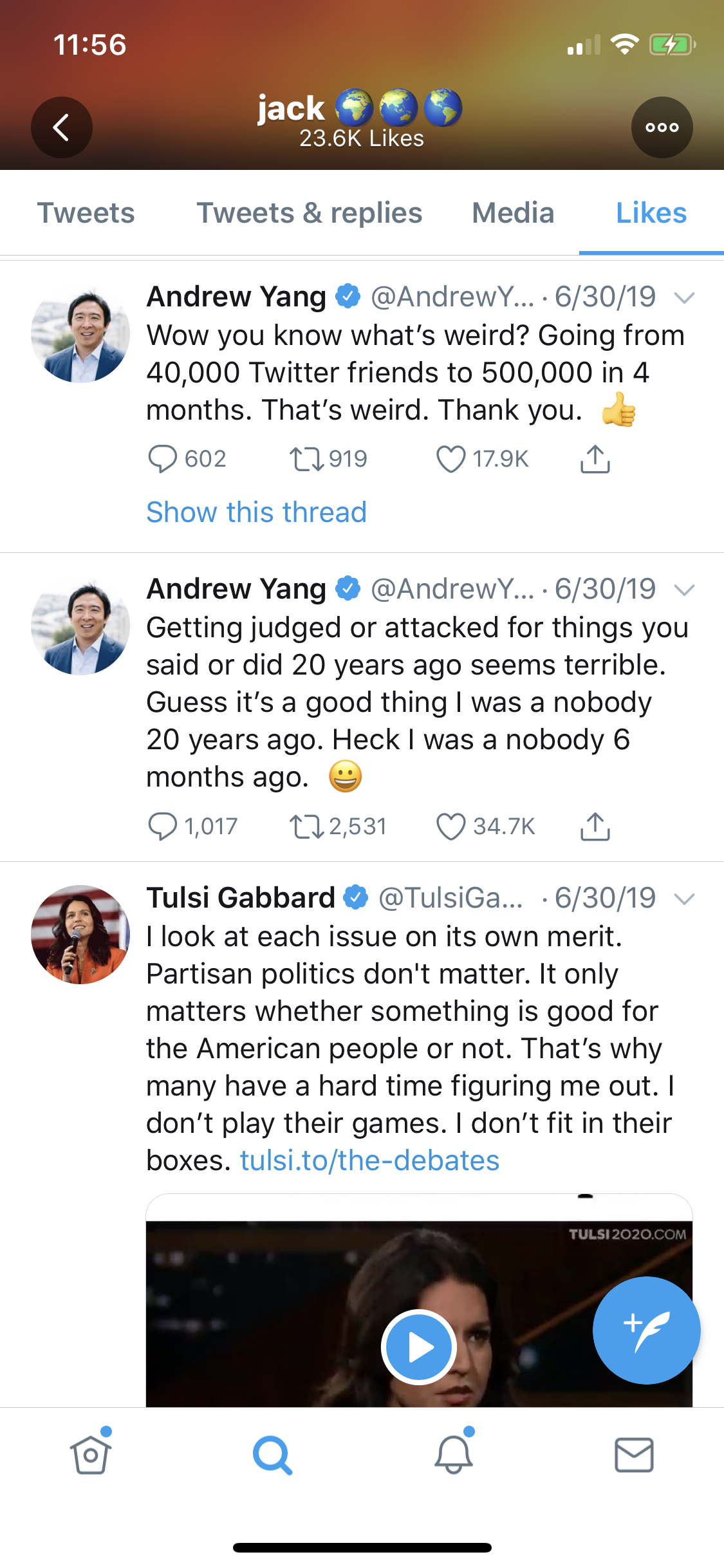 In the hours around the debate, Dorsey also fav'd a bunch of tweets from Gabbard or about her debate performance — which, of course, the true meaning of a fav is individual, and found in each of our hearts, but just for context.
Gabbard's run a low-polling campaign thus far, though she has a loyal supporter base who (often) see her as a younger version of Bernie Sanders, grounded in an anti-war message. New York magazine recently published a big profile of the candidate that delves into her sort of conflicting policy views, and her very strange childhood.
The FEC filings for "Friends of Andrew Yang," show Dorsey also sent another $1,000 to Yang on April 30.
"We don't comment on Jack's personal giving," a spokesperson for Twitter told BuzzFeed News.
More on this
Tulsi Gabbard Is Having A MAGA Moment After Her Debate Performance

Rosie Gray · June 27, 2019

Who Is Tulsi Gabbard? She Doesn't Like What You've Probably Heard

Alexis Levinson · Feb. 12, 2019
Twitter
Katherine Miller is an editor for BuzzFeed News and is based in New York. Contact this reporter at [email protected]

Contact Katherine Miller at [email protected].

Got a confidential tip? Submit it here.
Source: Read Full Article