Valtteri Bottas Hopes to Outpace This Season's Bad Luck
Valtteri Bottas came into the Mercedes Formula 1 team with the weight of expectation upon him. He was, after all, filling the shoes of outgoing world champion Nico Rosberg, who announced his retirement after 2016. Not only that, by joining Mercedes he was driving alongside the record-tying seven-time world champion Lewis Hamilton. But over the last four years, it's fair to say that Bottas has held his ground, and proven his value to the team. Aside from taking 17 poles in qualifying with his astonishing speed, the Finnish driver also stepped onto the podium an impressive 53 times, taking the top step on nine separate occasions.
Yet it hasn't been without its challenges: the driver has faced injuries, vehicle faults, and what seems like a rather persistent run of bad luck — most notably, in a massive collision with George Russell earlier this year at Imola.
Here, Bottas speaks to HYPEBEAST about his plans to turn his fortunes around, and reflects on where Mercedes is heading for the rest of the 2021 season.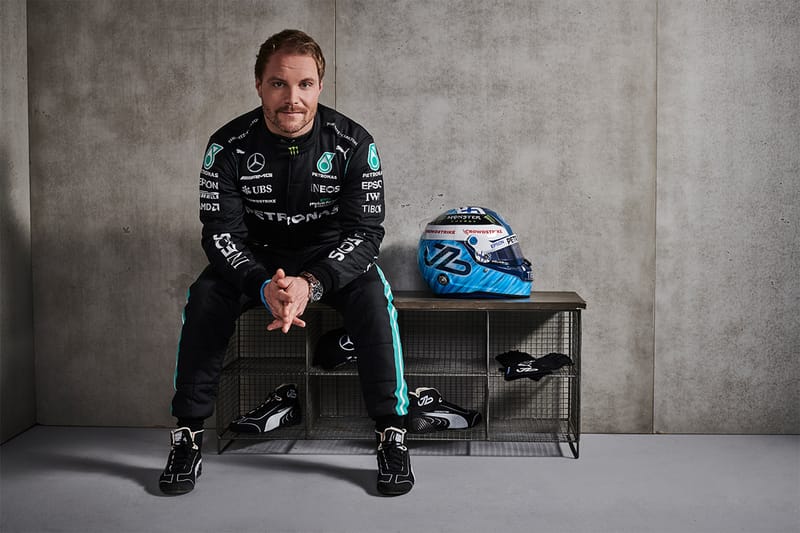 Mercedes Formula 1 Team
HYPEBEAST: How old were you when you first started karitng? Have you always wanted to be a Formula 1 driver?
Valtteri Bottas: I first tried go-karting when I was five years old and had my first race when I was six. Since then I've done 10 or 11 years competition-wise. When I finally managed to fit into a go-kart I immediately thought "Okay, I'm going to be a Formula One driver."
I felt that way from the very first time, the first lap, because it was so cool and something I had never experienced before. That kind of speed and being in control of a machine like that — that was really interesting and enjoyable.
Aside from Formula 1, you seem to quite enjoy rally racing, and you even tested for Extreme E back in October last year. How different is rally from Formula 1? Are there transferable skills you've learnt between one or the other?
Rallying is definitely a completely different form of motorsport. The driving style is really different. It's much more reactive and you play a bit more with your instinct, because the whole time you're basically sliding with the car. I mainly do it because I really enjoy it and I think it's a lot of fun but it's also good for your car control and I'm sure it supports any other form of driving.
If you've been an F1 driver and you jump into a rally car it's very different, but for sure you'll have some kind of sense — or some kind of idea — how to drive it well. You'll figure it out sooner or later. I've done two rallies so far and I plan to do it again, probably next winter at the Arctic Rally in Finland.
The newer audience to Formula 1 might not realize how physically demanding Formula 1 is, but back in 2015 you actually experienced quite a painful back injury when you went wide over a kerb in Melbourne. Can you tell us how physical Formula 1 actually is as a sport? How often do you train for fitness and strength?
It's physical for sure. The more years you have in the sport, in single-seaters, and especially in Formula 1, your body gets used to it, but because we have 23 races and testing it does put a toll on you. Obviously the race weekends are good training in itself, strengthening the right places in your body that's basically being used all the time. But other than that, when I have time off I train every day.
I love cardio, so I do a lot of sports like cycling or running, but I also do strength training when I can. During the off season, we train even harder, sometimes twice a day because you definitely need to be fit. But as I said, the more you race, the more you get used to all the g-forces and we experience when we go round the corners lap after lap.
You've also served in the military before as part of your mandatory service, but most impressively you're actually a lance corporal. Like rallying, were there any lessons you've learned during your time in the military that you've taken with you into your racing career?
I think I was there during the winter between 2008 and 2009. I felt like it turned me from a boy to a man. You definitely learn more about yourself. You also learn to work well with a team and the benefit of being able to work for something bigger together as a group.
Driving skills I didn't really learn, but I learned how to shoot and how to start fires in -30 degrees Celsius during the Finnish winter. Of course I learned some form of discipline aside from a lot of cool experiences, and it definitely put things into perspective.
I remember we had this training program in the forest for two weeks in a row and we had to sleep in those freezing conditions. Once we got back to the base camp, I felt so happy just being in an actual bed in a room.
When you came back to motorsports, you spent a few pretty successful years at Williams before making the jump to Mercedes. At the time, you were joining to replace Nico Rosberg, who had just won the drivers' championship the year before. Did you feel like you had big shoes to fill? Did that put a lot of pressure on you coming into a new team?
I definitely had big shoes to fill. You're replacing a guy who had just won the world championship and then he decided to sto. I was the next one in line and the team chose me so for sure, in this sport there's always some form of pressure. But it was a big jump in my career and I had to make sure that I could make the most out of the opportunity, to perform and get a new contract for the following year.
I've had to do that pretty much every year, because in this sport you always have to prove yourself. I think as the years go by, you start to learn how to deal with it and luckily for me, it only took a few races into the season to get my first win, which earned the trust of the team.
Since then, you've been racing alongside Lewis Hamilton, who is now a seven-time world champion. What's it like being his teammate? The expectations from the team must be incredibly high.
Being Lewis' teammate is not easy because he's pretty fast, both in qualifying and especially in the races. It makes me push myself more and always try to dig deeper or try new things because I know I need to give absolutely everything I can if I want to beat him. So in that sense, it's not easy but it's also really motivating.
It's also been really enjoyable to be honest. We've been able to work really well as a team and if you look back at the last four years, we've managed to achieve great things as a team, so it keeps me working hard.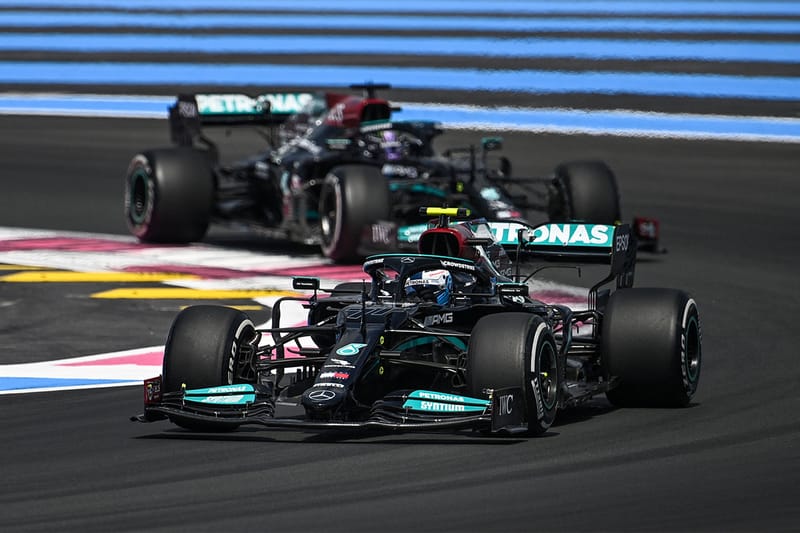 Christophe Simon/Getty Images
Your team has been dominant ever since the hybrid era, but Red Bull has definitely picked up the pace this year and despite Mercedes starting the year seemingly on the upper hand, it feels like Red Bull has made even more progress over the past couple of races. Is there more left in the tank for Mercedes to turn the season around?
I definitely think there's more. I think we haven't performed as well as we can as a team so far this season, but luckily there's still a long way to go. For now, I really feel that there's more to come from us as a group and as a team, and we're definitely motivated to try and beat Red Bull.
They've been ahead for a few races but hopefully we can step up in the weekends to come. If we can't win the races we need to be there to take all the points we can, and of course we will need to win if we want to win this championship, but I think the spirit is there.
Many attribute Mercedes' current decrease in dominance to the aero regulations this year which arguably affect low rake cars such as Mercedes and Aston Martin much more than those with higher rake designs like the Red Bull. What's your view on the debate? Has it been much harder to drive the car this year and has it hampered Mercedes' pace as much as what's been claimed?
Definitely, the new regulations and the restrictions on the aero side have affected us. We realized in pre-season testing that we didn't quite have the same amount of downforce and grip in the car that we had the year before.
Ultimately, the chassis of the car is the same as last year, but the change in aero did affect the balance we had over the winter — probably more than it did to Red Bull. It's not been the easiest this year in that sense, but as I said, there's still more we can do as a team, and there's also new aero parts for the races to come so hopefully it'll help us gain some pace back.
On that note, there seemed to be some confusion regarding Toto Wolff's comments about whether Mercedes are working on upgrades for the 2021 car in recent weeks. Is the team still developing upgrades for the car this season or has attention shifted towards 2022?
The fact is that we're not developing the current car anymore at the factory, but there are still improvements to come, because obviously once you discover something in the wind tunnel, there's a delay before you actually get the parts onto the track. So it doesn't matter like this.
We had some new parts in Silverstone and I hope that we're going to have some more later on, but at some point that will have to stop, because obviously next year there's a big regulation change and the team needs to balance out the car's performance this year versus next year.
There's been a few occasions this year (and last year too) where things just didn't work out for you on track through no fault of your own – incidents like Monaco this year with the pit stop and getting Ferrari debris stuck under your car last year at Imola. How much do you attribute these to just sheer bad luck, and how tough is it for someone competing at the top of the grid to deal with these situations where you're just out of control?
It's not fun. Sometimes I don't know if I should cry or laugh because it almost feels like there's been an incredible amount of bad luck happening. But you know, what can you do? Sometimes there'll be things you can't affect so you just need to try and move on.
What hurts the most is if I make a mistake myself and if I have a bad weekend, because I haven't performed at the level I should be performing at. That's more painful and I am always trying to learn from each situation. It's not been the best season with mixed results and lacking pace, but here we are and there's still a long, long year ahead.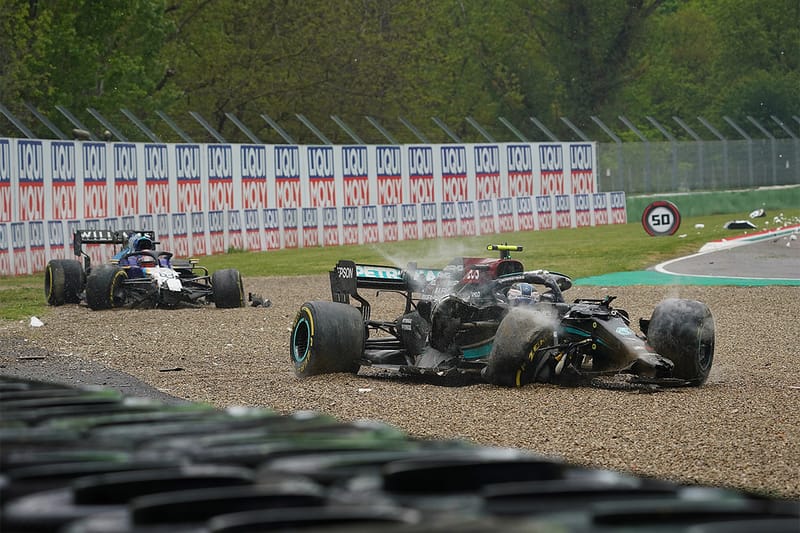 Picture Alliance/Getty Images
On that topic, you experienced a terrifying crash during the rainy race in Imola earlier this year. How did it feel being in the car going through an incident like that? What was going through your mind at the time?
It wasn't fun. You know I can laugh about it now but luckily nothing happened. In those kinds of speeds and on that track where there's not really that much of a runoff area when you become a passenger, you're just waiting for the impact. You don't know where you're going to end up. You can't control the car and what you're going to hit next or which way to go so it's not fun.
But luckily, the final hit into the barrier was straight on and it was quite a big barrier, so it definitely took some of the energy away. It could've been worse, but it's not great. When you're caught in that situation, you basically say "Oh shit" and wait for the impact.
Given how the current season has gone so far with Red Bull taking the fight to Mercedes, what would be the ideal result you hope to achieve by the end of the year?
With a battle against Red Bull, we definitely want to win the constructors' championship. I want to climb up in the driver's championship as high as I can from where I am now, but my approach is to take it race by race and focus on individual goals.
Obviously, the main idea is to win the race, but if I can't win the race, then I want to pick up the maximum points for the team that's possible. I like to go step by step and not think too far ahead, but as a team we definitely want to win this season.
Source: Read Full Article