What's Next For Nike's Much-Debated "Super Shoe"?
When
John Hoke/Nike
In an interview a few years back, you said that designing a shoe was much like designing a car. Is that still the case?
In the auto industry, it isn't just four wheels and a cabin, it's the experience. When I was trained as a young designer, I was taught that form follows function. But at Nike that's not enough anymore: I like to say that form and function follows footprint.
Part of the job of a designer is to create a moment of "wow", using composition, color and materials to draw an engagement and get a consumer to be attracted to a product and be engaged into what the product's design is and why it exists.
It's that design of engagement that was the premise of the conversation I had many years ago. As designers today, I believe our prime job is to solve problems in compelling ways that engage consumers not just to the end product, but to the idea and the feeling.
The debate on how advantageous the so-called "super shoe" is is one that's been ongoing for some time. How does Nike sit within that discussion?
The ingredients in the super shoe are the same as in every sneaker. It's just a combination and an assembly and the data we use that make those ingredients packaged slightly differently into a better product. We're studying these athletes and listening to what their hopes, dreams and ambitions are and that becomes the soil of which we think about creativity.
I'm really pleased that there's a new level of excitement around running and racing. We're now able to break the unthinkable two-hour marathon, and from there the sky's the limit — and Nike will continue to play fairly, but push on the ingredients to help athletes break further barriers.
When it comes to sneaker innovation in performance footwear, Nike has led the way for years. But with other brands now doing similar things in terms of carbon plates, stack heights and spikes, what's next? How will Nike continue to be at the forefront of performance footwear?
We're a fifty year old start-up company and a company who likes to stay competitive and use the voice of our athletes to stay in pursuit and know that we're never done. Nothing we do is constant, it never stays still. I can assure you that the products you're seeing coming out have a lineage of progression, but we as a company are possessed with performance and pushing sport forward.
I'll tell you that myself and Nike design are never satisfied or settled, we're restlessly discontent. That mindset is one of an athlete, so applying that to our designs too is knowing that our best is right around the corner.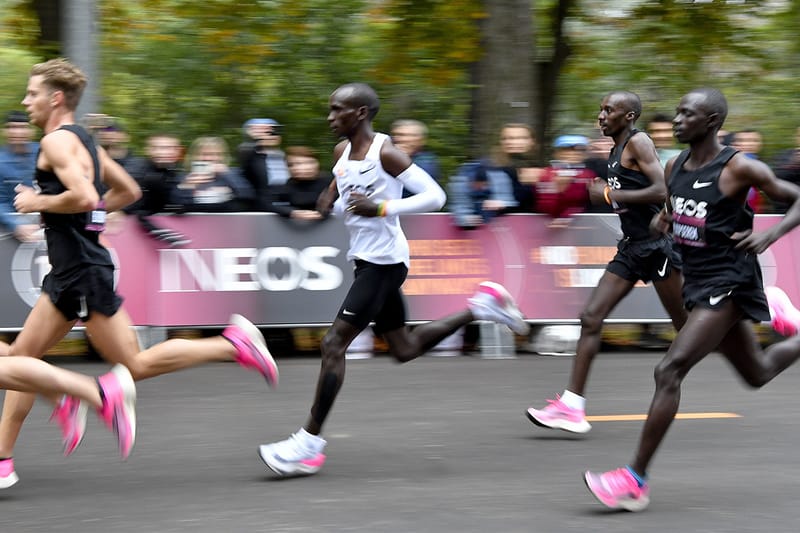 Herbst Neubauer/Getty Images
Nike footwear — whether performance-focused or not — tends to be worn for fashion across the globe. Is making performance sneakers fashion-friendly as well as efficient intentional?
What we're doing with our advanced materials, science, data, colors, assembly in benefit of an athlete does change the aesthetic conversation with the general public. There's a purity in a way we do that with our athletes which is magnetic to the general public.
That doesn't mean that every single feature is cascaded down, but it's the zeitgeist of watching what's happening on the fields and tracks that changes the conversations and therefore some of the styles and fashions that you see on the runways and streets.
Do you have stacks of other technologies you are yet to use because they don't necessarily look the part?
Our cupboards are full. One of the things we always do is try to marry the look of the product to its base use case. Getting athletes to feel comfortable and confident in themselves and their abilities is job one. Appealing to the physical demands of the product is key, but the physiological aspect of an athlete is directly correlated to how they perform. We have lots of stuff in the cupboards, but now it's about tweaking it and fine-tuning it and using it in the best and most efficient way we can.
"The level of precision and fidelity that our designers get to have now is unprecedented, we're now at a point where all this combined results in something the human hand simply couldn't make or conjure".
What do you think is the next major innovation in performance footwear?
If you look at the through lines of where Nike has been, we are thinking about making the product move to a more fluid and dynamic state so they become uniquely yours, like a fingerprint, almost an extension of you. This we hope will invite more people into sports. I do think that form and function will need to follow footprint, by that I mean beauty and utility will have to follow sustainability and that's going to be quite an interesting topic we need to think about.
Also, I've talked publicly about this, but we're beginning to use a new level of computation and design so that we can turn pixels into boxels, which means our designers have a much deeper set of controls at almost an atomic level. The level of precision and fidelity that our designers get to have now is unprecedented, we're now at a point where all this combined results in something the human hand simply couldn't make or conjure.
There are coming geometries and chemistries that I think will blow people away. A level of high-fidelity performance that will take the public's breath away. We want to show the public what's possible and allow every generation to find their own potential. The best thing about sport is that we get to see records fall and barriers and boundaries get broken.
Source: Read Full Article