AGT All-Stars Finale 5th Judge: Winner Revealed in Shocking Results
Adam Lambert, Weezer, Babyface, Lindsey Stirling, Mat Franco and Terry Fator were among the surprise "America's Got Talent: All-Stars" guests brought in to help pad a two-hour results show.
A star-studded finale of "America's Got Talent: All-Stars" walked us from one shocking result to another until we were left with a winner we could definitely root for, but probably many did not see coming!
The night featured a reunion between "American Idol" superstar Adam Lambert and Simon, who promised to be nice this time. Former "AGT" contestants Lindsey Stirling, Voices of Hope Children's Choir, Mat Franco and Terry Fator also returned, while Babyface and Weezer dropped by.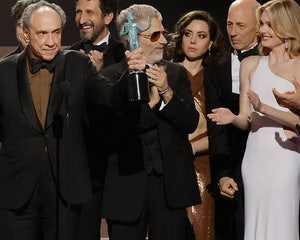 Why Aubrey Plaza Looked So Angry at SAG Awards Revealed by White Lotus Co-Star Jon Gries
In almost every case, the contestants were paired with these various celebrities to make some truly magical and memorable performances — and a few missed opportunities. We're already read for Mat Franco and teen magician Aidan McCann to make their partnership permanent, while Avery Dixon and Babyface could cut a record today!
Of course, it was all leading up to the big reveal of the Superfans' Top 5 and who would emerge the winner of "AGT: All-Stars." We'll just say, our predictions were as wrong as we thought they would be — and if you think you know who won, you may just be surprised!
Fair warning, since I'm safe at home, I'm probably going to be a little harsher than my colleagues Howie Mandel, Heidi Klum, and Simon Cowell. But I might be nicer, too. Maybe.
And just for fun, I'm gonna rank them from worst to first to see how my favorites do and then we can see how you did — i.e., if you agreed with me.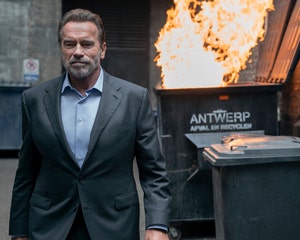 Arnold Schwarzenegger Returns with Netflix Action-Comedy Series FUBAR
FILLER
Bello Sisters & Aidan Bryant (w/ Adam Lambert)
Unable to render YouTube Video.
("Chandelier," Sia) We were so glad that they combined what Aidan does with the Bello Sisters, even if just for one moment, because it was just so thrilling to watch that moment. Aidan was once again blowing us away with his pretzel-like contortions while flying around the stage. It was more of the same from Bello, but they are nevertheless so beautiful in what they do, with elegance and strength. As for Adam, what can you say? He's one of the best singers to ever emerge from one of these competition reality shows and he's still got those golden pipes (and that tongue coming out when he sings). He looked and sounded incredible!
Aneeshwar Kunchala on the Red Carpet
Unable to render YouTube Video.
He didn't do spoken word, but Aneeshwar proved why he was so engaging to watch. He has the most adorable personality and is absolutely fearless in talking to people. He was also very funny, slyly telling everyone he was rooting for them to win. We could have definitely watched more of his time on the red carpet interviewing the judges and contestants!
Tom Ball (w/ Voices of Hope Children Choir)
Unable to render YouTube Video.
("Who Wants to Live Forever," Queen) We kind of wish Tom had gone with this song last week as it was an incredible showcase of his gift. He just has this incredible voice — he could go toe to toe with Adam Lambert any day of the week — and makes it all look so effortless. It is gobsmacking that he hasn't yet had his big break in the music industry. After his "Got Talent" success on both sides of the pond now, we can only help something will soon be in the works. The choir wasn't given much to do, but they added a beautiful richness and fullness to Tom's performance.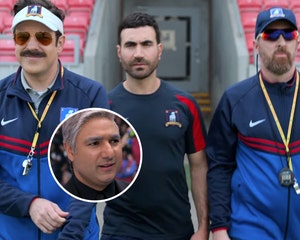 Ted Lasso Season 3 Trailer Teases Nate Showdown
Kodi Lee & Light Balance Kids
Unable to render YouTube Video.
("Wake Me Up," Avicii) Okay, they got us with giving Kodi a light-up jacket and letting him join in the closing moments of the performance. We kind of wished, though, that they'd initially dropped all the lights while Kodi was performing to give us some true Light Balance moments with the digital trickery as well so both acts could be represented fully, but it was a fun performance nevertheless and we did enjoy the partnership at the end.
AGT Judges: Fake News
[video not available]
This was a cute segment that also revealed some little known IMdB listings for the judges, like Heidi Klum's work in a video game and Terry Crews' start on a reality show called "Battle Dome" where he was basically a giant bruiser. We even learned that Simon has looked into cryogenic preservation, while Heidi's legs are valued differently.
Mike E. Winfield's Backup Plan
Unable to render YouTube Video.
As a comedy piece, this definitely wasn't as funny as any of Mike's stand-up piece as every bit of it was derivative and way too obvious. But, as a showcase for how engaging and charming Mike can come across on camera, it was fantastic. We'd definitely watch him on a television show. This guy has that "it" factor and could really blow up as a comic. We're rooting for his star to continue rising.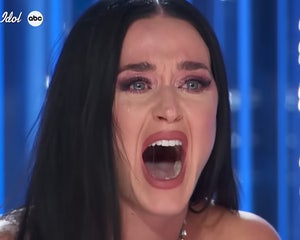 American Idol 5th Judge: School Shooting Survivor's Story Triggers Katy Perry's Outrage
Ana-Maria Mărgean (w/ Terry Fator)
Unable to render YouTube Video.
("A Little Less Conversation," Elvis Presley) Ana-Maria was a little slurry at times on this one as if she wasn't quite as rehearsed. Plus, it was disappointing that she wasn't given as much of the funny banter as Terry. In fact, the "AGT" winner dominated the pre-singing portion of this. Now, we know Ana-Maria is also quite funny, so we'd have enjoyed a little more arguing between all four performers on the stage before the requisite singing, which wasn't as strong this time around.
Avery Dixon (w/ Babyface)
Unable to render YouTube Video.
("Every Little Step," Bobby Brown) For the first time, we saw how Avery's sax playing works in accompaniment with a vocalist and it was a great combination. We know the era of every act having a saxophone is long gone, but if anyone could bring it back it would be Avery, as he's made the instrument cool again. Either way, we can't imagine him having any trouble landing gigs because he really is a dynamic player with so much personality coming through.
AGT Heads Up
[video not available]
The judges and Terry were paired up to play a contestant game of "Heads Up" where they had to ID as many contestants as possible based on clues. Heidi and Howie were paired up against Terry and Simon and this one was a complete blowout. It did look like a fun game to play. Heid was the best at giving fun clues, but Howie was … alas, clueless.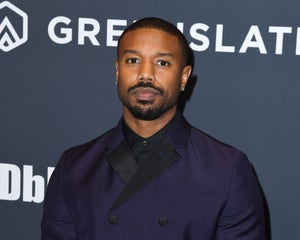 Michael B. Jordan Encounters Reporter Who Teased Him in High School
Power Duo (w/ Lindsey Stirling)
Unable to render YouTube Video.
This was a beautiful pairing, with Lindsey's acrobatic violin playing complementing the floorwork and aerial stunts of Power Duo. While their tricks on the floor were starting to look a little repetitive and that dead lift looked heavier than it should, Power Duo painted some new visual pictures up in the air, including a gorgeous final pose. This was an unexpected treat from both performers, proving that being unique as an artist just makes you more memorable.
Detroit Youth Choir (w/ Weezer)
Unable to render YouTube Video.
("What Happens After You?"/"Beverly Hills," Weezer) What a waste of a choir backing you up. The kids were given virtually nothing to do on this one other than echo a few lines and really get drowned out behind Weezer. It wasn't entirely different than what happened with Tom Ball, but DYC is the finalist here, so it felt like they shouldn't have gotten such a short shrift. Should this turn out to be their last-ever "AGT" performance, it definitely didn't put them in their brightest light.
Aidan McCann (w/ Matt Franco)
Unable to render YouTube Video.
This was a great act from start to finish, with both Matt and Aidan escalating their tricks (and combining them) in the most delightful ways. Both have an incredible charm on camera and actually left us kind of wishing they'd put together the most adorable dual act since Penn & Teller. Honestly, their was so much charisma on that stage, and some genuinely fun magic to boot, we're ready to book a ticket to their first show right now!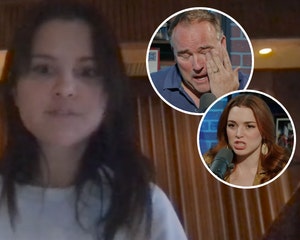 Selena Gomez Says 'Shame' Led to Falling Out from Wizards of Waverly Place Costars
TOP 5 RESULTS
Two things happened with last week's performance finale. We ranked all the acts and came up with our personal Top 5 — and then immediately rejected it for the Superfans, convinced they'd go another way. Before getting into what happened, let's revisit those rankings.
Our ranking of the entire Top 11 was as follows:
11. Detroit Youth Choir
10. Mike E. Winfield
09. Bello Sisters
08. Aidan McCann
07. Ana-Maria Mărgean
06. Kodi Lee
05. Avery Dixon
04. Tom Ball
03. Light Balance Kids
02. Power Duo
01. Aidan Bryant
Then, we thought that the Superfans would respond a little differently than we did — certainly not voting two aerial acts into their Top 2 — and shared our predictions for what would happen. We also emphasized we were certain that we were wrong.
5. Tom Ball
4. Avery Dixon
3. Light Balance Kids
2. Kodi Lee
1. Aidan Bryant
So just how wrong were we? Terry started off the long, drawn-out results experience by narrowing down these 11 acts into America's Top 5.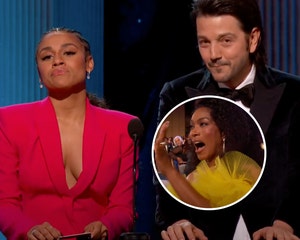 Angela Bassett Reacts as Ariana DeBose Pokes Fun at Viral Moment at SAG Awards
First to get the results were Aidan Bryant, who was paired with Bello Sisters to get their results. For this one, it felt like Aidan had a more magical moment and should get the spot, and that's exactly what happened as Aidan Bryant became the first Top 5 finalist.
They were followed by Aidan McCann squaring off against Power Duo. From right here, it wasn't looking good for our predictions of how the Superfans would vote, as we had neither act in their Top 5. But Power Duo was in our personal Top 2 — still, we had a feeling it would be another Aidian, and it was. Aidan McCann made it two for two for acts named Aidan (and two out of two).
With all the Aidans out of the way, it was time to move on to other names like Avery Dixon and Mike E. Winfield. Maybe it'll be all A names, because we really didn't think Mike delivered as strong an act as he needed to in that last performance, while Avery killed it. The Superfans clearly agreed, sending Avery Dixon into the Top 5.
The next ad was going to break the A-Team streak as Detroit Youth Choir stood alongside Light Balance Kids. As much as Terry loves DYC, LBK really brought magic to what they do, upping their game with each performance. They epitomize the potential of a show like this to really explore something wholly unique, and that's exactly what happened as Light Balace Kids moved on.
Now, why would they put Ana-Maria Mărgean up against two powerhouses like Kodi Lee and Tom Ball. Between them, we can see a tight competition, but it seemed extremely unlikely she could beat either of them, let alone both. It would have made more sense to put her up with the oddball lineup of Power Duo and Aidan McCaan.
As it stood, we had Kodi lower in our personal rankings and higher in our predictions — but also predicted both would make the Top 5. It was almost impossible to pick one, but our gut still had a feeling it would be Tom (or maybe it was just wishful thinking). Howie had been right four out of four guesses on the night and he and Heidi thought Kodi, while Simon went with Ana-Marie.
As for the Superfans, they rounded out the Top 5 with the biggest shocker of the night, and the reason Ana-Maria was in this group. Simon was right as Ana-Maria Mărgean picked up that last spot, knocking out both powerhouse singers.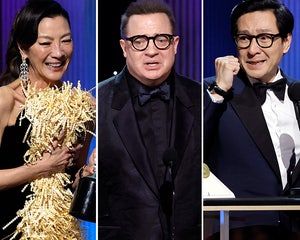 Brendan Fraser, Ke Huy Quan, Michelle Yeoh Celebrate Perseverance, Representation with SAG Award Wins
WINNER RESULTS
With everything in total disarray and zero singers in the Top 5 (which was kind of refreshing), we were definitely wrong about what happened. But, could we still bring home a win with Aidan Bryant scoring total victory? We'd predicted him to win and we ranked him number one. But was that enough?
We do have to note that this Top 5 falls into another "AGT" trope in that they are all kid acts. Other than a few members of Light Balance Kids (who are filling in due to the war in Ukraine), everyone of them is technically still a minor. Maybe next year's bonus season should be "AGT Kids" — clearly the super-fans love it!
Terry's next move was to narrow it down to a Top 2. In both of our lists, going with who's left, we had Aidan Bryant and Light Balance Kids in our Top 2, and we still think those were the strongest acts of the night. But "AGT" fans love magicians and ventriloquists, so could we be looking at an Aidan McCann and Ana-Maria Mărgean Top 2?
Fifth Place: Aidan McCann landed in fifth place, so there's no dual upset in the making. Still, for him to come to America and make this kind of impression at 13 years old tells us he's got a very bright future ahead of him. He may find himself a guest on Mat Franco's show even before he flies back home!
Fourth Place: Ana-Maria Mărgean was next to go, solidifying that the huge upset would not happen. Like, Aidan, though, she's got a bright future in ventriloquism. She's come along way at just 13 years old and will probably return home to a hero's welcome. As she continues to hone her craft, there are definitely many stages in her future.
Third Place: Light Balance Kids just missed out on the Top 2, which to our minds is an upset. They represented Ukraine then and now and we can only hope they get their chance to take this truly unique and inspired act to bigger stages. Seriously, how long before we can get them booked in Las Vegas?
Unable to render YouTube Video.
Second Place: Avery Dixon has absolutely nothing to worry about. He's already won so much just by coming onto the show. He's grown so much as an artist and in confidence just as a human being. That sense of self-worth that the show has given him is worth more than any title. Plus, we don't think this will slow his career down at all.
Winner: Aidan Bryant did things we've never seen before, and it's incredible he is self-taught and still so young. The potential with his creativity, strength and flexibility is through the roof and we can't wait to see how much farther he can take this talent. We got a lot of things wrong with our predictions and rankings, but we got Aidan right as the rightful winner — we'll take it!
It's also pretty exciting that none of the past winners repeated, or even showed up in this Top 5. It was all hungry people who'd come so close in their respective seasons only to fall just short. That in itself is a testament to never give up. Just because someone beat you today doesn't mean you can't take them down tomorrow!
"America's Got Talent: All-Stars" crowns its winner next Monday at 8 p.m. ET on NBC.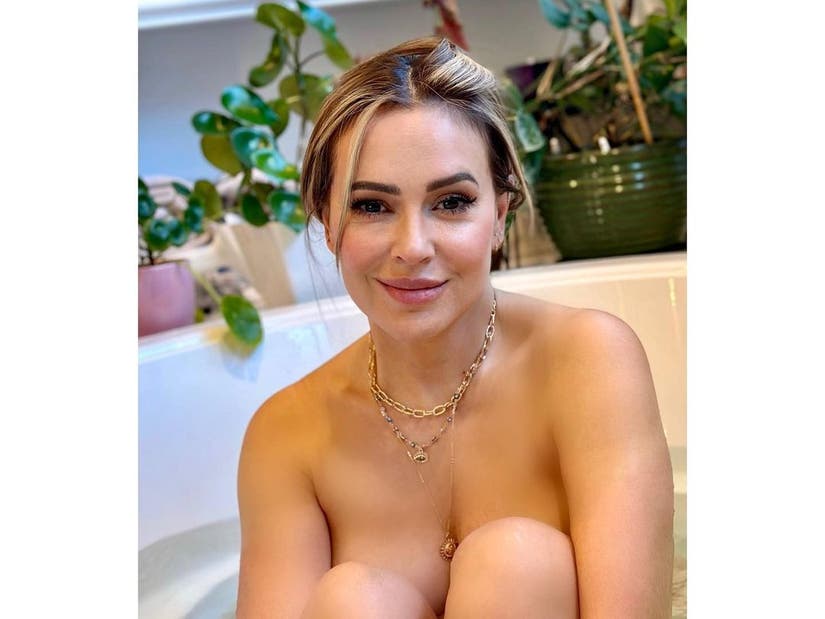 Source: Read Full Article