Courteney Cox Insists She Did NOT Give Prince Harry Mushrooms
The royal, who was a huge Friends fan with a particular liking for Monica, claimed he did chocolate covered magic mushrooms kept in Cox's fridge while a guest at her home
Courteney Cox isn't confirming or denying Prince Harry's psychedelic account of being a guest at her house.
However, the "Friends" icon is making it clear she was not his supplier when it came to the "black diamond mushroom chocolates" he claims to have found in her refrigerator during an impromptu party she threw at her home.
Cox told Variety she was aware of the anecdote in his new book "Spare" and said she's heard the memoir is "entertaining" — however she wanted to make one thing clear.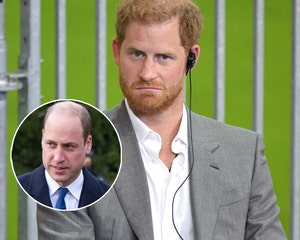 Prince Harry Digs at William's 'Alarming' Hair Loss, Reveals Penis 'Frostnip' in Memoir
While she did confirm the prince was a houseguest — saying "he did stay here for a couple of days" — the actress said that doesn't mean she was confirming the other part of the story.
"I'm not saying there were mushrooms," she said. "I definitely wasn't passing them out."
In his book, released earlier this year, Prince Harry recalled being a huge "Friends" fan and his deep identification with Matthew Perry's character Chandler Bing, who incidentally ends up marrying Cox's character Monica on the sitcom.
During a trip to the States in 2016, Harry says he ended up staying at the Hollywood star's home via a mutual friend.
"We went from the home of [my friend] Thomas' girlfriend to the home of Courteney Cox," Harry wrote. "She was a friend of Thomas' girlfriend, and had more room. Also, she was traveling, on a job, and didn't mind if we crashed at her place."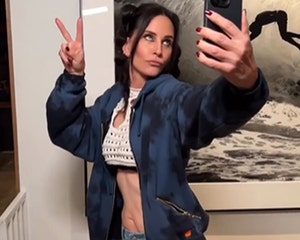 Courteney Cox Transforms Into a 'Gen Z Girl' In Hilarious Makeover Video
"No complaints from me. As a 'Friends' fanatic, the idea of crashing at Monica's was highly appealing," he admitted. "And amusing. But then … Courteney turned up. I was very confused. Was her job canceled? I didn't think it was my place to ask. More: Does this mean we have to leave?"
"She smiled. Of course not Harry. Plenty of room," Harry recounted. "Great. But I was still confused because … she was Monica. And I was a Chandler. I wondered if I'd ever work up the courage to tell her. Was there enough tequila in California to get me that brave?"
It was then, Harry wrote, that Cox decided to throw one of her epic parties.
According to the royal, Will Arnett entertained him and his pal before taking the conversation to the kitchen.
"Then, maybe to get rid of us, he led my mate and me to the fridge, from which he extracted a soft drink. While the door was open, we spotted a huge box of black diamond mushroom chocolates," Harry recalled. "Somebody behind me said they were for everybody. Help yourself, boys. My mate and I grabbed several, gobbled them, washed them down with tequila."
Later on during the festivities, Harry said his hallucinations began, with a trashcan in Courteney's bathroom transforming into the gaping mouth of a monster.

Source: Read Full Article