How Cody Simpson Became Young Hollywood's Go-to Boyfriend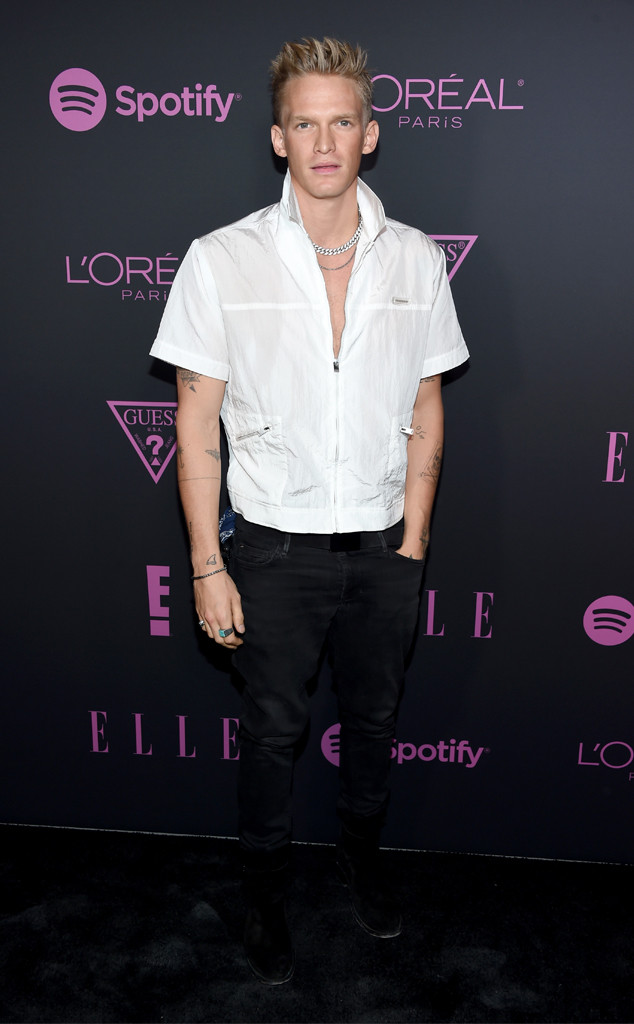 Bryan Bedder/Getty Images for ELLE
So it's official.
With one Instagram story, or one acronym, really, Miley Cyrus firmed up her current status with longtime pal Cody Simpson, informing her followers that her "BF" was "coming to visit me @ the hospy" where she was being treated for tonsillitis.
Not always a fan of labels, the She Is Coming artist is eagerly embracing this one after severals years of viewing the Aussie pop star as a friend. "She's always been a fan of his, but the timing now is different and feels right," a source tells E! News, in light of her finished fling with Kaitlynn Carter and his single status. "She's happy to have him around, and it's good for now."
And why wouldn't it be with the 22-year-old singer checking off many of Cyrus' boxes, as she pointed out in another social media post lauding his age, Australian pedigree and oh-my-god-did-you-see-those abs. A swimming fanatic, he has the kind of six-pack that caused Cyrus, 26, to comment, "Need. Oxygen. Can't. Breathe. I. Stan. For. Ever. Ship." And this is a woman who spent a decade staring at Liam Hemsworth.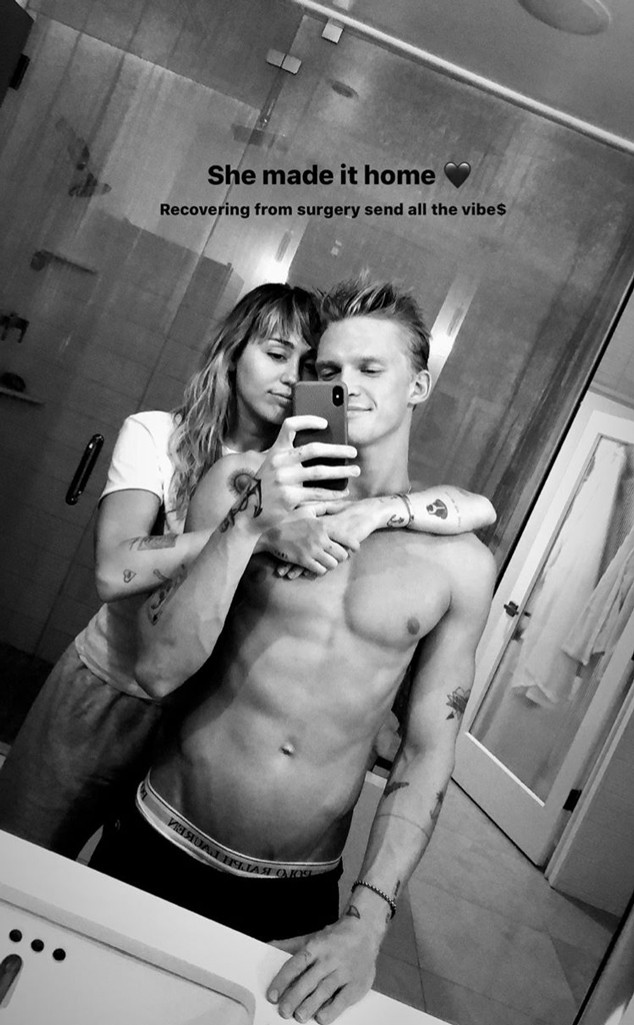 Instagram
Plus he comes equipped with a quite a bit of experience of dating while famous, key when one wants to engage with another person whose Instagram followers are in the millions. Simpson's dating history looks pretty much what you would expect from a guy who spent his teens and early twenties cavorting about with some of the biggest names in young Hollywood as he built up his pop star career and toured with Justin Bieber.
Selena Gomez is just a friend and a planned date with Bella Thorne never materialized after they exchanged numbers in a cafeteria. But he did date Kylie Jenner back when they were just two crazy kids with big dreams, he confirmed to Ross Mathews in 2011, joking that he wasn't quite ready for a future as Mr. Kylie Jenner: "The whole 'K-O-D-Y' thing didn't really work for me."
And there was a spell even back then when he envisioned his current relationship coming to fruition.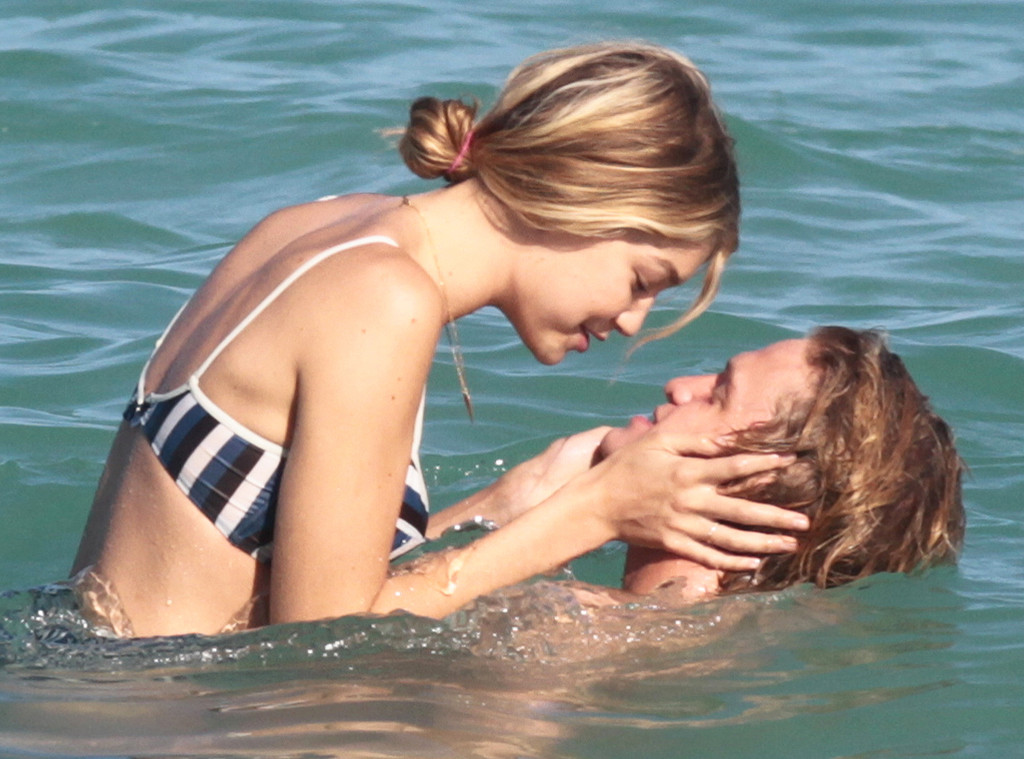 MCCFL/Splash News
At the time, he'd prefer his not be littered with cameras.
"I love my ex-girlfriend, I always will," he told DuJour. "It was an amicable, mutual decision, and we still talk every now and then, but the highly publicized thing made me uncomfortable. Going out to dinner and there being all this paparazzi and stuff…as soon as we split, I had the realization that I was straying away from who I was as a whole person. I want to keep it low-key and focus on my music."
Which, to his credit, he did for a bit, reportedly romancing model-and-college student Sierra Swartz for a brief stint in 2016, followed by model-and-singer Charlotte Lawrence and otherwise going about the business of building his career. He released his third studio album, Free, in 2015 and enjoyed a four-month stint in Broadway's Anastasia that wrapped this March.
But there's always something about your first crush…
"I'm very happy. We are very, very happy," he told reporters at the Tiffany's & Co. Mens launch of reconnecting with Cyrus. "She's creative. She's very passionate about what she does, and I'm very similar in that sense. That's why we get along so well."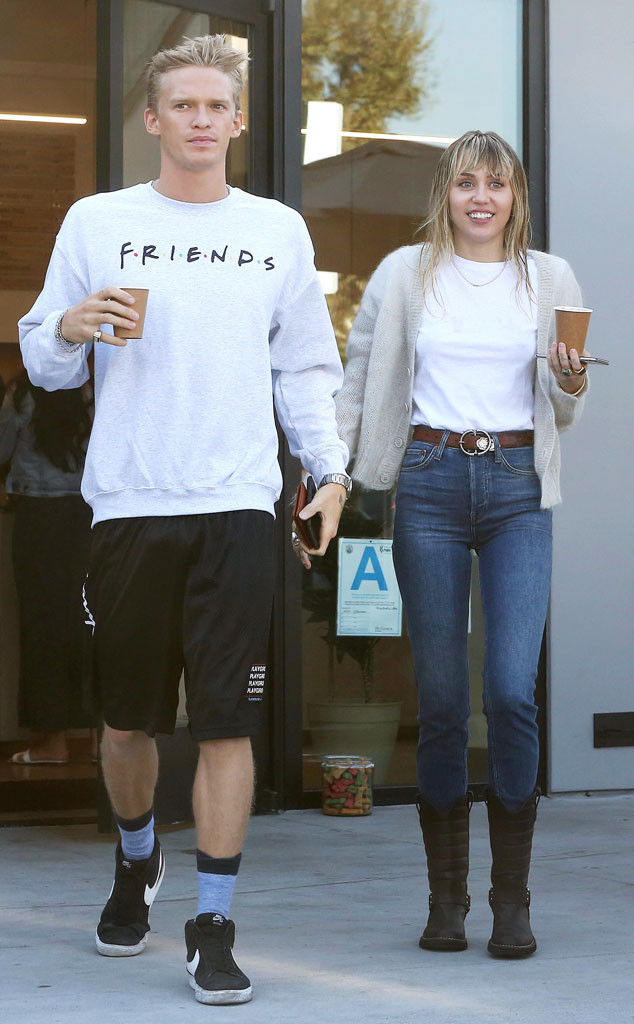 P&P / MEGA
They have seemingly gone from acquaintances to very together in the space of one açaí outing, with his-and-hers tats and public displays of Instagramming. (Not to mention the fact that they crossed that whole meet-the-parents bridge ages ago.)
"The reason why it hasn't been a really crazy sudden thing is just because we've been friends for so long," he told People at the Oct. 11 Tiffany's event, noting they "found each other again in a space where we're both not partying, working real hard, and it just keeps things healthy and it's good. Any girlfriends I've had in the past has always been immediate romance and so it's a different experience having been friends with somebody before and it developing naturally into something more."
But an insider insists Cyrus isn't looking to land herself in another serious situation so soon after exiting her marriage. "Miley is being Miley. She is having fun and that's all," the insider told E! News earlier this month. "She has known Cody for a long time and is very comfortable with him. There's no strings attached and she is just going to see where each day takes her."
Right now it's taking them to an interesting place artistically.
"Cody is focused on his music and living a healthy lifestyle and she really likes that," the source also tells E! News. "It feels good to Miley to be surrounded by his positive energy. They play music together and hang out in the studio. He wrote a song about her and she loves it. They have gotten a lot of attention teasing it to the fans and they are having fun with it."
That would be "Golden Thing", to be dropped Friday some five years after Simpson mused they would make great collaborators. "Hopefully I'll be able to do something with Miley," he told Entertainment Tonight at the time.
Consider us ready for the music video.
Source: Read Full Article