'I'm Hollywood's acceptable black girl'
Zendaya Coleman has called out Hollywood's beauty standards.
The 21-year-old actress says she's the industry's "acceptable version of a black girl".
Speaking at the Beautycon Festival she said colourism within the beauty and entertainment industries needs to end.
"As a light-skinned black woman it's important that I'm using my privilege, my platform, to show you how much beauty there is in the African-American community," she said.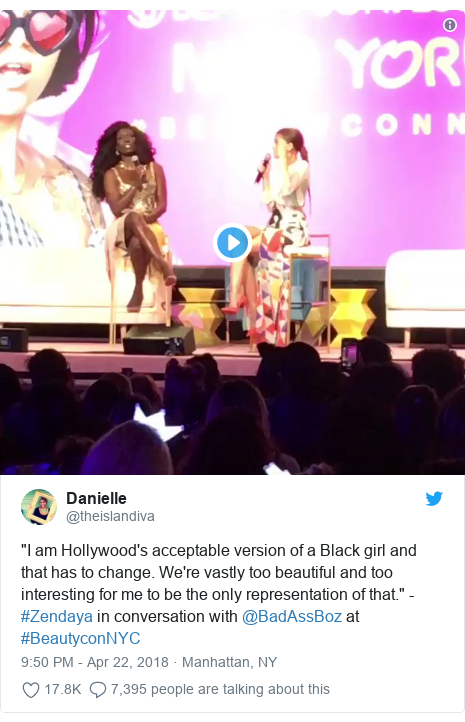 Her comments were made during a discussion about representation with Uber's chief brand officer, Bozoma Saint John.
It's not the first time Zendaya has spoken about a lack of diversity on-screen.
The former Disney star told Cosmopolitan in 2016 it was important for her to understand her "privilege" as a light-skinned black woman.
"Unfortunately, I have a bit of a privilege compared to my darker sisters and brothers," she said.
"Can I honestly say that I've had to face the same racism and struggles as a woman with darker skin? No, I cannot."
She also addressed the issue of beauty standards in 2015 after Modeliste Magazine altered an image of her.
"Had a new shoot come out today and was shocked when I found my 19-year-old hips and torso quite manipulated," she wrote on Instagram.
QUEEN 👑. @zendaya on being a REAL model – not just a role model at her fireside chat with @badassboz at #BeautyconNYC this weekend.
A post shared by Beautycon (@beautycon) on
End of Instagram post by beautycon
Colourism – discrimination against people who have darker skin, usually by people of the same ethnic group – has been in the news recently after a backlash to old tweets by BBC Radio 1 presenter Maya Jama.
The tweets, which have now been deleted, saw Maya mocking dark-skinned women.
The 23-year-old was forced to apologise twice after anger that her first apology was directed towards "all women" rather than dark-skinned black women.
The tweets and apologies sparked a big reaction online.
Black Mirror and Chewing Gum actress Michaela Coel, who's been pictured with Maya in the past, commented on her second apology.
Michaela also praised BBC presenters Clara Amfo and June Sarpong.
Follow Newsbeat on Instagram, Facebook and Twitter.
Listen to Newsbeat live at 12:45 and 17:45 every weekday on BBC Radio 1 and 1Xtra – if you miss us you can listen back here.
Racism
Beauty standards
Hollywood
Source: Read Full Article