Kim And Kourtney Kardashian Finally Hash Out Nasty Feud On The Kardashians
"You stole my f—ing wedding country and my wedding performer," Kim exclaimed after Kourtney accused her of putting a paycheck above her sister's feelings.
After weeks of buildup, the showdown between Kim Kardashian and sister Kourtney finally aired on this week's episode of The Kardashians.
ICYMI: Kourtney made it clear previously she felt Kim's collaboration with Dolce & Gabbana stepped on the toes of her recent wedding celebrations, during which she wore curated looks from the brand's vault. She also believed the partnership spoke to a larger issue she had with Kim, who she felt doesn't prioritize family over business deals.
The pair spent the last few episodes talking about their frustrations with the other to anyone who would listen … but not face-to-face with one another. After putting it off for too long, Kim showed up to Kourtney's at the beginning of the new hour to hash everything out once and for all.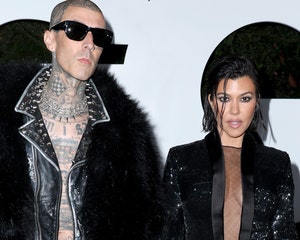 Kourtney Kardashian Changed Name to Barker on Driver's License, Shares Photo — Is She 'Mocking' Kim?
First, Kim explained how she and the fashion house settled on her collaboration. Initially, it was supposed to be a deal between D&G and SKIMS, but when Kim's brand couldn't get it together before the runway date D&G had in mind, they pivoted. Instead, Dolce & Gabbana decided to do a show pulling from their archives, with looks from the '90s and 2000s and asked whether Kim wanted to serve as creative director. She said that they would have done the show either way and insisted she told the designers she didn't "want to do this because it's way too close to Kourtney's wedding. I want it to be completely different, I want it to be such a different thing."
Kim did, however, move ahead with the collaboration … and only let Kourtney know what the new plan was after making the agreement, when she invited her to the show.
"I remember on the call I was like, 'What are you calling me for? Are you asking for my blessing? 'You weren't like, 'Hey, I'd love to know how you'd feel about this,'" Kourtney recalled. "You called after the deal was done to tell me and give me a heads up."
Kim then wondered what Kourtney would have said if she had asked.
"I don't know. My usual personality because I don't really care like that, was to be like, oh my god, do it, take the money and run," she said. "But because it was my wedding, it really wasn't business for me, it was such a special day. I feel like it takes away from the specialness."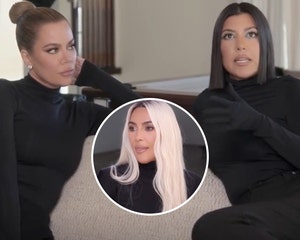 Kourtney Kardashian Rails on 'Intolerable' Sister Kim Over Lack of 'Loyalty' on The Kardashians
In a confessional, she added that it felt "awful my sister used my wedding as a business opportunity" and "chose the money over me." She felt that's why Kim never asked how she felt before agreeing to the deal, saying, "It's not that she forgot to ask me or thought I wouldn't care, I think that she wouldn't have known what to do if my answer was no."
When Kim attempted to deflect by saying Kylie Jenner also did a D&G campaign around the same time, Kourtney said that wasn't "cool" either, but added Kylie's "just in Kylie's world or whatever" and she never would have expected a check-in from Jenner in the first place.
Further explaining her frustrations, Kourt said she was peeved the runway show seemed — in her mind — so similar to her wedding, after planning a "La Dolce Vita" theme for her big day. She said the theme "felt authentic" to her, since she had been going on vacation to Italy for 5 summers in a row, and was annoyed the vibes she curated for her wedding were, in her mind, also in Kim's campaign. Kim, however, felt it was BS for Kourtney to claim all of Italy, as she said "I do" there first.
"I got married in Italy. Am I saying you copied me by getting married in Italy?" a frustrated Kim said in a confessional. "Who performed at my wedding? Andrea Bocelli. Who performed at Kourtney's wedding? Andrea Bocelli. You stole my f—ing wedding country and my wedding performer. Andrea Bocelli is my favorite male singer of all time, but I'm copying her Dolce Vita lifestyle."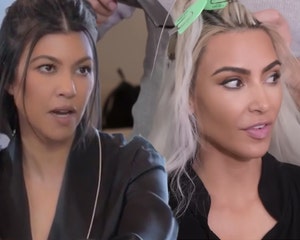 Kim Kardashian Reacts to Kourtney's Anger As Feud Escalates: 'She's Such a Hater'
Kim shifted tactics again, saying that everyone who saw photos from Kourtney's wedding thought it was "so sponsored" … before telling her sister that there were only "so many looks in the '90s" to choose from when raiding the D&G archive for her runway show.
"The biggest thing is no one called me to say — not mom, or yourself — to be like, 'Hey, how do you feel about this? It's this much money, I really want to do it," Kourtney continued, as Kim defended herself by reiterating how she talked the designers out of highlighting looks that were too similar to the wedding.
For Kourtney, the greater issue was "just wanting my own s— and my own identity," she said, admitting to getting "protective" over things and ideas that are hers in a confessional. She then asked Kim why she felt she needed to do the collaboration in the first place and whether it was "deeper than just the money." Kim explained she wanted to do it to challenge herself, especially following her divorce, to prove she could do something like this in the fashion world on her own.
Kourtney didn't seem impressed with that answer and again told her sister, "Food for thought for later in life, what is it about yourself that you have to have everything?" She added, "You can't stop. It's not good enough … There's something about being able to be content and happy with what you have and not feel like you need more."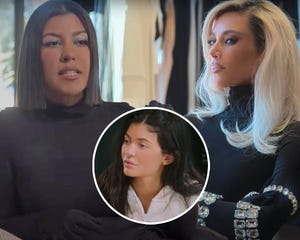 Kourtney Kardashian Slams Kim, Says She 'Used My Wedding as a Business Opportunity'
As Kourtney said she was "happy to move on to the next and be done with this s—," Kim said the last thing she'd ever want to do was "intentionally hurt" anyone. She told her sister, "the last thing I wanna do is for you to think I'm coming for you," before Kourt said there was an "underlying weirdness" between them for some time. Kim thought it stemmed from their previous fight back on Keeping Up with the Kardashians in 2020, before pointing out how much time Kourtney had been spending in "Travis Land" lately as well.
Though she admitted she doesn't have the time she used to for a "sisters' vacation," Kourtney said she still wanted them to do things together. But, in this instance, she sat out on congratulating Kim's accomplishment or attending the fashion show because, in her mind, her sister felt "the business and the check was more important than my feelings."
"It happened and we are where we're at. There's nothing else I can say, but I totally understand, I hear you, I'm sorry, I'm sorry my choices put us in this situation," Kim then told her. "I'm happy for the experience, but I'm sad and sorry that the experience hurt you. That's not what I would ever wanna do. I'm sad that me choosing to do this would hurt you or our relationship."
Kourtney said she was appreciative of the apology, before a crew member off camera said they were proud of how the pair were able to express themselves "really well" — calling it a "far cry from the wall-slamming" in the past.
New episodes of The Kardashians drop Thursdays on Hulu.

Source: Read Full Article