Libra Season Makes Dating Actually FUN Again
For the past month it's felt like you're juggling a bajillion things at work, home, with your friends—you can thank Virgo season for that. If you've been hoping for relief, you're in luck! The Sun exits busy bee Virgo and joins the party in Libra on September 23 (along with Mercury and Venus), aka life's about to not only get way less hectic, but actually breezy and social again!
Libra, ruled by Venus (planet of love), is ~the ~sign of relationships, so it's no wonder that this season overlaps with the start of cuffing season. You're feeling more romantic and willing to pencil in a date with a Tinder match, spending time with your boo feels more frictionless, and you're always with your bestie, because Libra season is the time of year where you most want to be around other people. Even the more independent signs (fire signs, I'm talking to you) are taking initiative in making plans with their ride-or-dies, and for the more hookup-oriented signs (air signs, that's all you), these vibes make flirting even easier for you.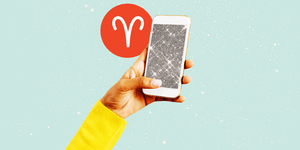 The only downside to Libra season is that it can make you overcommit to plans or dates and end up being flakey or indecisive. But this year, there's some stressful energy in the stars pushing you to take all of these new connections and actually do something with them. On October 7, the Sun in Libra forms a harsh square angle to Saturn, the planet of structure and discipline, which means it's important that you don't ghost your crush or potential next bestie, or else you might find that all of the new connections in your life start trickling away.
Libra energy makes you want to have an open-ended schedule, but Pluto only deals in extremes.
Things lighten up around October 13, when the Sun forms an supportive sextile angle to Jupiter, planet of abundance and luck, so if you're feeling good about these new peeps, it's a great day to spend with them. If you want to go on a second date with your new crush, it's the best day all month for that, too! On October 14, the Sun forms a harsh angle to Pluto, planet of transformation, which can be really good or reeeaaally bad, depending on you've acted over the first couple weeks of Libra season. Libra energy makes you want to have an open-ended schedule, but Pluto only deals in extremes—so expect MAJOR changes to your love life and social circle. Again, if you're upfront and honest with the new people in your life, it can be great for turning your relationships around for the better and committing, but if you're being flaky or waiting around to be clear with your intentions, all your new frandz might bounce.
libra season mood board pic.twitter.com/TUZQhixXZr
Other than that Saturn/Pluto drama at the end of Libra season, this next month promises to be pretty GD exciting! You're making friends, enhancing your love life, and finally cooling off from this scorcher of a #HotGirlSummer. Libra season is the month to go to aaaalllll the parties, make aaaalllll the new friends, and live your best life—it only happens once a year, y'all!
Read your Sun and/or Rising sign horoscope below:
Aries
All of this airy energy is warming up your chart's relationships zone, so whether it's your bestie or your boo, you're always around someone! You're usually hardheaded and unapologetically independent, but solo endeavors aren't going to go too smoothly right now. Learn how to compromise and team up with other people, and you're golden this month.
Taurus
Virgo season was all about romance and fun times with friends, but that trend slows down a little for Libra season. You're still living it up under all of the Venusian vibes this month has to offer, but you're also spending a lot of time at the office, running errands, or at the gym. This is mostly your time of year to organize your life and develop healthier habits, so that when you feel more social again, you an go on all the dates without feeling overwhelmed by your schedule.
Gemini
The good news: Libra season is lighting up your chart's zone of sex, romance, and fun, so your love life is more active than it has been in 5ever, but there's bad news, too. With all of the Saturn/Pluto drama going on towards the end of Libra season, you're getting pushed more than any other sign to settle down with your crush/FWB/partner, which might be a bit of a challenge given your flighty, commitment-phobic sensibilities. Try and enjoy yourself, Gemini, and listen to what you truly want.
Cancer
Libra season is bringing major Venusian vibes to your chart's sector of home life and family. Venus rules over love, pleasure, and beauty, and you're taking on the "beauty" aspect of this time of year the most, TBH. It's the perfect time to redecorate your space, stock up on sheet masks, and spend the next few weeks reconnecting with the fam, your roommates, or live-in partner.
Leo
You're gonna need an extra shot (or six) in your pumpkin spice lattes this month, Leo, because you're busy AF–particularly in your social life! Your DMs are stuffed full of hotties and you have plans basically every night of the week. This next month is all about experiencing new things, so you're bound to meet all kinds of fascinating new people that you 200% want to add to your squad. Just give yourself the occasional night to yourself so you don't burn out–even lions need rest.
Virgo
Your birthday season may be over, but the party's not over! Libra season's biggest focus is on your already-existing relationships and strengthening your bonds with them. Which of your friends matter most to you? How's your boo treating you? If you're looking for love, what exactly are you looking for in a partner? These are the questions that come up again and again over the next month for you sign, and you can use your Virgoan powers of discrimination to discern who and what you value most.
Libra
Happy birthday, fellow Libras! You're killing it this month. Mercury in your sign right now makes all of your social skills, witty jokes, and charismatic energy more powerful than ever, and Venus in Libra makes you look and feel hotter than ever! It's a pretty great astro-forecast for your birthday season, but towards the end of Libra season when Saturn and Pluto start acting up, things can get a lil crazy, especially at home or with the fam. Luckily, your other relationships are thriving so much that your homies are totes willing to swoop in and support you when you need it!
Scorpio
All of Libra season's activity is turning up the heat in your 12th house, AKA the zone of your chart associated with isolation. You're becoming intimately aware of the unconscious patterns and self-defeating habits you have. Virgo season filled your life with new connections, and now you have a bit of alone time so you can process everything that went down and all the people you met. It's not the most comfortable time of year, so spend as much time as you need resting, meditating, and dreaming. Once this month is over and Scorpio season comes around, you're feeling refreshed, clear-headed, and ready to take on the world.
Sagittarius
Libra season is pretty social for everyone, but your sign is the one that's spending the most time out and about with your bud. The part of your chart being activated is all about friendships and networking, so life's feeling pretty GD great—especially after the whirlwind of a Virgo season you just had to endure. Just one thing—as much as you'd love to forget about work and spend your days having fun 24/7 for the next month, you can't just drop everything else or start leaving 30 minutes early just because you crushed it last month.
Capricorn
Your sign is very concerned about your status, and Libra season is in your chart's zone of, well, your reputation. All of the hours you clocked in last month are finally amounting to tangible results now, and life at work is better than ever, but the battle ain't over yet. This is the peak of your year as far as your job goes, and as long as you keep up the good work, you can anticipate a promotion or tons of recognition and praise from your higher-ups!
Aquarius
All of the planets in Libra for the next several weeks are activating your chart's zone of adventure, travel, and higher education, so if you're a student or have some type of vacation planned, you're guaranteed to have a blast this month! The next few weeks are all about broadening your horizons, and whether that means you're traveling somewhere completely out of your comfort zone, taking a challenging class, starting a new job, or just binge-watching all the Netflix documentaries that catch your eye, you're definitely learning a ton!
Pisces
Even though you're regarded as a non-committal sign most of the time, Libra season's influence in your chart's zone of intimacy is making you learn the value of closeness with others. Sex becomes a more emotional experience (which is saying a lot, as you're already the most emotional sign) and whether you're with the LOYL or just hooking up, your feels are through the roof in the bedroom! Basically, you're learning about yourself through your deepest, most intimate relationships, so your connections with your partner or lover(s) are highlighted most right now.
Source: Read Full Article