Regina Belle and Peabo Bryson reunite to sing their classic, 'A Whole New World'
The iconic duo behind the 1992 single "A Whole New World" is back 27 years later to celebrate the classic song.
Regina Belle and Peabo Bryson performed the tune at the finale of the Broadway production of "Aladdin" on Sept. 9.
"And we're still singing it in the same key!" Belle told "GMA."
The artists were invited to celebrate the release of both versions of "Aladdin" — the 1992 animated original and the 2019 live-action release — on Blu-ray and digital. Their original music video and song will be included on both as special content.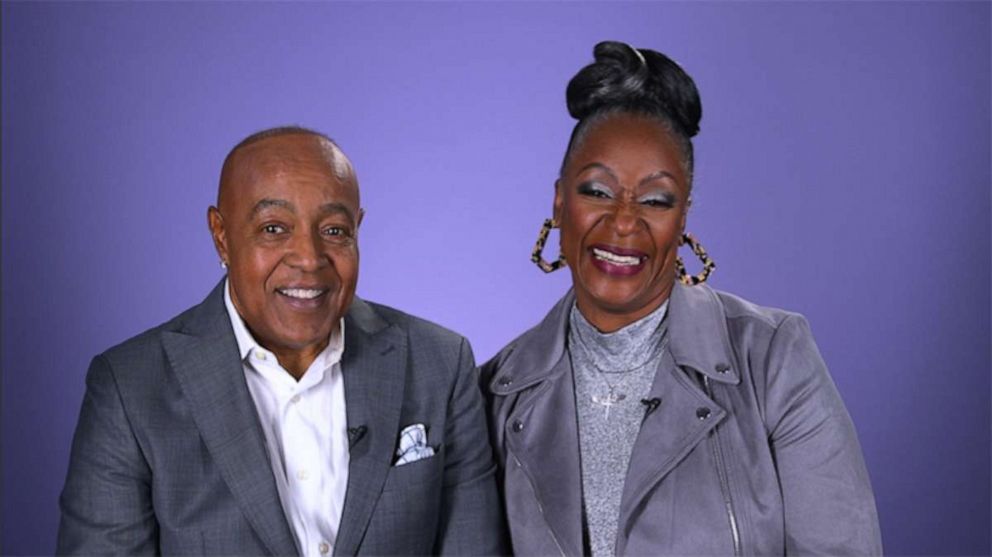 The duo was introduced by Michael James Scott, who plays the Genie in the Broadway production.
"It gives me great pleasure and a great honor — our great honor — to introduce to you the two artists who made that song so wildly successful!" he said to an excited audience.
"A Whole New World" is the only single from an animated Disney film to top the Billboard Hot 100 chart, dethroning Whitney Houston's "I Will Always Love You" in 1993. The single was released in 1992 along with the original movie.
To this day, Belle and Bryson are in shock after winning song of the year and best pop performance by a duo or group with vocals at the 36th Annual Grammy Awards in 1994.
"For me, when we recorded it, I had no idea it was going to be this huge. I didn't even really conceptualize Disney. I grew up with Disney, but I didn't get it," said Belle.
While recording the song, Belle was taking medication, as she had just been diagnosed with bronchitis.
On the other hand, Bryson says he had a hint the song would be something special. Prior to "A Whole New World," Bryson also recorded the song "Beauty and the Beast" with Celine Dion, which won the Grammy for best pop performance by a duo or group with vocals.
Both artists credit the team behind the song — such as producer Walter Afanasieff, composer Alan Menken and writer Tim Rice — for making it so successful, saying that when you combine those talents together, "You understand what great is."
"A great piece of music is something that you'll never ever get tired of listening to. That's when you know as an artist or a music person that it has legs or not," Bryson told "GMA."
The duo told "GMA" they were blessed to see how much the Disney classic has gone beyond generations, saying they have fans from ages 8 to 80.
"This song inspires everyone who listens to it in a specific sort of way in that it represents every positive and, you know, every hope and promise that you're ever going to make, and every facet of life, because it can be a new food you just tried," said Bryson.
"It could be that first boyfriend, that first girlfriend. It could be that first dream job! The first wonderful house — it can be everything!" said Belle.
The song is still a classic all these years later, and both Belle and Bryson say they are honored to be part of the Disney legacy, crediting it with providing life philosophies to children through songs such as "Beauty and the Beast," '"Circle of Life" and, of course, "A Whole New World."
"That promises every child that the world is yours. You can create it. You can be anything you want to be. You can create any kind of world you want to live in," said Bryson.
While discussing the 2019 version of "Aladdin," Belle and Bryson said they love Jasmine's new storyline, in which she takes charge, becoming the new leader of Agrabah.
At their performance at New Amsterdam Theatre in New York City, both recreated the power and chemistry of their hit single and music video, leaving members of the audience and cast of the Broadway production with goosebumps.
Disney is the parent company of ABC News.
Source: Read Full Article