Royal Family Releases First Photos From Baby Archie's Christening
Royal watchers, you can prepare to say "oooo" and "aww," for the first photos from baby Archie's christening have been shared with the public. Originally, some royal fans were upset that the Duke and Duchess of Sussex were keeping the ceremony's details so hush-hush, but this might quell some of those feelings. Behold, the first photos are here!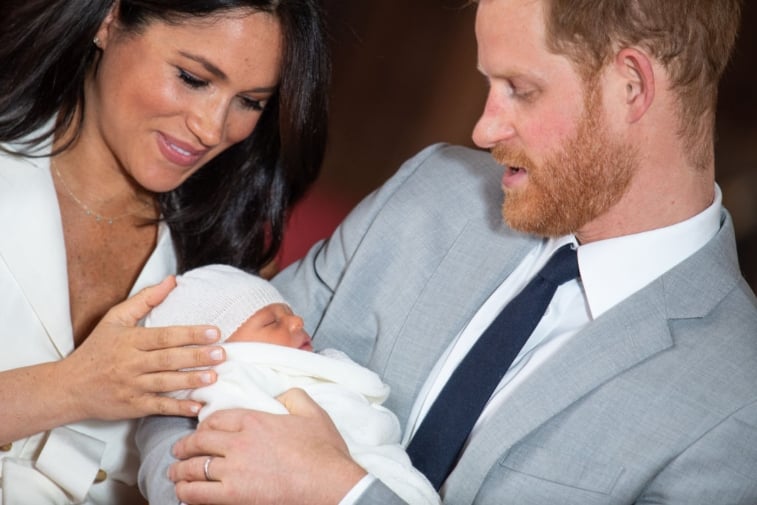 Where and when the christening was held
Prince Harry and Meghan Markle chose to hold Archie's christening at the same venue where their wedding was held: Windsor Chapel. On July 6, a small group of family members and friends gathered for the event, including Kate Middleton and Prince William (sans their children), Doria Ragland, Prince Charles and Duchess Camilla, and Diana's sisters, Lady Jane Fellowes, Lady Sarah McCorquodale. Queen Elizabeth was unable to attend the event due to a previous commitment.
According to Yahoo!, Buckingham Palace released the following statement:
"The Duke and Duchess of Sussex are overjoyed to share the happiness of this day, and would like to thank everyone around the world for their ongoing support. They feel so fortunate to have enjoyed this special moment with family and Archie's godparents."
Click through the photos which feature a royal family portrait in the Green Drawing Room at Windsor Castle and a closeup of the couple holding Archie in his christening gown. He is the tenth royal baby to wear the gown, which is part of royal tradition. Town & Country notes that the famous Honiton gown is a recreated version of the one Queen Victoria had made for her firstborn child's own baptism ceremony.
https://www.instagram.com/p/BzlHhZylvwT/
Who took the photos for the event
For such a special occasion, the couple chose to go with photographer Chris Allerton. He is the same photographer who took pictures for their wedding day, and considered Archie's event to be an honor, saying, "I am honoured to take the official photographs at the christening of Archie Harrison Mountbatten-Windsor, and to once again, be part of such a special and joyous occasion for The Duke and Duchess of Sussex."
The BBC reported that the press was prohibited from covering the private event, therefore there was no news broadcast or reporting to the public about it. Fans are ecstatic at seeing pictures from the affair nonetheless.
Allerton may be the royal couple's go-to photographer of choice, and it's been speculated that he was one of the 25 guests at today's event. He is clearly a favorite of the pair.
https://www.instagram.com/p/BxpwplggUK7/
Allerton was also behind first look photos following Archie's birth. According to Allerton's website, he's been into photography since age eight and travels all over the world for work:
"He travels all over the world on commissions, specialising in location Portrait, Fashion and Private Event photography. Along with his private clients he works with major fashion houses and top international companies."
It is unclear whether the proud parents plan to share any other photos from the happy occasion in the near future, so for now, royal fans will have to settle for these lovely images.
Source: Read Full Article