Schools race to resume remote learning with just a few hours' notice
For our free coronavirus pandemic coverage, learn more here.
Parents have been warned not to expect schools to be able to run a full remote-learning schedule until Monday after being given just a few hours' warning that the state was headed for another snap lockdown.
Many schools sent children home with hard-copy work packs on Thursday afternoon in anticipation of the lockdown, which was not confirmed until well after school bells had rung to signal the end of the day.
St Patrick's Primary in Murrumbeena has been closed after a positive case attended the school.Credit:Joe Armao
"This isn't something where anybody should be expecting teachers to provide the full type of program that might have been provided in other lockdowns, where there has been more lead-up time or greater capacity to develop that as the lockdown has continued," said Justin Mullaly, deputy president of the Victorian branch of the Australian Education Union.
Premier Daniel Andrews acknowledged he had set teachers a difficult task giving them such short notice. He also said it was possible the remote-learning period would stretch beyond Tuesday.
"Schools will do their very best tomorrow to provide support and as close to a regular curriculum and a regular school day as possible, but my message … to schools is tomorrow will be a challenging day, but with the benefit of the weekend … we'll be able to have those two full days of remote learning on Monday and Tuesday," he said.
"We will always reserve the right to look at senior students, look at kids with disabilities, look at bespoke arrangements in the event that this [lockdown] went beyond midnight Tuesday."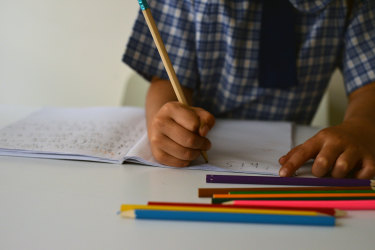 Schools will switch to remote learning on Friday, with many children being given hard copy work packs. Credit:Tanya Macheda
The education settings will mirror previous lockdowns. Childcare and early learning centres will be open and schools will still open for children of essential workers and vulnerable children. Universities will close.
The Department of Education and Training briefed state school principals about the switch to flexible learning at 5.30pm on Thursday.
Bec Spink, principal Spensley Street Primary, said the Clifton Hill school had sent children home with work packs they could complete without a high degree of teacher support.
"We are just doing wellbeing checks tomorrow and then basically on Monday we will hit the ground running with remote learning," she said.
A deep-cleaning crew works at Barwon Heads Primary School, where a student tested positive to COVID-19.Credit:Jason South
Victorian students have already lost as many as 121 days of in-class learning since March last year.
Ms Spink said children had proved they were resilient in the lockdown but mental health and wellbeing was a concern both for them and her staff.
"Just because it feels a bit like groundhog day," she said. "You do have concern for families in the community and for staff in terms of managing it. It's not easy," she said.
"For teachers, I think there is a bit of residual hangover from last year, in terms of the impact that that's had on mental health and wellbeing."
Mr Mullaly reiterated the union's call for teachers to join the front of the queue for vaccination against COVID-19, including early childhod educators, saying the slow rollout had put them "in an invidious position".
"They must be prioritised and it needs to happen now," he said.
Three schools have already closed this week ahead of the wider lockdown: Bacchus Marsh Grammar, after a teacher tested positive; Barwon Heads Primary School after a student in the same family was infected; and St Patrick's Primary in Murrumbeena, where a student tested positive.
Most Viewed in Politics
From our partners
Source: Read Full Article