See Kelly Ripa and Her Kids Hilariously Recreate Their 17-Year-Old Vacation Photo
Kelly Ripa and her kids Michael Consuelos, Lola Consuelos, and Joaquin Consuelos recently recreated a photo they originally took back in 2003. See the then-and-now pics here.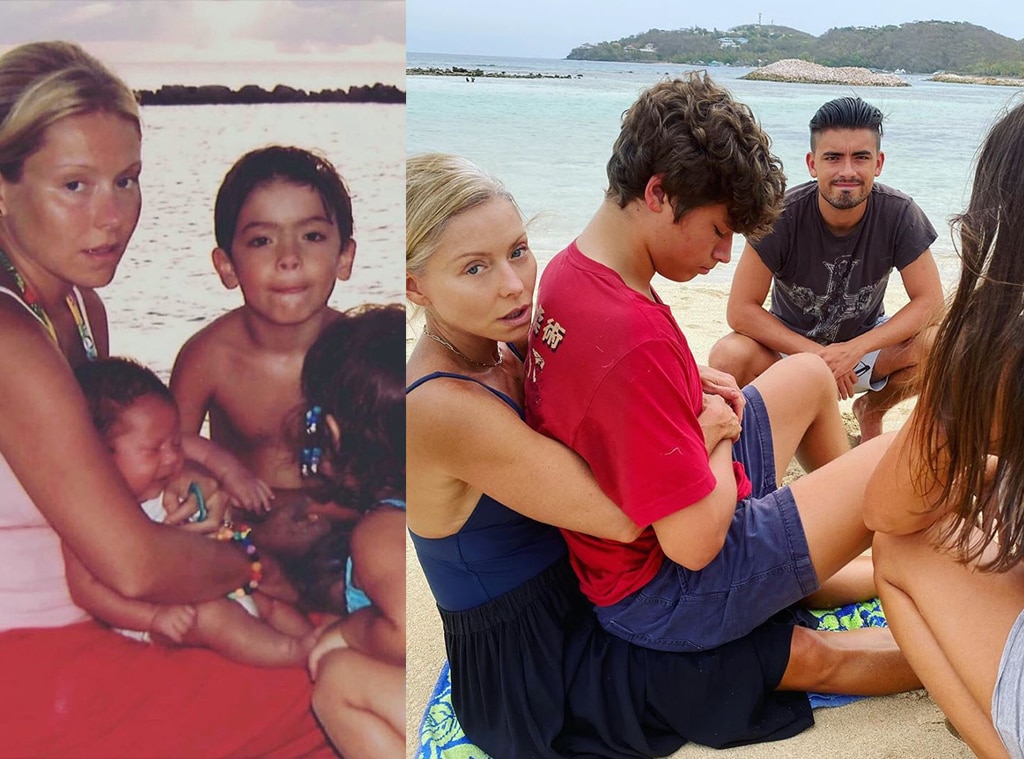 Kids, they grow up so fast.
Kelly Ripa reminded her followers how much her children have grown by sharing then-and-now photos of her crew on Instagram.
The posted consisted of two side-by-side pictures—one from 2003 and one from 2020. In the first photo, Kelly could be seen holding her youngest son Joaquin Consuelos, who is now 17, in her lap when he was a baby. The picture also featured her two older kids—Michael Consuelos, 23, and Lola Consuelos, 19—during their childhood years. When fans swiped over to the second photo, they saw the famous family members recreating the same poses in present day. Kelly joked "objects may appear larger" in the second shot.
Her husband, Mark Consuelos, seemed to enjoy the trip down memory lane.
"Like it was yesterday," the 49-year-old Riverdale actor wrote in the comments section along with a series of heart emojis.
The 49-year-old morning show host also quipped the look on her face in both pictures was "the same."
Earlier this year, Michael graduated from New York University—where Lola studies, too. Soon, Joaquin will also be heading off to college, leaving Kelly and Mark with an empty nest.
"We had our kids so young—we'd only been married for one year when we had Michael, so we have had kids pretty much our entire marriage," Kelly told People for its recent family issue. "So when it comes to an empty nest, we're looking forward to it, honestly—knowing that they'll still be close to us, and they will come home, and we will still have plenty of times together ahead. We love each other—but we also really like each other, and we respect each other. I don't think any amount of college or growing up will take that away from us."
To look back at some of the family's sweet moments, check out the gallery.
Trending Stories
Lauren Conrad Speaks Out After James Charles Shades Her Beauty Brand
Rachel McAdams Is Pregnant With Baby No. 2
Stormi Webster Looks So Grown Up in Latest Pics From Kylie's Birthday
From kids to teenagers! "#tbt 2011 vs. 2019 Les murs sont devenus plus petits," Kelly Ripa shared in an Instagram post that showed just how much her kids have grown. 
"The Graduate #2019," Kelly Ripa wrote on Instagram when celebrating Lola's latest accomplishment. 
When Kelly Ripa received her star on the Hollywood Walk of Fame, her entire family including kids Lola, Michael and Joaquin couldn't help but attend. 
When it's time to celebrate a big event, you can count on the entire family to join in and celebrate. 
When you're family is this beautiful, you would likely be posing for selfies more often than not too. 
Holidays always bring family together and this famous crew is no exception. 
Back in 2003, Mark Consuelos and Kelly Ripa celebrated the opening night for A Year With Frog and Toad at Maxine's in New York City.
Back in 2001, Mark Consuelos and Kelly Ripa took their son to the ATLANTIS The Lost Empire premiere at the Ziegfeld Theatre in New York City. 
Whether they are traveling somewhere hot and tropical or cool and snowy, this family always knows how to have a good time. 
Source: Read Full Article