Serena Williams Gushes About Her Friendship With Meghan Markle
Serena Williams and Meghan Markle have truly embraced the meaning of friendship goals. The 23-time Grand Slam winner and the Duchess of Sussex are a great example of two women who fully support one another. Bonding on issues like fame and most recently, motherhood, the two share a special relationship that is truly a joy to witness. Williams recently said the sweetest thing about her friendship with Markle, and we may or may not be swooning.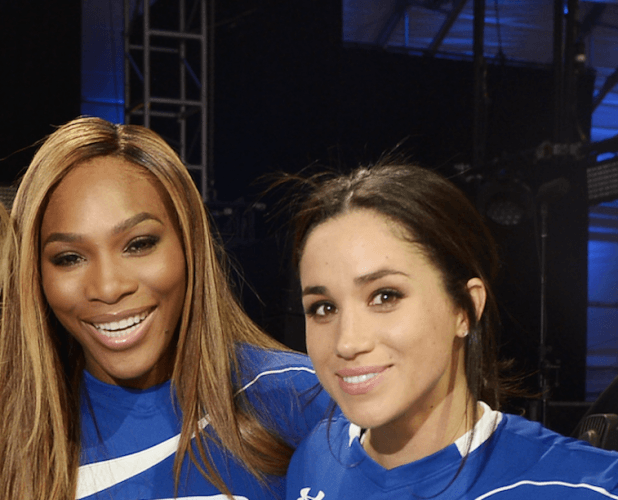 A wedding and a baby
The long-time friends formed a bond almost immediately when they met at a Superbowl party over nine years ago. Though their busy schedules often made it challenging to meet up, they made an effort to stay in contact with one another over the years. As they both are constantly at the mercy of the media's intense scrutiny, they are able to counsel each other and support one another through good times and huge life events.
When Markle tied the knot with Prince Harry just last year, Williams made sure to make the international trip to attend her friend's wedding. Similarly, when Williams made the announcement that she was pregnant with her first child, Alexis Olympia, Markle quickly threw her support behind the best athlete of all time.
Wimbledon press conference
But the famous pair is also there for each other in times of great strife. Recently Markle can't seem to catch a break. Critics were upset when the duchess allegedly asked fans to refrain from taking her picture. For some unknown reason, royal fans took offense to this simple request. God forbid Meghan Markle exude any type of human behavior and ask people to simply respect her privacy.
https://www.instagram.com/p/Bzsm-PZnTQx/
During a press conference at Wimbledon, Williams was asked to comment on the negative media her friend was receiving said and she said the following, "I didn't know there was negative media out there. Any time I see her name attached to anything, I don't read it" the tennis champ said matter-of-factly.
Drowning out the noise
Not only did Serena Williams deflect from the drama beautifully by refusing to add fuel to the fire, she also revealed that she and Markle share a similar ethos. Markle has previously admitted that she also doesn't read any news coverage about herself at an International Women's Day conference. "I don't read anything, It's much safer that way, but equally that's just my own personal preference because I think positive or negative, it can all sort of just feel like noise to a certain extent these days" the new mom admitted.
Highs and lows
Instead of engaging with the unnecessary negativity surrounding the former actress, Williams instead took the opportunity to speak to her friend's amazing character. "She couldn't be a better friend to me. Low moments, high moments, she's always there, and that's all I want to be to her" Williams declared proudly.
https://www.instagram.com/p/Bz3VvX6ljwl/
Women supporting women
We love how Serena Williams was able to take something negative and make it into something positive. In a world where women are constantly pitted against each other, we could all do with seeing a little more of women supporting women in an unreserved and unapologetic way.
Source: Read Full Article